Organic honey is referred to honey produced by nectar obtained from bees, which were only fed with organically growth flowers. Various types of organic honey available in the market include clover honey, manuka honey, sourwood honey, buckwheat honey, rosemary honey, and dandelion honey.
Market to Witness Consolidation Owing to M&As between Well-Established Players and Small Businesses
With growing emphasis on leading healthy lifestyle, consumer preferences have inclined toward consumption of food products with natural ingredients, owing to concerns regarding chemical additives. This has significant positive influence on adoption of organic honey as well. With increased awareness about various types of organic honey, methods of its production, and health benefits are some primary factors driving adoption. All manufacturers who claim their product to be organic are required to comply with certain standards imposed by regulatory authorities, followed by a certification process to label their product "organic". As certification for organic products is mandatory to ensure consumers about the product authenticity, small business face barriers in terms of cost. This is further resulting into consolidation of the market, as these small businesses are being eyed upon by well-established players for merger, or acquisition, for expanding their market presence. For example – Amazon recently announced its aim of acquiring Whole Foods Market, a supermarket chain with natural and organic food products, to boost its sales of organic honey.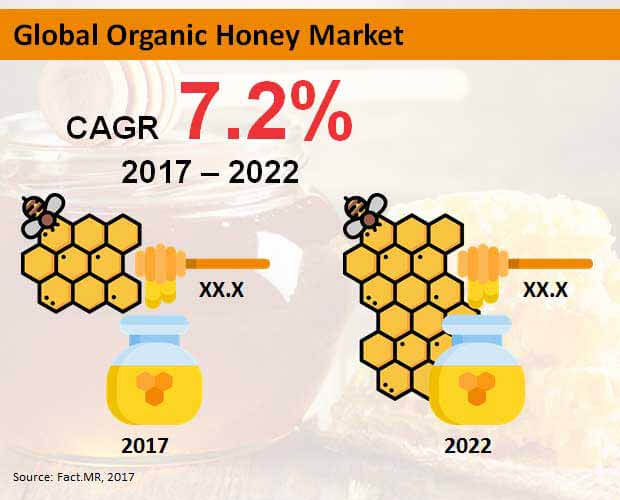 Manufacturers find it difficult to seek appropriate apiary sites favoring the organic honey standards. Higher transition time and capital is involved in production of organic honey. The production also includes other investments related to auditing, sampling, and certification. These factors might impede expansion of the market in the foreseeable future. Despite these challenges, Fact.MR has projected an impressive growth for the global organic honey market over the forecast period (2017-2022). Global sales of organic honey are estimated to exceed US$ 150 Mn by 2022-end.
Market Taxonomy
| | | | | |
| --- | --- | --- | --- | --- |
| Region | Type | End-Use | Sales Channel | Packaging Type |
| North America | Clover Honey | Cosmetic & Personal Care | Wholesaler/Distributor | Glass Jar |
| Latin America | Manuka Honey | Food & Beverage | Modern Trade | Plastic Containers |
| Europe | Sourwood Honey | Pharmaceuticals & Nutraceuticals | Convenience Stores | |
| Japan | Buckwheat Honey | | Online Sales | |
| APEJ | Rosemary Honey | | Other Sales Channel | |
| MEA | Dandelion Honey | | | |
| | Others Types | | | |
(Additional information, including cross-sectional data and country-wise analysis & forecast is available in the report)
North America to be Fastest Expanding Market for Organic Honey
The United States Department of Agriculture (USDA) has mandated all manufacturers producing organic products to be USDA-certified, in order to label their products as 'organic'. This might positively influence demand and sales of organic honey in North America. The region is expected to be the fastest expanding market for organic honey during 2017 to 2022.
Manuka honey and buckwheat honey are anticipated to remain fast-selling types of organic honey. Revenues from sales of these two types of organic honey will account for over 30% share of the market during 2017 to 2022. Sourwood honey will register the lowest CAGR in the market through 2022.
Organic Honey Sales for End Use in Food & Beverages to Register Robust Expansion through 2022
Sales of organic honey for end use in food & beverages are projected to register a robust expansion, to surpass US$ 130 Mn in revenues by 2022-end. Revenues from end use of organic honey in pharmaceuticals & nutraceuticals will remain low, however sales in this end use segment is likely to witness a significant increase during the forecast period.
Based on sales channel, Market Conditions for sales of organic honey in convenience stores and online sales will remain approximately similar throughout the forecast period. In terms of revenues, wholesaler/distributor will continue to be the largest sales channel for organic honey.
In terms of packaging type, glass jars will continue to account for the largest revenue share of the market, and their sales are projected to rise at a CAGR of nearly 7% through 2022.
Competition Tracking
Key players identified by Fact.MR in its report on the global organic honey market include Glorybee Inc., Little Bee Impex, Madhava Honey Ltd., Wholesome Sweeteners Inc., Y.S. Eco Bee Farms, North Dallas Honey Company L.P., Heavenly Organics, LLC, Wedderspoon Organic Holdings, L.P., and Barkman Honey LLC.
Note: The insights mentioned here are of the respective analysts, and do not reflect the position of Fact.MR
Global market for organic honey will continue to be influenced by rise in geriatric population, which significantly demands for products having nutritional benefits. In addition, implementation of standards for production of organic honey will further spur its demand by eco- and health-conscious consumers. This report, published by Fact.MR, provides in-depth analysis of the global organic honey market for the forecast period 2017-2022, and offers key insights about future market direction.
Scope
The scope of Fact.MR's report is to analyze the global organic honey market for the forecast period 2017-2022 and provide readers an unbiased and accurate analysis. Organic honey manufacturers, stakeholders, and suppliers in the global food & beverage sector can benefit from the analysis offered in this report. This report offers a comprehensive analysis, which can be of interest to leading trade magazines and journals pertaining to organic honey.
Summary
The report commences with a brief information of the global organic honey market. This executive summary sets the tone for the rest of the report, providing users the scope of the report. The executive summary includes important facts and statistics on the global organic honey market.
Overview
The next section offers an overview of the global organic honey market. This comprises an introduction to the market, along with a standard definition of the product – organic honey. In this section, market value and year-over-year growth is offered to the readers. Year-over-year growth provides readers with a broader view of growth patterns over the forecast period.
The report's succeeding section focuses on drivers, restraints and key trends from macroeconomic, demand, and supply perspectives. Impact analysis of weighted average model-based growth drivers is contained in the report for better provision of decision-making insights to clients.
In order to offer readers with up-to-date information about the latest advancements in the global organic honey market, the report provides updates about market opportunities, which can benefit leading manufacturers of organic honey. With continuous evolution of the food & beverage sector, keeping a record of latest developments and trends is fundamental for organic honey manufacturers to formulate key business strategies. Detailed insights about raw material sourcing, supply chain, pricing analysis, list of distributors, and cost structure are provided in this section.
Considering the broad scope of the global organic honey market and to deliver in-depth insights, Fact.MR's report offers a segmentation-wise analysis & forecast. The organic honey market has been segmented on the basis of type, end use, sales channel, packaging type, and region. The segmentation analysis offered in the report is comprehensive, and provides a detailed country-wise forecast on all parameters.
The report's last section comprises of the global organic honey market competitive landscape, to provide readers with the dashboard view of company analysis and market players. This competitive intelligence is based on the providers' categories across value chain, and their presence in the global organic honey market.
Research Methodology
Fact.MR is committed to offer unbiased and independent market research solutions to its clients. Each market report of Fact.MR is compiled after months of exhaustive research. We bank on a mix of tried-and-tested and innovative research methodologies to offer the most comprehensive and accurate information. Our main sources of research include,
Primary research
Secondary research
Trade research
Focused interviews
Social media analysis
Fact.MR offers custom research services that help clients to get specific research solutions
We are committed towards customer satisfaction and quality service.
---
Our Clients

Organic Honey Market Forecast, Trend Analysis & Competition Tracking – Global Market insights 2017 to 2022