Artificial Limbs Market to Grow 1.4X by the End of 2025
The growth trajectory of the artificial limbs market has been forged with advancements in the field of new technologies and prosthetic materials that are more adaptable and have greater suitability. Materials such as urethanes and silicone are more flexible and lightweight, and have a remarkable quality known as 'memory', which allows them to respond to varying degrees of pressure.
As healthcare expenditures mount, key companies are aggressively deploying research & development tools in the field of Artificial Intelligence and bionics. Similarly, governments in developing regions are launching reimbursement schemes to cover a small portion of the cost of a prosthetic limb fitted onto an amputee. This creates a favourable environment for companies to venture into highly lucrative markets, which until recently, have been largely untapped. The aforementioned factors are expected to augment the growth of the artificial limbs market, which is set to witness a healthy growth of 6% over the forecast period (2020 - 2025).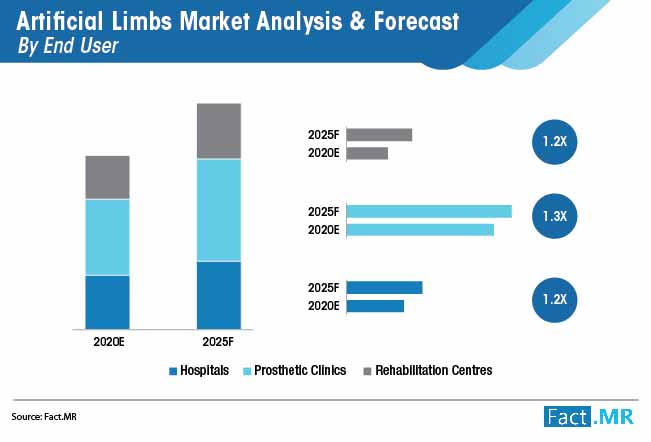 For detailed insights on market taxonomy, request a sample copy of the report here.
Prosthetic Clinics to Witness Leap in Growth, Hospitals Follow Suit
Prosthetic clinics are all set to witness a resurgence on the back of an extensive range of personalized and innovative solutions for amputees. These include state-of-the-art braces, shoes, supports, inserts, and other devices. Prosthetic clinics are estimated to account for the maximum market share during the forecast period, and will grow 1.3X during the forecast period. Hospitals are apace, and are projected to account for 30% of the market share by the end of 2025. Increasing number of trauma cases, and industrial and traffic accidents are inadvertently creating a conducive environment for the hospitals segment. As per forecasts, the hospitals segment will grow 1.2X and maintain a steady course through 2025.
Artificial Limbs Market a Consolidated Space, Innovations and Acquisitions Intensify Competition
The artificial limbs market is highly consolidated, with a handful of market players making major inroads through extensive R&D activities and a well-established supply chain. Exorbitant costs attributable to top-of-the-line products is attracting a small number of players and intensifying the competition. Ossur, Ottobock, Hanger, Proteor, and Spinal Technology Inc. are some of the leading players in the market. A vast clinical service network, an ever-expanding geographical presence, enhanced product portfolio, and strategically-timed acquisitions are some of the strategies of leading stakeholders in the artificial limbs market. For instance
In 2019, Ossur signed an agreement with College Park Industries, a global provider of upper and lower limb prosthesis. With this acquisition, Ossur hopes to strengthen its presence in the upper limb arena. Together, both companies will be well positioned to enhance their offerings.
Ottobock has added value for its users through innovative product launches, such as the microprocessor-controlled knee joint – 'C-Leg'. Ottobock is also investing in digital transformation using artificial intelligence for technical orthopaedics at all its locations.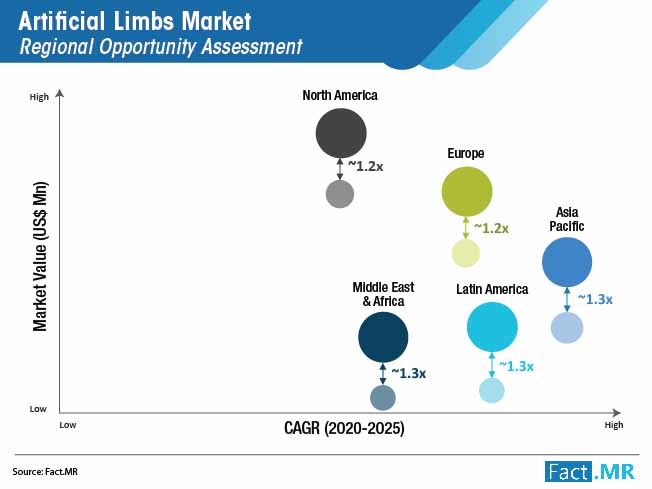 For detailed regional analysis, request a sample copy of the report here.
North America Artificial Limbs Market Surging Ahead, Asia Pacific to Emerge as Lucrative Pocket
In terms of revenue, North America will outpace other regions, accounting for 34% of the market share by 2025. According to the Centre for Disease Control (CDC), as of 2016, over 8.5 Mn people in the U.S. were afflicted by peripheral vascular diseases, while 9.4% of the country's population suffered from diabetes. This rise in disease prevalence is inadvertently leading to a large number of amputation cases, in turn, fuelling market growth.
Asia Pacific is also projected to benefit from the changing reimbursement scenario and a large pool of amputees, and would reach US$ 630 Mn by the end of 2025. Since MEA and Latin America are smaller markets, their growth will remain stable in the medium and long term.
Artificial Limbs Market - Scope of the Study
Fact.MR, in its exclusive research report on the artificial limbs market, highlights actionable insights and winning imperatives for stakeholders. This comprehensive study unfolds rare and distinguished intelligence regarding impactful dynamics, which directly or indirectly influence the growth of the artificial limbs during the forecast period (2020 - 2025). With the help of crucial insights discussed in this study, stakeholders will gain a thorough idea regarding the growth trajectory of the artificial limbs market.
This comprehensive study offers incisive data regarding the drivers, threats, restraints, and opportunities present in the artificial limbs market. The study also recalibrates the impact of each of these dynamics to estimate the size of the artificial limbs market for the given period. Authors of the report have taken ample care to measure and include the relevance and impact of microeconomic as well as macroeconomic factors that hold the potential to influence the growth of the artificial limbs market during the forecast period.
The global study on the artificial limbs market includes Porter's Five Forces analysis, in order to present the buyer's and supplier's power in the landscape. In addition, the analysis also discusses the threat of substitutes and new entrants, which provides a brief idea regarding the future growth course of the artificial limbs market.
The global study offers crucial information about global, regional, and local players operating in the artificial limbs market, along with their estimated market share. Market share has been estimated in terms of value (US$ Mn). Besides providing key information regarding the concentration of leading, prominent, and local players in the artificial limbs market, the study also aims at equipping stakeholders with the best of information regarding their winning strategies, recent developments, and financials.
Artificial Limbs Market - Assessment of Key Segments
With an aim to offer granular level insights on the artificial limbs market, authors of the report have segmented the landscape on the basis of product, technology, end user, and region. This global research report also analysis the incremental opportunity available in the artificial limbs market during the forecast period. Key segments of the artificial limbs market include:
| | | | |
| --- | --- | --- | --- |
| Product | Technology | End User | Region |
| Upper Extremity | Cosmetic Prosthetics | Hospitals | North America |
| Lower Extremity | Cable-operated/Battery-powered Prosthetics | Prosthetic Clinics | Europe |
| Sockets | Electrically-powered/Myoelectric Prosthetics | Rehabilitation Centres | Asia Pacific |
| Liners | | | Latin America |
| Others | | | Middle East and Africa |
Key market players profiled in this comprehensive study on the artificial limbs market include Ossur, Hanger and Ottobock. Authors of the study have analysed the artificial limbs market in detail, and estimated market values based on the robust research methodology adopted by them.This detailed guide, based on latest market movements, ensures that only precise information reaches stakeholders, so as to help them gain an upper hand over their competitors in the artificial limbs market. This exclusive guide offers crucial information about the current trends, pipeline drugs, unmet drugs, future scope, and government regulations for the artificial limbs market.
Artificial Limbs Market - Research Methodology
Research undertaken by seasoned analysts at Fact.MR consists of a systematic approach, including both, primary and secondary research methodologies. For conducting primary research, interviews and discussions were carried out with industry experts, key opinion leaders, vendors, and distributors. Besides these, respondents also include CEOs, presidents, directors, chairmen, vice presidents, marketing managers, suppliers, distributors, and chief medical officers, among others. This helps in assessing the demand-supply gap prevailing in the artificial limbs market.
In order to conduct secondary research, marketing collaterals, company websites, industry associations, and government statistics were studied. In addition to this, reports as well as content pieces published by credible sources, such as the American Medical Association, Therapeutic Advances in Gastroenterology, The White Rose University Consortium, Centres for Disease Control and Prevention, the Infection Disease Clinics of North America, and others, were studied.
Insights obtained through primary and secondary research are then authenticated with the data triangulation method.
Request research methodology of this report.
Fact.MR offers custom research services that help clients to get specific research solutions
We are committed towards customer satisfaction and quality service.
---
Our Clients

Artificial Limbs Market Forecast, Trend Analysis & Competition Tracking - Global Market Insights 2020 to 2025