A key determinant for driving demand for pressure sensitive adhesives is growing requirement for weight reduction in products that offer high bonding solutions. A prevailing trend in the pressure sensitive adhesives market is use of lightweight and cost-effective engineering plastics across diverse end-use industries including electronics, construction and automotive.
Pressure sensitive adhesive market has been touted to observe significant growth in account of robust demand from packaging and labelling industries. Growing adoption of RFID labels on the back of their role in making improvements in inventory management has been anticipated to impact demand for pressure sensitive labels positively. This is mainly because RFID labels are wireless non-contact tags that seek widespread application in a variety of end-use industries including medical, packaging, architecture and automotive. Mounting pressure from regulatory authorities regarding enhanced mileage performance and emission reduction in vehicles has proliferated adoption of pressure sensitive adhesives in automotive applications. With growing capability of the pressure sensitive adhesives in labelling and automotive applications, factors such as stringent energy efficiency laws, growing health concerns, and increasing environmental concerns about GHG emissions will influence the market expansion.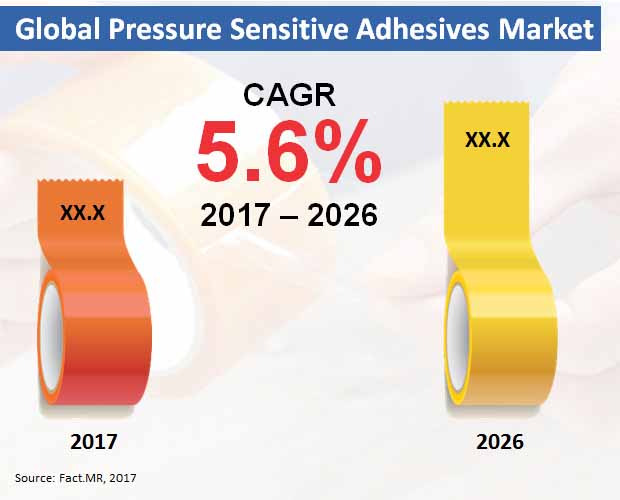 According to Fact.MR, a steady 5.6% CAGR will be exhibited by the global pressure sensitive adhesives market between the years 2017 and 2026, in terms of value. More than 64,000 Mn sq. m of pressure sensitive adhesives are pegged to be sold across the globe by 2026-end.
For more insights, request sample of this report.
Market Taxonomy
| | | | |
| --- | --- | --- | --- |
| Region | Resin Type | Backing Material | Application |
| North America | Acrylic | Polypropylene | Tapes |
| Latin America | Rubber | Paper | Labels |
| Europe | Other Product Types | Polyvinyl Chloride | Hygiene |
| Japan | | Other Backing Materials | Graphic Films |
| APEJ | | | Medical |
| MEA | | | Other Applications |
(Additional information, including cross-sectional data and country-wise analysis & forecast is available in the report)
APEJ to Ride on Highest CAGR in Global Pressure Sensitive Adhesives Market through 2026
In terms of value, Asia-Pacific excluding Japan (APEJ) will ride on the highest CAGR in the global pressure sensitive adhesives market through 2026. This growth is mainly attributed to robust demand for pressure sensitive adhesives in numerous end-use industries such as leather, automotive, furniture, packaging, and construction in APEJ. Manufacturers in countries such as China and India in the region are making huge investments in technical research and development for extending their market reach globally. In addition, surging government assistance in these developments will further augment growth of the market in APEJ.
North America and Europe are also expected to remain lucrative regions for growth of the pressure sensitive adhesives market, mainly driven by stringent regulations apropos to VOC emission, coupled with the fuel efficiency norms. The regulatory agencies such as REACH and the U.S. EPA have implemented strict rules for the chemical industries to comply in order to improve sustainability, thereby creating demand for pressure sensitive adhesives that comply with these norms.
Pressure sensitive adhesive tapes find extensive utilization in the automotive, construction & building, and medical industries. These tapes are used mostly for HVAC pipe mounting & wrapping, splicing, casketing, sealing, and masking purposes. Tapes are expected to prevail as the dominant application of pressure sensitive adhesives, in terms of value. Labels will also endure as a lucrative application of pressure sensitive adhesives, as they seek widespread application in security, transportation, health & beauty, and food & beverage industries.
Key Research Findings from Fact.MR's Report
Polypropylene will remain preferred backing material for pressure sensitive adhesives
Acrylic is anticipated to be the most lucrative resin type in the market, with sales poised to account for revenues over US$ 40,000 Mn by 2026-end
Competition Tracking
Fact.MR's report has listed key participants actively contributing to the market growth, which include 3M Company, Tesa SE, Nitto Denko Corporation, LINTEC Corporation, BASF SE, Lohmann GmbH & Co. KG, Exxon Mobil Corporation, and Scapa Group PLC.
Request research methodology of this report.
Note: The insights mentioned here are of the respective analysts, and do not reflect the position of Fact.MR
Established vendors in the global pressure sensitive adhesives market are dominating through expansion of their market reach across several geographical locations for meeting end-user demands. Vendors in the market are also making huge investments in R&D activities for maintaining pace with continuously changing landscape of the market. This report, compiled by Fact.MR, provides in-depth analysis of the global pressure sensitive adhesives market for the forecast period 2017-2026, offering key insights on the growth prospects of the market.
Scope:
The scope of the Fact.MR's report is to analyze the global pressure sensitive adhesives market for the forecast period 2017-2026 and offer accurate and unbiased insights to the readers. Pressure sensitive adhesives manufacturers, suppliers, and stakeholders in the global industry can benefit from the analysis offered in this report.
In-depth analysis regarding the energy saving properties, usage benefits, and long-term maintenance is detailed in this report. The comprehensive study offers insights on various market drivers, trends, and challenges shaping the future of the market, serving as a platform for future study, interest and understanding for the leading industries, trade magazines and journals related to the global pressure sensitive adhesives market.
Summary:
The report introduces the current scenario of the market for pressure sensitive adhesives. The executive summary section of the report offers information regarding the future scope of the global pressure sensitive adhesives market. Brief information on the vital aspects, facts, and statistics on the global pressure sensitive adhesives market is emphasized in this section.
Overview:
This section offers an overview of the global pressure sensitive adhesives market. This section comprises definition of the product – pressure sensitive adhesives, along with key insights on dynamics playing an important role towards the growth of the market. The overview also includes market value and year-on-year growth defining the future progress and decline of the global pressure sensitive adhesives. Data on the year-on-year growth provides readers with an overall view on expected progress reshaping growth during the forecast period.
In the next section, the report provides insights on major drivers, key trends, and retrains on the basis of demand, supply and macro-economic factors. The report also talks about an impact analysis of drivers and restraints that helps in decision-making and becoming more efficient.
The report further provides information on various technological advancements in the global pressure sensitive adhesives market. Latest information and advancements regarding growth opportunities can prove to be beneficial for the leading manufacturers of pressure sensitive adhesives. With advancements in technology, keeping an eye on the latest trends and developments is important for pressure sensitive adhesives manufacturers to frame key business strategies. Key insights concerning the list of distributor, supply chain, cost structure, pricing analysis, and raw material sourcing, are also provided in this section of the report.
Considering the broad-scope of the global pressure sensitive adhesives market, the report offers in-depth insights on the forecast and segment-wise analysis. The pressure sensitive adhesives market has been segmented on the basis of application, backing material, resin type, and region. This sections offers segmentation analysis, along with a detailed country-wise forecast on all the parameters.
In the final section, the report offers information on the key competitors, along with a board view of the market players and company analysis. This competitive intelligence is based on the providers' categories across the value chain, and their presence in the global pressure sensitive adhesives market.
Research Methodology
Fact.MR is committed to offer unbiased and independent market research solutions to its clients. Each market report of Fact.MR is compiled after months of exhaustive research. We bank on a mix of tried-and-tested and innovative research methodologies to offer the most comprehensive and accurate information. Our main sources of research include,
Primary research
Secondary research
Trade research
Focused interviews
Social media analysis
Fact.MR offers custom research services that help clients to get specific research solutions
We are committed towards customer satisfaction and quality service.
---
Our Clients

Pressure Sensitive Adhesives Market Forecast, Trend Analysis & Competition Tracking - Global Market insights 2017 to 2026