Roofing Adhesives Market
Roofing Adhesives Market Analysis By Resin Type (Polyurethane, Epoxy, Silicone, Acrylic), By Technology (Water-borne, Solvent-borne), By Substrate (Concrete, Wood, Ceramics), By Application (Residential, Non-residential), & By Region – Global Market Insights 2023 to 2033
Analysis of Roofing Adhesives Market Covering 30+ Countries Including Analysis of US, Canada, UK, Germany, France, Nordics, GCC countries, Japan, Korea and many more
Roofing Adhesives Market Outlook (2023 to 2033)
The global roofing adhesives market has reached a valuation of US$ 6.6 billion in 2023 and is projected to climb to US$ 16 billion by 2033-end, expanding at a noteworthy CAGR of 9.2% over the next 10 years (2023 to 2033, according to a detailed industry analysis by Fact. MR.
Adhesives play a critical role within the roofing industry for a multitude of compelling reasons. Their significance is particularly pronounced in single-ply low-slope ("flat") roof systems, wherein EPDM, PVC, or TPO membranes are employed, and these adhesives often serve as the linchpin holding the entire system seamlessly together.
In scenarios where mechanical fasteners (screws) are either unfeasible or unsuitable due to structural concrete decks in flat roof systems, instant adhesives shine as they facilitate the attachment of the bottom insulation layer (and consequently the entire system) to the roof deck.
Structural adhesives provide the means to bond multiple layers of insulation board together, affix a cover board layer to the insulation layer, and attach the waterproof roof membrane to the cover board. This adhesive-reinforced synergy ensures the cohesion and integrity of the roofing structure.
Asia Pacific commands a significant presence in this market, accounting for 45% market share in 2023, which is primarily attributed to the burgeoning expansion within the commercial sector across the region.
Stringent environmental and safety regulations govern roofing adhesives, specifically about emissions of volatile organic compounds (VOCs), hydrochlorofluorocarbons (HCFCs), and chlorofluorocarbons (CFCs). Demand for waterborne adhesives is attributed to their alignment with rigorous emission standards, gaining prominence within the market. Given the pivotal role the roof assumes in any structure, roofing adhesives must exhibit resistance to chemicals and water, safeguarding the overall integrity of the roofing system.
Benefits of Biodegradable Roofing Adhesives
Reduced Environmental Impact: Ability of these adhesives to naturally degrade over time significantly reduces their long-term impact on ecosystems and waste generation.
Emission Reduction: Low VOC emissions and minimal reliance on non-renewable resources contribute to lower carbon footprints and a healthier environment.
Compliance with Standards: Biodegradable adhesives comply with stringent environmental regulations, aligning with sustainable building certifications and green construction practices.
The construction adhesives market stands as a vital cornerstone of the building industry, creating bonds that shape the durability, strength, and functionality of structures. Two-component adhesives offer tailored solutions to meet diverse bonding needs across various sectors. Their ability to create robust and versatile bonds has positioned them as essential components in modern manufacturing, assembly, and construction processes, contributing to the development of high-performance products and structures.
With sustainability, customization, and performance excellence at its core, the adhesives and sealants market is a pivotal enabler of modern manufacturing, construction, and technological advancements.
Report Attributes
Details
Roofing Adhesives Market Size (2022A)
US$ 6.1 Billion
Estimated Market Value (2023F)
US$ 6.6 Billion
Forecasted Market Value (2033E)
US$ 16 Billion
Global Market Growth Rate (2023 to 2033)
9.2% CAGR
China Market Growth Rate (2023 to 2033)
14.5% CAGR
North America Market Share (2023)
32%
Non-residential Segment Growth Rate (2023 to 2033)
6.9% CAGR
Polyurethane Segment Growth Rate (2023 to 2033)
10% CAGR
Epoxy Segment Growth Rate (2023 to 2033)
10.3% CAGR
Key Companies Profiled

Fuller Company
3M
Ashland
Henkel AG & Company
Pidilite Industries Ltd.
Derbigum Americas Inc.
SOPREMA Inc.
AXALTA
RPM International
Sika AG
Don't Need a Global Report?
save 40%! on Country & Region specific reports
Why is the Popularity of Roofing Adhesives Soaring?
"High-performance Adhesives Due to Their Strength & Durability"
Roof adhesives can be used in both hot and cold forms and come in a variety of sizes. Need for roofing adhesives has increased as a result of their ability to tolerate UV radiation, rain, heat, seawater, and other weathering conditions without losing their functionality.
High-performance adhesives stand as the epitome of bonding excellence, surpassing conventional limits to create connections that withstand the most demanding conditions. These specialized adhesive formulations redefine the parameters of strength, durability, and versatility, making them essential in industries where reliability is paramount. This article delves into the realm of high-performance adhesives, exploring their characteristics, applications, and the transformative impact they have across diverse sectors.
Roof adhesives offer strong bonding, low-temperature flexibility, resistance to bleeding, staining, and discoloration, long-lasting sealing, and simple application. Environmental and safety regulations relating to VOC, HCFC, and CFC emissions place strict restrictions on roofing adhesives. The aforementioned qualities are currently driving up demand for roof adhesives.
"Increasing Use of Environment-friendly & Non-toxic Roofing Adhesives"
As public concerns about air quality grow, governments are developing regulations to reduce ground-level ozone, which directly contributes to the production of smog in the atmosphere over urban areas. The majority of ozone is produced by factories and automobile tailpipes, but a sizable portion of ground-level ozone is also caused by VOCs, which are employed as a primary solvent in paints and adhesives. As a result, regulations restricting the number of VOCs permitted in construction paints and adhesives have risen throughout the United States.
Roofing membrane adhesives serve as the foundational link between roofing materials and the underlying structure. They ensure that roofing membranes, which can include materials like EPDM, TPO, PVC, and modified bitumen, are securely attached to the roof deck. The integrity of this bond is crucial for maintaining the overall performance and longevity of the roofing system.
To comply with VOC regulations, makers of roof systems have developed adhesives that need little or no VOC content. To reduce or do away with the need for VOCs, some of these adhesives have high solids content, while others use one- or two-part urethanes. These formulation improvements are proving lucrative for businesses selling environmentally friendly and safe roofing adhesives.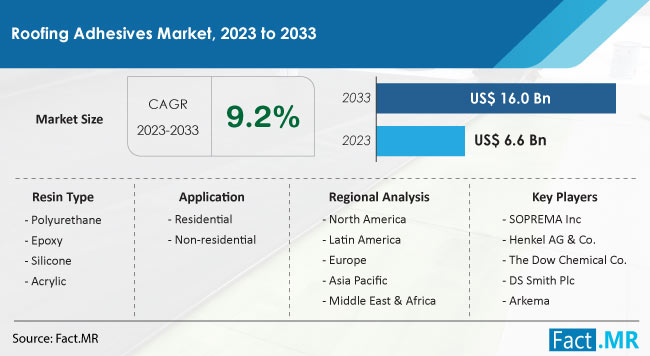 What Can Hinder the Sales Growth of Roofing Adhesives to Some Extent?
"Increased Production Cost and Formulation Challenges Associated with Roofing Adhesives"
Stringent environmental regulations and compliance standards can impact the formulation and use of roofing adhesives. Adhesives containing certain chemicals or VOCs may face restrictions due to their potential adverse effects on air quality and health.
High-quality roofing adhesives often come with advanced formulations and technologies that can increase production costs. As cost-consciousness persists among consumers and manufacturers, the affordability of these adhesives can be a restraint.
Developing roofing adhesives with the optimal balance of adhesion, flexibility, and durability to withstand diverse weather conditions and substrate variations can be challenging. Achieving consistent performance across various roofing materials and designs may pose obstacles.
"Limited Awareness about Benefits of Quality Adhesives and Inaccurate Application Techniques"
In certain regions or markets, there might be limited awareness about the benefits and importance of using quality roofing adhesives. Lack of education and understanding about the role of adhesives in roofing systems can hinder their adoption.
Proper application of roofing adhesives requires specific skills and techniques. Inaccurate application can compromise the effectiveness of the adhesive bond, leading to potential leaks and reduced performance of the roofing system.
The roofing industry is competitive, and while roofing adhesives play a crucial role, there may be alternative solutions such as mechanical fastening methods. Adhesive manufacturers must demonstrate the superiority and long-term value of their products to stay competitive.
More Insights, Lesser Cost (-50% off)
Insights on import/export production,
pricing analysis, and more – Only @ Fact.MR
Country-wise Insights
The United States and China stand out as significant markets in this space. Roofing adhesive sales in China are projected to surge at 14.5% CAGR through 2033. Based on Fact.MR's analysis, growth prospects for manufacturers of roofing adhesives in these two countries are high.
What is the Predicted Demand for Roofing Adhesives in China?
"Demand for Roofing Adhesives Driven by Government Investments in Infrastructure Development"
The Asia Pacific region accounts for 45% market share in 2023 and is foreseen to maintain its position during the forecast period. The Chinese market is anticipated to progress at a CAGR of 14.5% from 2023 to 2033.
Floor adhesives are in high demand in the region as a result of the growth of the construction sector in countries such as China. Despite efforts to reform its economy to be more service-oriented, the Chinese government has detailed massive development plans, including preparing for the move of the 250 million residents to its unique megacities over the next 10 years.
Due to rising spending on new constructions in the industrial, commercial, and residential sectors, China is likely to exhibit substantial growth and demand for roofing adhesives. The population's need for durable housing combined with technological advancements in the painting and coating sectors is anticipated to drive up demand for roof adhesives.
What Makes the United States a Key Market for Manufacturers of Roofing Adhesives?
"Growth in Residential and Non-residential Construction Activities"
North America accounts for 32% of the market in 2023. The United States is one of the major markets in North America for roofing adhesives.
Rapid growth of the United States market is being aided by the expansion of residential and non-residential constructions as well as rising disposable incomes among the populace. Increasing construction activities is one of the key factors projected to support market expansion over the forecast period.
Category-wise Insights
This section provides a glimpse into market revenue across essential categories. Sales of polyurethane roofing adhesives are predicted to rise at 10% CAGR, and the non-residential sector is poised to expand at a 6.9% CAGR through 2033.
What's Fueling the Consumption of Polyurethane Roofing Adhesives?
"High Demand for Polyurethane Roofing Adhesives Due to Their Exceptional Weather Resistance Capabilities"
Demand for polyurethane roofing adhesives is predicted to surge at a CAGR of 10% through 2033. Polyurethane roofing adhesives are a specialized adhesive formulation designed to create strong and durable bonds between roofing materials and substrates. Leveraging the unique properties of polyurethane, this type of adhesive offers exceptional adhesion, flexibility, and weather resistance, making it a popular choice for various roofing applications.
Emphasis on sustainable and energy-efficient construction has driven the adoption of roofing adhesives that contribute to energy conservation and meet green building criteria. Continuous research and development efforts have led to enhanced polyurethane adhesive formulations that offer improved performance, ease of use, and reduced environmental impact. As roofing designs evolve, the need for adhesives that can cater to diverse roofing materials, configurations, and designs becomes more crucial.
Will the Non-residential Sector Continue to Provide Lucrative Market Opportunities?
"Non-residential Roofing Needs to Bring in Bulk of Market Revenue"
The non-residential segment held a dominant market share in 2022 and is projected to expand at a CAGR of 6.9% during the projection period. Within the commercial sector, roofing adhesives find extensive applications in affixing cover boards, insulation boards, and single-ply fleece back membranes to diverse substrates such as concrete, wood, and ceramics, among others.
For instance, Larsen & Toubro, operating in India, secured substantial contracts in 2019 for constructing hospitals, commercial complexes, and manufacturing facilities, totaling a significant value of US$ 673.2 million.
Such strategic investments are fueling the growth of the non-residential segment and amplifying the adoption of roofing adhesives for securing boards and membranes onto roofing structures.
Know thy Competitors
Competitive landscape highlights only certain players
Complete list available upon request
Competitive Landscape
Key players are investing in research and development to formulate roofing adhesives that can cater to specific roofing materials, environments, and performance requirements. With growing environmental awareness, companies are developing adhesives that comply with several environmental regulations.
Key Segments of Roofing Adhesives Industry Research
By Resin Type :

Polyurethane
Epoxy
Silicone
Acrylic

By Technology :

By Substrate :

By Application :

Residential
Non-residential

By Region :

North America
Latin America
Europe
Asia Pacific
Middle East & Africa
- FAQs -
The global roofing adhesives market is valued at US$ 6.6 billion in 2023.
Worldwide demand for roofing adhesives is set to increase at 9.2% CAGR from 2023 to 2033.
Global sales of roofing adhesives are set to reach US$ 16 billion by 2033.
The market in China is forecasted to advance at a CAGR of 14.5% from 2023 to 2033.
Sales of polyurethane roofing adhesives are projected to rise at a CAGR of 10% through 2033.
Use of roofing adhesives in the non-residential sector is set to increase at a CAGR of 6.9%.
Sales of epoxy roofing adhesives are projected to rise at 10.3% CAGR through 2033.
Pidilite Industries Ltd. is a key manufacturer of roofing adhesives in India.