Anaerobic Adhesives Market
Anaerobic Adhesives Market By Product Type (Thread Lockers, Thread Sealants, Retaining Compounds, Gasket Sealants), By Substrate (Metal, Plastic), By End Use, by Region - Global Forecast 2022-2032
FACT7468MR
Jun-2022

List of Tables : 84

List of Figures : 112

170 Pages
Anaerobic Adhesives Market Outlook (2022-2032)
The global anaerobic adhesives market is expected to evolve at a CAGR of 5.8% from 2022 to 2032. At the end of 2021, the market was valued at US$ 546.8 million and is anticipated to reach US$ 1 billion by the end of 2032.
Demand for metal substrates is projected to increase at a CAGR of 6.3% from 2022 to 2032. Metal substrate-based anaerobic adhesives give exceptional tensile strength and fracture toughness to anaerobic adhesives.
Report Attributes

Details

Anaerobic Adhesives Market Size (2022)

US$ 570 Million

Projected Year Value (2032)

US$ 1 Billion

Global Market Growth Rate (2022-2032)

5.8% CAGR

Europe Market Share (2022)

25.8%

Key Companies Profiled

3M
Henkel AG & Co. KGaA
Eastman Chemical Company
Permabond LLC.
ThreeBond Holdings Co. Ltd.
Anabond Limited
Cyberbond
Kisling AG
Parson Adhesives
Hylomar Ltd.
Rising awareness of the environment-friendly benefits of anaerobic adhesives, increased investments in research & development by major companies, rising rate of industrialization, increased rate of urbanization & modernization, and growing focus on advanced technology and improvement in manufacturing techniques are direct and indirect factors that will contribute to the growth of the anaerobic adhesives market.
Interested to Procure The Data
Consumption Analysis of Anaerobic Adhesives (2017-2021) Vs Market Outlook (2022-2032)
"Rising Sales of Anaerobic Adhesives in End-use Industries Driving Industry Growth"
According to Fact.MR, market research and competitive intelligence provider, the global anaerobic adhesives market expanded at a CAGR of 4.5% from 2017 to 2021.
Anaerobic adhesives save component inventories, lower manufacturing costs, and boost dependability. These adhesives are used in applications such as idler bushings, flywheel bolts, plastic knobs, connection screws, instrumentation amplifier boxes, console components, hose fixings, and dashboard accessories in the automotive and transportation industries.
Growing sales of anaerobic adhesives in aerospace and defense industries to boost the market demand. The increased production of commercial aircraft carriers also contributes to the global growth of the anaerobic adhesives market.
The usage of anaerobic glue in the electrical and electronic industries is a sign of market expansion. Constant technological advancements, the rising healthcare business, and regional emerging markets, all offer plenty of room for expansion.
Demand for anaerobic adhesives is projected to rise at a CAGR of 5.8% from 2022 to 2032.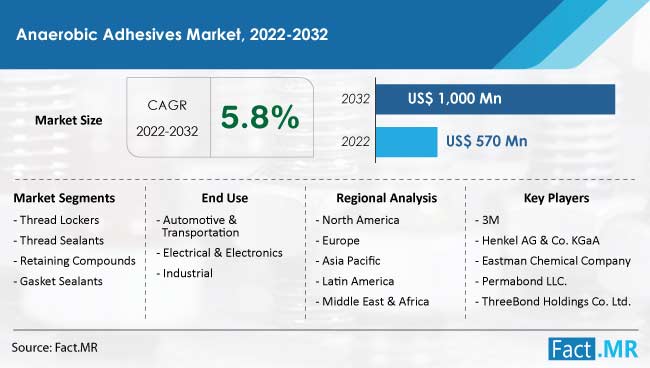 Which Market Factors are Supporting Anaerobic Adhesive Sales Growth?
"High Performance of Anaerobic Adhesives & Strict Fuel Emission Standards"
Anaerobic Adhesives are environmentally friendly, simple to work with and set rapidly at normal temperature. They are non-toxic and do not need mixing. They are solvent-free adhesives and eliminate rust.
One of the best features of anaerobic adhesive is how quickly it cures. Based on the adhesive quality, the bonded parts can be fastened in less than 10 minutes. It usually takes 24 hours to fix the bonded components entirely. Anaerobic adhesives are very inexpensive and readily available in stores.
Anaerobic adhesives are ideal for thread lockers, gasket sealants, thread sealants, and retaining compounds due to their ease of use, strong bond hardness, and high impact protection.
At room temperature, effective crosslinking of polymers in anaerobic adhesives improves strength, endurance, and oxidation resistance. During the projected period, this will result in the global anaerobic adhesives market expanding.
Use of anaerobic adhesives instead of fasteners and welds is becoming more common, lowering vehicle weight and boosting fuel economy. Manufacturers of automobiles are compelled to lower vehicle weight to meet fuel emission rules. These latest trends in anaerobic adhesives are driving market expansion.
What Challenges Do Anaerobic Adhesive Manufacturers Have to Face?
"Rising Raw Material Prices & High-level Mechanical Stress"
Though anaerobic adhesives have a variety of uses and benefits, they are costly, which limits market growth. They also necessitate special primers for passive metals, high bond gaps, or inert surfaces, which adds to the expense of production. They can damage thermoplastics in some circumstances. As a result, all of these reasons together limit anaerobic adhesive sealant sales.
Certain limits and barriers have been encountered, which will restrain the market growth. Factors like exposure to high levels of mechanical stress, exposure to extreme temperatures, and so on. During the projection period, this is expected to stifle growth.
Global anaerobic adhesives industry growth may be hampered by uncertainty in strict laws and policies, the threat of replacements, and rising raw material prices over the forecast period.
An Adaptive Approach to Modern-day Research Needs
Why is North America a Lucrative Market for Anaerobic Adhesive Suppliers?
"Growing Need for Rapid Maintenance Procedures Driving Market Value in North America"
North America accounts for 33.1% share of the global anaerobic adhesives market. North America is expected to witness significant market growth during the forecast period because of the rapid deployment of automotive adhesives in the automotive industry.
Because of reasons such as the increased need for quick production, assembly, and maintenance procedures, North America dominates the global anaerobic adhesives market. Increased demand for airline industries will result in increased adhesive output, which will boost the market growth.
Because of increased investments in numerous end-use industries such as automotive and construction, North America is expected to develop at a moderate rate throughout the projection period.
Country-wise Insights
Why is the U.S.Anaerobic Adhesives Market Growing Rapidly?
"Increasing Research & Development Initiatives for Product Development"
The U.S. anaerobic adhesives market is projected to expand at a CAGR of 6.7% from 2022 to 2032. Strict fuel rules in the United States are likely to enhance demand for anaerobic adhesives in the automotive industry for the manufacture of lightweight automotive parts during the forecast period.
The ability of anaerobic adhesives to tighten bolts and nuts and avoid gas and liquid leakage in the industrial sector is expected to boost market growth. Increased research and development initiatives, favorable funding policies to promote industrial growth, ample raw material availability, and rising investments by various public and private manufacturers are all driving the anaerobic adhesives market forward during the forecast period.
Why is China Seeing Increasing Demand for Anaerobic Adhesives?
"Rising Consumption of Electronic Products to Propel China Market Revenue"
The anaerobic adhesives market in China is anticipated to rise at a CAGR of 6.5% over the forecast period. China is the world's largest producer of electronics. Mobile phones, OLED TVs, laptops, wires and cables grew at the fastest rate in the electronics industry.
The country not only meets the domestic needs for electronics but also exports them to other countries. Sales of UV-cured adhesives in electronics are expected to rise over the coming years.
The market growth is expected to be driven by the production of low-cost, bulk electronics, as well as increased electronic consumption over the forecast period. Due to a growth in OEM production volume and expanding advances in the industrial sector, the market in China is expected to grow throughout the forecast period.
What is the Growth Outlook for the Anaerobic Adhesives Market in India?
"Rapid Expansion of Construction Industry to Fuel Market Growth"
The anaerobic adhesives market in India is expected to rise at a CAGR of 4.6% from 2022 to 2032. Because of increased investments and people's purchasing power, the construction sector in India has been rising at a faster rate.
Rising adoption of floor adhesives, existence of key companies, high pace of urbanization & modernization, huge population, and growth and expansion of many end-user verticals are all factors boosting market growth in India.
Category-wise Insights
Which Anaerobic Adhesive Type is Most Widely Used?
"Thread Lockers Highly Preferred Owing to Their Unique Properties"
Based on product type, the market is segmented into thread lockers, thread sealants, retaining compounds, and gasket sealants. Thread lockers account for 37.5% of the global anaerobic adhesives market.
Thread lockers protect fasteners from rust and softening by displaying properties of regulated torque when dismantling the assembly and ensuring adequate clamping force. The anaerobic adhesives market is likely to benefit from rising sales of anaerobic thread lockers, environmental concerns, and regulatory measures over the forecast period.
Anaerobic thread lockers utilize anaerobic adhesives to keep the components of the assembly connected. When two threaded components are placed together, the anaerobic metal glue fills in any minor gaps and seals the surfaces together.
Which Substrate of Anaerobic Adhesives Has Gained Immense Traction?
"Increasing Penetration of Anaerobic Adhesives in Metal Substrates"
Metal substrates account for 47.8% share of the global anaerobic adhesives market and remain dominant over metal, plastic, and other substrates. Anaerobic adhesives based on metal substrates are particularly compelling.
These adhesives induce breaking when used on low-density plastics. Anaerobic adhesives are mostly used on metals in general. As a result, the metal substrates segment dominates the anaerobic adhesives market.
Which End Use of Anaerobic Adhesives is Expected to Generate Highest Revenue?
"Rising Adoption of Anaerobic Adhesives for Engineering Assemblies in Automotive & Transportation Industries"
In terms of end use, the market is classified into electrical & electronics, industrial, automotive & transportation, and other end uses. The automotive and transportation industries account for 36.5% share of the global anaerobic adhesives market.
The anaerobic adhesives market is being boosted by increased demand for pressure-sensitive adhesives in the automotive and transportation industries. The majority of these adhesives are used in the assembly of motors, hydraulic systems, and other body components.
Anaerobic adhesives are ideal for engineering assemblies. Engaging screw fasteners, maintaining co-axially aligned cylindrical parts, closing threaded parts, and sealing hinged components are all applications for these adhesives. Owing to their excellent tensile strength and temperature resistance, anaerobic adhesives are employed in several automotive and transportation industries.
Avail customized purchase options for your needs
Competitive Landscape
The global anaerobic adhesives market is fragmented in nature due to the presence of numerous suppliers of anaerobic adhesives. Leading anaerobic adhesive players are progressively focused on R&D to address the needs of end-use industries with adhesives that are suited for all applications.
For instance :
In July 2020, Fixatti, a producer of thermos-bonding adhesive powder, was bought by Arkema. This agreement was made to improve the company's global supply of hot melt adhesive products for specialized manufacturing applications in industries such as construction, transportation, textiles, and others.
Key Segments Covered in Anaerobic Adhesives Industry Research
Anaerobic Adhesives Market by Product Type :

Thread Lockers
Thread Sealants
Retaining Compounds
Gasket Sealants

Anaerobic Adhesives Market by Substrate :

Metal
Plastic
Other Substrates

Anaerobic Adhesives Market by End Use :

Automotive & Transportation
Electrical & Electronics
Industrial
Other End Uses

Anaerobic Adhesives Market by Region :

North America
Europe
Asia Pacific
Latin America
Middle East & Africa