Asia Pacific to Retain Dominance in Spray Drying Equipment Market, as Regional Pharmaceutical Industries Register Strong Growth
A recently published report by Fact.MR on spray drying equipment market foretells that sales of spray drying equipment would continue to soar in the long term. In terms of value, the global spray drying equipment market is estimated to surpass the valuation of US$ 820 Mn by 2027 with a year-on-year growth of ~4% in the foreseeable future.
Spray drying equipment has gained traction across different verticals on the back of their ability to enhance bulk production capacities of end-use plants in a scalable manner. End-use industries such as food processing, chemicals, and pharmaceutical industries are investing millions of dollars in spray drying equipment to move from small scale to large scale operations. In addition, future investments on amplifying commercial manufacturing capabilities, efficiency, and quality of final product is estimated to play a significant role in strong growth of global spray drying equipment market.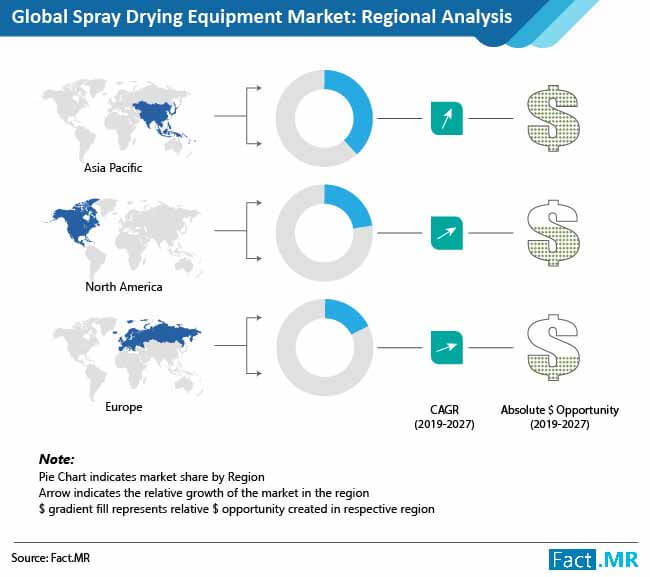 For detailed insights on market taxonomy, request a sample copy of the report here.
For strategic insights on the regional landscape of the spray drying equipment market, ask an analyst here
The scope of customization in spray drying equipment is becoming a key driving factor across the globe especially in Asian countries. As a result, Asia Pacific accounts for around 2/5th of new installations in the global spray drying equipment industry. Furthermore, increasing demand for processed food and bulk chemicals across Asia Pacific has further bolstered the lead position of this region in the spray drying equipment market.
Investments in Brownfield and Greenfield Establishments will Provide Strong Growth Trajectory for Spray Drying Equipment Market
The global spray drying equipment industry has witnessed significant investments in brownfield and Greenfield establishments across different verticals over the historical period. Both developed as well as developing economies are gaining immense traction in the niche industry of spray drying equipment on the back over 900 brownfield and Greenfield establishments of food, chemicals and pharmaceuticals
New projects across different verticals will upsurge the worldwide sales of spray drying equipment by 1.3x over the long-term forecast period (2019-2027). In addition, the replacement rate of spray dryers also plays a pivotol role among end-use industries which is expected to remain around 5% over the forecast period.
High Throughput in Drug Manufacturing to Catapult Spray Drying Equipment Sales
The development of highly efficient pharmaceutical formulations with increased bioavailability and high throughput in drug manufacturing is expected to open doors for key spray drying equipment manufacturers. Despite being used in food and chemical industries, spray drying technology is gaining traction within mainstream product categories in the pharmaceutical industry.
For detailed regional analysis, request a sample copy of the report here.
For more extensive insights on the end-use applications of the spray drying equipment market, request for a report sample here
Drug manufacturing companies are hugely emphasizing on mass drug production to leverage opportunities in the pharmaceutical industry. Moreover, transforming end-users preference towards customized spray drying equipment coupled with growing research activities on large biomolecules will amplify the installation of spray drying equipment. As a result, spray drying equipment market in the pharmaceutical industry is anticipated to witness prolific growth across the globe and the pharmaceutical segment is expected to grow at a CAGR of 6% during the forecast period.
Key Market Actors Compete Aggressively on Collaborative Value Additions
The global market for spray drying equipment industry is highly consolidated in nature with prominent manufacturers accounting for over 3/5th of market share. Some of the prominent players are GEA Group AG, SPX Flow Technology and Dedert Corporation among others. The key stakeholders are focusing on value-added technologies related to evaporation, air distribution and atomization to amplify the company's position across the supply chain. This is primarily attributed to the continuous collaboration among companies towards meeting rising demand for spray dryers across industries mainly in food and pharmaceuticals. This will pave the way for increased penetration in high growth markets of Asia Pacific as well as strengthen their footholds in regions such as Europe and North America.
Global Spray Drying Equipment Market – Scope of the Report
The following report provides forecast and analysis of the global spray drying equipment market along with the historical data of 2013, estimated data 2019 and forecast data up to 2027 in terms of revenue (US$ Mn) and volume (Units), according to a Fact.MR study. The research propounds critical trends that are currently influencing growth within the global spray drying equipment market along with several macro-economic indicators. This newly published and insightful report on spray drying equipment sheds light on key dynamics, and their impact on the overall value chain from suppliers to end-use industries, which are expected to transform the future of the global spray drying equipment market.
The report also comprises the study of current issues with end users and opportunities for spray drying equipment. It also contains value chain analysis, including the key market participants. To provide users of this report with a comprehensive view of the market, we have included a detailed competitive analysis about the key players involved in the market and strategic overviews. The dashboard included in the report provides a detailed comparison of spray drying equipment manufacturers on parameters such as total revenue, product offerings, and key strategies. A list of key companies operating in the spray drying equipment market provided in the report adds to the credibility of this exhaustive research study.
Global Spray Drying Equipment Market: In-Depth Assessment on Key Segments
The global spray drying equipment market is segmented on the basis of product, capacity, operating principle, end-use industry, cycle type, flow type, and region.
| | | | | | | |
| --- | --- | --- | --- | --- | --- | --- |
| Product | Capacity | Operating Principle | End-Use Industry | Cycle Type | Flow Type | Region |
| Rotary Atomizer | Small (upto 2 Tons/Hr.) | Direct Drying | Food & Beverage | Open Loop System | Co-Current Flow Spray Dryers | North America |
| Nozzle Atomizer | Medium (2 - 50 Tons/Hr.) | Indirect Drying | Chemical | Closed Loop System | Counter-Current Flow Spray Dryers | Latin America |
| Fluidized | Large (More than 50 Tons/Hr.) | | Pharmaceutical | | Mixed Flow Spray Dryers | Europe |
| Centrifugal | | | Others (Feed, Paper & Pulp, etc.) | | | Asia Pacific |
| Closed Loop | | | | | | Middle East & Africa |
Country-specific assessment on demand for spray drying equipment has been provided for each regional market, along with the market size valuation and forecast price point assessment, price index and impact analysis of key regional and country-wise dynamics, which were obtained through quotes from numerous spray drying equipment manufacturers, suppliers and end-use industries. Y-o-Y growth projections have also been offered on all regional markets incorporated in the report. Moreover, future trends, growth prospects, and other possibilities related to the market have been answered in the report.
The report provides company-level market share analysis, which has been derived on the basis of the company's annual sales and segmental revenue in all the target end-use industries. The market has been forecasted based on constant currency rates. The report provides detailed competitive and company profiles of key participants operating in the global market. Some of the major competitors operating in the spray drying equipment market are GEA Group AG, SPX Flow Technology, Dedert Corporation, Büchi Labortechnik, European Spraydry Technologies and others.
Global Spray Drying Equipment Market: Research Methodology
A number of primary and secondary sources were consulted during the course of the study. Secondary sources include Factiva, Morningstar and Hoovers, and company annual reports and publications. Comprehensive interviews have been conducted by our analysts, and the intelligence and insights obtained have been used for validating the information gained through secondary research. The report also includes a description of assumptions and acronyms utilized for research purposes. Data gathered has been validated using the triangulation method to offer useful quantitative and qualitative insights into the spray drying equipment market.
A short market viewpoint offered in the report elucidates the macro-economic aspects that influence the growth of the spray drying equipment market, which includes global GDP growth rate, new projects across the verticals, various end-use industries growth rate, such as food, chemical, pharmaceutical and others. This report serves as an authentic resource of intelligence on the spray drying equipment market, enabling the readers to take fact-based decisions on the future direction of their businesses.
Request research methodology of this report.
Fact.MR offers custom research services that help clients to get specific research solutions
We are committed towards customer satisfaction and quality service.
---
Our Clients

Spray Drying Equipment Market Forecast, Trend Analysis & Competition Tracking - Global Market Insights 2019 to 2027