Canned Fruits Market
Canned Fruits Market Size, Share, Forecast Analysis, By Product Type (Canned Peaches, Canned Mixed Fruit, Canned Pineapples, Canned Citrus Fruits, Canned Pears), By Distribution Channel (Supermarkets/Hypermarkets, Independent Retailers), By Region – Global Market Insights 2022 to 2032
Canned Fruits Market Outlook (2022-2032)
The value of the global canned fruits market is US$ 9.8 billion in 2022, which is projected to climb to US$ 12 billion by 2032-end, increasing at a CAGR of 2% through 2032.
Canning is a technique that is used for the preservation of food products using a combination of storing and heating in airtight containers. This technique is helpful to extend the shelf life of different food products by killing various microorganisms that can spoil them. The canning of food products can be performed on any type of eatable items that are processed or harvested.
The canning process plays a vital role in provisioning the armed forces of any country with ample ration. Further, the technique is also helpful to ensure the availability of various food products that are harvested in a specific geography or region in new regional markets. Not only limited to human food products but the canning process is also used to preserve animal food, such as canned dog food.
Fruits are one of the most common and versatile eaten foods across the world. Packaged fresh fruits are an essential part of the diet that promotes health and can improve the quality of the diet of those who consume fruits on a regular basis. However, due to seasonality, many fruits are consumed in the processed or pre-packaged form, which is estimated to drive the sales of canned fruits.
Customers in recent years have had many options and they can even find fresh food for longer durations due to freezing options and technological advancements. Owing to such technological advancements, canned food serves a crucial part in pantries around the world. In recent years, consumers are favoring canned fruits owing to their nutritional value as compared to their frozen or fresh counterparts. There are some canned products whose nutritional value is greater than their produce. Fruits are sealed into glass jars or air-tight cans to keep the original nutritional factors intact for a longer period.
Canning of fruits is one of the easiest and cheapest techniques that are used to preserve fruits for a prolonged period. In addition, it is also one of the popular and best techniques to preserve seasonal fruits for an entire year. Some nutritional properties of fruits, for instance, minerals, vitamins, fiber, and many others are also preserved through the canning process. The process is also effective as it keeps the flavor and fragrance of fruits for a longer duration.
Intensifying demand for many convenient products and a rising vegetarian population are estimated to serve as an opportunity for industry players. Moreover, increasing awareness related to the health benefits of consumption of healthy food on regular basis is likely to propel growth opportunities in the global market.
Most of the key companies manufacturing canned fruits are concentrated in Southeast Asia, China, Europe, and the U.S.
Report Attributes

Details

Canned Fruits Market Size (2022)

US$ 9.8 Billion

Estimated Market Value (2032)

US$ 12 Billion

Anticipated Growth Rate of Global Market (2022-2032)

2% CAGR

Projected Valuation of Canned Peaches Segment (2032)

US$ 3.4 Billion

Valuation of the U.S. Market (2021)

US$ 3.1 Billion

Key Companies Profiled

A. CLOUET & CO (KL) SDN. BHD
Del Monte Food, Inc.
CHB Group
Rhodes Food Group Holdings Ltd.
Golden Circle
Know thy Competitors
Competitive landscape highlights only certain players
Complete list available upon request
How Sales the Opportunities for Canned Fruit Suppliers Increasing?
"Juice-dipped Fruits Revolutionizing Industry of Canned Fruits"
People around the world are gaining awareness related to a lot of health issues. They avoid food products that come with excess calories to protect themselves from different complications.
A considerable portion of the population is vulnerable to diabetes. So, there arises a crucial requirement to cut off the portion of excess sugar from fruits that are commonly used in many bakery products. Manufacturers from the bakery industry are introducing natural juice-dipped fruit pieces to reduce the content of sugar in bakery products, unlike the ones that are loaded with syrup.
So, juice-dipped canned fruits are serving as a healthier alternative that is likely to be used in many reduced-sugar bakery products and thus stimulate the demand for canned fruits.
"Increasing Urbanization to Propel Demand for Canned Fruits"
In recent years, urbanization has been growing at a rapid pace. It leads to a noticeable increase in population shifting to urban areas that put a direct impact on the lifestyle of people and multiply the count of nuclear households. Thus, there arises a demand for ready-to-eat food products owing to busy lifestyles.
Rising demand for portable storage methods for many food products along with the rising popularity of convenience food is also likely to contribute to sales of canned fruits. Moreover, the ability of these canned food products to retain a high amount of nutrients and flavor is also likely to contribute to the preferred adoption of these food products among customers.
At present, the rising percentage of working women around the world has also increased consumer dependency on packed fruits which is likely to stimulate the demand for food products that have a longer shelf life. Thus, based on these factors, the canned fruits market is projected to expand at a noticeable rate.
"Steadily Changing Food Habits to Increase Consumption of Canned Fruits"
There is a noticeable change in the food habits of consumers that have further contributed to the increased consumption of canned fruits. Busy lifestyles, high disposable income, and rapid rate of urbanization are key drivers that are serving as noticeable drivers in the market growth. These industry trends have made canned fruits a vital part of the pantries of people around the world.
Further, canned fruits are easily available, and growing awareness among global consumers related to these products can provide better nutritional value. Furthermore, their economic prices in comparison with fresh fruits are bolstering the demand opportunities in the global market.
Canned fruits are chipped around different economic regions that do not have favorable environmental conditions to produce respective fruits. Thus, in these areas, the consumers have the option to try a wide assortment of fruits that is otherwise not possible without the availability of canned fruits.
Thus, these factors are expected to contribute to sales opportunities for canned fruits in the coming years.
Which Facets are Likely to Inhibit Demand for Canned Fruit Products?
"Price Fluctuation of Canned Fruits Likely to Restrict Their Adoption"
There is no stability in the price of canned fruits rather their price is changing on regular basis. This change in the price is owing to fluctuations in the production of respective fruits that further impact the price of the canning procedure. These variations can bring changes in the final price of different canned fruits that is further predicted to hinder the growth opportunities in the global market.
"Rising Demand for Minimally Invasive Processed & Fresh Food"
In recent years, there is an increasing demand for fresh and minimally processed food products that are estimated to put a negative impact on the adoption of these fruits.
However, increasing consumption of outside food, i.e., canned cocktails and others by the urban population is gaining traction in recent years. Furthermore, reduced home cooking practices are also predicted to gradually erode the industry.
More Insights, Lesser Cost (-50% off)
Insights on import/export production,
pricing analysis, and more – Only @ Fact.MR
How Can Start-ups Generate Business Opportunities in the Canned Fruits Industry?
"Innovative Initiatives by New Entrants Can Open Up Avenues for Them"
The food canning business is an often-overlooked opportunity to gain profits. Since the majority of start-ups are concentrating on packaged food products. Fruit canning might generate a lot of money if industry players ensure the supply of healthy and natural fruits to consumers.
Though the market of canned fruits is highly competitive thus novel entrants can try entering into the industry with some innovative flavors. Since the demand for fruits is increasing at a constant rate due to rising health consciousness among consumers related to the health benefits of these products if consumed regularly. So, the industry players can invest in different R&D activities to provide innovative solutions to consumers.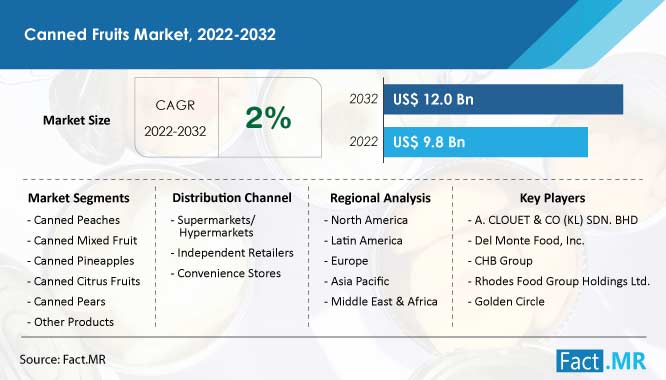 Which Regional Market Dominates the Global Canned Fruits Industry?
"High Consumption of Packaged Food Products in North America"
Among other regional areas, North America is estimated to hold the largest share of the global market due to the increasing consumption of packaged food products due to a constant change in lifestyle. The busy lifestyle of the regional population results in the rising adoption of packaged food products.
Europe is also estimated to hold a noticeable share in the global market owing to escalating demand for various sealed food items across the region because of the higher safety that is associated with them. Growing consumer awareness is also likely to stimulate the consumption of these canned products.
The society of Asia Pacific is changing in the past few years which has increased the demand for processed foods. Continuously increasing population and fast-moving lifestyle are serving as the primary reasons for an inflated requirement for ready-to-eat foods. Growing demand for these products further results in an increased requirement to develop healthier solutions that have sustained shelf-life.
Canned fruits are serving as the best remedy against all applications that require fruit pieces because of their ready-to-utilize and easy handling facility. Owing to progressing food industry and the increasing inclination of people, China and India are likely to experience increased demand for these packaged food products.
Country-wise Insights
Will the U.S. Generate Expansion Opportunities for Canned Fruit Producers?
"Consumption of Canned Foods to Remain High in the U.S."
The value of the U.S. canned fruits market has reached US$ 3.1 billion by the end of 2021. This rapid growth in the market is owing to the increasing consumption of canned fruits by consumers due to busy lifestyles and growing inclination for processed food items.
Japan and Canada are among the other noticeable geographic markets and are likely to progress at 2.2% and 3.3% from 2022 to 2032. Australia, India, and South Korea are also likely to experience noteworthy growth opportunities in the coming years.
Which European Countries Provide the Most Business Opportunities for Canned Fruit Suppliers?
"Rising Availability of Organically Certified Canned Fruits in Germany"
Since Europe is the largest food market, Germany has been an interesting point of focus. The country also ensures some specific opportunities for canned fruits and vegetables that are organically certified as it is a prominent market across Europe.
The U.K. and France hold the second and third positions in the regional market as they have comparatively lower production output. Further, Belgium and the Netherlands are the smaller markets for canned fruits. But they ensure their position in the top six as these nations function as re-exporters for canned fruits.
Germany is the largest importer of many canned fruits and there is a variation in the imports from year to year. Canned tomatoes followed by canned olives, canned sweet corn, canned green beans, and canned mushrooms are some popular products that are imported into the European region.
Category-wise Insights
Which Type of Canned Fruits Dominates the Global Market?
"Consumption of Canned Peaches Increasing at Notable Rate"
Based on product, the canned fruits market is classified into canned peaches, canned pineapples, canned mixed fruits, canned citrus fruits, canned pears, and other products. Among these industry segments, canned peaches are likely to reach a valuation of US$ 3.4 billion by the end of 2032. The projected sales of these products are likely to expand at a CAGR of 3.5% through 2032.
Further, the sales projection of the canned mixed fruit segment is predicted to progress at a CAGR of 2% during the forecast period.
Why Do Hypermarkets Account for Highest Product Sales?
"Consumer Preference for Hypermarket as Purchasing Platform Remains High"
Based on distribution channel, the canned fruits market is divided into supermarkets/hypermarkets, independent retailers, and convenience stores. Among these, supermarkets or hypermarkets are likely to hold a dominating position in the global market as these are the most preferred platforms to purchase canned fruits.
The presence of many chained hypermarkets across developed nations and increasing penetration of the same in developing nations has resulted in the dominance of this market segment. The busy lifestyles of customers and the rising percentage of people who are getting used to the convenience lifestyle are predicted to contribute to the growth opportunities in this segment.
Don't Need a Global Report?
save 40%! on Country & Region specific reports
Competitive Landscape
The safety of food has always been a top priority of each company. So, abiding with this, the key players serving in the global canned fruits market ensure to provide their consumers with the highest, safest, and freshest quality fruits. Further, the introduction of many hi-technology machines, that include custom-designed pitting & processing lines, new optical laser and color sorters, on-site freezing & frozen storage, and high-speed packaging lines have made fruit processing convenient and easier.
Prominent canned fruit manufacturers include A. CLOUET & CO (KL) SDN. BHD, Del Monte Food, Inc., CHB Group, Rhodes Food Group Holdings Ltd., and Golden Circle.
Segmentation of Canned Fruits Industry Research
By Product:

Canned Peaches
Canned Mixed Fruits
Canned Pineapples
Canned Citrus Fruits
Canned Pears
Other Products

By Distribution Channel:

Supermarkets/Hypermarkets
Independent Retailers
Convenience Stores

By Region:

North America
Europe
Asia Pacific
Latin America
Middle East & Africa
- FAQs -
The global canned fruits market is valued at US$ 9.8 billion in 2022.
Worldwide demand for canned fruits is expected to progress at a CAGR of 2% through 2032.
The canned fruits industry is anticipated to reach a valuation of US$ 12 billion by 2032.
The value of the canned peaches segment is likely to reach US$ 3.4 billion by 2032.
The U.S. canned fruits market reached a valuation of US$ 3.1 billion in 2021.
Key producers of canned fruits include A. CLOUET & CO (KL) SDN. BHD, Del Monte Food, Inc., CHB Group, Rhodes Food Group Holdings Ltd., and Golden Circle.