Electric Rice Cooker Market Bolstered by Research and Development Initiatives
The worldwide electric rice cooker market is set to grow at a healthy CAGR of 7 % through the forecast period (2019-2029). Trends including launches of new products and functionalities, and rising consumer inclination towards energy efficient methods of cooking which are key factors driving the adoption of appliances such as electric rice cookers.
Electric rice cooker manufacturers are increasingly focusing on research and development activities in terms of product design, in an effort to bolster product portfolios and meeting the diverse needs of modern consumers. Manufacturers are also working on the development of multifunction capabilities to meet the needs of not only residential applications, but also commercial cooking operations. Such trends enable the growth of a wider consumer base, contributing to the future growth of the market.
Easy Maintenance and Affordability Drive Demand for Standard Electric Rice Cookers
Some of the major players in the electric rice cooker market include names such as Toshiba Corporation, Conair Corporation, TTK Prestige Ltd., Sunbeam Product Inc., and Panasonic Inc., among others. In recent years key competitors have been increasing investments towards product innovations to maintain a competitive edge.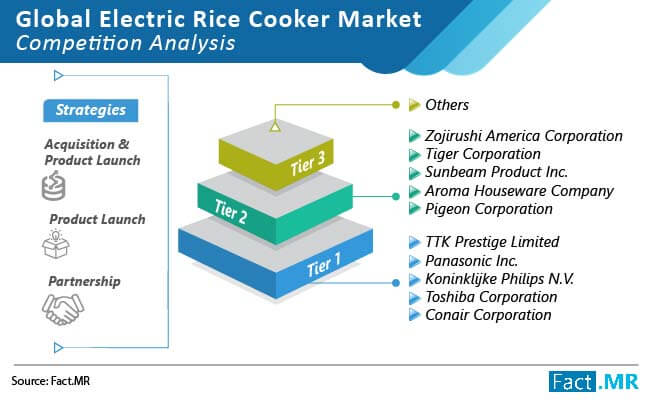 Standard Electric Rice Cookers in the Lead, Induction Based Cookers Record Fastest Growth
Standard electric rice cookers are projected to account for the largest segment in the electric rice cooker industry accounting for more than 60 % of the overall value. This dominance can be primarily attributed to factors such as ease in handling, affordable pricing, and minimal maintenance. Manufacturers are also equipping standard cookers with better design and functional features such as warming settings, microwave and dishwasher safe materials, and steaming baskets, which is expected to bolster demand in the near future.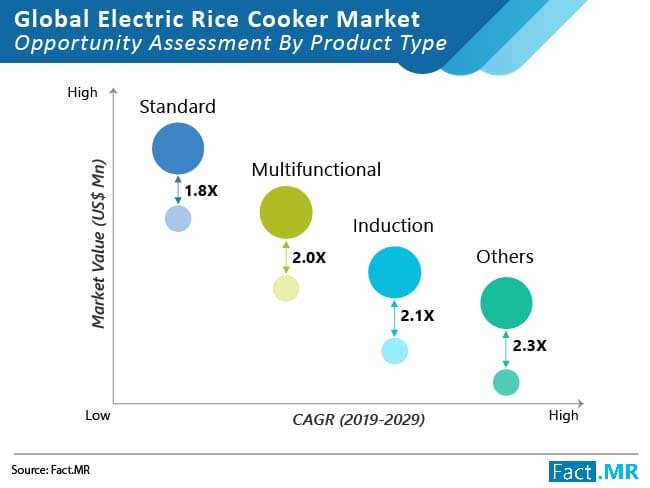 To get critical and intuitive market intelligence on electric rice cooker market, ask an analyst here
Although at a nascent stage in the market, induction based electric rice cookers are projected to be the fastest growing segment with a CAGR of 8% through the forecast period, owing to substantial changes in terms of consumer cooking preferences. The multifunctional electric rice cooker segment is also projected to display a strong rate of growth with steaming, boiling, stewing, and baking applications.
Further, modern electric rice cookers are being integrated with new tech features including timers, portability programmable settings, and removable interior components for superior hygiene, which will drive demand for electric rice cookers.
Asia Pacific Leads with 60% Share in Electric Rice Cooker Market
The countries in East Asia and South Asia cumulatively account for the largest regional market for electric rice cookers, accounting for nearly 60 % of the overall market value. This massive influence can be attributed to the role of rice as a staple food in nations such as Japan, China, Indonesia, and India. The growth is also supported by the large working populations of India and China, and the resultant demand for premium products, which will generate opportunities in the near future. On the other hand, a nascent market for electric rise cookers is rising rapidly in Latin America, andMiddle East and Africa regions with healthy CAGRs of around 7 %.
The growing number of retail stores in countries like Brazil, China, and India are expected to sustain the sales from offline distribution channels, which currently account for a larger market share. However, the growing presence of major online retailers, and the convenience of home delivery services, will result in a faster rate of growth for online channels in the years to come.
Global Electric Rice Cooker Market – Scope of the Report
The following report provides forecast and analysis of the global electric rice cooker market along with the historical data of 2014, estimated data 2019 and forecast data up to 2029 in terms of revenue (US$ Mn) and volume (Units), according to a Fact.MR study. The research propounds critical trends that are currently influencing growth within the global electric rice cooker market along with several macro-economic indicators. This newly published and insightful report on electric rice cooker sheds light on key dynamics, and their impact on the overall value chain from suppliers to end-users, which are expected to transform the future of the global electric rice cooker market.
The report also comprises the study of current issues with end users and opportunities for electric rice cooker. It also contains value chain analysis, including the key market participants. To provide users of this report with a comprehensive view of the market, we have included a detailed competitive analysis about the key players involved in the market and strategic overviews. The dashboard included in the report provides a detailed comparison of electric rice cooker manufacturers on parameters such as total revenue, product offerings, and key strategies. A list of key companies operating in the electric rice cooker market provided in the report adds to the credibility of this exhaustive research study.
Global Electric Rice Cooker Market: In-Depth Assessment on Key Segments
The global electric rice cooker market is segmented on the basis of product type, application, distribution channel and region.
| | | | |
| --- | --- | --- | --- |
| Product Type | Application | Distributional Channel | Region |
| Standard | Household | Offline | North America |
| Multifunctional | Commercial | Online | Latin America |
| Induction | | | Europe |
| Others | | | East Asia |
| | | | South Asia & Oceania |
| | | | MEA |

Country-specific assessment on demand for electric rice cooker has been provided for each regional market, along with the market size valuation and forecast price point assessment, price index and impact analysis of key regional and country-wise dynamics, which were obtained through quotes from numerous electric rice cooker manufacturers, experts, and suppliers. Y-o-Y growth projections have also been offered on all regional markets incorporated in the report. Moreover, future trends, growth prospects, and other possibilities related to the market have been answered in the report.
The report provides company-level market share analysis, which has been derived on the basis of the company's annual sales and segmental revenue in all the target end-use industries. The market has been forecasted based on constant currency rates. The report provides detailed competitive and company profiles of key participants operating in the global market. Some of the major competitors operating in the electric rice cooker market are TTK Prestige Limited, Panasonic Inc., Koninklijke Philips N.V., Toshiba Corporation and others.
Global Electric Rice Cooker Market: Research Methodology
A number of primary and secondary sources were consulted during the course of the study. Secondary sources include Factiva, Morningstar and Hoovers, and company annual reports and publications. Comprehensive interviews have been conducted by our analysts, and the intelligence and insights obtained have been used for validating the information gained through secondary research. The report also includes a description of assumptions and acronyms utilized for research purposes. Data gathered has been validated using the triangulation method to offer useful quantitative and qualitative insights into the electric rice cooker market.
A short market viewpoint offered in the report elucidates the macro-economic aspects that influence the growth of the electric rice cooker market, which includes global GDP growth rate, cooking appliance growth rate, and others. This report serves as an authentic resource of intelligence on the electric rice cooker market, enabling the readers to take fact-based decisions on the future direction of their businesses.
Fact.MR offers custom research services that help clients to get specific research solutions
We are committed towards customer satisfaction and quality service.
---
Our Clients

Electric Rice Cooker Market Forecast, Trend Analysis & Competition Tracking - Global Market Insights 2019 to 2029