Electric Blankets Market
Electric Blankets Market Analysis By Product (Over Blankets, Under Blankets, Electric Pads), By Price Range (Economy, Mid-range, Premium), By Material (Wool, Cotton, Polyester, Acrylic), By Sales Channel (Direct, Indirect), By End User (Residential, Commercial) & By Region - Global Market Insights 2023 to 2033
Analysis of Electric Blankets Market Covering 30+ Countries Including Analysis of US, Canada, UK, Germany, France, Nordics, GCC countries, Japan, Korea and many more
Electric Blankets Market Outlook (2023 to 2033)
Expanding at a CAGR of 6.5%, the global electric blankets market is forecasted by Fact.MR to increase from a value of US$ 1.17 billion in 2023 to US$ 2.2 billion by the end of 2033.
Electric blankets are innovative and practical solutions that provide warmth and comfort during cold seasons, making them a popular choice for individuals seeking to use them at home or even while travelling. These versatile blankets are equipped with heating elements that evenly distribute heat, creating a cosy cocoon of warmth.
Electric blankets are designed to operate on electricity, and they typically come in various sizes, ranging from single to king-size, to cater to individual preferences. They consist of a soft outer fabric, often made from materials such as fleece or polyester, which encases the internal heating wires and components. The heating elements are strategically woven into the fabric to ensure an even distribution of heat throughout the blanket.
To regulate the temperature, electric blankets usually have multiple heat settings, allowing users to adjust the warmth according to their comfort level. Some advanced models may even include dual controls, which allow different temperatures on each side of the blanket, ideal for couples with varying warmth preferences.
Global sales of electric under blankets are estimated to increase at a CAGR of 7% during the next 10 years.
Over blankets, under blankets, and electric pads are some of the types of electric blankets. An electric under blanket, also known as an electric mattress pad or heated mattress pad, is a type of electric blanket that is specifically designed to be placed on top of the mattress but beneath the fitted sheet. It operates on electricity and consists of a soft fabric cover with integrated heating elements that provide warmth to the bed from below.
The primary reason for the high demand for electric under blankets is the comfort and warmth that they provide. By heating the bed from beneath, they create a cosy and inviting sleep environment, especially during cold winter nights. The soothing warmth helps relax muscles, relieve tension, and promotes better sleep quality.
Electric under blankets are often more energy-efficient than using a room heater, heating cables, or central and district heating systems. Since they target the sleeper directly, they consume less energy, resulting in potential cost savings on heating bills. Advanced electric under blankets often come with dual controls for larger bed sizes (e.g., queen or king). This means each side of the bed can be adjusted independently, catering to the individual preferences of each sleeper.
Report Attributes
Details

Electric Blankets Market Size (2023E)

US$ 1.17 Billion

Forecasted Market Value (2033F)

US$ 2.20 Billion

Global Market Growth Rate (2023 to 2033)

6.5% CAGR

Canada Market Growth Rate (2023 to 2033)

5.5% CAGR

Germany Market Growth Rate (2023 to 2033)

4% CAGR

Japan Market Growth Rate (2023 to 2033)

3.5% CAGR

China Market Growth Rate (2023 to 2033)

9% CAGR

Key Companies Profiled

Jarden Corporation
Shanghai Shenda Co. Ltd.
Morphy Richards Ltd.
Snugnights UK LLP
Beurer GmbH
Caiyang
Slumberdown
Shijiazhuang Mengjie Industry Co. Ltd.
Silentnight Group Ltd.
Biddeford Blankets
Bokuk Electronics Co., Ltd.
Perfect Fit Industries LLC
Qingdao Qindao Electric Appliance Co., Ltd
Tenacta Group S.P.A.
Don't Need a Global Report?
save 40%! on Country & Region specific reports
What's Generating Lucrative Opportunities for Electric Blanket Manufacturers?
"Electric Blankets Considered as Cost-effective Heating Option"
Many consumers prefer electric blankets over central heating systems primarily due to their cost-effectiveness. They are more energy-efficient than central heating systems, as they provide direct heat to the user's immediate sleeping area rather than heating the entire room or house. This targeted heating can help reduce energy consumption and lower utility bills. Electric blankets allow users to control their sleeping temperature, catering to their specific comfort preferences.
Electric blankets can heat up quickly, providing instant warmth when needed. In contrast, central heating systems might take some time to raise the overall room temperature to a comfortable level. Electric blankets are portable and can be used in various settings, including beds, couches, and even outdoor activities such as camping. This mobility makes them versatile and adaptable to different living situations.
Setting up and installing electric blankets are easy, but central heating systems can be more difficult and expensive to install and maintain. Thus, all these factors are increasing the electric blanket demand.
"Advanced Safety Features Boosting Popularity of Modern Electric Blankets"
Modern electric blankets prioritize safety as a crucial aspect of their design. Manufacturers are making significant advancements in incorporating various safety features to ensure that users can enjoy the warmth and comfort of electric blankets without worrying about potential hazards such as fire or overheating.
Electric blankets consist automatic shut-off timer to prevent overheating and damage. It turns off after a specific period or as per settings made. Electric blankets have safety features that prevent overheating and fire hazards. The overheat protection system shuts off the power supply when the temperature reaches a certain level, keeping the blanket at a safe temperature.
Manufacturers of electric blankets are focusing to obtain safety certifications from recognized organizations such as Underwriters Laboratories (UL). These certifications ensure that the products meet strict safety standards and are been tested for fire resistance, electrical safety, and overall performance. To minimize the risk of fire accidents, electric blankets are designed with flame-retardant materials. This additional layer of protection helps to reduce the possibility of fire hazards.
"Continuous Innovations Such As Waterproof Blankets and Battery-powered Blankets"
Manufacturers are continuously innovating, introducing new features in electric blankets to cater to diverse consumer needs. These innovations include lightweight and durable designs, battery-powered blankets with mobile chargeable sockets, waterproof blankets, and machine-washable and water-resistant options. Additionally, features such as stain resistance and machine washability enhance user convenience and cleanliness, making electric blankets more appealing to consumers. The incorporation of these advanced features is attracting wider consumer interest.
Among the demographic groups, consumers aged above sixty show particular interest in electric blankets. Being more sensitive to harsh and bitter weather, older individuals find electric blankets to be a compelling solution. With several technological advancements, electric blankets are becoming a popular choice for providing comfort and promoting well-being among senior citizens. Senior consumers appreciate several advantages that electric blankets offer over traditional heating appliances.
What May Lower the Revenue Graph of Electric Blanket Suppliers?
"Safety Concerns Creating Misconceptions in Some Users' Minds"
Electric blankets can be dangerous if they are not used properly. If an electric blanket is old, damaged, or has worn-out wires, it can cause a fire or an electrical shock. Additionally, if the blanket is left on for too long, it can overheat and cause burns or other injuries. These hazards are a major concern for consumers who may decide not to use electric blankets due to safety concerns.
"Competition from Alternative Heating Solutions and Seasonal Demand"
Electric blanket producers are facing competition from various alternative heating solutions, such as space heaters, heated mattress pads, wireless heating pads, and heated throws. Consumers may opt for these alternatives based on their preferences and needs, which may impact the demand for electric blankets.
Electric blankets are primarily used during colder months or in regions with cold climates. As a result, the demand for electric blankets can be seasonal, leading to fluctuations in sales throughout the year.
"Price Constraints and Limited Product Awareness"
The prices of electric blankets can vary significantly depending on the brand, features, and quality. Higher-priced blankets may be out of reach for some consumers, impacting sales growth.
In some regions, awareness of electric blankets and their benefits may be limited, which may lead to lower demand for these products. Marketing and education efforts may be necessary to increase consumer awareness and adoption.
More Insights, Lesser Cost (-50% off)
Insights on import/export production,
pricing analysis, and more – Only @ Fact.MR
How are New Producers of Electric Blankets Strategizing to Make a Mark?
"Product Differentiation & Diversification Reaching Wider Consumer Base"
Entering the electric blankets market can be challenging but several factors can aid pockets of newcomers to gain a foothold and succeed in the industry. To stand out from established competitors, new market players should focus on unique selling points. This could include innovative features, improved safety measures, energy efficiency, smart technology integration, or creative designs. Identifying and highlighting sets products apart can attract customers looking for something new and better.
Entering a market with established players might require offering competitive pricing. Newcomers should aim to find a balance between quality and affordability to attract cost-conscious customers while maintaining product integrity. Partnering with the right distributors and retailers can help new market players extend their market reach. Collaborating with reputable online marketplaces, department stores, and specialty bedding stores can increase product visibility and accessibility.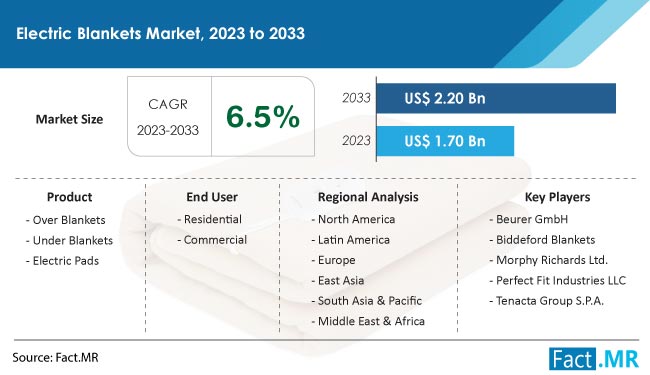 Country-wise Analysis
Why is Demand for Electric Blankets High in the United States?
"Auto Shut-off Takes Center Stage in Electric Blankets, Appealing to Safety-conscious American Consumers"
Increasing awareness of energy-efficient and cost-effective home heating solutions is boosting the demand for electric blankets in the United States. Consumers are looking for ways to stay warm during colder months without significantly impacting their energy bills.
Incorporation of advanced technologies, such as programmable settings and safety features such as auto shut-off, is improving the appeal of electric blankets to safety-conscious consumers. Electric blankets are more popular among the older population of the United States.
Why is Germany a Key Market for Electric Blanket Producers in Europe?
"Advanced Electric Blankets Necessity in Frosty German Winters"
As per industry analysis by Fact.MR, a market research and competitive intelligence provider, sales of electric blankets in Germany are foreseen to increase at a CAGR of 4% from 2023 to 2033.
The country's climate and consumer shifting preferences for energy-efficient heating solutions are increasing the sales of electric blankets in Germany. The colder weather during winter months makes electric blankets a desirable commodity for staying warm.
German consumers' emphasis on quality and safety is leading to a strong focus on product certifications and adherence to stringent safety standards. Manufacturers catering to these preferences tend to perform better in the market. Also, German consumers increasing interest in smart home technologies are boosting the adoption of electric blankets.
Is the Electric Blanket Concept Gaining Traction in Japan?
"Tradition Meets Technology - Embracing Kotatsu Heritage in Modern Electric Blankets"
Electric blanket demand in Japan is forecasted to increase at a CAGR of 3.5% through 2033.
Emphasis on innovations and aesthetics is driving sales of electric blankets in Japan. Manufacturers are investing in research and development activities to create electric blankets with sleek designs, lightweight materials, and enhanced functionality.
The concept of 'kotatsu' plays a role in the Japanese electric blanket market's development. Kotatsu is a traditional low, heated table with a blanket draped over it. Modern electric blankets often incorporate features that replicate the warmth of kotatsu, appealing to the local consumers' cultural preferences.
Know thy Competitors
Competitive landscape highlights only certain players
Complete list available upon request
Category-wise Analysis
Why is Residential Use of Electric Blankets Higher?
"Electric Blankets Providing Energy-efficient Comfort to Homeowners"
Electric blankets are primarily designed for personal comfort and are commonly used on beds in residential settings. People use them to stay warm during cold nights, relieve muscle tension, or simply enhance their sleeping experience. In the residential sector, individuals have more control over their heating preferences and can use electric blankets to target specific areas for warmth, such as their beds, rather than heating an entire room or building. This targeted heating approach can be more energy-efficient and cost-effective for individual users.
In contrast, the commercial sector may not have the same demand for personal comfort products, as the focus is often on providing heating or cooling to a larger shared space rather than individual comfort. Another aspect is that commercial settings such as hotels have to follow strict safety regulations, which may lower electric blanket demand.
Competitive Landscape
Key market players are continuously investing in research and development activities to introduce innovative electric blankets with advanced features. These may include smart technology integration, adjustable heat settings, safety enhancements, and eco-friendly materials. Innovative products attract consumers looking for the latest and most efficient solutions, leading to higher sales and market dominance.
In October 2020, Xiaomi unveiled its latest innovation 'PMA smart electric blanket'. This cutting-edge blanket is equipped with voice-activation technology, allowing users to effortlessly regulate its temperature to their desired comfort level.
Key Segments of Electric Blankets Industry Research
By Product :

Over Blankets
Under Blankets
Electric Pads

By Price Range :

Economy
Mid-range
Premium

By Material :

Wool
Cotton
Polyester
Acrylic

By Sales Channel :

By End User :

By Region :

North America
Latin America
Europe
East Asia
South Asia & Oceania
MEA
- FAQs -
The global electric blankets market is estimated at US$ 1.17 billion in 2023.
The market for electric blankets is estimated to reach US$ 2.20 billion by 2033.
Worldwide sales of electric blankets are predicted to increase at a CAGR of 6.5% from 2023 to 2033.
The electric blankets market in China is projected to rise at a CAGR of 9% through 2033.
Sales of electric blankets are estimated to rise at a CAGR of 5.5% in Canada.