Metal Forging Market to Witness Two-fold Growth
Aircraft sales have witnessed a significant spurt in the recent past. Metal forging processes are increasingly being used to manufacture light-weight aircraft components. This is giving significant traction to metal forging market which is projected to register a stellar growth rate of more than 7% from 2019 to 2029. Growth of electric automobiles further adds to the demand for strong and durable forged components which will bolster growth of the market through 2029.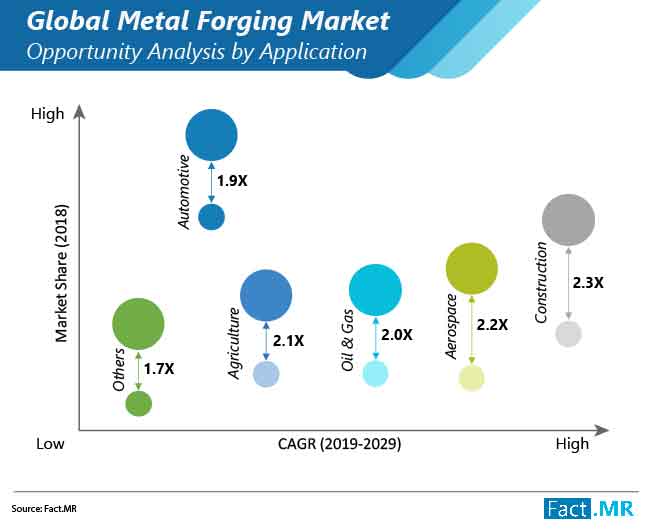 Carbon Steel to be Lucrative Revenue Pocket
Owing to durability properties such as ductility, hardness, yield strength, and impact resistance, Carbon steel is expected to grow 1.9X during the forecast period. Manufacturers prefer carbon steel for a variety of products such as shafts, rails, gears, cars, cutting tools, and blades. Aluminum is the second most demanded metal forging raw material with a market share of more than 21%. Regulations pertaining to use of high-performance components in aerospace & defense industries are projected to drive the demand for Aluminum.
East Asia Leads, with Surging Demand for Metal Forging
East Asia has emerged as the leading region in global metal forging market. Immense support from the government of China on production of aluminum forged components plays a major role in the 41% market share accruing from this region. South Asia & Oceania follow East Asia come a close second in the metal forging market. This can be attributed to countries such as Singapore and Indonesia where the former is a mass-consumer of machine tools and the latter identifies vehicle manufacturing as a key industry both of which require metal forging capabilities to craft durable components.
Manufacturing Capacity Dictates Revenue Sustainability
The metal forging market is relatively fragmented. Manufacturers in the metal forging market are expanding production capacities and investing in new product developments to strengthen their market position. Bruck GmbH, Larsen & Toubro (L&T) Limited, Bharat Forge Ltd., China First Heavy Industries, ELLWOOD Group Inc., Japan Casting & Forging Corporation are amongst prominent players in the market. The future of metal forging involves improved workspaces along with advanced IoT machines. Market players are investing in research and development of automated metal forging processes. Here are a few developments from major players in the market:
L&T recently entered into a strategic partnership with Mitsubishi Corporation to establish a state-of-the-art Hot Strip Mill. Once fully functional the mill will produce Carbo Structural Steel, High Carbon Steel, LPG Cylinder Steel, API Pipe Steel, and Auto-grade steel to serve high-end market segments.
Japan Casting & Forging Corporation is building large scale components for the Nuclear Reactor in Japanese Nuclear Power Plants across the province in partnership with Japan Steel Works Ltd.
China First Heavy Industries manufactured the world's biggest petrochemical technical equipment i.e. residual oil ebullated bed hydrogenation reactor for forge-welded construction.
Bharat Forge Ltd. is the exclusive supplier of metal forged components to Daimler AG and Detroit Diesel USA. In July 2019, the company manufactured the millionth finished & machined crankshaft. This is a sign of the long-term strategic partnership between these companies.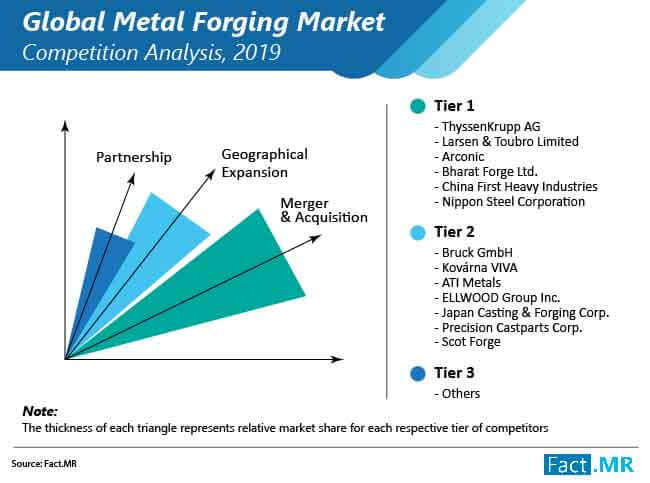 Global Metal forging Market – Scope of the Report
The following report provides forecast and analysis of the global metal forging market along with the historical data of 2014, estimated data 2019 and forecast data up to 2029 in terms of revenue (US$ Mn) and Volume (Kilo Tons), according to a Fact.MR study. The research propounds critical trends that are currently influencing growth within the global metal forging market along with several macro-economic indicators. This newly published and insightful report on metal forging sheds light on key dynamics, and their impact on the overall value chain from suppliers to end-users, which are expected to transform the future of the global metal forging market.
The report also comprises the study of current issues with end users and opportunities for metal forging. It also contains value chain analysis, including key market participants. To provide users of this report with a comprehensive view of the market, we have included a detailed competitive analysis about the key players involved in the market and strategic overviews. The dashboard included in the report provides a detailed comparison of metal forging manufacturers on parameters such as total revenue, product offerings, and key strategies. A list of key companies operating in the metal forging market provided in the report adds to the credibility of this exhaustive research study.
Global Metal forging Market: In-Depth Assessment on Key Segments
The global metal forging market is segmented on the basis of raw material, application and region.
| | | |
| --- | --- | --- |
| Raw Material | Application | Region |
| Carbon Steel | Automotive | North America |
| Alloy steel | Aerospace | Latin America |
| Aluminum | Oil & Gas | Europe |
| Magnesium | Construction | East Asia |
| Stainless Steel | Agriculture | South Asia & Oceania |
| Titanium | Others | MEA |
| Others | | |
This taxonomy and the detailed toc prepared are confidential and intended exclusively for the individual or entity with whom it is being shared. Reading, disseminating, distributing, or copying this to any party other than addressee(s) is unauthorized and prohibited.
Country-specific assessment on demand for metal forging has been provided for each regional market, along with the market size valuation and forecast price point assessment, price index and impact analysis of key regional and country-wise dynamics, which were obtained through quotes from numerous metal forging manufacturers, experts, and suppliers. Y-o-Y growth projections have also been offered on all regional markets incorporated in the report. Moreover, future trends, growth prospects, and other possibilities related to the market have been answered in the report.
The report provides company-level market share analysis, which has been derived on the basis of the company's annual sales and segmental revenue in all the target end-use industries. The market has been forecasted based on constant currency rates. The report provides detailed competitive and company profiles of key participants operating in the global market. Some of the major competitors operating in the metal forging market are Bruck GmbH, Thyssenkrupp AG, Larsen & Toubro Limited, Arconic and others.
Global Metal Forging Market: Research Methodology
A number of primary and secondary sources were consulted during the course of the study. Secondary sources include Factiva, Morningstar and Hoovers, and company annual reports and publications. Comprehensive interviews have been conducted by our analysts, and the intelligence and insights obtained have been used for validating the information gained through secondary research. The report also includes a description of assumptions and acronyms utilized for research purposes. Data gathered has been validated using the triangulation method to offer useful quantitative and qualitative insights into the metal forging market.
A short market viewpoint offered in the report elucidates the macro-economic aspects that influence the growth of the metal forging market, which includes global GDP growth rate, various industries growth rate, such as building & construction, automotive, aerospace, oil & gas, construction and others. This report serves as an authentic resource of intelligence on the metal forging market, enabling the readers to take fact-based decisions on the future direction of their businesses.
Fact.MR offers custom research services that help clients to get specific research solutions
We are committed towards customer satisfaction and quality service.
---
Our Clients

Metal Forging Market Forecast, Trend Analysis & Competition Tracking - Global Market Insights 2019 to 2029