Metal Cladding Market
Metal Cladding Market Analysis by Material (Ceramic, Bricks & Stones, Metal, Wood, Vinyl, Stucco & Elfs, Fiber Cement, Concrete & Weatherboards), By End Use (Walls, Roofs, Vents, Gutters), By Application (Residential, Non-residential) & By Region – Global Market Insights 2023 to 2033
Analysis of Metal Cladding Market Covering 30+ Countries Including Analysis of US, Canada, UK, Germany, France, Nordics, GCC countries, Japan, Korea and many more
Metal Cladding Market Outlook (2023 to 2033)
The global metal cladding market is valued at US$ 33.6 billion in 2023 and is projected to reach US$ 55 billion by 2033-end, advancing at a steady CAGR of 5% over the next ten years.
Metal cladding refers to a metal outer layer that is bonded to a core metal substance. Increasing awareness of and emphasis on sustainability and environmental concerns are driving the demand for eco-friendly and recyclable metal cladding materials.
Key suppliers of metal cladding are showing a high preference for materials with lower carbon footprints and energy-efficient properties. An aluminum cladding panel is a building element that is often fixed on the exterior profile of a building as a façade and is also utilized in the interior design of buildings.
Architects and designers seek more versatile metal cladding products that offer a wide range of design options, finishes, textures, and colors. Customization allows for unique and visually striking building exteriors. Galvanized metal cladding is hot-dipped zinc-coated steel with excellent anti-corrosive properties. Corrugated roofing, rainwater systems, and other uses such as wall cladding substrates are common examples.
Adoption of advanced technologies in metal cladding production and installation processes is on the rise. This involves computer-aided design (CAD), building information modeling (BIM), and automated installation methods, resulting in enhanced accuracy and efficiency. Interlocking metal cladding is a contemporary method that can completely change the look of a building. The panels are connected through a simple interlocking groove and can be customized using a recess or express junction.
Hybrid cladding systems, integrating materials like metal, glass, and composites, are becoming increasingly popular. These systems offer unique design possibilities and improved performance features, including enhanced insulation and acoustic properties. One example of metal cladding is zinc cladding, which comes in various shapes and sizes, allowing sheets to be formed into shingles, cassette panels, and flat-lock panels, making them suitable for any building type.
Metal cladding solutions have been designed not only for aesthetics but also to enhance building performance. These solutions incorporate features that improve energy efficiency, thermal insulation, and acoustics to comply with strict building codes and sustainability standards. Perforated metal sheets, for example, enable improved ventilation and air circulation, providing comfort within the building while preventing excessive moisture buildup in structures exposed to significant dampness or heat.
Report Attributes
Details

Metal Cladding Market Size (2022)

US$ 32 Billion

Estimated Market Value (2023)

US$ 33.6 Billion

Forecasted Market Value (2033)

US$ 55 Billion

Global Market Growth Rate (2023 to 2033)

5% CAGR

Leading Regional Market

Asia Pacific

Key Companies Profiled

Ancon Limited
BlueScope Steel
BASF
ASTEC Industries Inc.
James & Taylor
Huntsman Corporation
Bemo Systems
Zahner
Kalzip Ltd.
Don't Need a Global Report?
save 40%! on Country & Region specific reports
What are the Primary Drivers for the Growing Use of Metal Cladding?
"High Demand for Metal Cladding Due to its Role in Enhancing Energy Efficiency & Aesthetics of Structures"
Growth of the construction and infrastructure sectors has been a significant driver for the metal cladding market. As urbanization continues and new buildings are constructed, demand for metal cladding as a durable and aesthetically pleasing exterior solution increases.
Metal cladding offers a wide range of design options, finishes, and colors, allowing architects and designers to create visually striking and unique building exteriors. The desire for modern and visually appealing architecture has contributed to the popularity of metal cladding.
Increasing concerns about environmental sustainability and energy efficiency have driven the demand for green building materials. Metal cladding, particularly when paired with insulation, can contribute to better energy efficiency and reduced environmental impact.
"Weather Resistance and Fire Safety Benefits by Metal Cladding Driving Product Adoption"
Metal cladding provides excellent durability and resistance to various weather conditions, such as rain, wind, snow, and UV radiation. Its ability to protect the building's exterior from weather-related damage is a crucial factor driving its adoption.
Renovation and retrofitting of existing buildings with metal cladding have become popular to improve their appearance, update the façade, and enhance energy efficiency. This trend has contributed to sustained demand in the metal cladding market.
Innovations in manufacturing techniques and coating technologies have resulted in the production of more cost-effective and efficient metal cladding products. These advancements have expanded the range of available options in the market. Metal cladding can provide fire-resistant properties depending on the metal type and configuration. This has made it a preferred choice in areas where fire safety regulations are stringent.
What are the Hindrances to the Demand Growth for Metal Cladding?
"High Cost of Metal Cladding and Fierce Competition from Alternative Cladding Materials"
Metal cladding, especially certain premium materials and high-quality finishes, can be relatively expensive compared to other cladding options. The higher upfront costs may discourage some construction projects from opting for metal cladding, particularly those with tight budgets.
Metal cladding faces competition from other cladding materials, such as concrete, brick, fiber cement, and various composite materials. Each material has its advantages and cost considerations, and the availability of alternative options impacts the demand for metal cladding.
Some metal cladding systems have limited insulation properties compared to other materials, leading to concerns about reduced energy efficiency, particularly in colder climates.
"Environmental Concerns Associated with Metal Cladding System Production and High Installation Cost"
While metal cladding systems can be recycled, there are environmental concerns associated with the extraction and processing of specific metals. As sustainable construction practices gain importance, these environmental considerations may influence market preferences for cladding materials.
Installation of metal cladding can be more complex and labor-intensive compared to other cladding systems. This results in higher installation costs and longer project timelines.
Although metal cladding is generally durable, certain metals can be susceptible to corrosion over time, especially in corrosive environments or coastal areas. Need for regular maintenance to prevent corrosion can be seen as a restraint by some building owners.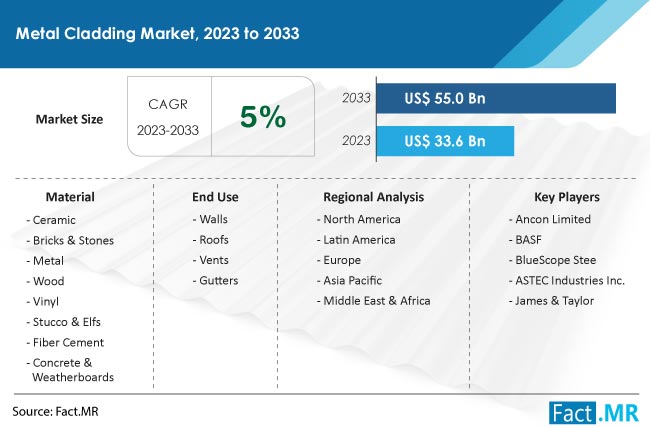 Country-wise Insights
What are the Key Market Trends Influencing the Demand for Metal Cladding in China?
"Increasing Investments in Construction & Infrastructure Development Fueling Demand for Innovative Architectural Solutions"
China has witnessed significant investments in construction and infrastructure projects, encompassing commercial buildings, residential complexes, industrial facilities, and public infrastructure. As a result, there has been substantial demand for metal cladding materials in these ventures.
Ever-rising urbanization and efforts to modernize cities across China have led to an increase in demand for innovative and visually appealing architectural solutions, making metal cladding a popular choice.
China's strong industrial base has increased the demand for metal cladding in industrial facilities, warehouses, and manufacturing plants. As part of China's commitment to sustainability and energy efficiency, there has been a growing emphasis on using energy-efficient materials in construction, including metal cladding with insulation solutions.
What Opportunities Exist for Metal Cladding Manufacturers in the United States?
"Increasing Renovation & Retrofitting Projects for Enhanced Energy Efficiency"
The construction industry in the United States continues to exhibit growth across various sectors, including commercial, residential, and industrial, which is driving the demand for metal cladding materials in building projects.
Architects and designers are drawn to metal cladding for its diverse range of design options, finishes, and colors, enabling them to create visually appealing and innovative building exteriors. Many older buildings in the United States are currently undergoing renovation and retrofitting projects to modernize their exteriors and enhance energy efficiency, further fueling the need for metal cladding solutions.
Increasing focus on sustainable metal cladding and energy-efficient construction is evident, with metal cladding, especially when combined with insulation, offering the potential for improved building performance and reduced environmental impact.
More Insights, Lesser Cost (-50% off)
Insights on import/export production,
pricing analysis, and more – Only @ Fact.MR
Category-wise Insights
Which Factors Contribute to Widespread Use of Metal Cladding in Roofs?
"Durability and Leak Prevention Capability of Metal Cladding for Roofs"
Metal cladding for roofs involves installing metal sheets, cladding panels, or shingles on the surface to create a durable and weather-resistant layer. Roofs with metal cladding are highly durable and can withstand harsh weather conditions such as heavy rain, snow, hail, and high winds. They have a longer lifespan compared to traditional roofing materials like asphalt shingles. Metal cladding provides excellent protection against water infiltration, preventing leaks and water damage to the building's interior.
Some metal roofing materials come with reflective coatings that help reduce heat absorption, leading to improved energy efficiency and lower cooling costs during hot weather. Metal roofs require minimal maintenance, making them a convenient choice for building owners.
Why are We Seeing Widespread Adoption of Metal Cladding in the Non-residential Sector?
"Enhanced Fire Resistance of Metal Cladding Driving its Use in Non-residential Construction Projects"
Metal cladding in the non-residential sector refers to the application of metal materials on the exteriors or interiors of buildings and structures that are not primarily used for residential purposes. This sector encompasses a wide range of commercial, industrial, institutional, and public buildings.
The non-residential sector has gained popularity due to the various benefits and advantages it offers, making it a preferred choice for many construction projects. Non-combustible metal cladding provides enhanced fire resistance to protect the building and its occupants. This is particularly crucial for non-residential structures where fire safety is a top priority. It is well-suited for industrial facilities, warehouses, manufacturing plants, and other non-residential buildings that require robust exteriors to withstand heavy machinery and equipment. Some metal cladding systems are designed for quick and efficient installation, reducing construction timelines and costs for non-residential projects.
Metal cladding can be used in a variety of non-residential building types and styles, offering versatility to meet the specific requirements of each project. Metal cladding provides reliable protection against weather elements, ensuring the longevity and integrity of non-residential buildings even in challenging climates.
Competitive Landscape
The metal cladding market in the non-residential sector is characterized by the presence of several key players, both at the global and regional levels. These companies are competing to offer a diverse range of metal cladding solutions to cater to the specific needs of non-residential construction projects.
In September 2022, Ash & Lacy Holdings Pvt. Ltd. announced a collaboration with Tenmat Ltd. to establish standard specifications for horizontal and vertical fire obstruction options to be utilized with its non-combustible Natural-X and MechSlip brick cladding systems.
In February 2022, Kingspan Group purchased Ondura Group, a leading global distributor of roofing materials and related roofing solutions with headquarters in France and a distribution network spanning more than 100 countries.
Know thy Competitors
Competitive landscape highlights only certain players
Complete list available upon request
Key Segments of Metal Cladding Industry Research
By Material :

Ceramic
Bricks and Stones
Metal
Wood
Vinyl
Stucco and EIFS
Fiber Cement
Concrete and Weatherboards

By End Use :

Walls
Roofs
Vents
Gutters

By Application :

Residential
Non-residential

By Region :

North America
Latin America
Europe
Asia Pacific
Middle East & Africa
- FAQs -
The global metal cladding market is valued at US$ 33.6 billion in 2023.
Worldwide demand for metal cladding is set to increase at a CAGR of 5% from 2023 to 2033.
Global sales of metal cladding are set to reach US$ 55 billion by 2033.
James & Taylor, BASF, and Ancon Limited are prominent manufacturers of metal cladding.
Asia Pacific is set to be a lucrative market for metal cladding suppliers over the decade.