Aerospace Parts Manufacturing Market to Exhibit Steady Growth through 2029
Global emphasis on reducing environmental pollution caused by commercial and defense aircrafts warrants an increase in fuel efficiency. To increase fuel efficiency aircraft engineers around the world are decreasing aircraft weight by adopting lightweight, new generation parts. This transition phase in the global aerospace industry will drive the market to witness 1.5X growth during the forecast period (2019 and 2029). Manufacturers stand to gain more customers by leveraging material and process advancements. Replacement of end-of-life aircrafts with modern aircrafts will propel aerospace parts manufacturing market to register steady growth by the end of the forecast period (2019-2029).
Commercial Aircrafts Lead Market Demand
Commercial aircrafts maintain share-wise dominance with a majority market share of more than half of total market value. Surge in demand for air travel followed by a surge in the number of airbuses filter down to a healthy growth in commercial aircraft parts manufacturing. This is followed by business aircrafts that enjoy more than 1/4th of market share. The increasing number of millionaires around the world amid booming start-ups has increased the number of business aircrafts. This can be further traced to an increase in the demand for regular maintenance and parts purchase. Manufacturers are focused on this niche market on the back of increasing successful start-ups and entrepreneurs.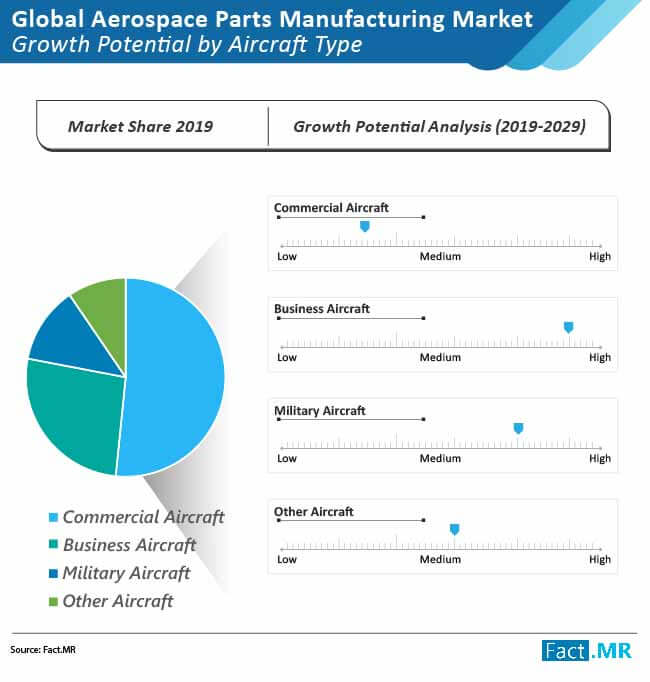 To access our latest insights on the aerospace parts manufacturing market, ask an analyst here
North America Renews End-of-life Aircrafts, Southeast Asia & Oceania to Purchase New Fleets
North America maintains hold on the global aerospace parts manufacturing market with more than half of the total revenue share. Early adopters in this region are continuously upgrading their aircraft technologies which demand manufacturing of new parts. The region is expected to maintain a majority market share throughout the forecast period. The most lucrative growth opportunity is offered by Southeast Asia & Oceania. Recent success in economic policies and business ventures allows Southeast Asian countries such as Indonesia, Singapore, and Malaysia to purchase new aircrafts, as well as, repair or replace the old ones. Southeast Asian region will grow at a promising CAGR of over 7% from 2019 to 2029.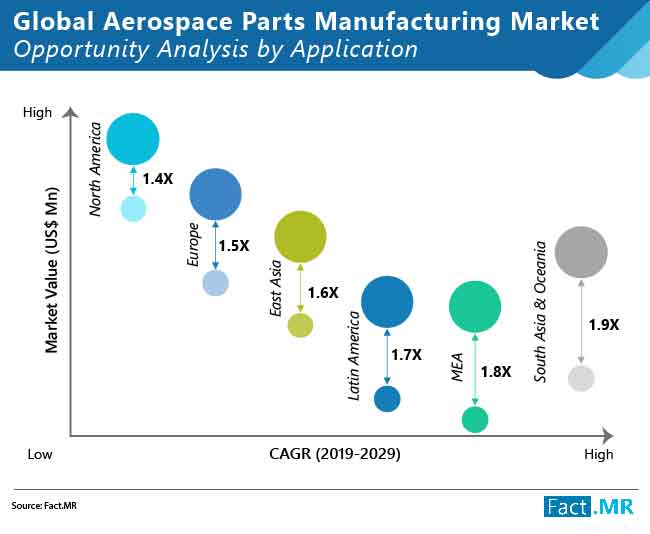 To know more about how growth of aerospace parts manufacturing market will unfold in these regions, request for a report sample here
Energy Efficiency Drives the Competitive Landscape
Rising energy costs fuel the growing demand for energy efficient aircrafts with lightweight parts that increase fuel efficiency. Developing economies present remunerative growth opportunities for manufacturers to penetrate the region and establish an aircraft manufacturing base. This will help them leverage the future demand for maintenance, repair, and overhaul activities. Advancements in aircraft technology such as fuselage, engines, avionics, and insulation equipment will induce continued demand for parts. In order to leverage these trends market players are investing in research & development and strategic partnerships with prospective players. Major market stakeholders that influence competitive landscape of aerospace parts manufacturing are Rolls Royce plc, JAMCO Corporation, Intrex Aerospace, CAMAR Aircraft Parts Company, Safran Group, Woodward Inc., Eaton Corporation plc, Zodiac Aerospace, Premium Aerotec, Triumph Group, Cutis-Wright Corporation, Bridgestone Corporation, Sumitomo Precision Products Co. Ltd., Eaton Corporation plc, Lycoming Engines, and Dassault Systems.
Global Aerospace Parts Manufacturing Market – Scope of the Report
The following report provides forecast and analysis of the global aerospace parts manufacturing market along with the historical data of 2014, estimated data 2019 and forecast data up to 2029 in terms of value (US$ Mn), according to a Fact.MR study. The research propounds critical trends that are currently influencing growth within the global aerospace parts manufacturing market along with several macro-economic indicators. This newly published and insightful report on aerospace parts manufacturing sheds light on key dynamics, and their impact on the overall value chain from suppliers to end-users, which are expected to transform the future of the global aerospace parts manufacturing market.
The report also comprises the study of current issues with end users and opportunities for aerospace parts manufacturing. It also contains value chain analysis, including the key market participants. To provide users of this report with a comprehensive view of the market, we have included a detailed competitive analysis about the key players involved in the market and strategic overviews. The dashboard included in the report provides a detailed comparison of aerospace parts manufacturing manufacturers on parameters such as total revenue, product offerings, and key strategies. A list of key companies operating in the aerospace parts manufacturing market provided in the report adds to the credibility of this exhaustive research study.
Global Aerospace Parts Manufacturing Market: In-Depth Assessment on Key Segments
The global aerospace parts manufacturing market is segmented on the basis of product type, aircraft type and region.
| | | |
| --- | --- | --- |
| Product Type | Aircraft Type | Region |
| Engines | Commercial Aircraft | North America |
| Aircraft Manufacturing | Business Aircraft | Latin America |
| Cabin Interiors | Military Aircraft | Europe |
| Equipment, System, and Support | Other Aircraft | East Asia |
| Avionics | | South Asia & Oceania |
| Insulation Components | | Middle East & Africa |
This taxonomy and the detailed TOC prepared are confidential and intended exclusively for the individual or entity with whom it is being shared. Reading, disseminating, distributing, or copying this to any party other than addressee(s) is unauthorized and prohibited.
Country-specific assessment on demand for aerospace parts manufacturing has been provided for each regional market, along with the market size valuation and forecast price point assessment, price index and impact analysis of key regional and country-wise dynamics, which were obtained through quotes from numerous aerospace parts manufacturing manufacturers, experts, and suppliers. Y-o-Y growth projections have also been offered on all regional markets incorporated in the report. Moreover, future trends, growth prospects, and other possibilities related to the market have been answered in the report.
The report provides company-level market share analysis, which has been derived on the basis of the company's annual sales and segmental revenue in all the target end-use industries. The market has been forecasted based on constant currency rates. The report provides detailed competitive and company profiles of key participants operating in the global aerospace parts manufacturing market. Some of the major competitors operating in the aerospace parts manufacturing market are Rolls Royce Plc, GE Aviation, Dassault Systems and others.
Global Aerospace Parts Manufacturing Market: Research Methodology
A number of primary and secondary sources were consulted during the course of the study. Secondary sources include Factiva, Morningstar and Hoovers, and company annual reports and publications. Comprehensive interviews have been conducted by our analysts, and the intelligence and insights obtained have been used for validating the information gained through secondary research. The report also includes a description of assumptions and acronyms utilized for research purposes. Data gathered has been validated using the triangulation method to offer useful quantitative and qualitative insights into the aerospace parts manufacturing market.
A short market viewpoint offered in the report elucidates the macro-economic aspects that influence the growth of the aerospace parts manufacturing market, which includes global GDP growth rate, various industries growth rate, aviation, aerospace & defense and others. This report serves as an authentic resource of intelligence on the aerospace parts manufacturing market, enabling the readers to take fact-based decisions on the future direction of their businesses.
Fact.MR offers custom research services that help clients to get specific research solutions
We are committed towards customer satisfaction and quality service.
---
Our Clients

Aerospace Parts Manufacturing Market Forecast, Trend Analysis & Competition Tracking - Global Market Insights 2019 to 2029