Increasing Number of Surgical Procedures to Give Upswing to Demand for Hospital Supplies
Increase in number of surgical procedures has boosted the hospital supplies expenditure, globally. According to WHO, % increase in global spending on healthcare is greater than % increase in GDP year-on-year, especially in low- and middle-income economies. This is due to increasing per capita income globally and people's spending ability to receive better healthcare facilities. For instance, the number of annual surgical procedures for hip and knee arthroplasty performed by AJRR hospital in the U.S. has increased from 45,609 in 2012 to 2,69,960 in 2016.
Rise in number of surgical procedures is pointing to significant growth opportunities for the hospital supplies market. Hospital supplies products such as surgical packs, gowns, drapes, gloves, feeding tubes are majorly consumed in hospitals. Out of these hospital supplies products, surgical packs are mostly used in general, cardiovascular, orthopedic, gynecology, dental, plastic, ENT, ophthalmic, and, neuro surgeries. Increase in number of surgical procedures owing to increase in medical tourism has led to voluminous sales. The aforementioned factors will bolster the growth of the hospital supplies market which is poised to account for an incremental dollar opportunity of US$3Bn by the end of the forecast period.
To know more about the hospital supplies market, ask an analyst here
Growing Focus of Manufacturers on Production of Disposable Hospital Supplies
Manufacturers of hospital supplies are rapidly shifting from manufacturing non-disposable to disposable one-time-use products. This is due to the significant level of protection these disposable products possess against microorganisms over non-disposable products. New disposable products are manufactured by companies based on key inputs given by healthcare professionals. According to a report published in NCBI, out of total surgical gowns consumed in Latin American countries, more than 80% are disposable ones. Globally, share of disposable hospital supplies such as surgical gowns, surgical gloves, and surgical drapes is increasing.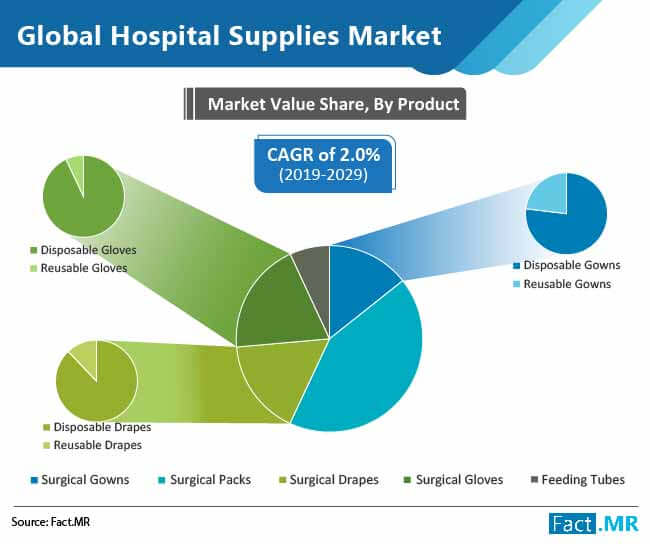 To get an in-depth product analysis of the hospital supplies market, request for a report sample here
Acquisition and Partnership Remain Key Growth Influencers in Global Hospital Supplies Market
Manufacturers are focusing on expansion of product lines in the hospital supplies sector owing to growing demand for surgical gowns, surgical gloves, drapes, surgical packs, and other products. Key market stakeholders are adopting acquisitions and merger strategies for expansion of production capabilities. For instance, in April 2016, Cardinal Health Inc acquired Medtronic's deep vein thrombosis, patient care and nutritional insufficiency business for $6.1 billion which included 23 product categories across multiple market for care. Famous industry brands such as Curity, Kendall, Dover, Argyle, and other brands were a part of this acquisition. Many companies are also focusing on establishing partnerships and collaborations with existing market players in order to enhance their product sales. Mölnlycke HealthCare AB and Zuellig Pharma strengthened their partnership for advanced wound care solutions in South East Asia. This followed, Mölnlycke's successful acquisition of SastoMed in July, 2018 which reflects Mölnlycke's experience in marketing, medical, and sales management of their advanced wound care portfolio for products like Granulox® and Granudacyn®.
Research & Development Investments Receive an Impetus in Hospital Supplies Market
The hospital supplies market is focusing on developing innovative hospital supplies products used to treat patients. Medical devices companies are investing significantly for research & development of new products, globally. Moreover, growing awareness about different types of fabrics and their properties has encouraged manufacturers to develop surgical gowns, gloves, and drapes with different types of fabrics having unique specifications. For instance, SMS has 1 layer of melt blown fabric while SMMMS fabric has 3 layers of melt blown fabric and both of these fabrics differ in properties and so the specifications of gowns made from these fabrics are unique in their nature. Growing research on various fabrics in laboratories helps manufacturers develop latest surgical gowns with safety features.
Global Hospital Supplies Market: Scope of the Report
Fact.MR recently published a market study on the global hospital supplies market. The study provides detailed assessment on the key market dynamics, including drivers, trends, opportunities, restraints, and detailed information about the global hospital supplies market structure. The market study presents exclusive information about how the global hospital supplies market will grow during the forecast period (2019-2029).
Key indicators of market growth, which include Year-on-Year (Y-o-Y) growth of the market, and compound annual growth rate (CAGR) are explained in Fact.MR's study in a comprehensive manner. This information can help readers understand the quantitative growth prospects of the global hospital supplies market during the forecast period.
The study is relevant for stakeholders in the global hospital supplies market, including hospital supplies manufacturers, suppliers, distributors, and investors, and can help them in developing appropriate strategies to grow in the market. Stakeholders in the hospital supplies market, investors, industry experts, researchers, and journalists, as well as business researchers can leverage the information and data presented in Fact.MR's study.
The study also includes statistics as well as facts related to macroeconomic as well as microeconomic factors that are impacting key developments in the market. It also offers actionable insights based on the future trends in the global hospital supplies market. Furthermore, small businesses and new entrants in the global hospital supplies market too can make use of the information presented in this study, based on which, they can make appropriate business decisions to gain momentum in the market.
Key Segments of Global Hospital Supplies Market
Fact.MR's study on the global hospital supplies market offers information divided into three important segments— product type, end user, and region. This report offers comprehensive data and information about the important market dynamics and growth parameters associated with these categories.
Product Type

End User

Region

Surgical Gowns

Disposable Gowns
Reusable Gowns

Surgical Drapes

Disposable Drapes
Reusable Drapes

Surgical Gloves

Disposable Gloves
Reusable Gloves

Surgical Packs
Feeding Tubes

Hospitals
Ambulatory Surgical Centers
Specialty Clinics

North America
Latin America
Europe
South Asia
East Asia
Oceania
Middle East & Africa
Key Questions Answered in Fact.MR's Global Hospital Supplies Market Report
Which regions will continue to remain the most profitable regional markets for hospital supplies market players?
Which factors will induce a change in the demand for hospital supplies manufacturers during the assessment period?
How will changing trends impact the global hospital supplies market?
How can market players capture the low-hanging opportunities in the hospital supplies market in developed regions?
Which companies are leading the global hospital supplies market?
What are the winning strategies of stakeholders in the global hospital supplies market to upscale their position in this landscape?
Global Hospital Supplies Market: Research Methodology
In Fact.MR's study, a unique research methodology is utilized to conduct extensive research on the growth of the global hospital supplies market, and reach conclusions on the future growth parameters of the market. This research methodology is a combination of primary and secondary research, which helps analysts ensure accuracy and reliability of conclusions.
Secondary resources referred to analysts during the production of the hospital supplies market study include statistics from government organizations, trade journals, white papers, and internal and external proprietary databases. Analysts have interviewed senior managers, product portfolio managers, CEOs, VPs, marketing/product managers, and market intelligence managers, who contributed to the development of this report as a primary resource.
Comprehensive information acquired from primary resources and secondary resources acts as a validation from companies in the global hospital supplies market, and makes Fact.MR's projection on the growth prospects of the global hospital supplies market more accurate and reliable.
Fact.MR offers custom research services that help clients to get specific research solutions
We are committed towards customer satisfaction and quality service.
---
Our Clients

Hospital Supplies Market Forecast, Trend Analysis & Competition Tracking - Global Market Insights 2019 to 2029