Pharmaceutical Packaging Market
Pharmaceutical Packaging Market By Material (Plastics & Polymers, Paper & Paperboard, Glass, Aluminum Foil), By Product Type (Primary, Secondary, Tertiary), By Application (Pharmaceutical Manufacturing, Retail Pharmacies, Contract Packaging, Institutional Pharmacies), & Region - Global Market Insights 2023 to 2033
Analysis of Pharmaceutical Packaging Market Covering 30+ Countries Including Analysis of US, Canada, UK, Germany, France, Nordics, GCC countries, Japan, Korea and many more
Pharmaceutical Packaging Market Outlook (2023 to 2033)
Worldwide demand for pharmaceutical packaging is extrapolated to rise at a 9% compound annual growth rate (CAGR) from 2023 to 2033. The global pharmaceutical packaging market size is currently valued at US$ 131 billion and is forecasted to reach US$ 310.5 billion by the end of 2033.
High focus on health and rising healthcare expenditure are prominent factors that are expected to promulgate the sales of pharmaceutical packaging products over the coming years. Increasing penetration of retail pharmacies around the world has bolstered the need for brand recognition among pharmaceutical manufacturers and this is projected to be a key factor driving the sales of custom medicine packaging products over the coming years.
Packaging of medicines plays a crucial role in their delivery to patients because if the packaging is not up to the mark, the drug may lose its efficacy or cause side effects due to unwanted chemical interaction with the packaging material. Stringent mandates to ensure patient safety compel pharmaceutical packaging vendors to develop packaging that does not interact with pharmaceutical products in any manner.
Adoption of sedentary lifestyles, poor eating habits, high prevalence of chronic ailments, rising availability of pharmaceutical drugs, supportive government initiatives to promote the development of healthcare infrastructure, and the emergence of favourable reimbursement and insurance policies are other determinants that are anticipated to positively impact pharmaceutical packaging market growth through 2033.
On the contrary, the lack of access to proper healthcare facilities and services in underdeveloped and developing economies is anticipated to be a major restraint for the overall pharmaceutical packaging market evolution across the forecast period.
Report Attributes

Details

Pharmaceutical Packaging Market Size (2023)

US$ 131 Billion

Projected Market Value (2033F)

US$ 310.5 Billion

Global Market Growth Rate (2023 to 2033)

9% CAGR

Plastics & Polymers Segment Market Share (2022)

34%

United States Market Growth Rate (2023 to 2033)

7.1% CAGR

Key Companies Profiled

Amcor Plc
WestRock Company SGD S.A.
COMAR LLC
Vetter Pharma International
Drug Plastics Group
Gerresheimer AG
West Pharmaceutical Services Inc.
Becton Dickinson & Company
International Paper Company
AptarGroup Inc.
Schott AG
Owens Illinois Inc.
Berry Global Inc.
CCL Industries Inc.
Which Aspects Will Decide Future Pharmaceutical Packaging Shipments?
"Ubiquity of Chronic Ailments Driving Demand for Pharmaceuticals"
In the past couple of decades, the world has witnessed the advent of several chronic diseases owing to the adoption of poor eating habits and poor lifestyle choices. Rising awareness of preventive healthcare and a growing focus on health around the world are key prospects that are propelling sales of pharmaceuticals and subsequently driving pharmaceutical packaging demand as well.
Supportive government initiatives to bolster healthcare infrastructure development to meet the increasing demand for drugs and pharmaceuticals required for the treatment of chronic diseases are also expected to favour market growth going forward.
"Rising Investments in R&D of Eco-friendly and Sustainable Packaging Materials"
The packaging industry is undergoing some major changes owing to the rising focus on sustainability and waste reduction across the world. Packaging companies are investing in the research and development of novel materials and products that have a minimal environmental impact and are in accordance with the new stringent norms that are being implemented regarding packaging recycling.
Pharmaceutical packaging is no exception to this trend and is expected to witness some major transformations in manufacturing processes and material choices over the coming years. PET pharmaceutical bottles, pharmaceutical carton packaging, plastic pharmaceutical packaging containers, and other medicinal packaging products are anticipated to witness major deviations in demand and supply throughout the forecast period. Meanwhile, demand for biodegradable pharmaceutical packaging materials is anticipated to skyrocket by the end of 2033.
A comprehensive assessment of factors such as pricing trends, product standards, local supply, and global demand has been listed in this recently updated pharmaceutical packaging industry study by Fact.MR, a market research and competitive intelligence provider.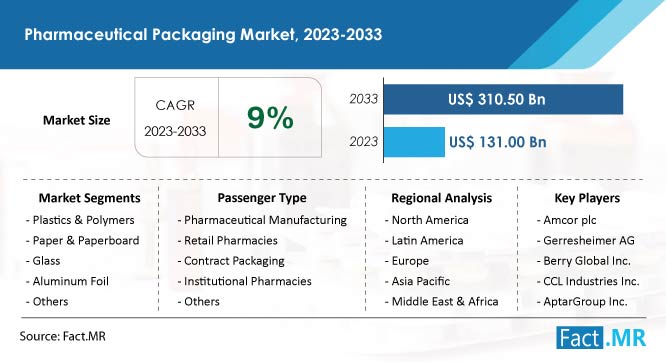 Which Exemplary Start-ups Should Leading Pharmaceutical Packaging Manufacturers Keep an Eye On?
"Blistr & Calyx Containers Could Potentially Transform Pharmaceutical Packaging Business"
New pharmaceutical packaging companies are targeting the changing trends in the healthcare industry to provide specifically tailored pharmaceutical packaging services and solutions.
Blistr is a United Kingdom-based start-up that is taking eco-friendly medicine packaging to a next level by creating pharmaceutical blister packaging from plant materials and seaweed. The start-up aims to solve the plastic waste problem that is catalyzing the global warming process while reforming the way the world perceives the packaging of pharmaceutical products.
The legalization of cannabis and medicinal cannabis products across various countries has opened up a new marketplace for the packaging of cannabis-based pharmaceuticals and medicinal products. Incoming pharmaceutical packaging manufacturers are focusing on developing custom packaging solutions for cannabis-based products to gain a prominent market share while the market is fragmented with no established players.
Calyx Containers, a start-up based in the United States is developing custom packaging for cannabis-infused products. The packaging containers are transparent in nature and made from recyclable materials to achieve sustainability goals and minimize environmental impact.
More new developments and insights associated with the current and forecasted start-up scenario have been listed in this revised Fact.MR research report.
Country-wise Insights
Which Key Determinant Will Steer Market Growth in Japan?
"Huge Senescent Population in the Country"
The aging population in Japan has been a prime driver for all of the healthcare industry in recent years and this trend is also projected to bolster sales of pharmaceutical packaging products through 2033.
Increasing per capita disposable income, growing investments by the government in healthcare infrastructure development, and rising pharmaceutical manufacturing activity are other factors that could boost pharmaceutical packaging market development in the country over the next ten years.
How Does This Report Characterize Pharmaceutical Packaging Sales in North America?
"United States Maintaining Hegemony in Regional Marketplace"
The presence of developed healthcare infrastructure, high healthcare expenditure, and the presence of key pharmaceutical manufacturing companies are some of the prime prospects that augment demand for pharmaceutical packaging in the United States.
Increasing investments in medical research and a growing number of pipeline drugs are other factors that are expected to create new opportunities for pharmaceutical packaging suppliers in the country over the next ten years.
Expanding geriatric population, high incidence of lifestyle disorders, growing obesity, rising focus on healthcare, and supportive government initiatives to promote pharmaceutical manufacturing are other trends that could influence market development in the United States across the forecast period. The legalization of medicinal cannabis in most states of the country is also expected to create highly lucrative business opportunities for new pharmaceutical packaging companies and established market players as well.
What is Governing the Demand Outlook for Pharmaceutical Packaging in European Countries?
"Increasing Investments in Healthcare Infrastructure Development and Rising Demand for Eco-friendly Packaging"
The advent of several chronic diseases in the European region had led to a substantial increase in investments in healthcare infrastructure development, which is projected to benefit pharmaceutical packaging sales. Supportive government initiatives to promote drug development, increasing pharmaceutical manufacturing activity, and a growing focus on patient safety and health are other aspects that could influence sales of pharmaceutical pouch packaging, pharmaceutical sachet packaging, and other products over the coming years.
Meanwhile, the rising focus on environment conservation and sustainability is also expected to play a crucial role in shaping the demand for pharmaceutical packaging in European countries such as Italy, Germany, France, and the United Kingdom through 2033. Sales of products such as pharmaceutical glass bottles and biodegradable pharmaceutical packaging materials are predicted to overtake demand for pharmaceutical PET bottles and other plastic packaging products as governments implement stringent mandates to regulate the use of plastics.
Category-wise Insights
Which Material Do Pharmaceutical Packaging Manufacturers prefer?
"Plastics & Polymers Most Sought-after Materials"
Based on material, the market for pharmaceutical packaging is segmented into plastics & polymers, paper & paperboard, glass, aluminum foil, and others.
The physical, chemical, and mechanical characteristics of plastics and polymers make them a preferred choice in the global marketplace. Moreover, the extensive application scope of the aforementioned materials in manufacturing sachets, pharmaceutical bottles, pouches, tubes, blister packs, pharmaceutical vials, etc., also makes them a highly regarded choice among several pharmaceutical packaging suppliers around the world. The plastics & polymers segment accounted for nearly 34% market share in the global landscape in 2022.
The silica-based packaging material will continue to experience rising demand, owing to the prevalence of atmosphere-sensitive pharmaceutical drugs. For instance, oral solutions are always at risk of potential degradation via oxidation and hydrolysis, glass containers prevent that from happening. Aluminum is another material used for its easy-to-tear properties and is dominantly in packaging for tablets.
Another factor that ensures the growth of this segment is the practice of dosing. Pharmaceuticals sold in glass packaging are administered to consumers in doses that necessitate durable packaging material of this kind.
Glass is widely used in the packaging of liquid medicines and medicines having an odor, microorganisms, and moisture. Semisolid medicines and liquid medicines are these pharmaceutical solutions. Syrup bottles, syringes, and cartridges are a few of the glass applications in packaging pharmaceuticals. Amber-colored glass is widely used to avoid the impact of UV radiation on the material stored inside.
Increasing adoption of bioplastics is expected to create new opportunities for upcoming and established market players over the next ten years. The segment is further bifurcated into Polypropylene (PP), Polyethylene (PE), Polyethylene Terephthalate (PET), Polyvinyl Chloride (PVC), Polystyrene (PS), and others.
Competitive Landscape
Top pharmaceutical packaging companies are focusing on launching new products that are in accordance with the new sustainability trends to enhance their brand image and propel revenue generation capacity.
In April 2022, Amcor, a leading name in the packaging industry announce the launch of its new products to its sustainable pharmaceutical packaging portfolio. The company launched new High Shield laminates that provide a high barrier and are recyclable to meet the changing demands.
Key Segments of Pharmaceutical Packaging Industry Research
By Material :

Plastics & Polymers

Polypropylene (PP)
Polyethylene (PE)
Polyethylene Terephthalate (PET)
Polyvinyl Chloride (PVC)
Polystyrene (PS)
Others

Paper & Paperboard
Glass
Aluminum Foil
Others

By Product Type :

Primary

Plastic Bottles
Caps & Closures
Parenteral Containers
Blister Packs
Prefillable Inhalers
Pouches
Medication Tubes
Others

Secondary

Prescription Containers
Pharmaceutical Packaging Accessories

Tertiary

By Application :

Pharmaceutical Manufacturing
Retail Pharmacies
Contract Packaging
Institutional Pharmacies
Others

By Region :

North America
Latin America
Europe
APAC
MEA
- FAQs -
The global pharmaceutical packaging market is valued at US$ 131 billion in 2023.
By 2033-end, sales of pharmaceutical packaging are estimated to reach a value of US$ 310.5 billion.
From 2023 to 2033, worldwide demand for pharmaceutical packaging is projected to increase at 9% CAGR.
Primary, secondary, and tertiary are the three types of pharmaceutical packaging.
AptarGroup Inc., Schott AG, Owens Illinois Inc., and Berry Global Inc. are key manufacturers of pharmaceutical packaging.