Medical Packaging Market
Medical Packaging Market By Material (Plastics/Polymers, Glass, Metal), By Application (Bottles, Trays, Syringes/Ampoules/Vials, Blister Packs, Bags & Pouches), By Region - Global Insights to 2031
FACT7002MR
Oct-2021

List of Tables : 66

List of Figures : 108

170 Pages
Medical Packaging Market Outlook
The medical packaging market throws light on product pricing, market risks, in-detail study of technological aspects, techno-economic strongholds, and other business aspects. According to the market study, demand is anticipated to increase at a CAGR of 7.4% over the period of 2021 to 2031, mainly due to high investments in the development of newer technologies.
The amount of money spent on medicines around the world continues to rise. In 2020, approximately US$ 1.3 trillion (out of which one-third belongs to the U.S.) was spent on medicines, up from just US$ 890 Bn in 2010. The United States leads the world in overall pharmaceutical spending and is anticipated to continue to do so until 2025.
To put this in perspective, China, in second place, is expected to spend US$ 170 Bn by 2023, less than one-third of what the United States would spend during the same period. The pharmaceutical business in the United States spends over US$ 60 Bn each year on research & development, with a new drug costing around US$ 2.6 Bn.
Avail customized purchase options for your needs
Medical Packaging Industry Report Scope
Attribute
Details
Market size value in 2021
USD 81.5 Billion
Market forecast value in 2031
USD 181.7 Billion
Global Growth Rate (2021-2031)
CAGR 7.4%
North America Market Size in 2021
USD 18.2 Billion
Latin America Market Size in 2021
USD 6.8 Billion
Europe Market Size in 2021
USD 15.4 Billion
East Asia Market Size in 2021
USD 22.4 Billion
South Asia & Oceania Market Size in 2021
USD 13.2 Billion
Middle East and Africa Market Size in 2021
USD 5.5 Billion
Forecast Period
2021-2031
Historical Data Available for
2016-2020
Market Analysis
Value in US$ Mn, Volume in KT
Key Regions Covered

North America
Latin America
Europe
East Asia
South Asia & Oceania
Middle East Africa

Key Countries Covered

U.S.
Canada
Mexico
Brazil
Mexico
Argentina
Germany
Italy
France
U.K.
Nordic
Spain
Japan
China
India
Malaysia
Thailand
Australia
GCC Countries
South Africa
Turkey

Key Segments Covered

By Material Type
By Application
Region

Key Companies Profiled

3M Company
Amcor Plc
Ardagh Group S.A.
Becton, Dickinson and Company
UDG Healthcare plc
Berry Global Group, Inc
Sealed Air Corporation
Catalent, Inc.
West Pharmaceutical Services Inc.
Mondi Group Plc
Gerresheimer AG
Constantia Flexibles Group GmbH
Nipro Corporation
Demand Analysis of Medical Packaging from 2016 to 2020 Vs Market Outlook for 2021 to 2031
Over the historical period of 2016 to 2020, the medical packaging market showcased huge demand owing to the establishment of numerous pharmaceutical companies. Apart from factors pushing market growth, advancements in technological facets in the global packaging industry had a huge impact on directing the market towards a fortuitous state at which it is now.
In 2020, the wave of COVID-19 hit and disrupted industries at all levels and scales. However, the scenario was quite opposite for medical packaging. Increased rate of infections and rise in sales of drugs to treat various respiratory diseases projected a hike in the consumption of medical packages. Rise in the sales of overall medications also played a huge part as lockdown restrictions implemented by various countries all across the globe resulted in superfluous purchase.
Overall effect of COVID-19 on medical packaging demand in 2020 summoned up with a hike in Y-o-Y growth of 5.4%.
The study projects the global market to be valued at US$ 181.7 Bn by the end of 2031.
Below points summarize the market over the forecast period:
Plastic material-based medical packaging holds 44% market share, but is anticipated to lose 180 BPS by 2031.
Blister packs are highly prominent and set to increase at 8.8% CAGR through 2031.
3M Company has been a pioneer in inventing newer technologies and solutions for medical packages.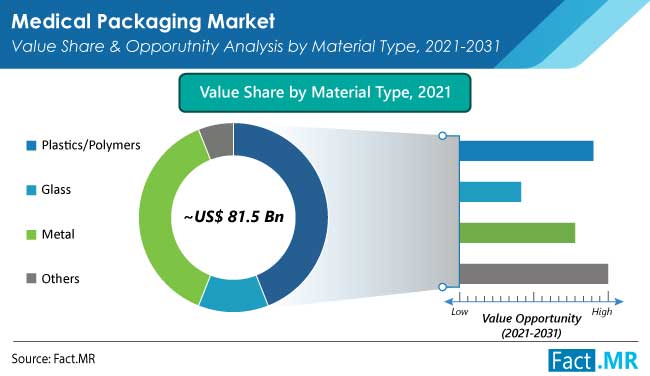 What is the Prominence of Various Codes Regulating the Quality of Medical Packaging Products?
There are various codes in place to guarantee that medical packaging is of high quality. ISO9000: Quality Management Standard and PSO9000: Pharmaceutical Packaging Materials Standard are two of these standards.
Because of the following factors, medical and pharmaceutical packaging will always be here and will most likely continue to grow:-
Speciality Drugs - In developed countries, the increased use of specialty drugs to address chronic or challenging health issues is driving pharmaceutical growth. This sector is currently responsible for 40% of market growth.
Middle Class - In developing countries, there is an increase in middle class people who can now afford medication. This constituent also helps in the growth of the pharmaceutical sector.
Packaging & Labelling - People are more likely to take their prescription if it meets certain criteria, such as simplicity of opening and sealing, obvious dosage indicators and reminders, and clearly labelling the benefits and consequences of not taking the medicine.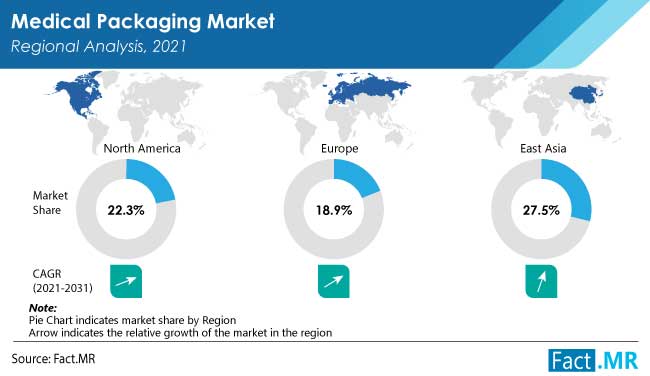 Country-wise Analysis
Why are Medical Packaging Manufacturers Eyeing the U.S.?
North America is predicted to be one of the largest markets for medical packaging, thanks to the FDA's stringent rules, which are boosting demand for long-lasting and high-quality products in the region.
Furthermore, the industry has become extremely competitive in the region as a result of a large number of key competitors and strict FDA restrictions. Companies are increasingly offering superior packaging solutions to acquire a sustained competitive advantage over their competitors.
The U.S. government has enacted a number of mandatory medical and healthcare insurance programmes, which will provide people with some level of basic healthcare coverage and may assist them in paying their medical bills. As a result, cost of treating various diseases and physical ailments rises, increasing demand for various types of pharmaceuticals along with medical packaging.
The United States spends the most per person on healthcare, followed by Switzerland and Germany.
What Makes China a Prominent Market for Medical Packaging?
During the projected period, the market in East Asia is expected to develop at the fastest rate. Being the world's most populous region, the East Asian market is likely to grow faster than any other region-level market. China is expected to see quick growth in the market due to increased developmental activities and rapid economic expansion.
Furthermore, the country's rising population provides a significant client base, which is predicted to drive the medical packaging industry forward.
Market expansion is also fuelled by economic levels and global awareness. Factors such as growth of the implanted device and single-use disposable products markets, as well as increase in awareness about hospital-acquired infections, are boosting the industry. As such, China's market for medical packaging products is expected to grow dual-fold.
An Adaptive Approach to Modern-day Research Needs
Category-wise Analysis
How is Bottle Packaging Shaping Up Compared to Other Applications?
From the point of manufacture until the final usage of the product, the type of packaging and labelling is critical. Medical packaging sales will continue to be driven by a quick transition to cost-effective infection-resistant and security-enhanced forms, pouches, and trays. Continuous advancements in resistance, barrier characteristics, strength, and puncture will boost pouch application in the packaging of small- to medium-sized supplies and gadgets, resulting in increased demand for pouches.
During the projected period, bottles will have a stronghold on the global market, with a market share of 32%. Blister packs and glass vials, among other medical device containers, will see considerable increase during the forecast period, owing to applications such as contact lens packing, diagnostic reagents, and related chemicals.
Medical device manufacturers use various packaging materials such as glass, metals, plastics, and other media depending on customer requirements, cost effectiveness, raw material availability, and suitability.
Various tests are carried out to assess the packaging material's quality, as the packaging material should not interact physically or chemically with the product's content. Bottles being feasible to be manufactured from all the material types used in medicine packaging gives an edge to bottle type applications in comparison with others.
What are the Predictions for Disposable Medical Packaging?
Medical devices and instruments are always evolving, and with the COVID-19 situation, it has more importance than ever before to respond to trends, both, within and outside hospitals, to provide better care at lower costs. New requirements in medical packaging are being driven by trends such as miniaturization and compactness.
Single-use products is the latest industry trend, necessitating efficient packaging solutions. As a result, the industry has been obliged to use plastic and other high-performance materials.
Blood bags, which are used to retain blood and blood components, have seen a significant increase in demand in the last year. As the number of COVID-19 cases increased, demand for convalescent plasma increased by a factor of two. Not only because of COVID-19, but also because of other health-related difficulties, the need for intravenous (IV) and dialysis bags is steadily increasing.
Competitive landscape
In April 2021, Amcor unveiled its newest innovation - the New AmSkyTM blister system, with the potential to transform the sustainability of healthcare packaging.
In January 2021, Ashfield, a division of UDG healthcare plc, announced the development of three business divisions to extend and strengthen its healthcare services.
In October 2020, Ardagh Group launched a US$ 1.8 Bn corporate growth investment program in metal beverage packaging and glass packaging.
Interested to Procure The Data
Key Segments in Medical Packaging Industry Survey
By Material

Plastics/Polymers

Polyethylene
Polyvinyl Chloride
Polypropylene
Polyethyene Terephthalate
Others

Glass
Metal
Others

By Application

Bottles
Trays
Syringes/Ampoules/Vials
Blister Packs
Bags & Pouches
Others