Popularity of Gluten-Free Products to Augment Demand for Bean Pasta
The global bean pasta market is estimated to grow at a CAGR of over 12% during the forecast period (2019-2029) and reach a value pool of over US$ 7 Bn. Bean pasta is slowly but steadily becoming popular worldwide on the dint of being a simple dish that can be prepared without much effort. Continuing advances in gluten-free food with a jostle from the international market is creating a burgeoning pasta category from beans and legumes. This, combined with their longer shelf life, has powered this market's growth so far.
Consumers are favoring organically grown food products over the last decade because of their quality and health benefits. Bean pasta is slowly turning to be one of the most popular pasta variants worldwide and is now on demand due to its organic aspects. The strong nutritional quotient of pasta and widening distribution channels such as supermarkets/hypermarkets and departmental stores are other factors offering tailwinds for the bean pasta market.
Store Based Retailing to Proliferate, Clean Product Labelling to Act as Growth Lever
Increasing health & wellbeing issues have contributed to changing consumer habits. Such factors are shifting inclinations towards the demand for bean pasta. Thanks to the changing customer requirement for clean-label goods, demand for bean pasta is also on the rise. Over time, customer inclinations are constantly changing, and with these evolving tastes, their expectations are also anticipated to change. The inability to obtain products which fulfill these demands leads consumers to switch to other brands. Hence producers want to ultimately innovate their products. This has led producers to divert high capital for the construction of R&D facilities that could meet these growing demands. In addition, there is a very strong competition between bean pasta manufacturers, and creativity is important to attain an edge. Bean pasta manufacturers aim to overtake their rivals in terms of sales & regional reach. By distribution channel, store based retailing will outpace online distribution in all the key regions. Greater product visibility coupled with smart and clean labelling will give traction to the growth of this segment.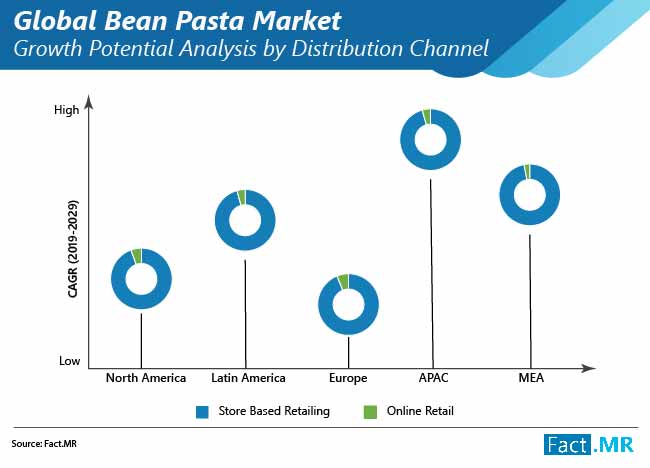 Access our in-depth distribution channel insights on the bean pasta market, by requesting for a report sample here
APAC to Remain in Vanguard during Forecast Period
North America has maintained its supremacy in the global bean pasta market with a share of over 40%. The U.S. has the highest consumption of bean pasta and is also experiencing a substantial rise in the market for bean pasta due to the high demand for organic products. Consumption of bean pasta in APAC is relatively low, due to lack of knowledge and high product pricing. Nevertheless, the market is expected to expand at a high growth rate in the coming years. In view of the strong economic growth in Asian countries and the resulting rise in disposable income per capita, the growth rate is high. APAC is witnessing an increase in the number of health-conscious consumers, resulting in more than 60% of consumers preferring gluten-free products. The bean pasta market is thus expected to grow at a faster rate in Europe during the forecast period.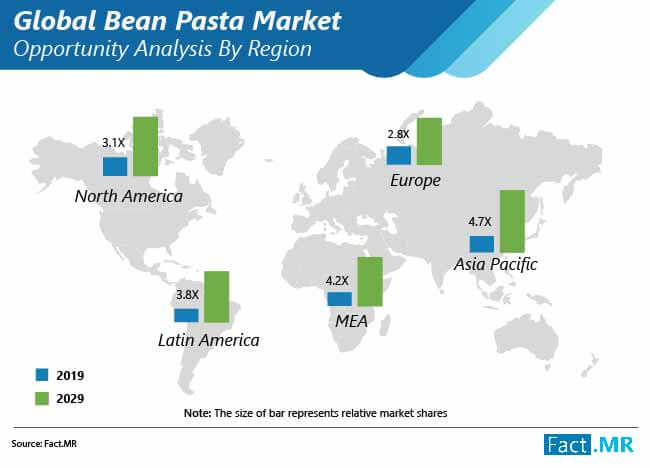 Tap into our exhaustive market insights on the bean pasta market by asking an analyst here
Product Portfolios with High Nutritional Content and Fortification to be Main Priority of Manufacturers
The demand for bean pasta is still in its infancy, with plenty of space to develop. Analysts are hedging their bets on the future when variants of bean pasta will hit the shelves as the manufacturers emphasize 'organic' and 'gluten-free' features to ensure better product quality and nutritional benefits. The global market for bean pasta is highly fragmented in nature where top producers and artisanal producers are scattered. Some of the key players in the bean pasta market include Harvest Innovations, Pedon SPA, Gold Harbor and Trader Joe's. Furthermore, bean pasta fortification will target groups of customers based on various health parameters. Manufacturers are thus implementing strategies to enhance nutritional value of food. The demand for fortified pasta with vitamins, calcium, minerals and natural sources of beta carotene is on the rise.
Global Bean Pasta Market – Scope of the Report
The following report provides forecast and analysis of the global bean pasta market along with the historical data of 2014, estimated data 2019 and forecast data up to 2029 in terms of value (US$ Mn) and volume (MT), according to a Fact.MR study. The research propounds critical trends that are currently influencing growth within the global bean pasta market along with several macro-economic indicators. This newly published and insightful report on bean pasta sheds light on key dynamics, and their impact on the overall value chain from suppliers to end-users, which are expected to transform the future of the global bean pasta market.
The report also comprises the study of current issues with end users and opportunities for bean pasta. It also contains value chain analysis, including the key market participants. To provide users of this report with a comprehensive view of the market, we have included a detailed competitive analysis about the key players involved in the market and strategic overviews. The dashboard included in the report provides a detailed comparison of bean pasta manufacturers on parameters such as total revenue, product offerings, and key strategies. A list of key companies operating in the Bean pasta market provided in the report adds to the credibility of this exhaustive research study.
Global Bean pasta Market: In-Depth Assessment on Key Segments
The global bean pasta market is segmented on the basis of nature, product type, pasta type, packaging type, distribution channel and region
| | | | | | |
| --- | --- | --- | --- | --- | --- |
| Nature | Product Type | Pasta Type | Packaging Type | Distribution Channel | Region |
| Organic | White Bean Pasta | Spaghetti | Pouches | Store Based Retailing | North America |
| Conventional | Black Bean Pasta | Fettuccine | Cartons | Supermarkets / Hypermarkets | Latin America |
| | Mung Bean Pasta | Rotini | Cans | | Europe |
| | Adzuki Bean Pasta | Penne | | | APAC |
| | Soybean Pasta | Elbow | | Food & Drink Specialty Stores | MEA |
| | Edamame | Shell | | | |
| | Green Bean | Others | | Online Retail | |
This taxonomy and the detailed TOC prepared are confidential and intended exclusively for the individual or entity with whom it is being shared. Reading, disseminating, distributing, or copying this to any party other than addressee(s) is unauthorized and prohibited.
Country-specific assessment on demand for bean pasta has been provided for each regional market, along with the market size valuation and forecast price point assessment, price index and impact analysis of key regional and country-wise dynamics, which were obtained through quotes from numerous bean pasta manufacturers, experts, and suppliers. Y-o-Y growth projections have also been offered on all regional markets incorporated in the report. Moreover, future trends, growth prospects, and other possibilities related to the market have been answered in the report.
The report provides company-level market share analysis, which has been derived on the basis of the company's annual sales and segmental revenue in all the target end-use industries. The market has been forecasted based on constant currency rates. The report provides detailed competitive and company profiles of key participants operating in the global bean pasta market. Some of the major competitors operating in the bean pasta market are Harvest Innovations, Trader Joe's, Pedon SPA, Gold Harbor, Jinan Mintian Flour Co., Ltd., Ceres Enterprises Ltd and others.
Global Bean Pasta Market: Research Methodology
A number of primary and secondary sources were consulted during the course of the study. Secondary sources include Factiva, Morningstar and Hoovers, and company annual reports and publications. Comprehensive interviews have been conducted by our analysts, and the intelligence and insights obtained have been used for validating the information gained through secondary research. The report also includes a description of assumptions and acronyms utilized for research purposes. Data gathered has been validated using the triangulation method to offer useful quantitative and qualitative insights in the bean pasta market.
A short market viewpoint offered in the report elucidates the macro-economic aspects that influence the growth of the bean pasta market, which includes global GDP growth rate, various industries growth rate, such as food & beverages, e-commerce and the retail industry. This report serves as an authentic resource of intelligence on the bean pasta market, enabling the readers to take fact-based decisions on the future direction of their businesses.
Fact.MR offers custom research services that help clients to get specific research solutions
We are committed towards customer satisfaction and quality service.
---
Our Clients

Bean Pasta Market Forecast, Trend Analysis & Competition Tracking - Global Market Insights 2019 to 2029