Genetically modified organisms (GMO) soybeans have gained immense traction in the recent past, owing to their potential to alleviate hunger and poverty worldwide. However, researchers from the Food and Agriculture Program have stated that real impacts of GMO soybean deserve in-depth assessment. Amount of agricultural land utilized for producing GMO food such as GMO soybean has surged over the past few years, with majority of producers being situated in the U.S., Canada, India, Brazil and Argentina.
GMO soybeans have their genetic materials engineered via biotechnologies for engulfing enhanced and new characteristics such as drought tolerance, enhancement of certain nutrients, insect resistance and herbicide tolerance. Benefits of utilizing biotechnologies for production of GMO soybeans include saving efforts & time and curtailing market risks for farmers, rather than enhancing productivity by improving yield. Currently, demand for GMO soybeans is primarily driven by rapid adoption in animal feed as well as in the form of GMO soybean oil worldwide. Although cultivating herbicide-tolerant soybean has lower risks to environment, the benefits are being restrained by herbicide resistance being developed in weeds. GMO soybeans are one of the most utilized genetically modified plants across the globe, with majority of the applications in livestock feed and oil production. With demand for soybeans increasing globally as a protein source, GMOs hold potential benefits for producers.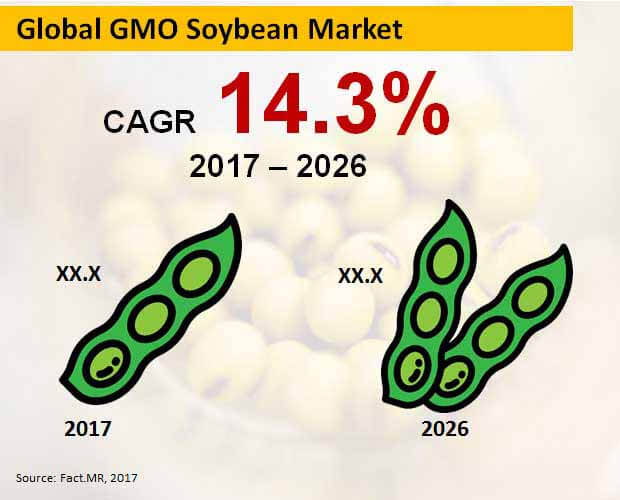 According to Fact.MR, the global GMO soybean market will register a splendid 14.3% CAGR during the period 2017 to 2026. Approximately 600,000,000 metric ton of GMO soybean will be sold around the world by 2026-end.
Market Taxonomy
| | | | |
| --- | --- | --- | --- |
| Region | Trait | Sales Channel | Applications |
| North America | Herbicide Tolerant | Direct Sales | Food |
| Latin America | Insect Tolerant | Modern Trade | Feed |
| Europe | Stacked (HT+IT) | Convenience Store | Biodiesel |
| Japan | Other Traits | E-Retailers | Research Applications |
| APEJ | | Other Retail Outlets | Other Applications |
| MEA | | | |
(Additional information, including cross-sectional data and country-wise analysis & forecast is available in the report)
North America to Remain Dominant in the Market
In terms of volume as well as value, North America will remain dominant in the global GMO soybean market. GMO soybeans already have high popularity among North American consumers. GMO soybeans in North America have improved resistance to insects and weeds, which in turn helps the farmers to boost productivity. Structure of some government insurance programs complement the productivity by providing farmers with more incentives for planting GMO seeds such as those of GMO soybeans.
The European Commission has approved an array of GMO products such as GMO soybeans, although the pace of approvals has been relatively slow. European livestock and feed manufacturing industry has a keen interest in authorization of GMO soybean imports, as soybean is considered to be a source of high-quality and protein-rich feed. Europe will remain the second largest market for GMO soybean, in terms of volume as well as value.
Food is expected to remain the largest application of GMO soybean, in terms of value. Revenues from sales of GMO soybean for application in food are projected to account for nearly half market share by 2026-end. Biodiesel and feed will also remain lucrative applications of GMO soybean.
In terms of value, direct sales are anticipated to be the fastest expanding sales channel for GMO soybean, closely trailed by modern trade. These two sales channel will spearhead the global market for GMO soybean during the forecast period, in terms of revenues. Based on trait, stacked (HT+IT) and herbicide tolerant GMO soybean will remain sought-after in the market, with revenues collectively estimated to surpass US$ 320,000 Mn by 2026-end.
Competition Tracking
Key market players tracked by the report include AgReliant Genetics LLC, BASF SE, Bayer CropScience, Dow Agroscience, E.I DuPont De Nemours and Company, Canterra Seeds Holdings Ltd., Syngenta AG, Groupe Limagrain Holdings SA, and Monsanto Company.
Note: The insights mentioned here are of the respective analysts, and do not reflect the position of Fact.MR
Global market for GMO soybean will continue to be influenced by its increasing adoption for use as animal feedstock, and for production of GMO soybean oil. However, GMO soybean oil has been witnessed to be harmful for liver functioning. This may hinder adoption of GMO soybean significantly. This report, published by Fact.MR, provides in-depth analysis of the global GMO soybean market for the forecast period 2017-2026, and offers key insights about future market direction.
Scope
The scope of Fact.MR's report is to analyze the global GMO soybean market for the forecast period 2017-2026 and provide readers an unbiased and accurate analysis. GMO soybean manufacturers, stakeholders, and suppliers in the global food & beverage sector can benefit from the analysis offered in this report. This report offers a comprehensive analysis, which can be of interest to leading trade magazines and journals pertaining to GMO soybean.
Summary
The report commences with a brief information of the global GMO soybean market. This executive summary sets the tone for the rest of the report, providing users the scope of the report. The executive summary includes important facts and statistics on the global GMO soybean market.
Overview
The next section offers an overview of the global GMO soybean market. This comprises an introduction to the market, along with a standard definition of the product – GMO soybean. In this section, market value and year-over-year growth is offered to the readers. Year-over-year growth provides readers with a broader view of growth patterns over the forecast period.
The report's succeeding section focuses on drivers, restraints and key trends from macroeconomic, demand, and supply perspectives. Impact analysis of weighted average model-based growth drivers is contained in the report for better provision of decision-making insights to clients.
In order to offer readers with up-to-date information about the latest advancements in the global GMO soybean market, the report provides updates about market opportunities, which can benefit leading manufacturers of GMO soybean. With continuous evolution of the food & beverage sector, keeping a record of latest developments and trends is fundamental for GMO soybean manufacturers to formulate key business strategies. Detailed insights about raw material sourcing, supply chain, pricing analysis, list of distributors, and cost structure are provided in this section.
Considering the wide scope of the global GMO soybean market and to offer in-depth insights, Fact.MR's report provides segment-wise analysis and forecast. The GMO soybean market has been categorized on the basis of applications, sales channel, trait, and region. This segmentation analysis is comprehensive, coupled with a detailed country-wise forecast provided on all parameters.
The report's last section comprises of the global GMO soybean market competitive landscape, to provide readers with the dashboard view of company analysis and market players. This competitive intelligence is based on the providers' categories across value chain, and their presence in the global GMO soybean market.
Research Methodology
Fact.MR is committed to offer unbiased and independent market research solutions to its clients. Each market report of Fact.MR is compiled after months of exhaustive research. We bank on a mix of tried-and-tested and innovative research methodologies to offer the most comprehensive and accurate information. Our main sources of research include,
Primary research
Secondary research
Trade research
Focused interviews
Social media analysis
Fact.MR offers custom research services that help clients to get specific research solutions
We are committed towards customer satisfaction and quality service.
---
Our Clients

GMO Soybean Market Forecast, Trend Analysis & Competition Tracking - Global Market insights 2017 to 2026