Heightening Prospects of Innovations and Cutting-Edge Technologies to favor Growth of Thermal Conductive Adhesives Market
The global thermal conductive adhesives market is projected to grow at a positive CAGR of 6% over the forecast period and is expected to witness 1.8x growth between 2019 and 2029. Over the historical period, the global market has witnessed high applicability in end use industries such as automotive and electronics. Moreover, the increasing demand for integrated circuits and cutting-edge technologies across the globe is anticipated to amplify the overall volume demand of thermoconductive adhesives market over the long term forecast period. In addition, increasing investments in energy storage solutions as well as low cost and efficient materials are anticipated to create remunerative opportunities in the global thermally conductive adhesives market over the forecast period. Furthermore, thermally conductive adhesives are likely to play a prominent role in the adhesives industry as a potential alternative to conventional methods.
Electronics Sector to Remain Key Growth Influencer
Electronics sector is expected to hold its legacy in the global thermal conductive adhesives market by the end of forecast period with a market share of ~45%. The demand for thermal conductive adhesives in electronic adhesive industry is primarily driven by high penetration of materials such as silicone and polymers in electronics sector coupled with its ability to aid in miniaturization of electronic components. Thus, the electronic adhesives segment is expected to grow at a healthy CAGR of 5% during the forecast period (2019-2029). Furthermore, development of transparent adhesives has promulgated their use in the electronics industry. In the displays of various digital devices, transparent adhesives are highly utilized. Among other sectors, automotive sector is also expected to gain massive traction due to a surge in overall sales of electric and hybrid vehicles across the globe. Also, energy storage and healthcare sectors are estimated to present new growth avenues for the key manufacturers to generate more revenue.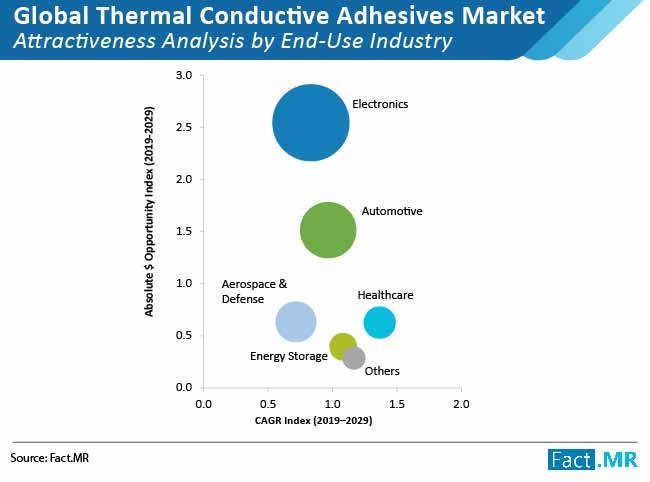 To get a detailed analysis of thermal conductive adhesives by end-use industry, request for a report sample here
Asia Pacific at Forefront, Opportunities abound in Emerging Economies
East Asia is expected to remain a leading production hub for the key manufacturers in Asia Pacific with a meteoric demand share of over 45% in global thermal conductive adhesives market. Other emerging economies in Asia Pacific are also a hotbed of remunerative growth opportunities owing to increasing number of patents filed for thermally conductive adhesives and growing production footprint of key manufacturers outside of China. Apart from Asia Pacific, the global market for thermal conductive adhesives is flourishing at an outstanding pace in North America. Latin America as compared to Europe is pushing manufacturers to re-evaluate their marketing strategies. This is attributed to increasing investments in energy storage solutions, automotive and healthcare sector in growing economies of North America and Latin America.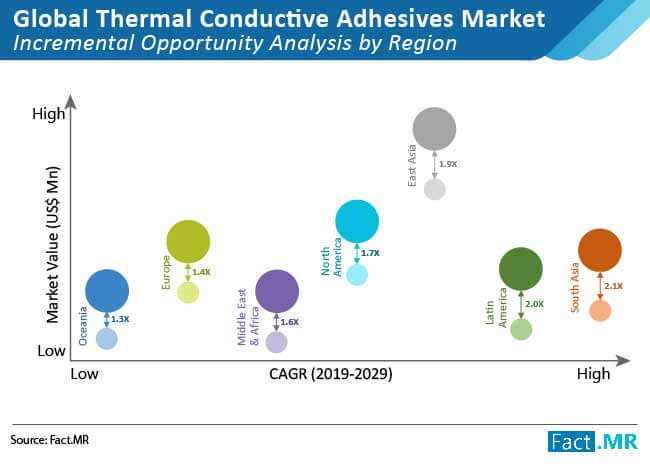 For in-depth regional insights on the thermal conductive adhesives market, ask an analyst here
Market Actors Focus on R&D to Enhance Heat Transfer Properties of Adhesives
Increasing indispensable applications of thermal conductive adhesives have resulted in high demand for more efficient and reliable adhesive solutions. Presently manufacturers are producing different grades of adhesives, specifically for electronics, automotive, healthcare and aerospace industry. Some of the players include Henkel AG, 3M Company, H.B. Fuller and Dow Corning that lead the competitive landscape of thermally conductive adhesives market. Key manufacturers are likely to rely on greenfield investments in end-use industries to gain a slight advantage as compared to other regional and local players in the global thermal conductive adhesives market. However, continuous emphasis on introducing efficient and integrated materials remains a key growth factor for leading manufacturers in the global market.
Global Thermal Conductive Adhesives Market – Scope of the Report
The following report provides forecast and analysis of the global thermal conductive adhesives market along with the historical data of 2014, estimated data 2019 and forecast data up to 2029 in terms of value (US$ Mn) and volume (Tons), according to a Fact.MR study. The research propounds critical trends that are currently influencing growth within the global thermal conductive adhesives market along with several macro-economic indicators. This newly published and insightful report on thermal conductive adhesives sheds light on key dynamics, and their impact on the overall value chain from suppliers to end-use industries, which are expected to transform the future of the global thermal conductive adhesives market.
The report also comprises the study of current issues with end users and opportunities for thermal conductive adhesives market. It also contains value chain analysis, including the key market participants. To provide users of this report with a comprehensive view of the market, we have included a detailed competitive analysis about the key players involved in the market and strategic overviews. The dashboard included in the report provides a detailed comparison of thermal conductive adhesives manufacturers on parameters such as total revenue, product offerings, and key strategies. A list of key companies operating in the thermal conductive adhesives market provided in the report adds to the credibility of this exhaustive research study.
Global Thermal Conductive Adhesives Market: In-Depth Assessment on Key Segments
The global thermal conductive adhesives market is segmented on the basis of type, application, end-use industry, and region.
| | | | |
| --- | --- | --- | --- |
| Type | Application | End-Use Industry | Region |
| Silicones | Battery Thermal | Electronics | North America |
| Epoxies | Heat Sink | Aerospace & Defense | Latin America |
| Polyurethanes | IC Packaging Heat Conduction | Automotive | Europe |
| Acrylics | LED Lighting Thermal | Energy | South Asia |
| Polyamide | Thermal Material Potting | Healthcare | East Asia |
| | Others | Others | Oceania |
| | | | Middle East & Africa |
This taxonomy and the detailed TOC prepared are confidential and intended exclusively for the individual or entity with whom it is being shared. Reading, disseminating, distributing, or copying this to any party other than addressee(s) is unauthorized and prohibited.
Country-specific assessment on demand for thermal conductive adhesives has been provided for each regional market, along with the market size valuation and forecast price point assessment, price index and impact analysis of key regional and country-wise dynamics, which were obtained through quotes from numerous thermally conductive adhesives manufacturers, experts, and suppliers. Y-o-Y growth projections have also been offered on all regional markets incorporated in the report. Moreover, future trends, growth prospects, and other possibilities related to the market have been answered in the report.
The report provides company-level market share analysis, which has been derived on the basis of the company's annual sales and segmental revenue in all the target types and configurations. The market has been forecasted based on constant currency rates. The report provides detailed competitive and company profiles of key participants operating in the global thermal conductive adhesives market. Some of the key competitors operating in the thermal conductive adhesives market are Henkel AG & Co. KGaA, H.B. Fuller, 3M Company, Permabond Engineering Adhesives, Masterbond, Creative Materials Inc., Panacol-Elosol GmbH, DOW Corning and others.
Global Thermal Conductive Adhesives Market: Research Methodology
A number of primary and secondary sources were consulted during the course of the study. Secondary sources include Factiva, Morningstar and Hoovers, and company annual reports and publications. Comprehensive interviews have been conducted by our analysts, and the intelligence and insights obtained have been used for validating the information gained through secondary research. The report also includes a description of assumptions and acronyms utilized for research purposes. Data gathered has been validated using the triangulation method to offer useful quantitative and qualitative insights into the thermal conductive adhesives market.
A short market viewpoint offered in the report elucidates the macro-economic aspects that influence the growth of the thermal conductive adhesives market, which includes global GDP growth rate, chemical & materials industry growth rate, production capacities of key market actors, end-use industries growth rate, etc. This report serves as an authentic resource of intelligence on the thermal conductive adhesives market, enabling the readers to take fact-based decisions on the future direction of their businesses.
Fact.MR offers custom research services that help clients to get specific research solutions
We are committed towards customer satisfaction and quality service.
---
Our Clients

Thermal Conductive Adhesives Market Forecast, Trend Analysis & Competition Tracking - Global Market Insights 2019 to 2029