Thermal Spray Coatings Market
Thermal Spray Coatings Market Analysis by Product (Ceramics, Intermetallic, Polymers, Carbides, Abradables), by Technology (Plasma Spray, Flame Spray, HVOF, Electric Arc Spray), by Application, by Region - Global Insights 2022 to 2032
Analysis of Thermal Spray Coatings market covering 30 + countries including analysis of US, Canada, UK, Germany, France, Nordics, GCC countries, Japan, Korea and many more
Thermal Spray Coatings Market Outlook (2022-2032)
Sales of thermal spray coatings were valued at US$ 7.1 Billion in FY 2021, and are forecast to register a Y-o-Y expansion rate of 11.3% in 2022, expected to close at US$ 7.9 Billion. From 2022-2032, the market is slated to flourish nearly 2x, reaching a valuation of US$ 15 Billion.
Report Attributes

Details

Anticipated Base Year Value (2021)

USD 7.1 Billion

Expected Market Value (2022)

USD 7.9 Billion

Projected Forecast Value (2032)

USD 15 Billion

Global Growth Rate (2022-2032)

6.6% CAGR

Growth Rate of the Asia (2022-2032)

7.2% CAGR

Key Thermal Spray Coatings Service Providers

Praxair Surface Technologies, Inc.
Höganäs AB
H.C. Starck Inc.
Castolin Eutectic
Wall Colmonoy Corp.
Powder Alloy Corp.
Saint-Gobain S.A.
Carpenter Technology Corp.
Fujimi Incorporated
Durum Verschleiss-Schutz GmbH
Thermal Spray Coatings Market Revenue Analysis 2015-2021 vs. Future Outlook 2022-2032
The global thermal spray coatings market grew at a CAGR of 6% in terms of value over the 2015-2021 historical period, according to market research and competitive intelligence provider Fact.MR. Thermal spray coatings are poised to be an ideal alternative to traditional coating methods due to improved anti-corrosive behavior and strong electrical resistance.
The increasing use of raw materials such as aluminum in automotive and industrial manufacturing has also fueled the growth of the thermal spray coating market over the forecast period. Environmental concerns about the presence of hexavalent chromium in the hard chrome plating process have prompted many industries to seek alternative solutions, which has resulted in the historical adoption of the high-velocity oxy-fuel (HVOF) process for aircraft and turbines.
From 2022 to 2032, Fact.MR foresees the global market for thermal spray coatings to flourish at a compounded annual growth rate (CAGR) of 6.6%.
Don't Need a Global Report?
save 40%! on Country & Region specific reports
Prominent Thermal Spray Coatings Industry Growth Drivers
Extensive Adoption in the Aerospace Industry to Heighten Growth Prospects
Thermal spray coatings are widely used as protective coatings in the aerospace industry to protect aircraft components and repair old ones. Thermal spray coatings for aircraft gas turbines provide numerous benefits, including improved corrosion resistance, resistance to contaminants, improved thermal efficiency, reduced nitrogen oxide (NOX) emissions, actuation systems, and to provide high thermal resistance, and increased component life.
The aerospace industry is expanding steadily, with the global aircraft fleet expected to grow by 3.6 percent and air traffic growth expected to be around 4.8 percent between 2016 and 2036.
Asia-Pacific and the Middle East and African regions are expected to see rapid expansion in the aviation sector in the near future, owing to rising consumer incomes and investments in transportation infrastructure. During the forecast period, all of the aforementioned factors are expected to increase the consumption of thermal spray coatings in the aerospace industry.
Industrial Gas Turbines for Power Generation increasing Demand
Because of the growing environmental issues caused by coal-fired power plants, the global focus on decarbonization is increasing. This has prompted many companies to work on developing power generation systems in order to achieve carbon-free power generation.
For example, in March 2021, Mitsubishi Power, a subsidiary of Mitsubishi Heavy Industries (MHI) Group, began the development of a 40-megawatt (MW) class gas turbine powered entirely by ammonia (NH3). Because ammonia does not emit carbon dioxide (CO2), it may encourage power generation companies to use industrial gas turbines for power generation, thereby increasing the demand for thermal spray coatings.
Growing Preference for Thermal Spray Coatings over Chrome Plating to Promote Growth
Because of its oxidation, corrosion resistance, tear, and dimensional reclamation properties, strong chrome plating has been a successful industry solution for many years. It can be implemented at a low cost per surface area unit, but it does have limitations in component size, thickness build-up, and operational performance in some situations. Growing environmental concerns, stringent regulations imposed on the chrome plating process and disposal of its byproducts, as well as rising costs, are driving demand for thermal spray coatings.
Chrome plating introduces tensile loading onto the substratum's surface, causing crack formation and possibly premature failure. End-use industries transitioning from chrome plating to thermal spraying are expected to drive market growth.
Key Challenges Prevalent in the Global Thermal Spray Coatings Market
Formation of Globular Pores by Thermal Spray Coatings to Hinder the Market Growth
Thermal spray coatings frequently produce defects such as pores, which are mostly globular and formed during the process, exploded particles, and cracks, which are formed during the relaxation of residual stresses. The worst defects are caused by unmolten or partially melted particles. The cracks appear as micro-cracks within splats, as well as micro-cracks running through layered splats and appearing to initiate interconnected porosities. Furthermore, when spraying in the air, oxidation of heated or completely melted particles, as well as splats and successive passes during coating formation, may occur throughout the flight.
Depending on the spray conditions and sprayed materials, the coatings are more or less transparent and must be sealed by appropriate means in some applications. Finally, another source of defects is the particle impact angle, which reduces the normal velocity of the impact, resulting in elongated splats. Spraying with an angle greater than a certain value can encourage splashing even on substrates preheated above the so-called transition temperature, depending on the particle and substrate materials.
More Insights, Lesser Cost (-50% off)
Insights on import/export production,
pricing analysis, and more – Only @ Fact.MR
Region Wise Analysis
What is the Growth Outlook for Thermal Spray Coatings in North America?
North America held the largest regional market share in the global thermal spray coatings market, capturing 45% of global market demand. The United States is expected to remain the region's largest market for thermal spray coatings, owing to rising demand for improved performance at competitive prices while adhering to all regulations and industry standards.
Until 2016, the country's automobile production grew at a rapid pace. Thermal spray coatings demand in North America is primarily driven by high demand from key industries such as aerospace, oil, and gas, automotive, medical, and power generation.
Furthermore, governments in the United States and Canada are funding projects to develop innovative coatings that can serve as a catalyst for market growth. For example, the Government of Canada announced in February 2022 that it would provide US$ 18.94 Million through the New Frontiers in Research Fund for a project to develop unique molecular coatings that could reduce maintenance costs in sectors such as healthcare, infrastructure, automotive, aerospace, and consumer electronics.
How do Growth Prospects Appear in the Asian Market?
During the forecast period, the Asia-Pacific thermal spray market is expected to grow at a CAGR of more than 7.2%. Increasing thermal spray applications in the automotive and aerospace industries, as well as increased thermal spray usage in medical devices, are expected to drive the market during the forecast period. Advances in spraying technology are expected to open up new opportunities for market growth in the future.
China is expected to dominate the market and have the highest CAGR during the forecast period. The Asia Pacific aerospace sector is gaining traction as major aircraft manufacturers such as Airbus establish manufacturing bases in the region and source aircraft components from regional Indian players such as the Tata Group, Dynamatic Technologies, and Mahindra Group Companies.
This has the potential to propel the market growth for thermal spray coatings in the region, as there is a high demand for automotive components subjected to extreme pressures and temperatures.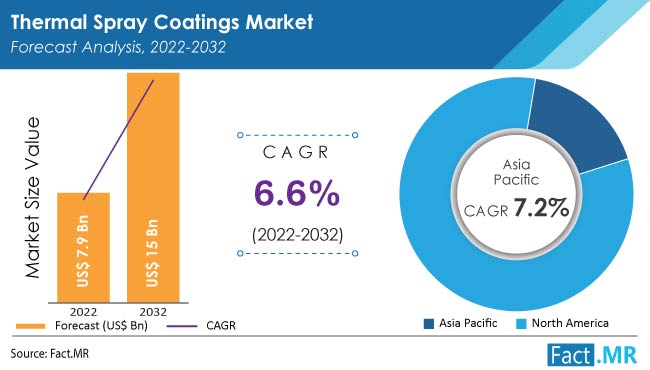 Category wise Insights
Why are Ceramic Thermal Spray Coatings Most Preferred?
Ceramics are in high demand due to their properties such as heat resistance and corrosion resistance. Furthermore, ceramics are inexpensive, which is likely to increase the demand for this material.
Because of the growing use of ceramic, particularly in the biomedicine industry, the ceramic segment held a significant revenue share of the market. This is expected to have a positive market impact.
Due to increased demand from manufacturing, automotive, and aerospace applications, this segment is expected to be the highest contributor to revenue.
Will Flame Spray Segment hold a Major Market Share?
Because of the production of high-quality metal coatings, the flame spray will emerge as the leading segment. The market is divided into technology segments such as flame spray, high-velocity oxygen fuel (HVOF) spray, electric arc spray, plasma spray, cold spray, and others. The flame spray segment held the lion's share of the market. To add thermal spray coating, the flame spraying method employs an oxy-acetylene flame.
The heat from the flame dissolves the coating material, which is then propelled onto the sprayed product by compressed air. To protect against corrosion, the flame spray can be used to apply high-quality metal coatings. HVOF technology can be used to create medical dental implants. This sector's expansion would have a positive impact on demand growth during the forecast period.
Know thy Competitors
Competitive landscape highlights only certain players
Complete list available upon request
Competitive Landscape
The global thermal spray coatings market is highly fragmented, with fierce competition among the top players for a large share of the global market. The majority of market leaders are vertically integrated, with a diverse product portfolio of thermal spray coatings materials and equipment. OC Oerlikon Management AG, Praxair S.T. Technologies Inc. (Linde PLC), Chromalloy Gas Turbine LLC, Kennametal Inc., and TOCALO Co. Ltd are among the market's major players.
Hannecard acquired ASB Industries Inc., based in Barberton, Ohio, in January 2021. ASB Industries Inc. provides industrial coating services such as thermal spray, flame spray, plasma spray, electric arc spray, and others. Furthermore, Hannecard, a French company, has established itself in the American continent after Africa, Europe, Asia, and South America.
In January 2020, the parent company of Euro Coatings SPA, United Coatings Group, completed the rebranding process to Lincotek Group. Lincotek Equipment now includes thermal spray coatings solutions for thermal spray.
To strengthen their market position, established players are entering into contracts with major end-user companies. Praxair Surface Technologies, Inc., for example, signed an agreement with Siemens in March 2020 under which the former company will provide coating services across all Siemens products. Because Siemens has a presence in the aviation, energy, and other industries, this contract has the potential to strengthen Praxair Surface Technologies' market position.
Key Segments Covered in the Thermal Spray Coatings Industry Report
Thermal Spray Coatings by Product

Ceramic Thermal Spray Coatings
Intermetallic Thermal Spray Coatings
Polymer Thermal Spray Coatings
Carbide Thermal Spray Coatings
Abradable Thermal Spray Coatings
Other Thermal Spray Coating Products

Thermal Spray Coatings by Technology

Plasma Thermal Spray Coatings
Flame Thermal Spray Coatings
HVOF Thermal Spray Coatings
Electric Arc Thermal Spray Coatings
Cold Thermal Spray Coatings
Other Technology-based Thermal Spray Coatings

Thermal Spray Coatings by Application

Aerospace
Industrial Gas Turbines
Automotive Applications
Medical Applications
Printing
Oil & Gas
Steel
Pulp & Paper
Other Applications
- FAQs -
As of 2021, Fact.MR estimated the thermal spray coatings market to have reached US$ 7.1 Billion.
By 2022, Fact.MR expected demand for thermal spray coatings to reach US$ 7.9 Billion.
From 2015-2021, the Thermal Spray Coatings market grew at a 6% value CAGR.
From 2022-2032, thermal spray coatings demand is likely to surge at a 6.6% CAGR.
By 2032, the market for thermal spray coatings is likely to be valued at US$ 15 Billion.
The APAC region is forecast to flourish at a CAGR of over 7.2% from 2022 to 2032
The North American market for thermal spray coatings is poised to yield 45% of global market demand