Thermal Conductive Sheet Market
Thermal Conductive Sheet Market Analysis by Type (Carbon Fiber, Silicone, Acrylic), By Application (Smartphones, PCs, Automotive, Others) and By Regions – Global Market Insights 2023 to 2033
Analysis of Thermal Conductive Sheet Market Covering 30+ Countries Including Analysis of US, Canada, UK, Germany, France, Nordics, GCC countries, Japan, Korea and many more
Thermal Conductive Sheet Market Outlook (2023 to 2033)
The global thermal conductive sheet market is valued at US$ 1.26 billion in 2023 and is forecasted to reach US$ 2.13 billion by 2033, increasing at a CAGR of 5.4% from 2023 to 2033.
A sort of bendable heat sink that aids in dissipating the heat produced by electronic gadgets is known as a thermally conductive sheet. It is constructed of a substrate material such as polyimide or polyester and a thin layer of metal, usually aluminum or copper. As a conductor, the metal layer functions, and the substrate offers flexibility and strength mechanically.
Applications of thermally conductive sheets include power semiconductor devices, smartphones, and laptop computers, among others, where they are crucial to keep electronic components cool. Additionally, they are employed in thermal management applications in battery packs for electric cars and engine control systems for automobiles.
Thermal energy is moved from one location to another using thermal conductors. Silver has the highest electrical conductivity of any metal. Silver currently describes conductivity, and all other metals are tested against it. It can remove the barrier to release heat effectively and lower the temperature of a heat source such as a CPU by utilizing a thermally conductive gel sheet with high thermal conductivity. Using the straightforward simulation model below, we were able to confirm the heat release effect caused by high thermal conductivity.
Thermal interface materials called thermally conductive thin films are used to transfer heat away from a surface. They are frequently constructed of polyimide, a clear thermoset polymer with excellent physical and electrical isolation qualities. These thin coatings are great for ruggedizing products since they can survive tough situations. High-performance systems typically use advanced thermal management materials to ensure that no electronic system or component's performance is compromised.
Even at high temperatures, thermal films have a high resistance to flowing or thinning out under high compressive loads. Over a wide range of temperatures and frequencies, it maintains essentially constant physical, mechanical, and electrical properties. Radiation-resistant polyimide thermally conductive films do not melt and have no known organic solvents.
In 2020, Henkel launched its LOCTITE TC 50 thermally conductive adhesive film, which offers high thermal conductivity and easy application.
Report Attributes

Details

Market Size in 2022

US$ 1.19 Billion

Estimated Market Value (2023)

US$ 1.26 Billion

Forecasted Market Value (2033)

US$ 2.13 Billion

Global Market Growth Rate (2023 to 2033)

5.4% CAGR

United States Market Growth Rate (2023 to 2023)

5.1% CAGR

Companies Profiled

Dexerials
3M
Shin-Etsu Chemical
Toyochem
Hitachi Chemicals
Kaneka
Risho Kogyo
DENKA
SEKISUI POLYMATECH
Henkel
Don't Need a Global Report?
save 40%! on Country & Region specific reports
What is the Role of Thermal Conductive Sheets in Ensuring Long-term Performance and Reliability?
"Importance of Thermal Conductive Sheets in Preventing Overheating in Smartphones"
Thermal conductive sheets play an important role in the functioning of smartphones. The processors in smartphones generate a lot of heat during their operation, which can cause damage to the device if not dissipated effectively. Thermal conductive sheets help to dissipate this heat and prevent the device from overheating.
In smartphones, thermal conductive gel sheets are commonly used in the form of thermal pads or tapes that are placed between the processor and the heat sink. These sheets are typically made of materials such as graphite, copper, aluminum, or silicone, which have high thermal conductive sheets and can transfer heat quickly and efficiently.
Due to reasons such as the downsizing of electronic devices, thermal conductivity, space restrictions, and technological advancement in the electronic device industry, thermally conductive polymers are in great demand in the electrical and electronics industries. Because thermal conductive mica sheets have several advantages, including being lighter in weight, having fewer components, being easy to mold, being scratch and abrasion-resistant, having impact strength, and being less expensive, they are competing with traditional materials such as ceramics, metal, and conventional plastics.
"Thermal Conductive Sheets Enhancing Battery Performance in Automotive Industry"
Thermally conductive sheet material in the automotive industry is growing rapidly as the demand for high-performance and fuel-efficient vehicles continues to increase. Thermal conductive sheets are used in a variety of automotive applications, including powertrain systems, exhaust systems, batteries, and electronic control units (ECUs).
In powertrain systems, high thermal conductive sheets are used to dissipate heat generated by the engine and transmission, helping to improve overall efficiency and performance. In exhaust systems, these sheets can help to reduce emissions by keeping the catalytic converter at the optimal operating temperature.
Thermal conductive sheets are also used in automotive batteries to improve their performance and extend their lifespan. By dissipating heat generated during charging and discharging, these sheets can help to prevent damage to the battery and ensure that it operates at peak efficiency.
What are the Limitations of Thermal Conductive Sheets?
"Balancing Cost and Effectiveness a Major Issue"
One of the limitations of the standard thermal conductive sheet market is the cost of production. The materials and manufacturing processes involved in producing high-quality thermal conductive sheets can be expensive, which can result in a higher cost for the end product. This may affect the thermal conductive sheet distributors across and limit the adoption of thermal conductive sheets in certain industries or applications where cost is a significant factor.
The effectiveness of thermal conductive sheets can be influenced by factors such as the size and shape of the component they are applied to, and the operating conditions of the application. Therefore, careful consideration and testing may be required to determine the optimal use of thermal conductive sheets for specific applications.
"Mitigating Compatibility Issues to Optimize Thermal Conductive Sheet Performance"
Another limitation of the global thermal conductive sheet market is the potential for compatibility issues with other materials and components in the system. Thermal conductive sheets must be carefully selected and tested to ensure that they are compatible with other materials and components used in the system, such as adhesives, gaskets, and coatings.
Incompatibility can lead to reduced effectiveness of the thermal conductive sheet or even failure of the system as a whole. This requires thorough testing and evaluation before implementing the least thermal conductive materials in a particular application.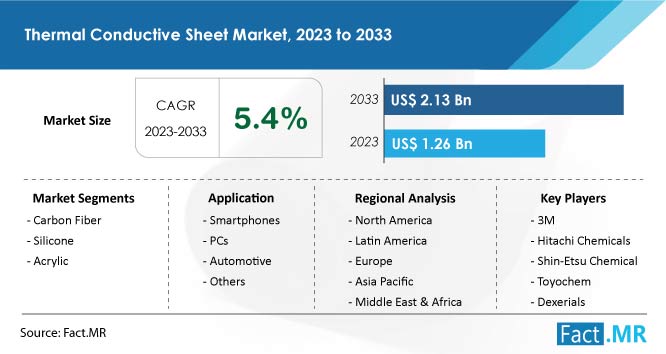 Country-wise Insights
Which Factors Have Made China a Dominant Player in the Thermal Conductive Sheet Industry?
"Competitive Edge in Smartphone Manufacturing Attributed to Cost-efficient Labor"
The market in China is projected to increase at a healthy CAGR of 6.1% during the forecast period. The electronics industry is centered in China, particularly for a variety of electronics such as smartphones, laptops, tablets, televisions, etc.
Huawei, Apple, Samsung, Xiaomi, Vivo, Oppo, and Lenovo are some of the major businesses that produce smartphones in the country. In the last ten years, the country has had an unrivaled market share in the production of smartphones, mostly because raw materials are readily available and labor is less expensive than in other countries. Such factors are expected to increase the sales of thermal conductive sheets during the forecast period.
Increasing use of touch UI interface devices and the decreasing price of smartphones are two reasons that are expected to upsurge the demand for transparent thermal conductive materials globally. Demand for thermal conductive sheets is significantly influenced by the energy sector, particularly the solar power sector. The world's main solar farm is located in China's Tengger Desert, and the country has more solar capacity than any other country. For the foreseeable future, it is anticipated that the country will continue to be the major investor in renewable energy.
Where is the Use of Thermal Conductive Sheets High in the United Kingdom?
"Growing Demand for Innovative Solutions in Automotive and Electronics Industries"
The thermal conductive sheet market in the United Kingdom is forecasted to rise at a CAGR of 6.5% during the forecast period.
The United Kingdom is among the important markets for thermal conductive sheet manufacturers in Europe, driven by the increasing demand for high-performance and energy-efficient products in various industries such as automotive, electronics, aerospace, and construction.
The use of thermal conductive sheets helps to dissipate heat effectively, thereby reducing energy consumption and enhancing the performance and reliability of various applications. This trend has led to the emergence of thermal conductive sheet manufacturers in the United Kingdom, offering innovative solutions tailored to meet the specific needs of different industries.
More Insights, Lesser Cost (-50% off)
Insights on import/export production,
pricing analysis, and more – Only @ Fact.MR
Category-wise Insights
What are the Advantages of Using Silicone in Thermal Conductive Sheets?
"Versatility and Performance of Silicone in Thermal Conductive Sheets"
There are various types of thermal conductive sheets such as carbon fiber, acrylic thermal, and silicone. Silicone is a commonly used material in thermal conductive sheets due to its excellent thermal conductivity, flexibility, and durability. It is often used as a base material for the sheet, with other materials added to enhance its performance, such as ceramic or metal fillers.
Demand for silicone thermal conductive sheets is anticipated to expand at a CAGR of 5.7% during the projected period. They are widely used in various applications, including electronic devices, automotive components, and industrial equipment, due to their ability to effectively dissipate heat and improve overall performance and reliability.
How are Thermally Conductive Sheets Shaping the Future of the Automotive Industry?
"Thermally Conductive Sheets Allowing Innovation in Automotive Design and Technology"
Growth of hybrid electric vehicles (HEV) and electric vehicles (EV), which are predicted to enhance the demand for automotive electronics use of thermally conductive sheets, is the primary driver of the automotive sector. Demand for thermally conductive sheets is rising as mechanical components are being replaced with carbon fiber thermally conductive sheets for automotive lighting systems, weight reduction, and design flexibility of 3D components.
Overall, the use of thermal conductive sheets in the automotive industry is expected to increase at 5.6% of CAGR during the projected period. Critical to ensuring the long-term performance and reliability of vehicles. As the demand for high-performance and fuel-efficient vehicles continues to increase, the importance of effective thermal management will only continue to grow.
Competitive Landscape
With increasing concerns over environmental sustainability, many companies are focusing on developing eco-friendly thermal conductive sheet products. Some companies are also expanding their production facilities to meet the growing demand for thermal conductive sheet products. Some companies are also pursuing mergers and acquisitions to expand their product portfolios and market presence.
For instance, in January 2022, Parker Hannifin Corporation recently acquired LORD Corporation, a manufacturer of thermal management solutions, to expand its portfolio of products and services.
Know thy Competitors
Competitive landscape highlights only certain players
Complete list available upon request
Key Segments of Thermal Conductive Sheets Industry Research
By Type :

Carbon Fiber
Silicone
Acrylic

By Application :

Smartphones
PCs
Automotive
Others

By Region :

North America
Latin America
Europe
Asia Pacific
Middle East & Africa
- FAQs -
The global thermal conductive sheet market is valued at US$ 1.3 billion in 2023.
Worldwide demand for thermal conductive sheets is predicted to increase at a CAGR of 5.4% from 2023 to 2033.
Sales of thermal conductive sheets are anticipated to reach a market valuation of US$ 2.1 billion by 2033.
Asia Pacific is expected to lead the global market for thermal conductive sheets through 2033.
Dexerials, 3M, and Hitachi Chemicals are some of the leading suppliers of thermal conductive sheets.