pH Control Market
pH Control Market Analysis By Product Type (Acetic Acid, Citric Acid, Malic Acid, Fumaric Acid, Lactic Acid, Tartaric Acid, Succinic Acid, Phosphoric Acid), By Application (Beverages, Convenience Foods, Sauces, Dressings, & Condiments, Bakery & Confectionery, Dairy Products), By Function (Flavoring Agents, Preservatives, Chelating Agents, Buffering Agents, Gelling Agents, Coagulating Agents), By Form (Dry, Liquid) and By Region - Global Market Report (2023 to 2033)
Analysis of pH Control Market Covering 30+ Countries Including Analysis of US, Canada, UK, Germany, France, Nordics, GCC countries, Japan, Korea and many more
pH Control Market Outlook (2023 to 2033)
The global pH control market size is valued at US$ 7.08 billion in 2023 and is projected to reach a size of US$ 14.19 billion by the end of 2033. Worldwide demand for pH control solutions is predicted to rise at a CAGR of 7.2% from 2023 to 2033.
pH control refers to the process of regulating and maintaining the pH (acidity or alkalinity) of a solution or substance within a specific desired range. The pH scale varies from 0 to 14, with 7 being considered neutral. Solutions with a pH below 7 are acidic, and those with a pH above 7 are alkaline or basic.
In several industrial, scientific, and environmental applications, maintaining precise pH levels is crucial for several reasons such as quality control and more. pH control can be achieved using various methods, including the use of pH meters, sensors, and controllers, as well as the addition of acidic or alkaline substances to adjust pH as needed. The choice of method and equipment depends on the specific application and the required precision of pH control.
Some of the types of pH control solutions include acetic acid, citric acid, malic acid, fumaric acid, lactic acid, tartaric acid, succinic acid, and phosphoric acid. Demand for citric acid as a pH control additive is high for several reasons, primarily related to its effectiveness, safety, and versatility in various applications.
Citric acid is a natural organic acid found in citrus fruits such as lemons and limes. Citric acid can be used to adjust the pH of solutions. It is an effective pH control additive, especially for acidic or slightly acidic environments. It is commonly used to lower the pH of a solution, making it more acidic when needed.
In the food and beverages industry, citric acid not only helps control pH but also serves as a flavor enhancer and preservative. Its tart taste is often used to add a sour or tangy flavor to products, such as soft drinks, candies, and snacks.
Report Attributes
Details
pH Control Market Size (2023E)
US$ 7.08 Billion
Forecasted Market Value (2033F)
US$ 14.19 Billion
Global pH Control Market Growth Rate (2023 to 2033)
7.2% CAGR
Leading Regional Market
North America
Key Companies Profiled

Archer Daniels Midland Company
Batory Foods Inc.
Brenntag Ingredients Inc.
Cargill Inc.
Fuerst Day Lawson Ltd.
Hawkins Watts Limited
Industrial Tecnica Pecuaria S.A.
Sab Hnub Tuaj Foodchem Co. Ltd.
Tate& Lyle PLC
Univar Inc.
Corbion Purac N.V.
American International Foods Inc.
Don't Need a Global Report?
save 40%! on Country & Region specific reports
Why are pH Control Agents Gaining Prominence in Several Industries?
"Accurate pH Prescription Enhancing Crop Health and Productivity"
Soil pH measures the acidity or alkalinity of the soil and is crucial for the availability of essential nutrients to plants. Different crops thrive in specific pH ranges. Soils that are too acidic or too alkaline can limit nutrient uptake, affecting plant growth and productivity.
Optimal soil pH ensures that crops receive the necessary nutrients, resulting in improved yield and crop quality. A well-balanced pH also minimizes the risk of nutrient deficiencies that can hamper plant growth. pH control solutions also help maximize the efficiency of fertilizers. With balanced pH levels, less fertilizer may be needed to achieve the same yield, which reduces costs and environmental impact.
Sustainable farming practices are increasingly important for long-term agricultural viability. pH control contributes to sustainability by preventing soil degradation and nutrient imbalances that can lead to soil erosion and other ecological issues. Thus, pH control solutions are integral to modern agriculture's sustainable and efficient practices. They allow farmers to optimize soil conditions, maximize crop yields, reduce resource waste, and enhance the overall health and resilience of cultivated plants.
"pH Control Agents Ensuring Safety, Compliance, and Effectiveness in Pharmaceuticals"
The pharmaceutical industry is characterized by its exceptionally stringent quality requirements, driven by the need to ensure the safety, efficacy, and consistent quality of pharmaceutical products. Among the many critical factors that influence the pharmaceutical manufacturing process, precise pH control stands out as one of the cornerstones.
Many pharmaceutical drugs are formulated as solutions or suspensions, and the solubility of active ingredients is highly pH-dependent. Maintaining the correct pH level is essential to ensure that the active ingredients remain in the solution and maintain their efficacy.
pH control is also crucial to preventing the degradation of drugs and excipients, which can occur at extreme pH values. Drug stability is vital to ensure that the product retains its intended therapeutic effect throughout its shelf life.
Ensuring the correct pH levels in pharmaceutical formulations is non-negotiable, as even minor deviations can have significant consequences, both for patient well-being and regulatory compliance. Consequently, demand for advanced pH control technology remains high, driving innovation and the development of state-of-the-art solutions to meet the unique needs of this critical sector.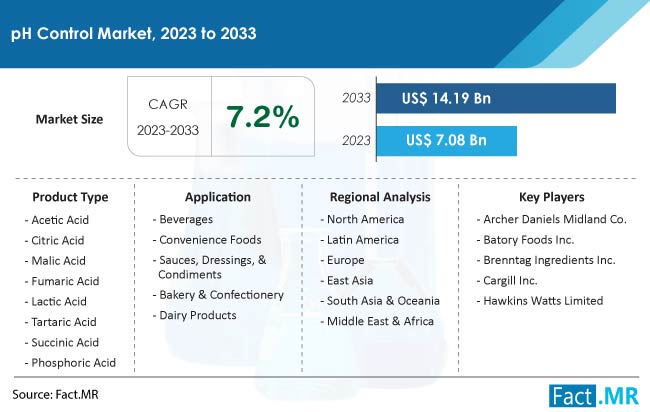 What is Hindering the Sales Growth of pH Control Products?
"Lack of Advanced Infrastructure and Operators"
The complexity of some pH control systems can indeed present significant challenges and act as a barrier to adoption, especially in smaller or less technologically advanced markets. The negative aspects related to cost, technical expertise, operational challenges, and resistance are hampering pH control solution sales growth.
Advanced pH control systems often come with a substantial upfront cost. Smaller businesses or industries in economically challenged regions may find it cost-prohibitive to invest in these systems. This initial financial burden can discourage adoption.
Operating and maintaining complex pH control systems requires specialized technical knowledge. In regions with a shortage of skilled professionals, finding and training individuals capable of managing such systems can be a daunting task. Thus, all such factors are lowering the sales of pH control agents to some extent.
More Insights, Lesser Cost (-50% off)
Insights on import/export production,
pricing analysis, and more – Only @ Fact.MR
How Can New Companies Make a Mark for Themselves in This Space?
"New Companies Can Resort to Niche Marketing and Collaborations"
Newcomers entering the pH control market face both opportunities and challenges. To succeed and earn more in this competitive industry, several strategies can be beneficial. Focusing on a specific niche or industry within the broader pH control market can be a strategic move. By becoming experts in a particular sector, newcomers can tailor their products and services to the unique needs of that niche. This specialization can lead to higher demand, premium pricing, and stronger customer loyalty.
Collaborating with established companies or research institutions can provide new companies with valuable resources and credibility. Partnerships can open doors to new markets, access to technology, and research collaboration, which can lead to high market shares and profitability.
Country-wise Analysis
As per Fact.MR, a market research and competitive intelligence provider, the pH control product sales are thriving in the United States, Germany, and Japan due to factors such as stringent regulations, a diverse industrial base, technological innovations, and the specific needs of key industries in each country. Fact.MR's report reveals detailed information on each country with key insights.
What's Driving Sales of pH Control Solutions in the United States?
"Presence of Stringent Environmental Regulations and Diverse Industrial Base"
The United States has some of the most rigorous environmental regulations in the world, particularly governing water quality and emissions. Industries in the United States are under pressure to comply with these standards, leading to a high demand for pH control solutions, particularly in wastewater treatment and emissions control.
The country also boasts a diverse range of industries, including pharmaceuticals, chemicals, food and beverages, and electronics manufacturing, all of which require precise pH control for quality assurance and regulatory compliance.
How is Germany's Industrial Excellence Boosting Demand for pH Control Agents?
"Sustainable pH Control Agents Maintaining Accuracy, Precision, and Quality in Manufacturing"
Germany is renowned for its manufacturing prowess, particularly in the chemical and automotive industries. These sectors have a strong demand for pH control solutions to ensure product quality and adherence to strict regulations. Germany also places a strong emphasis on environmental protection and sustainability. pH control is critical in wastewater treatment and industrial processes to meet environmental standards, making it a key driver of market growth.
Will Japan Emerge as a Profitable Market for pH Control Solution Providers?
"Technological Innovations and Automation Pushing Sales of Advanced pH Control Solutions"
Japan is at the forefront of technological innovation, including automation and robotics. This culture of innovation is driving the adoption of advanced pH control solutions, especially in manufacturing processes. The Japanese pharmaceutical and research sectors are growing at a rapid pace. Precise pH control is vital for drug development, manufacturing, and laboratory applications, contributing to the market's expansion.
Know thy Competitors
Competitive landscape highlights only certain players
Complete list available upon request
Category-wise Analysis
pH control is essential in the food and beverages sector to ensure food safety, enhance flavor, preserve products, stabilize emulsions, and control various critical aspects of food processing. pH control systems are also expected to experience high demand in the agriculture and healthcare sectors in the coming decade.
Why are pH Control Agents Widely Used in the Food and Beverage Industry?
"pH Control Solutions Ensuring Food Safety by Inhibiting Microbial Growth"
pH control solutions play a crucial role in the food and beverages sector due to their wide-ranging applications, all of which are vital for ensuring the quality, safety, and consistency of products. pH control is fundamental to ensuring the safety of food and beverages. Controlling pH levels can inhibit the growth of harmful microorganisms, such as bacteria and mold that can cause foodborne illnesses and spoilage.
Lowering the pH (acidifying) or maintaining it within specific ranges can prevent the proliferation of these pathogens. pH control agents are also vital in the production of various beverages, including soft drinks, fruit juices, and beer. This ensures the desired flavor and shelf stability.
Competitive Landscape
Key players in the market are employing a combination of tactics such as innovation, diversification, customization, global expansion, and customer-centric marketing to maximize their earnings and strengthen their market position.
Collaborating with or acquiring complementary companies is also helping major market players strengthen their market position and expand their product and service offerings.
In April 2022, Bartek Ingredients made a significant announcement regarding the establishment of the world's largest manufacturing facility for malic acid and food-grade fumaric acid in Ontario, Canada.
LCY Biosciences, a major player in the succinic acid market, revealed in August 2021 about its production of 18 KT of bio-based succinic acid in Sarnia, Ontario, Canada, up from the previous 8 KT produced by the plant under BioAmber's ownership.
Key Segments of pH Control Market Research
By Product Type :

Acetic Acid
Citric Acid
Malic Acid
Fumaric Acid
Lactic Acid
Tartaric Acid
Succinic Acid
Phosphoric Acid

By Application :

Beverages
Convenience Foods
Sauces, Dressings, and Condiments
Bakery and Confectionery
Dairy Products

By Function :

Flavoring Agents
Preservatives
Chelating Agents
Buffering Agents
Gelling Agents
Coagulating Agents

By Form :

By Region :

North America
Latin America
Europe
East Asia
South Asia & Oceania
Middle East & Africa
- FAQs -
The global pH control market is valued at US$ 7.08 billion in 2023.
Sales of pH control solutions are predicted to increase at a CAGR of 7.2% from 2023 to 2033.
The market for pH control solutions is forecasted to reach US$ 14.19 billion by the end of 2033.
Prominent companies are Archer Daniels Midland Company, Batory Foods Inc., and Brenntag Ingredients Inc.
Presence of diverse industries, stringent regulations, and technological advancements are driving high demand for pH control agents in North America.