Diabetic Neuropathy Market
Diabetic Neuropathy Market Forecast, Trend, Analysis & Competition Tracking By Disorder (Peripheral, Autonomic, Proximal, Focal), By Treatment (Drugs, Analgesic, Antidepressants, Anticonvulsant Drugs, Radiotherapy) - Global Market Insights 2020 to 2025
FACT4698MR
Mar-2022

List of Tables : 96

List of Figures : 116

170 Pages
Diabetic Neuropathy Market: Approval of Novel Drugs to Push Revenue Growth
Diabetes is one of the most common chronic conditions, affecting millions of people globally. Changing lifestyles and imbalanced diets are the major factors responsible for increased incidence of diabetes.
As of 2019, nearly 1/10th of the world's population suffered from diabetes. Consequently, there has been a surge in diabetic treatment, with key pharmaceutical companies investing heavily in developing anti-diabetic formulations.
The approval of novel drugs for the treatment of diabetic neuropathic pain has led to a major uptick in the diabetic drugs market. In 2015, the FDA approved Nucynta ER for the treatment of neuropathic pain caused by diabetes.
Another drug, Lyrica, has also been approved for neuropathic pain treatment in 130 countries. On the back of these trends, global diabetic neuropathy market is anticipated to grow at a CAGR of 5.6% during the forecast period (2020-2025).
The recent COVID-19 pandemic is not anticipated to limit the production of novel drugs or supplies of insulin to hospitals or pharmacies, attributed to increased functional capacity of manufacturing plants of leading players across the world. However, delays in processing orders may be anticipated.
Avail customized purchase options for your needs
Peripheral & Proximal Neuropathy to Register Major Usage of Diabetic Neuropathy Formulations
The peripheral neuropathy disorder segment is projected to find increased usage of diabetic neuropathy formulations. The scope for peripheral neuropathy drugs is poised to increase, as the treatment for peripheral neuropathy is currently confined on managing pain rather than regeneration of nerves.
Moreover, under diagnoses of peripheral neuropathic patients will broaden prospects of these drugs. Projections indicate a positive CAGR of 5.9% and a market share greater than half.
However, proximal neuropathy disorders are anticipated to find substantial applications of diabetic neuropathy formulations. Proximal neuropathy is the most common disorder among type 2 diabetics.
An increase in the patient pool suffering from proximal neuropathy is thus anticipated to drive diabetic neuropathy drugs and formulations for the disorder, capturing a market share of nearly one-fourth and expanding at a CAGR of 5.6% through 2025.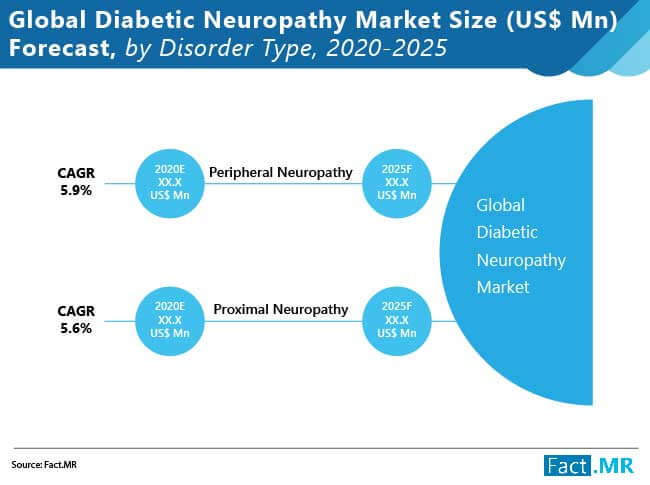 North America to Reign Supreme, Asia Pacific Shows Lucrative Prospects
North America is anticipated to witness significant usage of diabetic neuropathy drugs during the forecast period. Increasing percentage of patients getting diagnosed and receiving treatment for diabetic neuropathy along with growing government investments in research for new drugs and therapies are anticipated to boost market growth prospects.
For instance, the National Institute of Neurological Disorders and Stroke funded research on neuropathy. This includes clinical studies of genetics and natural history of hereditary neuropathies. North America's market is poised to capture more than two-fifth of the global market revenue, expanding 1.4X during the forecast period.
Asia Pacific is projected to show lucrative growth opportunities, expanding 1.5X and capturing over one-fifth share of the global diabetic neuropathy market through 2025. A large patient pool and supportive government policies are driving the diabetic neuropathy market growth in Asia Pacific. Inadequate healthcare infrastructure and poor dietary habits are poised to motivate companies to conduct research and develop new pipeline drugs.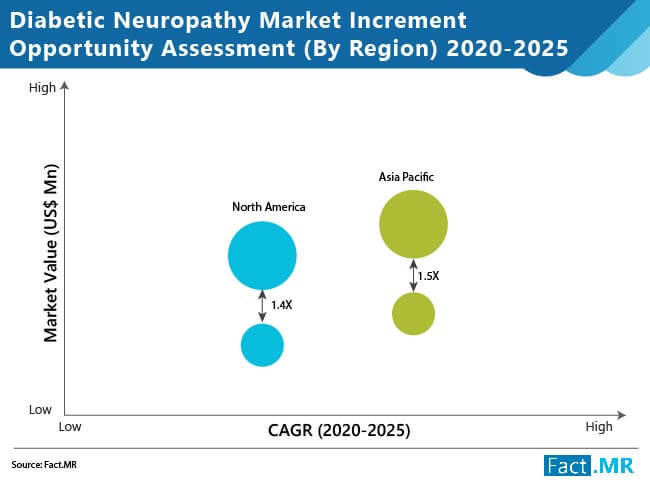 Development of Novel Molecules and Drugs Remains Key Growth Stimuli for Market Players
The global diabetic neuropathy market is highly consolidated in nature. The key market players are Arbor Pharmaceuticals, LLC, Pfizer, Inc., Janssen Global Services, LLC, NeuroMatrix, Inc., Depomed, Inc., and Eli Lilly. These companies primarily concentrate on developing new drugs within their pipeline, owing to increased need for treatment of diabetics.
Janssen Global Services, LLC, the pharmaceutical arm of Johnson & Johnson, manufactures diabetic neuropathy drugs such as NUCYNTA, NUCYNTA ER, Duragesic and INVOKANA. These drugs contain canagliflozin and tapentadol which are important for regulating blood sugar levels. Likewise, Pfizer, Inc. produces Lyrica EH, Celebrex, Lyrica IH and Tafamidis Meglumine.
Another prominent market player, Glenmark Pharmaceuticals Ltd., manufactures remoglifozin etabonate, belonging to the gliflozin class to treat type-2 diabetes. Additionally, the company has successfully out-licensed seven novel molecules to leading pharmaceutical giants such as Merck KGaA and remains the only company to execute multiple deals on novel molecules. An example of this is the development of the SGLT2 inhibitor which developed into remoglifozin.
An Adaptive Approach to Modern-day Research Needs
COVID-19 Impact Analysis
Diabetic patients are indeed extremely vulnerable to serious complications, if infected by the COVID-19 virus. The infection can cause internal swelling and also increase inflammation among diabetic patients. It is, therefore, imperative for hospitals, clinics and surgical centers to ensure that such complications are mitigated by providing advanced medical care.
Fortunately, leading manufacturers in the diabetes sector have reported that the COVID-19 is not having an impact on their current manufacturing and distribution capabilities for vital injections such as insulin.
Majority of the players conclude that a shortage of medicines is not anticipated in the forecast period, due to close monitoring of supply chain for potential impacts on sale of medicines. However, delays in processing of orders are projected, attributed to a shift to a remote workforce.
Eli Lilly, a diabetic drug manufacturing company, has claimed that its production shall not be hampered as their insulin manufacturing sites across Europe and the United States remain operational amid increased precautions.
The company has urged pharmacies receiving insulin supplies from it to place orders directly with the wholesalers in order to avoid a manufacturer backorder. Another player, Mankind (Afrezza) claims that its U.S. manufacturing plant is fully operational, thus assuring clients that their supplies wouldn't be impacted.
To summarize, the global COVID-19 pandemic is poised to have a negligible restraining impact on the production of diabetic drugs across all regions.
The Analyst's Viewpoint
"The menace of diabetic neuropathy is indeed acute, affecting nearly 50% of adults with diabetes during their lifetime. A dearth of treatments reversing underlying nerve damage has spurred healthcare practitioners to increase their research and development to find a potential solution. Future projections largely indicate drug combinations serving the dual purpose of providing symptomatic pain relief and improvement in the quality of life as well as slowing the progression of the underlying neuropathic processes".
Interested to Procure The Data
Diabetic Neuropathy Market: Report Scope
The recent study on diabetic neuropathy market undertaken by Fact.MR offers a 5-year forecast for the period of 2020 to 2025, elaborating on key market dynamics such as drivers, restraints and opportunities in diabetic neuropathy treatment. In-depth analysis in terms of revenue and growth forecasts has been conducted across the following segments: disorder, treatment, and distribution channel.
A regional landscape has been mapped based on five key geographies (North America, Europe, Asia Pacific, Latin America and Middle East & Africa). Each regional profiling incorporates the abovementioned segments.
In the end, a competitive landscape highlighting key company profiles and their strategies for market expansion have also been included. Overall, an optimistic scenario has been painted for the future expansion of the diabetic neuropathy market.
Global Diabetic Neuropathy Market Segmentation
Fact.MR has studied the global diabetic neuropathy market with detailed segmentation on the basis of disorder, treatment, distribution channel and region.
Disorder

Peripheral Neuropathy
Autonomic Neuropathy
Proximal Neuropathy
Focal Neuropathy

Treatment

Drugs
Analgesic
Topical:
Opioid:
NSAIDs:

Ibuprofen
Naproxen
Others

Antidepressants:

TCAs:

Amitriptyline
Imipramine
Others

SNRIs:
SSRIs:

Citalopram
Paroxetine
Others

Anticonvulsant Drugs:

Gabapentin
Pregabalin
Topiramate
Others

Other Drugs

Radiotherapy:

Transcutaneous Electrical Nerve Stimulation (TENS)
Others
Physiotherapy

Distribution Channel

Hospitals
Clinics
Retail Pharmacy
Online Pharmacy

Region

North America
Europe
Asia Pacific
Latin America
Middle East & Africa (MEA)
"This taxonomy prepared is confidential and intended exclusively for the individual or entity with whom it is being shared. Reading, disseminating, distributing, or copying this to any party other than addressee(s) is unauthorized and prohibited."