Increasing need for Fuel Efficiency to Drive Aerospace Plastic Market Through 2030
Pressure from aviation authorities to curb carbon emissions from aircraft manufacturing has a positive impact on the demand for aerospace plastic. For instance, the Advisory Council of Aeronautics Research in Europe (ACARE) warrants a 50% reduction in CO2 emissions and 80% reduction in nitrogen oxide emissions from original equipment manufacturers in the aviation industry. Advancements in material science furthers this adoption with superior product characteristics such as durability, weight to strength ratio, and electrical conductivity. On the back of such favorable trends, the global aerospace plastic market will grow 1.5X during the forecast period.
Proliferation of air travelling in developing countries such as India, and Indonesia propel the demand for expanding commercial aircraft fleets. This further increases the demand for aerospace plastic components used in manufacturing. Modern aircrafts rely on high-performance plastics to deliver fuel efficiency and enhanced safety & security. Adoption of advanced air traffic control systems, creates a growing need for high-speed data transmission which furthers the demand for satellite and construction & insulation applications of aerospace plastic. Introduction of in-flight entertainment also contributes to growth for the aerospace plastic market. As components, and cabin interior are made from aerospace plastic, manufacturers reap the benefits of product application versatility.
Aerostructures to Emerge as Lucrative Applications
Aerostructure applications of aerospace plastics in airframe components such as fuselage, wings, and flight control surfaces captures more than 44% share of the total market value. Ability of high-grade aerospace plastic to produce durable moulds is a prime factor driving growth in this segment. Low maintenance of aerospace plastics in high-tension environments will aid growth during the forecast period. Satellites application of aerospace plastic is a high-growth segment. Increasing drone surveillance, and air traffic routes is propelling the production of satellites.
Aerospace plastic increases satellite efficiency by reducing the weight and increasing insulation between data transmission components. Satellite applications of aerospace plastics will grow at an impressive 6.5% CAGR through 2030. However, the highest growth is expected from cabin interior applications of aerospace plastic. Airline companies are differentiating their products based on attractive cabin designs, and features such as in-flight entertainment. Since, aerospace plastic has established itself as a base material for producing components. The cabin interior application segment of aerospace plastic will grow the fastest with a robust 7% CAGR through 2030.
Commercial & Freight Aircrafts to Catalyze Market Growth
Increasing adoption of air transport to reduce the time-to-market of products and expand global footprint generates demand for freighter aircrafts. Uptake in domestic air travelling in developing countries such as India creates an increasing need for commercial aircrafts. Both these factors together poise commercial & freighter aircrafts as the largest end-use segment with a majority share of ~74% of total market revenue. Government investments in upgrading military aircraft fleets presents lucrative growth with 5.5% CAGR during the projection period. Advancements in military tech is driving the demand of aerospace plastics in manufacturing high-performance, lightweight components.
To know more about the aerospace plastic market, ask an analyst here
Europe to Witness Rampant Adoption of Aerospace Plastic
Europe has emerged as the most remunerative region for market players. This can be accredited to regular lobbying of aircraft production activities by ACARE. The European statutory body has mandated that manufacturers must prioritize reducing time-to-market, and reducing harmful emissions to avoid individual scrutiny. Europe accounts for over 36% share of the total market value. Prevalent aircraft manufacturing trends such as increasing fuel efficiency, enhanced consumer safety, and addition of attractive cabin designs collectively contribute to growth in this region. Since aerospace plastic has ubiquitous applications in aircraft manufacturing, the market in South Asia & Oceania will continue to grow at a strong 6.5% CAGR through 2030.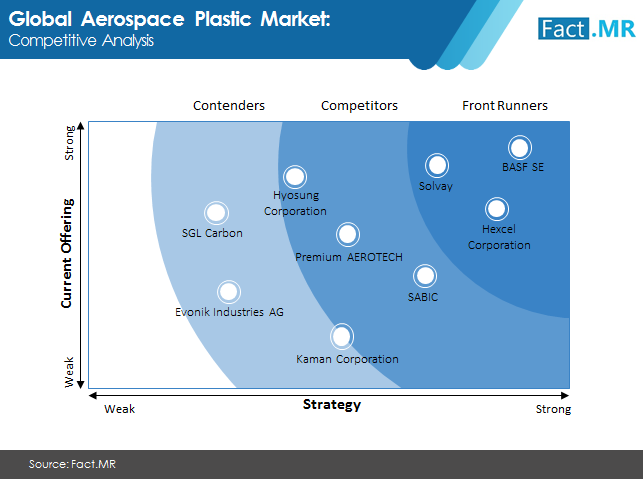 To get detailed competition insights on the aerospace plastic market, request for a report sample here
COVID-19 Impact on Aerospace plastic Market
The aviation industry is under tremendous stress due to Covid-19. To stop the spread of novel coronavirus, governments across the globe have suspended air travel. This means there is no revenue coming in, when coupled with high-operational costs that airline companies bear every day. The aviation industry has been disrupted by Covid-19. Another factor that strains aviation industry players is repatriation measures. In a bid to return stranded citizens, airline companies have been commissioned by their governments to accommodate stranded citizens. For instance, Norway is offering conditional state loan guarantees for its aviation industry. Italian airlines Alitalia has been nationalized to support repatriation efforts.
Maintenance and regular operations of airports is another aspect of aviation that faces adverse impact from COVID-19. The lack of revenue from duty-free, car parking, and concessions means airport authorities are running out of cash reserves. The United States recently passed a rescue bill to extend financial support to keep airports running. Major players have shifted all operations to freight roles. Commercial routes are being used to carry medical supplies, protective gear such as face masks, and pharmaceuticals. Most companies are at the end of their cash reserves, this seriously impacts recovery rate post COVID-19. The lack of operation capital will lead to ticket cancellations, which will further postpones additional plans to increase aircraft fleets. As the aerospace plastic market primarily generates revenues from original equipment manufacturing of aircrafts, the market will witness tough times during and immediately after Covid-19.
Analyst's View
Surge in adoption of lightweight components to manufacture energy efficient aircrafts coupled with spurt air travelling will drive revenue post recovery..
Global Aerospace plastic Market: Scope of the Report:
The recent global aerospace plastic market report by Fact.MR offers a 10-year forecast from 2020 to 2030. The report elaborates on the key drivers, restraints, opportunities and threats to the expansion of the global aerospace plastic market. A detailed segmental analysis, based on product type, application and end-user, has been provided in the report.
Regional analysis in terms of supply chain analysis, business execution and market value analysis provides an in-depth perspective about the future scope of the global aerospace plastic market. In addition, a separate section on market structure has also been provided. The section provides a detailed analysis of key market players and the strategies for expansion in the aerospace plastic market.
Global Aerospace Plastic Market – Scope of the Report
The following report provides forecast and analysis of the global aerospace plastic market along with the historical data of 2015, estimated data 2020 and forecast data up to 2030 in terms of value (US$ Mn) and volume (Tons), according to a Fact.MR study. The research propounds critical trends that are currently influencing growth within the global aerospace plastic market along with several macro-economic indicators. This newly published and insightful report on Aerospace plastic sheds light on key dynamics, and their impact on the overall value chain from suppliers to end-users, which are expected to transform the future of the global aerospace plastic market.
The report also comprises the study of current issues with end users and opportunities for aerospace plastic. It also contains value chain analysis, including the key market participants. To provide users of this report with a comprehensive view of the market, we have included a detailed competitive analysis about the key players involved in the market and strategic overviews. The dashboard included in the report provides a detailed comparison of aerospace plastic manufacturers on parameters such as total revenue, product offerings, and key strategies. A list of key companies operating in the aerospace plastic market provided in the report adds to the credibility of this exhaustive research study.
Global Aerospace plastic Market: In-Depth Assessment on Key Segments
The global aerospace plastic market is segmented on the basis of application, end use and region.
| | | |
| --- | --- | --- |
| Application | End Use | Region |
| Aerostructure | Commercial & Freighter Aircrafts | North America |
| Components | Military Aircrafts | Latin America |
| Equipment, Systems & Support | Rotary Aircrafts | Europe |
| Cabin Interiors | General Aviation | East Asia |
| Propulsion Systems | Others | South Asia & Oceania |
| Satellites | | Middle East & Africa |
| Construction and Insulation Components | | |
This taxonomy and the detailed TOC prepared are confidential and intended exclusively for the individual or entity with whom it is being shared. Reading, disseminating, distributing, or copying this to any party other than addressee(s) is unauthorized and prohibited.
Country-specific assessment on demand for Aerospace plastic has been provided for each regional market, along with the market size valuation and forecast price point assessment, price index and impact analysis of key regional and country-wise dynamics, which were obtained through quotes from numerous aerospace plastic manufacturers, experts, and suppliers. Y-o-Y growth projections have also been offered on all regional markets incorporated in the report. Moreover, future trends, growth prospects, and other possibilities related to the market have been answered in the report.
The report provides company-level market share analysis, which has been derived on the basis of the company's annual sales and segmental revenue in all the target end-use industries. The market has been forecasted based on constant currency rates. The report provides detailed competitive and company profiles of key participants operating in the global aerospace plastic market. Some of the major competitors operating in the aerospace plastic market are Hyosung Corporation, Kaman Corporation, Mitsubishi Heavy Industries Limited (MHI), Premium AEROTECH, Saudi Basic Industries Corporation (SABIC), SGL Carbon, Toray industries, Inc., BASF SE, Evonik Industries AG, Solvay, Teijin Limited, and others.
Global Aerospace plastic Market: Research Methodology
A number of primary and secondary sources were consulted during the course of the study. Secondary sources include Factiva, Morningstar and Hoovers, and company annual reports and publications. Comprehensive interviews have been conducted by our analysts, and the intelligence and insights obtained have been used for validating the information gained through secondary research. The report also includes a description of assumptions and acronyms utilized for research purposes. Data gathered has been validated using the triangulation method to offer useful quantitative and qualitative insights into the aerospace plastic market.
A short market viewpoint offered in the report elucidates the macro-economic aspects that influence the growth of the aerospace plastic market, which includes global GDP growth rate and other sector growth rate such as aerospace & defense, chemical and others. This report serves as an authentic resource of intelligence on the aerospace plastic market, enabling the readers to take fact-based decisions on the future direction of their businesses
Fact.MR offers custom research services that help clients to get specific research solutions
We are committed towards customer satisfaction and quality service.
---
Our Clients

Aerospace Plastic Market Forecast, Trend Analysis & Competition Tracking - Global Market Insights 2020 to 2030