Miniaturization of integrated circuits is likely to provide an impetus to the development of automotive exhaust sensors in the near future. Adoption of microelectromechanical system (MEMS) sensors, a miniaturized form of conventional ICs manufactured by using microfabrication technology, is witnessing a tremendous surge. Use of microfabrication technology enables automotive exhaust sensors in being more accurate and reliable, meanwhile enhancing their response time, efficiency, communication capabilities, and robustness. In addition, a large number of automotive exhaust sensor manufacturers are making enormous investments in research & development activities for coming up with better microfabrication technologies, which in turn will help them in boosting their revenue generation.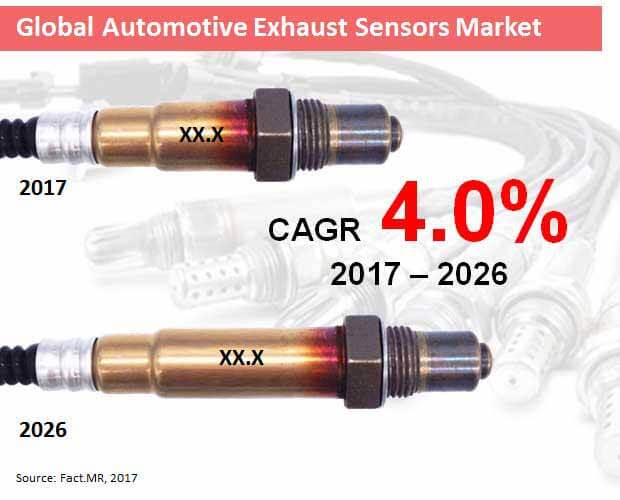 The global market for automotive exhaust sensor will exhibit a steady 4.0% CAGR, in terms of value, between the forecast period 2017 and 2026, as slated by a new Fact.MR report. Over 160,000,000 units of automotive exhaust sensors are expected to be sold worldwide by 2026-end.
Market Taxonomy
| | | | |
| --- | --- | --- | --- |
| Region | Vehicle Type | Engine Type | Sales Channel |
| North America | Passenger Cars | Gasoline | OEM |
| Latin America | Light Commercial Vehicles | Diesel | Aftermarket |
| Europe | Heavy Commercial Vehicles | | |
| Japan | | | |
| APEJ | | | |
| MEA | | | |
(Additional information, including cross-sectional data and country-wise analysis & forecast is available in the report)
The market for automotive exhaust sensor in Europe and North America has reached a maturity stage, and is currently stable on the back of a slack in production and rising competition from developing economies in Asia-Pacific excluding Japan (APEJ) and Latin America. However, with implementation of the Euro VI norms in 2017, demand for exhaust sensors is expected to witness a gradual rise in Europe in the near future. Europe will remain the largest market for automotive exhaust sensor, in terms of value.
In terms of value, passenger cars among vehicles type segments will account for the lion's share of the global automotive exhaust sensor market. Dominance of passenger cars in the market can be primarily attributed to the advent of stringent emission norms, which demand installation of automotive exhaust sensors in passenger cars for controlling air pollutants, thereby boosting sales of the emission-efficient passenger cars significantly. In addition, sales of automotive exhaust sensors in passenger cars and heavy commercial vehicles are projected to register an equal and the highest CAGR, in terms of value, through 2026, closely trailed by light commercial vehicles.
Automotive exhaust sensors will witness the highest demand for use in gasoline engines. However, growing penetration of diesel engines in developed nations has resulted into rapid adoption of automotive exhaust sensors for use in these engines recently. Automotive exhaust sensors are projected to register the fastest expansion for use in diesel engines through 2026, in terms of value. Although OEM remains the dominant sales channel for automotive exhaust sensors in terms of revenues, sales in aftermarket are poised to exhibit a relatively faster expansion through 2026.
Competition Tracking
Nature of the global automotive exhaust sensor market is highly competitive and fragmented on the back of the occupancy of numerous international and regional players worldwide. As international players are concentrating on the expansion of their geographical reach, regional vendors are finding it difficult in competing against them based on product cost, safety, and quality. Key players actively contributing to the market expansion include Sejong Industrial Co., Ltd., Harbin Airui Automotive Exhaust Systems Co. Ltd., Bosal International N.V., SANGO Co., Ltd., Yutaka Giken Co., Ltd., Futaba Industrial Co., Ltd., Benteler International AG, Friedrich Boysen GmbH & Co. KG, Eberspächer Group, Tenneco Inc., and Faurecia S.A.
Note: The insights mentioned here are of the respective analysts, and do not reflect the position of Fact.MR
Growth of the global automotive exhaust sensor market is expected to remain impacted by increased penetration of diesel engine vehicles across developed countries. In addition stringent emission norms implemented by regulatory bodies has spurred the requirement for automotive exhaust sensor. However, growing penetration of electric vehicles might impede adoption of automotive exhaust sensor to a certain extent. This Fact.MR report discusses key prospects for growth of global automotive exhaust sensor market during the forecast period, 2017-2026, offering pragmatic insights to lead market players towards devising & implementing informed strategies.
Scope
The scope of the report is to analyze the global automotive exhaust sensor market for the period 2017-2026 and give readers an accurate, unbiased analysis. Automotive exhaust sensor manufacturers, suppliers, and stakeholders in the overall automotive market can benefit from the insights offered in this report. The comprehensive analysis offered in the report can also be of interest to leading automotive journals and trade magazines.
Summary
The report begins with a concise summary of the global automotive exhaust sensor market. This executive summary sets the tone for the rest of the report, giving users the scope of the report. The executive summary includes important facts and statistics on the global automotive exhaust sensor market.
Overview
The next section is an overview of the global automotive exhaust sensor market. This includes the introduction to the market and a standard definition of the product – automotive exhaust sensor. In this section, year-over-year growth and market value is offered to readers. Year-over-year growth gives readers a broader picture on growth patterns during the forecast period.
The next section of the report offers a thorough description of the latest macroeconomic factors that have a bearing on the global automotive exhaust sensor market. Considering the interconnectedness of the automotive exhaust sensor market to global automotive market and, in general, the global economy, readers will get valuable insights on how international developments impact this market.
In a bid to keep readers up-to-date on the latest developments in the global automotive exhaust sensor market, the report offers readers a roundup of the latest trends impacting the market. As the automotive sector is ever-evolving, staying abreast with latest trends and developments is paramount to formulating key business strategies. Information on supply chain, cost structure, pricing analysis, raw material sourcing, and list of distributors are offered to readers in this section.
Considering the broad scope of global automotive exhaust sensor market, the report includes a segment-wise analysis and forecast. The global automotive exhaust sensor market is segmented into sales channel, engine type, vehicle type, and region. Through this section, the report offers an in-depth country-wise forecast on every parameter associated with automotive exhaust sensor.
The concluding section of the report profiles companies operating in the global automotive exhaust sensor market. Companies of all sizes, including market leaders, established players, and market entrants are profiled in this section. The competitive intelligence offers information on company overview and other important parameters, such as product offerings and key financials.
Research Methodology
Fact.MR is committed to offer unbiased and independent market research solutions to its clients. Each market report of Fact.MR is compiled after months of exhaustive research. We bank on a mix of tried-and-tested and innovative research methodologies to offer the most comprehensive and accurate information. Our main sources of research include,
Primary research
Secondary research
Trade research
Focused interviews
Social media analysis
Fact.MR offers custom research services that help clients to get specific research solutions
We are committed towards customer satisfaction and quality service.
---
Our Clients

Automotive Exhaust Sensor Market Forecast, Trend Analysis & Competition Tracking - Global Market insights 2017 to 2026