Chemiluminescence Immunoassay (CLIA) Analyzers Market
Chemiluminescence Immunoassay (CLIA) Analyzers Market By Application (Endocrine Disorders, Oncology, Infectious Diseases, Hepatitis and Retrovirus, Cardiovascular Disorders, Allergy, Autoimmunity), By Product ,By End-User, By Regions - Global Insights 2020-2025
FACT4734MR
Mar-2022

List of Tables : 36

List of Figures : 76

170 Pages
Laboratory Automation, Rising COVID-19 cases to Bring about Positive Growth in the CLIA Market
Global Chemiluminescence Immunoassay market is projected to expand positively at a CAGR of 6.4% and is expected to reach US$ 7.6 Bn in the forecast period of 2020-2025.
The number of tests incorporating Chemiluminescence Immunoassay Analyzers (CLIA) techniques is forecast to aggrandize, attributed to technological advances in disease diagnosis, rise in demand for preventive diagnosis and treatment monitoring.
Consequently, demand for high throughput facilities are also augmenting. Moreover, large-scale laboratories are taking advantage of quality and service constraints faced by small and mid-volume laboratories to capture a larger share of the market using CLIA techniques.
International conglomerates operating in the clinical labs segment are expanding their base through mergers and acquisitions in emerging markets. The consolidation among laboratories is resulting in rising test volumes, which is leading to rising adoption of complete laboratory automation and integration.
The COVID-19 pandemic is anticipated to provide further impetus to the global chemiluminescence immunoassays market. Several market players and healthcare agencies are investing in developing diagnostic tests based on CLIA technique to ascertain growth inhibition approaches to the novel coronavirus using a range of techniques.
Avail customized purchase options for your needs
Innovative Disease Diagnostics, Integrated Immunoassay Platforms Provide Technological Boost in the CLIA Market
Introduction of next-generation integrated immunoassays is a major technological advancement. In October 2017, Abbott announced the FDA 510(k) clearance for Alinity ci-series instruments for immunoassay diagnostics. Earlier, the company also announced approval of its Atellica Solutions for clinical chemistry and immunoassays.
Fully-automated Analyzers Demonstrate Expanding Trends, Reagents to Remain Dominant
Fully-automated analyzers are prophesied to grow impressively at a CAGR of 6.7% throughout the forecast period. This is attributed to increasing number of integrated systems offerings by key market players providing standardized tests. Fully-automated analyzers are poised to reach US$ 1.08 Bn by the end of 2025.
At the same time, the reagents segment is forecast to continue dominating the global CLIA market. This is attributed to its lower cost, shorter test time and increasing demand from emerging markets. The reagents segment is anticipated to capture almost three-fourth of the overall CLIA market, reaching a value of US$ 5.7 Bn by the end of 2025.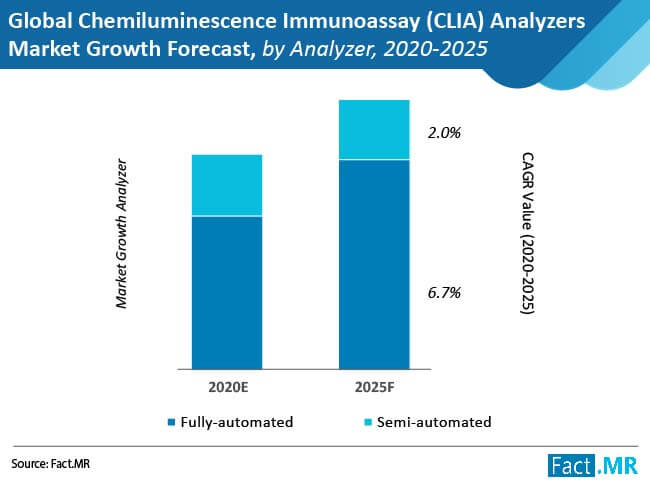 Endocrine Disorders to Capture Maximum Share of the CLIA Market
The endocrine disorders segment is anticipated to find widespread application of chemiluminescence immunoassays. The segment shall capture nearly half of the overall CLIA market, expanding at a CAGR of 6.9%, as majority of the market players are involved in this segment.
Trailing behind is the oncology segment, capturing more than one-tenth of the global CLIA market. The segment is anticipated to expand at a CAGR of 6.6%. Rising prevalence of cancer and its early diagnosis shall drive market growth. A well-established distribution network of key market players is also poised to leverage the oncology segment.
An Adaptive Approach to Modern-day Research Needs
North America to Remain Kingpin, Asia-Pacific to Grow Robustly
North America shall retain its dominance over the global CLIA market. Rise in demand for faster and specific diagnosis to support rapid decision-making is boosting the demand for multiplexed and automated CLIA immunoassay analyzers. Anticipated CAGR for the North American CLIA market is pegged at 6.1%, capturing a market share of nearly two-fifth.
Asia-Pacific is set to record dexterous growth in the future. Gradual adoption of novel products comprising CLIA technologies, increased healthcare expenditure, rising competition among market players and national and international accreditations to establish new laboratories are key growth drivers. Anticipated CAGR for the Asia-Pacific region is a healthy 7.6%, capturing a quarter of the global CLIA market.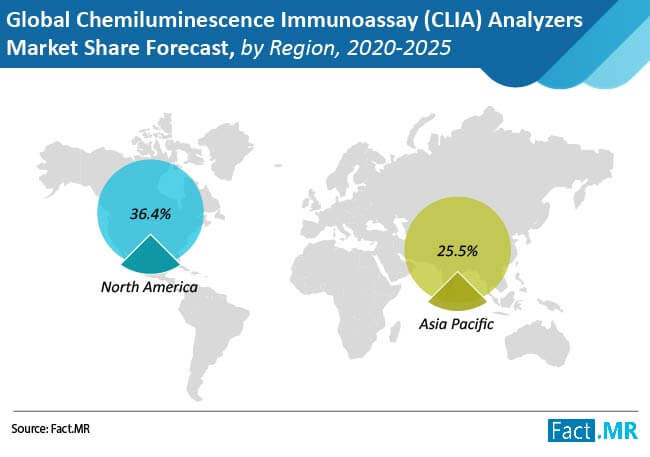 Expansion of Test Offering, Innovations in Integrated Platforms Pave Way for Competitive Edge
The global CLIA market is highly consolidated, dominated by four key market players. These are: F. Hoffmann La Roche Ltd., Abbott Laboratories, Siemens Healthineers and Beckman Coulter, Inc. Expansion of test offerings in innovative disease diagnosis areas and innovations in integrated immunoassay platforms are important strategies of these players.
For example, in December 2017, Beckman Coulter, Inc. received clearance from the FDA for its Access AMH immunoassay which uses recombinant human antigens for determining anti-Mullerian hormone (AMH) levels. At present, Beckman Coulter, Inc. offers various immunoassay systems under the clinical products segment. These include the Access 2 Immunoassay System and the UniCel Dxl 600 Access Immunoassay System.
Similarly, F. Hoffmann La Roche Ltd. offers clinical chemistry and immunology analyzers and assays for small, medium and large-scale laboratories. Its products include the cobas4000 analyzer series, the cobas6000 analyzer series and the cobas8000 modular analyzer series.
Interested to Procure The Data
COVID-19 Market Insights:
The COVID-19 pandemic is anticipated to leverage market prospects for the chemiluminescence immunoassays market. This is owing to its potential application in eradicating the disease. Studies are underway for developing a peptide-based magnetic chemiluminescence enzyme immunoassay for serological diagnosis of the coronavirus disease. This is a significant development because this is the second diagnostic test after real-time RT-PCR, which is the only available laboratory test to confirm possible cases of infection.
Beckman Coulter, a leading chemiluminescence immunoassay manufacturer, is providing the indirect measles immunoglobulin (IgM) serology and Immunoglobulin G (IgG) serology assays to determine whether a patient has developed an immune reaction to the SARS-COV-2 virus. This understanding would ultimately assist medical practitioners to identify those who would require a vaccine once available.
Likewise, Roche AG has accelerated its study of Actemra, a potential drug capable of providing relief to severe COVID-19 pneumonia patients. The company confirmed the initiation of a randomized, double-blind, placebo-controlled Phase III clinical trial, in collaboration with the Biomedical Advanced Research and Development Authority (BARDA). The study, codenamed COVACTA, will evaluate the safety and efficacy of intravenous Actemra ®/RoActemra ® for adult patients suffering from acute COVID-19 induced pneumonia.
Analyst's Viewpoint:
"Key manufacturers are increasingly investing in CLIA-based techniques for providing testing kits to its clients. The COVID-19 pandemic has further heightened prospects for the CLIA market. Development of a peptide-based magnetic chemiluminescence enzyme immunoassay for serological diagnosis is under way to that effect. Overall, the global CLIA market is poised to enjoy a positive growth trajectory."
Global CLIA Market: Report Scope:
The global chemiluminescence immunoassays market study by Fact.MR offers a 5-year forecast between 2020 and 2025. The report includes important drivers, restraints, opportunities and threats to the expansion of the CLIA market. Detailed analysis based on different segments has been provided. Market segmentation has been done on the basis of application, product and end-user. A value-based analysis of each segment has been given in the report, along with various sub-segments.
In-depth regional analysis of the market has also been incorporated. The regional analysis has fragmented the world into five geographies: North America, Europe, Asia-Pacific, Latin America and Middle East and Africa (MEA). Each region has been analyzed on the basis of the segmentations highlighted above. A separate section on the competition landscape has been included as well. Detailed profiles of major market players, their expansion strategies and future outlook have been elaborated upon in this section.
Global Chemiluminescence Immunoassays (CLIA) Market Segmentation
Fact.MR has studied the global chemiluminescence immunoassays (CLIA) market with detailed segmentation on the basis of application, product, end-user and key regions.
By Application :

Endocrine Disorders
Oncology
Infectious Diseases
Hepatitis and Retrovirus
Cardiovascular Disorders
Allergy
Autoimmunity
Drug Discovery & Development
Others

By Product :

Analyzers
Fully-automated
Semi-automated
Reagents Luminophore Markers
Enzymatic Markers
Consumables

By End-User :

Hospitals
Clinical Laboratories
Pharmaceutical & Biological Industries
Others

By Key Regions :

North America
Europe
Asia Pacific
Latin America
Middle East & Africa
"This taxonomy prepared is confidential and intended exclusively for the individual or entity with whom it is being shared. Reading, disseminating, distributing, or copying this to any party other than the addressee(s) is unauthorized and prohibited."
Need an Exclusive Report for your Unique Requirement?
- Our Clients -