Radioimmunoassays Market
Radioimmunoassay Market Analysis, By Type (Reagents & Kits, Analyzers), By Application (Research, Clinical Diagnostics), By End User (Hospitals, Pharmaceuticals, Clinical Diagnostic Laboratories), & By Region - Global Market Insights 2023 to 2033
Analysis of Radioimmunoassays Market Covering 30+ Countries Including Analysis of US, Canada, UK, Germany, France, Nordics, GCC countries, Japan, Korea and many more
Radioimmunoassay Market Outlook (2023 to 2033)
Expanding at a CAGR of 3%, the global radioimmunoassays market is valued at US$ 420.15 million in 2023 and is projected to reach a valuation of US$ 564.65 million by the end of 2033.
An immunoassay that employs radiolabeled molecules in the sequential assembly of immune complexes is known as a radioimmunoassay (RIA). An RIA is an extremely sensitive in-vitro assay technique for determining the quantities of various substances. Typically, antigen concentrations are determined using antibodies, such as the hormone levels in the blood.
The RIA method is still one of the least expensive ways to do such assessments despite its high degree of sensitivity and specificity and its need for specialized equipment. Due to the usage of radioactive materials, specific safeguards and licensing are required.
A known quantity of an antigen is traditionally made radioactive for a radioimmunoassay by tagging it with gamma-radioactive isotopes of iodine, such as 125-I linked to tyrosine. A reagent also referred to as an analytic reagent, is a compound or substance that is added to a solution in chemistry to bring about a chemical reaction or check to see whether any happens.
Although the terms 'reagent' and 'reactant' are often used and considered synonymous, 'reactant' refers to a material that is consumed during a chemical reaction. Global demand for reagents & kits is predicted to evolve to 3.5% during the forecast period.
The exceptional sensitivity of radioimmunoassay, which can detect hormone concentrations in biological fluids at nanomolar and picomolar levels, makes it a popular method. Radioimmunoassay (RIA) has emerged as one of the vital tools in a wide range of clinical labs for diagnostic procedures, such as determining the existence of certain abused drugs, certain hormones in plasma, hepatitis B surface antigens in donated blood, and others.
This radioimmunoassay (RIA) method is also employed in the early detection of cancer, the treatment of peptic ulcers, the study of neurotransmitters, the identification of infections, the early detection of allergens in food and household dust, and other conditions.
To measure the amount of insulin in human plasma, radiolabeled insulin was employed in the first immunoassay, which was created in 1959. One of the most important and established methods for diagnosing endocrine problems is believed to be the RIA technique. Drug testing in the pharmaceutical business is done through a radioimmunoassay system. Due to the increased usage of radioimmunoassay techniques in cancer detection and developments in medical research, the market for radioimmunoassay is anticipated to experience a steady growth rate throughout the forecast period.
Report Attributes

Details

Radioimmunoassay Market Size (2023E)

US$ 420.15 Million

Forecasted Market Value (2033F)

US$ 564.65 Million

Global Market Growth Rate (2023 to 2033)

3% CAGR

China Market Growth Rate (2023 to 2033)

3% CAGR

Japan Market Growth Rate (2023 to 2033)

3% CAGR

Germany Market Growth Rate (2023 to 2033)

3% CAGR

Canada Market Growth Rate (2023 to 2033)

2.5% CAGR

Key Companies Profiled

Beckman Coulter, Inc.
Berthold Technologies GmbH & Co. KG
Cisbio Bioassays
DiaSorin SpA
Diasource Immunossays S.A
DRG International, Inc.
Euro Diagnostica AB
IBL International GmbH
Izotop
MilliporeSigma
MP Biomedicals LLC
PerkinElmer, Inc.
Stratec Biomedical AG
How are Producers of Radioimmunoassays Being Benefitted?
"Rising Cases of Cancer & Infectious Disorders across the World"
Diagnostic centres are choosing high-throughput and automated methods due to the increasing requirement for error-free and high-quality findings to ensure patient satisfaction, which is leading to major growth of the radioimmunoassay market. Cancer is the second most common cause of death worldwide, according to the WHO.
According to the World Health Organization's essential facts on cancer, which were published in February 2022, every year, 400,000 children worldwide are diagnosed with cancer.
The GLOBOCAN 2020 report estimates that there were approximately 19,292,789 new cases of cancer worldwide in 2020. By 2040, the number is estimated to rise to 28,887,940.
Around 9.87 million individuals were estimated to have tuberculosis worldwide in 2020, according to the World Health Organization's (WHO) Global Tuberculosis Report 2021.
Additionally, according to the WHO's July 2022 important facts on HIV (Human Immuno Deficiency), by the end of 2021, there were around 38.4 million individuals living with HIV worldwide, with around 1.5 million new cases diagnosed in that year alone.
Demand for radioimmunoassay is anticipated to increase as the prevalence of cancer and other infectious disorders rises worldwide.
"Positive Impact of COVID-19 on Market"
During the pandemic, there was a huge surge in the demand for medical diagnostic procedures for the precise and quick diagnosis of SARS-CoV-2 infection. In particular, there was a strong need for serological and radioimmunological testing of infected asymptomatic and symptomatic people. Therefore, changes in COVID-19 instances have a beneficial effect on the growth of the radioimmunoassays market.
A February 2022 article titled "Development of a Liquid Phase Radioimmunoassay for the Measurement of Serum Ferritin Levels for the Detection of Covid-19 in Patients" talked about the creation and analytical validation of a radioimmunoassay system for the evaluation of the serum ferritin concentration as one of the laboratory biomarkers for infection by COVID-19.
Thus, the development of radioimmunoassays for COVID-19 diagnosis is boosting the demand for radioimmunoassays.
"Growing Adoption of Radioimmunoassay Analyzers in Diagnosis Procedures"
The world is witnessing expanding use of radioimmunoassay analyzers in clinical diagnostics.
As an illustration, a June 2021 article titled "Newly Developed Radioimmunoassay for Human Angiotensin-(1-12) Measurements in Plasma and Urine" published in the "Journal of Molecular and Cellular Endocrinology" discussed a precise and accurate radioimmunoassay (RIA) procedure for the measurement of Ang-(1-12) in human plasma and urine utilizing an affinity purified antibody fraction targeted directly towards the C-terminus. The development of Ang-(1-12) as a biomarker for cardiovascular disease was assisted by this study. Over the forecast period, the development of such radioimmunoassay kits is anticipated to drive sales growth.
Don't Need a Global Report?
save 40%! on Country & Region specific reports
What Challenges are Faced by Manufacturers of Radioimmunoassay Analyzers?
"Lack of Skilled Medical Staff and Stringent Regulations for Product Approvals"
A thorough research of the market revealed that some developing and underdeveloped nations' lack of skilled personnel for the report analysis is anticipated to impede sales growth.
The worldwide radioimmunoassays market is also anticipated to be constrained by the high installation and maintenance costs of radioimmunoassay products. The licensing and marketing of immunoassay supplies and equipment are subject to stringent regulations set by regulatory organisations in several nations. Technological obstacles include the cross-reactivity of antibodies, false negatives, the low detection limits of the available antibodies, and others that are also slowing the development of the market for radioimmunoassay.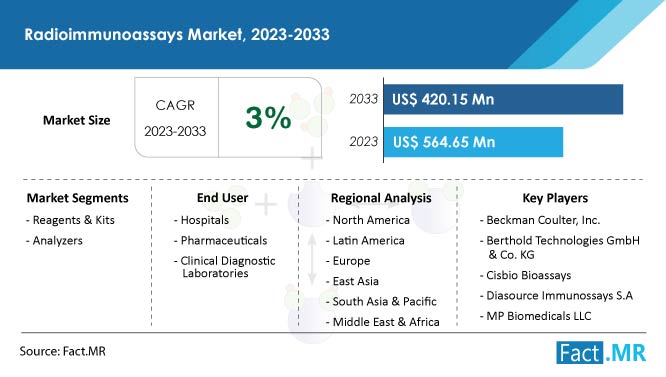 Country-wise Analysis
How is Demand for Radioimmunoassay Progressing in the United States?
"Rising Prevalence of Chronic Disorders"
In terms of value, the United States dominates the North American market for radioimmunoassays. Local radioimmunoassay demand is growing mostly due to the country's high-end healthcare infrastructure, the availability of immunoassay reimbursement, and the high prevalence of chronic diseases.
One of the main reasons for hospitalization in the United States is cancer. The GLOBOCAN 2020 report estimates that there were around 2,281,658 new cases of cancer in the United States in 020. By 2040, the cases are likely to increase to 3,123,452.
In the United States, 37.3 million people were determined to have diabetes in 2020, while 96 million adults were found to have pre-diabetes, according to the National Diabetes Statistics Report. ?
About 36 million persons in the United States are thought to have chronic renal illnesses, according to a 2020 estimate from the National Kidney Foundation.
Around 15.7 million Americans suffered from chronic lower respiratory disorders, according to research by the Centers for Disease Control and Prevention (CDC) in 2020.
Therefore, sales of radioimmunoassays are growing along with the prevalence of chronic disorders in the United States.
What Strategies are Employed by Key Companies in the United Kingdom & Other European Countries?
"Key Market Players Producing Advanced Analyzers"
European countries including France, Switzerland, the United Kingdom, Italy, Spain, and Germany are profitable marketplaces for radioimmunoassay producers. By isolating individuals, confirmatory testing enables quick virus diagnosis and aids in halting future transmission.
The highly negative effects of COVID-19 on European nations increased the demand for analyzers. The advent of technologically sophisticated analyzers on the European market is considerably boosting sales of radioimmunoassays.
For instance, the Swiss company Roche updated its analyzer, Cobas pro-integrated solutions, and unveiled eight new configurations in countries that accept the CE certification in March 2021. The updated version doubles testing proficiency and can give up to 4,400 tests per hour.
For instance, in December 2019, the biotechnology company Eurofins Abraxis unveiled the CAAS Cube, a single plate analysis device that enables increased data analysis and configurable settings to meet the needs of laboratory testing.
Furthermore, one of the key aspects driving sales growth is the rising use of technically sophisticated devices such as automated analyzers and small, portable analyzers.
For instance, LGC, a contract research company based in the United Kingdom, adopted Quanterix's HD-X automated analyzer in October 2019 to support its facilities in Cambridge, United Kingdom, and assist developers of drugs and medical devices in bioanalytical studies.
According to the International Diabetes Federation, 9,510,500 adults in Germany had diabetes as of February 2020, or about 15.3% of the adult population.
Additionally, according to data from the Commonwealth Fund released in January 2019, heart disease is one of the main causes of mortality in Germany, accounting for almost 38% of all fatalities nationwide.
Which Aspects are Supporting Sales of Radioimmunoassays in Japan & China?
"Employment of Advanced Radioimmunoassay Techniques and Increasing Cases of COVID-19"
Rapidly growing cases of COVID-19 in the Asia Pacific countries such as Japan and China are currently boosting the sales of radioimmunoassays. Due to its high concentration of manufacturers of immunoassay reagents and equipment, China is currently leading the growth of the Asia Pacific market.
One of the factors driving the demand for radioimmunoassays in the region is the growing usage of cutting-edge laboratory techniques and procedures for quicker investigation and detection of chronic and infectious illnesses. In addition, the development of molecular kits and the rise in demand for diagnostic reagents are major market drivers in the Asia Pacific region.
More Insights, Lesser Cost (-50% off)
Insights on import/export production,
pricing analysis, and more – Only @ Fact.MR
Category-wise Analysis
Who is the Major End User of Radioimmunoassays?
"Pharmaceutical Companies Account for High Sales of Radioimmunoassays"
In the drug development and pharmaceutical sectors, bioequivalence studies, clinical pharmacokinetics, therapeutic drug monitoring, illness diagnostics, and other significant fields of pharmaceutical analysis have all seen extensive usage of immunoassays. Due to their inherent specificity, high speed, and high sensitivity for the evaluation of a broad range of analytes in biological samples, immunoassay methods are important and widely used in pharmaceutical analysis.
The COVID-19 pandemic is supporting the radioimmunoassays market growth, as these tests are widely employed for the quick detection of this virus mutation and are urgently required for the earlier detection of infected people. Immunoassay is therefore anticipated to play a crucial role as the situation has gotten more urgent and the severity and complexity of the current COVID-19 crisis in various Asia Pacific countries continue to develop.
Significant advancements have recently been made in the area of developing immunoassays for use in pharmaceutical analysis. These advancements included the creation of special immunoanalytical reagents, analysis of brand-new compound categories, methodology, and equipment. Pharmaceutical businesses have been spending more money on research and development over time.
For instance, Pfizer invested US$ 8.9 billion in R&D in 2020, and then US$ 10.5 billion in R&D in 2021.
Competitive Landscape
Key players in the radioimmunoassays market are making significant efforts to meet the unmet demands of end customers and are placing increasing emphasis on new product development, local supply strategies, mergers and acquisitions, and geographical expansion.
Major companies in the radioimmunoassays market are changing their product pricing trends according to the regional end users' demand. Primarily the focus of market participants is on enhancing the supply chain management system, product standards, safety regulations, and quality control these tactics help them to enhance their market position.
New Developments
The European Immunmun Anti-Dengue Virus NS1 Type 1-4 ELISA (IgG) was mentioned by the United States Centers for Disease Control and Prevention in February 2022 as part of the two-step testing methodology recommendations for pre-vaccination screening.
Know thy Competitors
Competitive landscape highlights only certain players
Complete list available upon request
Segmentation of Radioimmunoassay Industry Research
By Type :

Reagents & Kits
Analyzers

By Application :

Research
Clinical Diagnostics

By End User :

Hospitals
Pharmaceuticals
Clinical Diagnostic Laboratories

By Region :

North America
Latin America
Europe
East Asia
South Asia & Oceania
MEA
- FAQs -
Global radioimmunoassay demand is valued at US$ 420.15 million in 2023.
Worldwide radioimmunoassay sales are projected to reach US$ 564.65 million by 2033.
Global sales of radioimmunoassays are expected to increase at a CAGR of 3% during the forecast period.
Rapidly increasing prevalence of contagious diseases is boosting the demand for radioimmunoassays.
Beckman Coulter, Inc., Berthold Technologies GmbH & Co. KG, and Cisbio Bioassays are key providers of radioimmunoassays.