Oncology Biosimilars Market
Oncology Biosimilars Market Analysis by Drug Class (G-CSF, Monoclonal Antibody, Hematopoietic Agents), by Disease Indication (Breast Cancer, Colorectal Cancer, Neutropenia, Leukemia) by Distribution Channel, by Region - Global Insights 2022-2032
Analysis of Oncology Biosimilars market covering 30 + countries including analysis of US, Canada, UK, Germany, France, Nordics, GCC countries, Japan, Korea and many more
Oncology Biosimilars Market Outlook (2022-2032)
The market for oncology biosimilars is anticipated to surge up at an astronomical pace, registering a CAGR of 11% during the forecast period from, and 2022 to 2032. As of 2021, the market was valued at US$ 4 Billion, and is likely to rise at a Y-o-Y growth rate of 5% in 2022 to reach US$ 4.2 Billion. By the end of the forecast period, the industry is poised to reach US$ 12 Billion.
Report Attributes

Details

Anticipated Base Year Value (2021)

US$ 4 Billion

Expected Market Value (2022)

US$ 4.2 Billion

Projected Forecast Value (2032)

US$ 12 Billion

Global Growth Rate (2022-2032)

11% CAGR

Growth Rate of the U.S (2022-2032)

10.7% CAGR

Expected Market Value of China (2032)

US$ 5.6 Billion

Key Oncology Biosimilars Service Providers

Celltrion Inc.
Dr. Reddy's Laboratories Ltd.
Biocon
Teva Pharmaceutical Industries Ltd.
Sandoz International GmBh.
Pfizer Inc.
Celltrion Inc.
Sandoz International GmBh
STADA Arzneimittel AG
Apotex Inc.
The increased instances of cancer such as lung cancer and breast cancer, a susceptible ageing population, and an increase in research and development efforts done by numerous pharmaceutical firms have all contributed to the expansion of the oncology biosimilars market. Furthermore, increased patient awareness, advancements in treatment alternatives, and the high cost of biologics pharmaceuticals are some of the factors influencing the need for oncology biosimilars. Nonetheless, product recalls and rigorous regulations are factors impeding the growth of this industry.
Cancer is a lifestyle illness that emerges as a result of aberrant cell proliferation and can result in the creation of a tumor. Currently, the majority of successful cancer treatments is based on biological medications, commonly known as biologics, and comprises both targeted therapies and cancer immunotherapies. These medications are manufactured utilizing live creatures such as bacteria, yeast, and animal or plant cells, and they necessitate complicated production techniques and a lengthy development period.
As a result, the price of these medications is significantly greater, adding to the overall cost of cancer therapy. The creation of biosimilars of branded cancer biologics has grown in popularity as a means of lowering treatment costs. These biosimilars are extremely identical to the reference biologics in terms of efficacy and safety, and their reduced cost can help greatly reduce cancer treatment costs.
Don't Need a Global Report?
save 40%! on Country & Region specific reports
Oncology Biosimilars Market Revenue Analysis 2015-2021 vs. Future Outlook 2022-2032
Cancer is regarded as the second greatest cause of death worldwide. According to the World Health Organization, 9.6 million people died in 2018. To accommodate such a vast number of patients, pharmaceutical companies have increased their manufacture of cancer therapy medications.
Because blockbuster biologic medications are highly expensive, the ground is set for biosimilar and generic pharmaceuticals to enter the market. Based on these trends, the oncology biosimilars market is expected to grow at a fantastic CAGR of 11% by the end of 2032.
Prominent Oncology Biosimilars Industry Growth Drivers
The demand to Differentiate between Active and Inactive Components in Drugs has aided IN the Growth of Market
The requirement to distinguish active and inactive components in medications has aided in the spread of oncology biosimilars. Even when the reference component or medications stay the same, research analysts can distinguish pharmaceuticals based on their inactive components.
The significance of oncology biosimilars, which might have diverse activities on different types of malignancies, has aided in balancing the market's growth patterns. The enormous value of biosimilar medicines for cancer has also aided researchers in underlining the significance of oncology biosimilars.
FDA Approval of Various Biosimilars Exercises to Widen Oncology Biosimilars Deployment
The Food and Drug Administration (FDA) in the United States has been at the forefront of the worldwide oncology biosimilars market's growth. The FDA's approval of various biosimilars has proved beneficial to research firms and organizations. Following 2015, the FDA has been actively approving oncology biosimilars, a trend that is projected to gain traction in the coming years. The FDA has authorized two significant biosimilars: filgrastim-sndz (Zarxio) and bevacizumab-awwb (Mvasi). It will be fascinating to monitor how the increased rate of approvals affects market maturity.
Furthermore, the growing elderly population and environmental degradation have raised the prevalence of cancer globally throughout the years. These causes, together with the rising expense of cancer care, have increased the load on healthcare systems across the world. As a result, governments in a number of countries are encouraging the use of biosimilars as a cost-cutting approach. For example, the United States Food and Drug Administration (USFDA) have created educational materials for clinicians and patients concerning biosimilars. Aside from that, the availability of low-cost medicine has been linked to earlier and wider therapeutic usage, as well as increased patient access. Furthermore, oncology biosimilars may enhance industry competitiveness, perhaps driving down the pricing of biological therapies even further. Other growth-inducing drivers for the market include impending patent expirations of branded biologics and increased R&D activity by biosimilar producers.
More Insights, Lesser Cost (-50% off)
Insights on import/export production,
pricing analysis, and more – Only @ Fact.MR
Key Challenges Prevalent in the Global Oncology Biosimilars Market
Manufacturing Problems related to Cancer Products containing Biosimilars may Impede Growth Prospects
The challenges in manufacturing associated with oncology biosimilars products are projected to stifle the expansion of the oncology biosimilars market. Regulatory and clinical barriers may also have an influence on market growth due to product approval delays, since biosimilars must undergo extra clinical trials before regulatory clearance.
Country-wise Analysis
What is the Growth Outlook for Oncology Biosimilars in the U.S?
Growing Investment in R&D to Establish Pipeline Portfolios widening Growth Opportunities
United States offers similarly enticing chances for expansion. A crucial growth engine for the region is the region's growing investment in R&D to establish pipeline portfolios. Biocon, a renowned Indian pharmaceutical business, holds three oncology pipeline biosimilars.
Apotex Inc. has five biosimilars under development. The firms collaborated to bring these medications to market. The US oncology biosimilars market is expected to grow at a CAGR of 10.7%, accounting for more than a quarter of the market.
How do Growth Prospects appear in the Chinese Market?
Focus on Active Collaboration within Market Giants to Drive the Chinese Oncology Biosimilars Market
The Chinese oncology biosimilars market is expected to develop rapidly, rising at a CAGR of 7.7% and achieving market domination. The Chinese market is expected to account for more than one-third of the total market.
This impressive growth trajectory is attributed to active collaboration within market giants to expand profit pools. For instance, in 2016, Dr. Reddy's Laboratories collaborated with TR-Pharm to commercialize the former's three biosimilars in Turkey.
Country-wise Forecast CAGRs in the Oncology Biosimilars Market
| | |
| --- | --- |
| U.S | 10.7% |
| U.K | 10% |
| China | 7.7% |
| Japan | 7.5% |
| South Korea | 7.3% |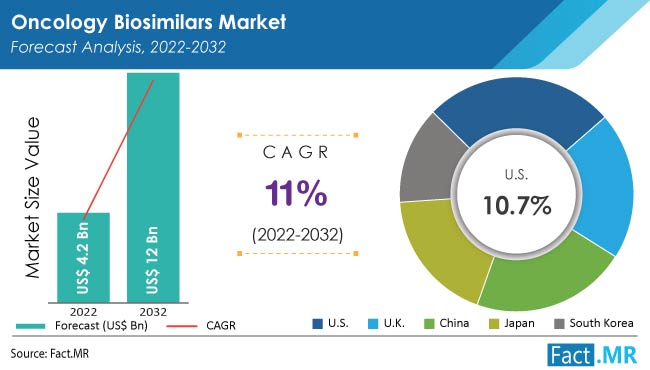 Category-wise Insights
Which is the Most Preferred Disease Indication Type?
Blood Cancer Segment to be Top Growth Driver in the Coming Years
During the projection period, the blood cancers category is expected to grow the quickest, at a staggering 10% CAGR. This is mostly due to an increase in the number of innovative medications in leading manufacturers' pipelines. The blood cancers category is expected to account for more than one-fifth of the entire oncology biosimilars market.
The neutropenia sector, on the other hand, is projected to dominate the worldwide Oncological biosimilars market, accounting for more than half of the overall market share. The expiration of patented blockbuster biologics has increased the use of biosimilar drugs in the category. In 2018, the FDA authorized Pfizer's filgrastim-aafi for the treatment of neutropenia in patients undergoing blood cancer therapy. The neutropenia market is expected to grow at a 7% CAGR.
Know thy Competitors
Competitive landscape highlights only certain players
Complete list available upon request
Competitive Landscape
Celltrion, Inc., Dr. Reddy's Laboratories Ltd., Biocon, Teva Pharmaceutical Industries Ltd., and Sandoz International GmBH are the key participants in the worldwide oncology biosimilars market. As a result, it is a highly concentrated market. These market participants collectively account for more than 70% of the market share. To broaden their market footprints, these firms rely largely on active alliances to improve their product distribution networks.
In 2018, Biocon, for example, established an exclusive global agreement with Sandoz on next-generation biosimilars. Similarly, Dr. Reddy's cooperated with TR Pharm in 2016 to offer three biosimilars in Turkey. Pfizer, Inc., Celltrion, Inc., Sandoz International GmBH, STADA Arzneimittel AG, and Apotex, Inc. are some of the other significant industry participants in the global oncology biosimilars market.
Atos has announced recently in April 2022 that it intends to forge a 5-year contractual agreement to deliver managed services for digital operations, applications and cybersecurity for Independent Health (IH). Atos' operational solutions will leverage infrastructure and digital platforms to optimize operating costs and generate efficiencies across the business landscape.
Key Segments Covered in the Oncology Biosimilars Industry Report
Oncology Biosimilars by Drug

G-CSF
Monoclonal Antibody
Hematopoietic Agents

Oncology Biosimilars by Disease Indication

Breast Cancer
Non-Small Cell Lung Cancer
Colorectal Cancer
Neutropenia
Blood Cancer
Leukemia

Myeloid Leukemia
Chronic Lymphocytic Leukemia (CLL)
Non-Hodgkin Lymphoma

Others

Oncology Biosimilars by Distribution Channel

Hospital Pharmacy
Retail Pharmacy
Online Pharmacy

Oncology Biosimilars by Region

North America
Europe
Asia Pacific
Rest of the World
- FAQs -
As of 2021, Fact.MR estimated the Oncology Biosimilars market to have reached US$ 3.5 Billion
By 2022, Fact.MR expected demand for oncology biosimilars to reach US$ 4.2 Billion
From 2015-2021, the oncology biosimilars market grew at a 9% value CAGR
From 2022-2032, Oncology Biosimilars demand is likely to surge at an 11% CAGR
By 2032, the market for Oncology Biosimilars is likely to be valued at US$ 12 Billion
By 2032, Fact.MR expects the U.S market for Oncology Biosimilars to reach US$ 5.6 Billion
China is expected to register a 7.7% CAGR with regard to the oncology biosimilars industry
Japan is expected to document a CAGR worth 7.5% in the Oncology Biosimilars market
Blood cancer segment will expand the fastest, expanding at a 10% CAGR