Veterinary Oncology Market
Veterinary Oncology Market Analysis By Therapy (Radiology, Chemotherapy, Combination Therapy, Immunotherapy, Targeted Therapy), By Mode of Administration (Oral, Intravenous), By Cancer Type (Lymphoma, Mast Cells, Mammary & Squamous Cells), By Animal Type (Canine, Feline), By Distribution Channel (Hospital Pharmacies, Government Agencies, Retail Pharmacies) & By Region – Global Market Report 2023 to 2033
Analysis of Veterinary Oncology Market Covering 30+ Countries Including Analysis of US, Canada, UK, Germany, France, Nordics, GCC countries, Japan, Korea and many more
Veterinary Oncology Market Overview (2023 to 2033)
The global veterinary oncology market size stands at a valuation of US$ 260 Million in 2023, and is estimated to reach US$ 800 Million by 2033-end, with a projected compound annual growth rate (CAGR) of 12% during the forecast period from 2023 to 2033.
Veterinary oncology constitutes a specialized field within veterinary medicine, focusing on the diagnosis and treatment of cancer in animals. Among pet animals, cancer stands as a significant contributor to mortality. In a veterinary oncology study, it was revealed that 45% of dogs reaching the age of 10 or older succumbed to cancer.
Oncology biosimilars are a subset of biosimilar drugs specifically developed to treat cancer. Biosimilars are biologic drugs that closely resemble and exhibit no clinically significant differences from approved reference biologic medications. These reference biologics are typically complex molecules, often used to treat various types of cancer.
The primary objective of veterinary cancer therapies is to achieve the complete elimination of cancer cells in pets. Veterinarians assess each case individually and recommend tailored treatments, which may include targeted therapy, combination therapy, or chemotherapy. The choice of treatment modality depends on factors such as the type of cancer, its stage, and its characteristics.
Veterinary surgical oncology is a specialized field within veterinary medicine that focuses on the surgical treatment of cancer in animals. It involves the diagnosis, staging, and surgical removal of cancerous tumors or tissues in pets. Veterinary surgical oncologists are trained to perform complex surgeries to completely remove or reduce cancerous growths and improve the quality of life for affected animals. These specialists work closely with other veterinary professionals, such as medical oncologists and radiation therapists, to provide comprehensive cancer care for pets.
Veterinary oncology treatment refers to the medical interventions and therapies designed to diagnose, manage, and alleviate cancer in animals, primarily pets. This specialized field of veterinary medicine encompasses various approaches and techniques to address cancer in animals, aiming to improve their quality of life and, ideally, achieve remission or a cure.
Integrated veterinary oncology refers to a comprehensive approach to the diagnosis and treatment of cancer in animals that combines various therapeutic modalities and expertise. This approach involves collaboration among different veterinary specialists, including medical oncologists, surgical oncologists, radiation oncologists, and other professionals, to create a customized treatment plan for each patient.
Animal vaccines are biologically prepared substances designed to stimulate an animal's immune system, helping it develop immunity against specific diseases. Animal vaccines play a crucial role in preventing the spread of infectious diseases among animals, improving overall animal health, and ensuring the safety of the food supply in the case of livestock.
Report Attributes
Details
Veterinary Oncology Market Size (2022A)
US$ 230 Million
Estimated Market Value (2023E)
US$ 260 Million
Forecasted Market Value (2033F)
US$ 800 Million
Global Market Growth Rate (2023 to 2033)
12% CAGR
Chemotherapy Segment Share (2023)
25%
Lymphoma Cancer Segment Share (2023)
39%
Canine Market Share (2023)
26%
United States Market Growth Rate (2023 to 2033)
6% CAGR
Asia Pacific Market Growth Rate (2023 to 2033)
11.5% CAGR
North America Market Share (2023)
45%
Key Companies Profiled

Elanco
Morphogenesis
Accuray Incorporated
Regeneus Ltd.
PetCure Oncology
Zoetis
Karyopharm
Varian Medical Systems, Inc.
OHC (One Health Company)
Don't Need a Global Report?
save 40%! on Country & Region specific reports
Why Has Veterinary Oncology Become Popular in Recent Times?
"Growing Emphasis on Pet Health across the World"
Expansion of the global market is primarily propelled by several factors, including the increasing incidence of various cancers such as lymphoma, skin cancer, mast cell cancer, and bone cancer in animals. Additionally, there is a growing demand for veterinary oncology therapies, greater financial support from both private and governmental organizations for animal healthcare centers, and an upswing in research and development endeavors focused on pet oncology treatments.
As reported by the Flint Animal Cancer Center in 2020, approximately 85% of bone tumors were diagnosed in canine animals, underscoring the significance of this issue.
Furthermore, the surge in pet adoption has the potential to stimulate the growth of the infectious disease diagnostics market.
Data from the American Veterinary Medical Association in January 2021 indicated a notable increase in the number of new pets per practice, rising from 25% per week in March 2020 to 39% in July 2020.
Dogs and cats are more susceptible to cancer, as reported by the Journal of the American Animal Hospital Association. This susceptibility underscores the need for advancements in veterinary oncology to address these healthcare challenges effectively.
"Increasing Clinical Investigations into Safety and Effectiveness of Oncological Therapies"
The growing number of veterinary clinical investigations aimed at assessing the safety and effectiveness of various oncological therapies in animals is further catalyzing market expansion. The American Veterinary Medical Association (AVMA) has established the AVMA Animal Health Studies Database (AAHSD), a valuable resource for researchers conducting prospective veterinary clinical studies. Such studies, particularly in the realm of veterinary oncology treatment, are expected to drive market growth in the foreseeable future. The market is being propelled by supportive government initiatives related to veterinary cancer care.
In July 2019, the National Cancer Institute (NCI) endorsed clinical trials to evaluate oncology treatments for animals. These trials, conducted in veterinary medical schools globally, aimed to discover new cancer treatments that enhance the quality of life for dogs. Moreover, they provided insights into how the veterinary oncology treatments and strategies being examined in dogs could be adapted to benefit people with cancer, given the similarities in the biology of cancer between humans and dogs.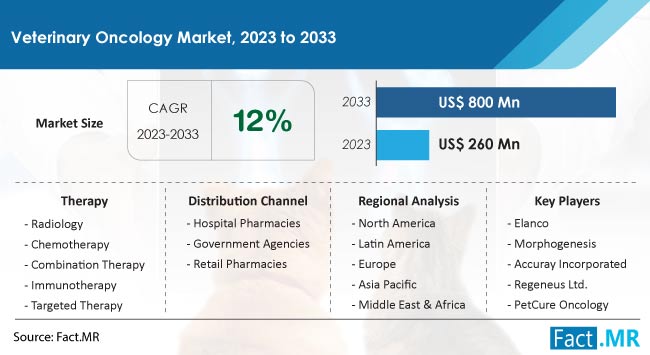 What Obstacles Do Veterinary Oncology Treatment Providers Encounter?
"High Cost of Treatment and Limited Access to Specialized Care"
Cancer treatments in animals can be expensive, and this cost can be a significant barrier for pet owners. Many pet owners may not be able to afford advanced cancer therapies, limiting the accessibility of these treatments. Access to specialized veterinary oncology care may be limited in certain regions, leading to disparities in the quality of care available to pets with cancer.
While cancer treatments aim to improve pets' health, they can also cause adverse effects and reduce pets' quality of life. This can lead to difficult decisions for pet owners.
"Lack of Owner Compliance and Ethical and Moral Dilemmas"
Older pets or those with existing health issues may not be good candidates for aggressive cancer treatments, which can limit the treatment options available. Successful cancer treatment often requires strict adherence to treatment plans and follow-up care by pet owners. Lack of owner compliance can hinder the effectiveness of treatment.
Pet owners and veterinarians may face ethical and moral dilemmas when deciding on the appropriate course of treatment for pets with cancer, especially in cases where the prognosis is poor. Compared to human oncology, veterinary oncology has relatively limited research funding and clinical trials. This can slow down the development of new treatments and therapies.
More Insights, Lesser Cost (-50% off)
Insights on import/export production,
pricing analysis, and more – Only @ Fact.MR
Country-wise Insights
The subsequent section offers a perspective on market revenue categorized by prominent countries, with the United States and China prominently emerging as leaders. According to the analysis conducted by Fact.MR, these countries distinctly represent significant regional prospects among those assessed in the report.
What Lies Ahead for Veterinary Oncology in the United States?
"Growing Animal Population and Increased Government Funding for Oncology Treatment"
Over the period from 2023 to 2030, the market in the United States is projected to advance at a CAGR of 6%.
The North American veterinary oncology market has consistently maintained a substantial share and is projected to sustain this trend throughout the forecast period. This enduring dominance can be ascribed to several factors, including encompassing pets, a growing burden of cancer cases, availability of superior veterinary care and services, and the escalating expenditure on veterinary healthcare within the region.
On February 27, 2020, Zoetis Inc. secured approval from the United States Food and Drug Administration (FDA) for its medication Tanovea-CA1 (rabacfosadine for injection) designed for the treatment of lymphoma in dogs. This approval marks a significant expansion of the company's oncology product range.
The United States is anticipated to hold a substantial portion of the veterinary oncology market. This is attributable to the country's large animal population, elevated expenditure on animal drug compounding, and a notable prevalence of animal cancer cases.
In 2023, North America dominated the global market, accounting for a substantial 45% of veterinary oncology market share.
Key factors driving veterinary oncology market growth include growing emphasis on pet healthcare, presence of several pet pharmaceutical manufacturers, and rapid adoption of advanced pet care medications. Additionally, increased government funding for pet oncology treatment in this region, along with the presence of industry leaders in the oncology market, is contributing to market expansion.
What Does the Future Hold for Veterinary Oncology in China?
"High Demand for Oncology Treatments Due to Increasing Prevalence of Cancer among Pets"
The Asia Pacific market is predicted to grow at a fast pace, due to rising pet adoption demand, an increase in the prevalence of canine cancer, and the presence of several veterinary foundations in the region. In the Asia Pacific region, growing awareness among veterinarians regarding diverse pet treatment approaches, enhancements in veterinary healthcare infrastructure, and an upward trend in animal healthcare expenditure are driving market growth.
Growing awareness of animal health and well-being, surging rates of pet adoption, and individual's increasing disposable income are influencing the demand for pet treatments. In China, the rate of pet ownership is experiencing a rapid surge. Furthermore, the country boasts a substantial patient base due to the significant number of livestock animals, and the rising incidence of cancer among these animals is also anticipated to boost market revenue in this region.
The Asia Pacific region is expected to exhibit substantial growth, driven by a heightened emphasis on animal health and expenditure, a rising pet population susceptible to cancer, government initiatives for animal welfare, and efforts to reduce cancer cases in pets.
Category-wise Insights
The canine segment and chemotherapy occupy 26% and 25% share of the market, respectively, in 2023 According to Fact.MR's assessment, these segments are well-positioned to provide favorable opportunities across all the specified categories in the report.
Why Does Most Revenue Come from the Canine Segment?
"Elevated Cancer Incidence in Canines and Need for Their Extended Life Expectancy"
In 2023, the canine segment accounts for 26% of global veterinary oncology market share. The veterinary oncology market was primarily dominated by the canine segment in 2022, mainly due to the elevated incidence of cancer among canines and their extended life expectancy. This has prompted extensive research involving comparative veterinary oncology treatments, including a significant number of clinical trials using canines as a biological model.
The canine segment is positioned to assert its dominance in the veterinary oncology market, driven by the significant prevalence of cancer in dogs, rising rates of pet adoption, and the extended lifespans of canines, which elevate the likelihood of cancer occurrence.
According to a March 2021 Frontiers article, cancer ranks as the primary cause of mortality in dogs, primarily due to the frequent diagnosis of advanced-stage cases characterized by unfavorable prognoses and evident clinical symptoms.
What's Driving Increasing Use of Chemotherapy in Veterinary Oncology?
"Diverse Chemotherapy Approaches Fueling Widespread Treatment Adoption"
In 2023, the chemotherapy sector accounts for a leading portion at 25% of the global veterinary oncology market share.
According to the guidelines on oncology provided by AAHA, chemotherapy stands as a commonly employed treatment approach within veterinary cancer medicine.
Various chemotherapy methods, including conventional, metronomic, and targeted chemotherapy like tyrosine kinase inhibitors (TKIs), are adopted by small animal practitioners. Consequently, increasing adoption of chemotherapy as a cancer treatment modality for pets is poised to propel the veterinary oncology market growth.
Following chemotherapy, radiology treatment gains prominence, attributed to the growing number of research studies aimed at assessing the safety and effectiveness of stereotactic radiosurgery treatment (SRT) in animals. SRT plays a vital role in controlling tumor growth to a certain extent and subsequently reducing its toxicity.
Know thy Competitors
Competitive landscape highlights only certain players
Complete list available upon request
Competitive Landscape
With many renowned pharmaceutical and medical device companies providing cancer treatments for animal use, the veterinary oncology industry is facing fierce competition. Market players are implementing innovative tactics, such as regional growth, mergers, acquisitions, launch of new products, collaborations, and distribution agreements, all to increase their market share and forge a substantial presence.
In May 2022, Jaguar Health introduced "Canine Cancer: Take C.H.A.R.G.E." (Canine Health And Registry Exchange), a nationwide canine cancer registry designed to furnish essential incidence and prevalence data to support veterinary professionals and dog owners in making informed decisions regarding the diagnosis and treatment of canine cancer.
Key Segments of Veterinary Oncology Industry Research
By Therapy :

Radiology
Chemotherapy
Combination Therapy
Immunotherapy
Targeted Therapy

By Mode of Administration :

By Cancer Type :

Lymphoma
Mast Cells
Mammary & Squamous Cells

By Animal Type :

By Distribution Channel :

Hospital Pharmacies
Government Agencies
Retail Pharmacies

By Region :

North America
Latin America
Europe
Asia Pacific
Middle East & Africa
- FAQs -
The global veterinary oncology market is valued at US$ 260 million in 2023.
Worldwide demand for veterinary oncology treatment is set to increase at a CAGR of 12% from 2023 to 2033.
Revenue from veterinary oncology treatment is projected to reach US$ 800 million by 2033.
Demand for veterinary oncology is forecasted to increase at a CAGR of 11.5% in Asia Pacific.
The market in the United States is set to expand at a CAGR of 6% through 2033.
Chemotherapy is projected to account for a market share of 25% in 2023.