Oncology Small Molecule Drugs Market Outlook (2022-2032)
The global oncology small molecule drugs market has reached a valuation of US$ 79 billion in 2022 and is forecasted to expand at a CAGR of 5.5% to climb to a market size of US$ 135.4 billion by 2032.
North America leads the global oncology small molecule drugs market and is expected to contribute more than 50% share over the assessment period (2022-2032).
Report Attributes

Details

Oncology Small Molecule Drugs Market Size (2021A)

US$ 74.3 Billion

Estimated Market Value (2022E)

US$ 79 Billion

Forecasted Market Value (2032F)

US$ 135.4 Billion

Global Market Growth Rate (2022-2032)

5.5% CAGR

North America Market Share (2021)

~48.2%

East Asia Market Growth Rate (2022-2032)

~5.2% CAGR

United States Market Growth Rate (2022-2032)

~5.5% CAGR

Market Share of Top 5 Companies

~26.7%

Key Companies Profiled

Novartis AG
Pfizer Inc.
Amgen Plc.
F. Hoffmann-La Roche Ltd.
Eli Lilly and Company
Sanofi SA
Bristol-Myers Squibb Company
AbbVie Inc.
Bayer AG
Incyte Corporation
Celgene Corporation
AstraZeneca Plc.
Exelixis Inc.
Millennium Pharmaceuticals Inc. (Takeda)
Know thy Competitors
Competitive landscape highlights only certain players
Complete list available upon request
Analysis of Sales of Oncology Small Molecule Drugs (2017-2021) Vs. Market Estimations (2022-2032)
Over the past few decades, technological advancements in cancer treatment have captured the attention of the global healthcare community. Since it is the second-leading cause of death worldwide, cancer treatment has traditionally been prioritized by government, non-government, and private organizations.
The development of techniques to test chemicals using transplantable tumors led to the beginning of the use of chemotherapy to treat cancer at the turn of the 20th century. Epigenetic and environmental variables play a significant role in the development of tumors, in addition to genetic changes in cancer cells.
Traditional medicines have proven successful in treating cancer; however, because of their non-specific activity on both normal and malignant cells, they frequently produced negative side effects. As a result, small molecule inhibitor-based tailored therapeutic approaches are being thoroughly researched.
The inevitable need for targeted drug development to cure fatal diseases such as cancer has encouraged the pharmaceutical industry to come up with various treatment solutions, which has created opportunistic growth prospects for the pharmaceutical market at a compound annual growth rate of 5.5% from 2022 to 2032.
The development of small molecule medicines for cancer therapies in present times is revolutionary and has completely changed the landscape of cancer therapy. Small molecule medications have made such significant advancements that they have surpassed all other consequential advancements in the field of cancer therapeutics, including immune cells and radiation therapy.
The popularity of small molecule cancer medications is steadily rising due to factors such as better overall results, minimal drawbacks, earlier treatment initiation, small drug sizes, etc. Small molecule cancer medications have all of the aforementioned important advantages over other traditional immunotherapies, and the identified clinical trial landscape for them concludes their significance and demand to be thought of as standard therapy.
Owing to these beneficial factors, the oncology small molecule drugs market is expected to offer an absolute $ opportunity of US$ 61.1 billion between 2022 and 2032.
Short Term (2022-2025): Adoption of small molecule drugs for the treatment of cancer has significantly driven the global market as these drugs notably reduced the mortality rate by overcoming limitations of conventional cancer therapies such as radiation therapy and chemotherapy.
Medium Term (2025-2028): Improved healthcare services and increment in per-capita spending on healthcare in underdeveloped regions will further contribute to an increase in the sales of small molecule drugs. Regions such as East Asia and MEA will witness incremental opportunistic growth.
Long Term (2028-2032): Small molecule drug demand is forecasted to rise globally due to rigorous research and development in the field of cancer. Personalized targeted drug production and new product launches, along with regulatory approvals, will drive the growth of the market.
Between 2017 and 2021, consumption of oncology small molecule drugs increased at a CAGR of 5.4%. As per the study by Fact.MR, a market research and competitive intelligence provider, the market is projected to progress at 5.5% CAGR between 2022 and 2032.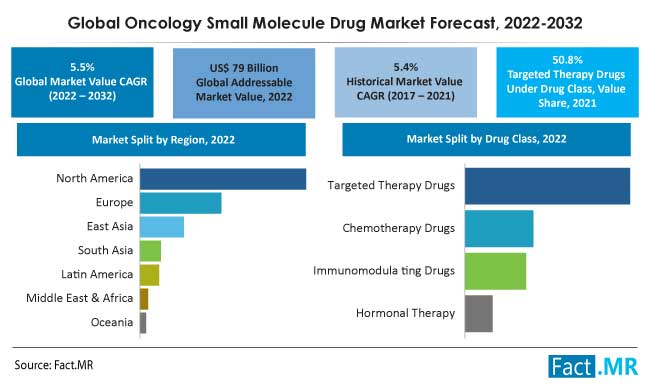 Market share analysis of oncology small molecule drugs based on drug class, and region. Targeted therapy drugs occupy 51.2% market share by drug class in 2022.
What is the Scenario for the Demand for Oncology Small Molecule Drugs?
"New & Effective Drug Launches and Vigorous Product Pipelines"
The popularity of small molecule cancer medications is steadily rising among patients due to an increase in the occurrence of cancer cases. Small molecule drugs are recorded to have better overall results, with minimal drawbacks, earlier treatment initiation, small drug sizes, etc.
Small molecule cancer medications have all of the aforesaid important advantages over other traditional immunotherapies, and recognized clinical trials support their significance and need to be thought of as standard therapy.
There are more than 2,500 small molecule cancer medications undergoing clinical studies at the moment. A majority of medications are in the preclinical stage, which is followed by Phase-I clinical trials. Currently, there are more than 200 small molecule cancer medications.
Modern technology is being incorporated by manufacturers to lower cancer risks and improve its therapy. Additionally, to lower the death rate, governments are funding the development of sophisticated cancer drugs that are affordable and widely accessible.
"High Drug Manufacturing & Purchasing Costs Affecting Both Producers and Consumers"
The small molecule oncology medication industry has a highly competitive and consolidated vendor landscape. Because oncology small molecule medications are a relatively new class of cancer therapeutics, they require a high level of clinical competence and are expensive; hence, only a few major pharmaceutical companies produce these kinds of drugs.
To conduct these delicate studies, pharmaceutical companies need contemporary, well-equipped research laboratories. Another constraint on producers is the delay in regulatory and drug federation approval of products followed by successful clinical trials. Increased medicine manufacturing and launch costs will have an immediate impact on the prices of final products. Higher medicine prices may distract the attention of the world's middle-class population, which could eventually result in manufacturers' revenue and resource loss.
More Insights, Lesser Cost (-50% off)
Insights on import/export production,
pricing analysis, and more – Only @ Fact.MR
Country-wise Insights
Will Progression of Healthcare Sector in the U.S. Drive High Demand for Oncology Small Molecule Drugs?
According to the American Cancer Society, 1.8 million new instances of cancer will be diagnosed nationwide in 2020, with 606,520 deaths.
Pharmaceutical corporations are seeking quicker approvals of their potential therapeutic candidates. The FDA's subsequent clearance of cancer medications has opened up new markets for oncology-specific medications in the nation. Manufacturers are also concentrating on technological developments in the medication development cycle, which will maximize the discovery of novel and efficient medicines.
With a high percentage of cancer patients seeking treatment and favorable reimbursement policies provided by insurance companies, North America is anticipated to generate US$ 38.1 billion in revenue in 2022.
Why is the East Asia Oncology Small Molecule Drug Market Flourishing?
China and Japan are two of the biggest East Asian nations, and together, they contribute to a significant market share in both technology and healthcare. China is second in the global market, accounting for nearly 30% of all lung cancer cases, 40% of stomach cancer cases, and 50% of liver cancer cases worldwide, in its oncology market alone. Furthermore, China has a death rate from cancer that is 40% higher than the U.S. average.
'Elunate', a colon cancer treatment, just gained China's first full approval of a drug developed following contemporary clinical studies (fruquintinib).
This will promote the growth of the nation's small molecule oncology drugs market. East Asia is expected to generate US$ 16.7 billion in revenue in 2032.
Category-wise Insights
Why is Oral Route of Administration Most Popular for Drug Intake?
The oral route of administration is widely preferred by patients as oral drugs are easy to consume and monitor and patients do not require any specialized training to administer the drug. Besides, they are economical as it does not require extra expenditure spending.
Owing to their several advantages, oral targeted treatments are most generously being utilised to treat cancer. They function by obstructing particular chemicals or processes that contribute to the formation of tumors. Currently, targeted drug delivery is proving to be a successful strategy for oral therapeutic drug delivery.
Why are Drugs for Targeted Therapy Becoming a Dominant Drug Class?
Since targeted therapy can help prevent cancer cells from reproducing, it is becoming an increasingly important type of cancer treatment. Targeted treatment medications are anticipated to account for 50% of global sales, according to Fact.MR.
Oncology small molecule medications that target a particular genetic mutation known as NTRK fusion, such as larotrectinib (Vitrakvi), are steadily receiving FDA approvals, which will boost their market share.
A growing number of small-molecule targeted medicines have been created for the treatment of malignancies.
The U.S. Food and Drug Administration (FDA) approved the first tyrosine kinase inhibitor 'imatinib' for market sales in 2001.
Targeted medications have emerged and proliferated quickly in the market owing to their several benefits.
Competitive Landscape
Several well-known market players are adopting novel strategies, including ground-breaking marketing strategies, technical developments, mergers, and acquisitions.
Market players such as Novartis AG, Pfizer Inc., Amgen Plc., F. Hoffmann-La Roche Ltd., Eli Lilly and Company, Sanofi SA, Bristol-Myers Squibb Company, AbbVie Inc., Bayer AG, Incyte Corporation, Celgene Corporation, AstraZeneca Plc., Exelixis Inc., and Millennium Pharmaceuticals Inc. (Takeda) are utilising sustainable technology and optimization strategies for a variety of end users.
Additionally, manufacturers' primary marketing plans are based on their expertise in planning, coming up with, and delivering the best solutions. Manufacturers in the market also want to expand their product distribution into developing and low-income nations.
The U.S. Food and Drug Administration granted Novartis AG's Lu-PSMA-617, an investigational radiation therapy for advanced castration-resistant prostate cancer, the classification of 'breakthrough therapy', in June 2021.
Sanofi and Synthorx, Inc., a clinical-stage biotechnology firm devoted to extending and enhancing the lives of people with cancer and autoimmune illnesses, entered into a formal deal worth roughly US$ 2.5 billion in December 2019.
Segmentation of Oncology Small Molecule Drugs Industry Research
By Drug Class :

Chemotherapy Drugs

Alkylating Agents
Antimetabolites
Other Drugs

Immunomodulating Drugs
Targeted Therapy Drugs

Proteasome Inhibitors
Tyrosine Kinase Inhibitors
mTOR Inhibitors
Others

Hormonal Therapy

By Indication :

NSCLC
Renal Cell Carcinoma
Breast Cancer
Prostate Cancer
Multiple Myeloma
Melanoma
Lymphoma
Leukemia
Others

By RoA :

By Distribution Channel :

Hospital Pharmacies
Retail Pharmacies
Specialty Clinics
Online Pharmacies

By Region :

North America
Latin America
Europe
East Asia
South Asia & ASEAN
Oceania
MEA