Hemato Oncology Testing Market
Hemato Oncology Testing Market Analysis By Component (Services, Assay Kits & Reagents), By Technology (PCR,IHC, NGS, Cytogenetics), By Cancer Type (Leukemia, Lymphoma, Hodgkin Lymphoma ,Others), By End User & By Region - Global Market Insights 2023-2033
Analysis of Hemato Oncology Testing Market Covering 30+ Countries Including Analysis of US, Canada, UK, Germany, France, Nordics, GCC countries, Japan, Korea and many more
Hemato Oncology Testing Market Outlook (2023-2033)
Rising at a CAGR of 18.5%, the global hemato oncology testing market is projected to increase from a valuation of US$ 4.33 billion in 2023 to US$ 23.64 billion by the end of 2033.
Hematology oncology tests are further classified into services, assay kits & reagents. Global demand for assay kits & reagents is expected to increase at an impressive CAGR of 20% from 2023 to 2033.
Assay kits are used in various applications, including examining disease pathways, screening for prospective drug candidates, and analyzing biopharmaceutical production processes, drug discovery & development, life science research, and environmental monitoring.
A reagent, also known as an analytical reagent, is a substance or compound that is added to a system in chemistry to bring about a chemical reaction or check to see whether a reaction happens. Although the terms 'reagent' and 'reactant' are frequently used synonymously, reactant refers to a material that is consumed during a chemical reaction.
Furthermore, rising demand for drug discoveries, the requirement for biotechnology research, and the widespread prevalence of infectious diseases are all driving sales of assay kits & reagents. The assay kits' capacity to reduce ambiguity by providing accurate diagnostic results is also boosting sales growth.
Demand for hemato oncology testing services is predicted to expand at a CAGR of 17.5% during the forecast period. This can be ascribed to the rising incidence of leukemia, non-Hodgkin lymphoma, and myeloma malignancies as well as the growing knowledge of cutting-edge medicines such as customized drugs.
In contrast to traditional medicine, precision medicine is a novel approach to healthcare that is known as individualized medicine and is based on each patient's unique genetic composition.
For instance, in May 2022, Thermo Fisher Scientific and the Qatar Genome Program (QGP), a branch of the Qatar Foundation (QF), partnered to progress genomic research and clinical applications of predictive genomics in Qatar as a move toward widening the benefits of precision medicine to Arab populations worldwide.
Furthermore, the Erasmus Medical Center's academic hematology division was one of the first medical facilities in the world to provide each multiple myeloma patient with novel diagnostic testing services in July 2019. By assessing over 92 genes in the various cancer cells, this service aids the medical practitioner in predicting myeloma's aggressiveness.
As a result, it is anticipated that the availability of advanced services for the diagnosis of myeloma is likely to drive market growth during the projection period.
Report Attributes

Details

Hemato Oncology Testing Market Size (2023E)

US$ 4.33 Billion

Forecasted Market Value (2033F)

US$ 23.64 Billion

Global Market Growth Rate (2023-2033)

18.5% CAGR

China Market Growth Rate (2023-2033)

24% CAGR

Japan Market Growth Rate (2023-2033)

13.5% CAGR

Canada Market Growth Rate (2023-2033)

16.5% CAGR

Germany Market Growth Rate (2023-2033)

15% CAGR

Key Companies Profiled

Abbott Laboratories
Adaptive Biotechnologies
Archerdx, Inc.
Arup Laboratories, Inc.
Asuragen, Inc.
Bio-Rad Laboratories, Inc.
F. Hoffman-La Roche Ltd.
Illumina, Inc.
Invivoscribe, Inc.
Molecularmd (Subsidiary of Icon PLC)
Qiagen N.V.
Sanofi SA
Thermo Fisher Scientific, Inc.
Know thy Competitors
Competitive landscape highlights only certain players
Complete list available upon request
Why is Demand for Hemato Oncology Testing Products Progressing Rapidly?
"Rising Prevalence of Blood-related Diseases & Cancers"
The science involved in the treatment, diagnosis, and prevention of conditions related to the blood, including cancer, is known as hemato oncology. The increasing prevalence of lymphoma and myeloma is boosting the growth of the hemato oncology testing market.
For instance, according to the GLOBOCAN database of the International Agency for Research on Cancer, the incidence of non-Hodgkin lymphoma was 544 thousand worldwide in 2020, and this number is projected to rise to 834 thousand by 2040.
The same source also stated that by 2040, there will be 510 thousand new cases of myeloma cancer worldwide, up from 325 thousand cases in 2020.
As a result, the rising prevalence of non-lymphoma Hodgkin's and myeloma cancers around the world is increasing the demand for at-home hematology testing products.
Globally, 475 thousand instances of leukaemia were reported in 2020, according to the International Agency for Research on Cancer's GLOBOCAN 2020 database. By 2040, this number is projected to rise to 692 thousand.
Thus, the increasing cases of hematopoietic cancer are boosting sales of hemato-oncology testing products and services.
"Growing Demand for Personalized Therapeutic Procedures"
Personalized medicine, which has gained popularity recently, strives to give each patient a treatment plan that is specifically designed for them based on the molecular cause of their illness. This personalized medicine demand is increasing due to the rising prevalence of different types of cancer, the affordability of personalized medicine therapy in the treatment of cancer and other diseases, the reduced side effects of personalized medicine therapeutic interventions, the high adoption rate in developed economies, and the advancement of novel drugs.
For instance, the Medical Device Innovation Consortium began a pilot project in August 2022 as part of its somatic reference samples (SRS) program to enhance the regulatory assessment and validation process for cancer diagnoses based on next-generation sequencing (NGS). Reference samples are crucial to the validation process since these diagnostic tests must be confirmed for accuracy before being used in clinical settings.
"Development of Advanced Products for Diagnosis and Rapidly Increasing Rate of Senior Population"
The massive development of cutting-edge and novel molecular techniques for the diagnosis of hematomas and the growing acceptance of newly developed advanced techniques for the prognosis, diagnosis, and treatment of blood cancer are likely to positively boost the market growth.
For instance, Burning Rock Biotech's NGS-based diagnostic tool, the "OverC Multi-Cancer Detection Blood Test", got CE certification in June 2022.
The market for hemato oncology testing is also being driven by the growing rate of the elderly population, which leads to an increase in the incidence of hematologic cancer because this group of people is more susceptible to various chronic diseases. For the avoidance of adverse responses in patients and to lower mortality rates, doctors generally prefer medications paired with companion diagnostics because these patients need ongoing monitoring.
According to the World Health Organization, there were roughly 1 billion persons aged 60 and older in 2021, and that number is expected to rise to 1.4 billion by 2030. Furthermore, the number of individuals in the world who are 60 or older is projected to double (to 2.1 billion) by 2050, while the number of people who are 80 or older is projected to triple during the same time.
"Adoption of AI in Cancer Diagnostic Techniques"
It is anticipated that the use of artificial intelligence (AI) in cancer diagnosis will accelerate market growth. Scientists have developed artificial intelligence tools to aid in screening procedures for several cancer types. AI-based computer algorithms have helped clinicians interpret mammograms for more than 20 years, but research in this field is developing quickly.
For instance, the AI genomics start-up Freenome in the United States is concentrating on developing blood tests that use AI to find the body's early cancer warning signs. The company unveiled early results from research and development in October 2018 for using machine learning to detect colorectal cancer in its early stages.
Don't Need a Global Report?
save 40%! on Country & Region specific reports
to detect colorectal cancer in its early stages. What Hurdles & Challenges are Faced by Providers of Hemato Oncology Testing Products & Services?
"Unfavourable Reimbursement Policies"
The hemato-oncology testing demand is expanding quickly, but different regions' reimbursement difficulties may ultimately limit its growth. Hematology oncology test reimbursement policies differ significantly between nations.
Currently, the majority of nations' regulatory practices are not well suited to the market for hemato oncology testing. The current regulatory frameworks in such nations were designed for basic diagnostic procedures and are therefore inadequate for the development of innovative biomarker-based diagnostics.
"Challenges in Protecting Intellectual Property Rights"
The intellectual property rights of their cutting-edge diagnostic tests are posing difficulties for some market competitors. Even though pharmaceuticals can be patented, many nations still disagree about whether or not biomarkers should also be protected (biomarker detection is fundamental in companion diagnostics).
When a drug developer and a diagnostic developer work together to create intellectual property, the drug developer is typically interested in controlling ownership or exclusive licensing of any intellectual property associated with the product; in contrast, the diagnostic developer is typically interested in controlling intellectual property linked to the diagnostic and the general platform technology. The items created through such cooperation are currently not covered by any strong intellectual property legislation.
Issues may come up when licensing the new product to third parties if these entities share ownership of it. The earnings of the diagnostic developer who is a co-owner, for instance, will be impacted if the drug developer wants to license the diagnostic product to a rival diagnostic company. An exclusivity agreement can be struck to prevent these issues, but doing so may also provide other challenges.
For instance, the diagnostic developer may not be able to meet the market demand for the product after the drug developer and diagnostic developer jointly developed it. In these circumstances, the medication researcher will be forced to locate a different partner, which the exclusivity agreement will not permit.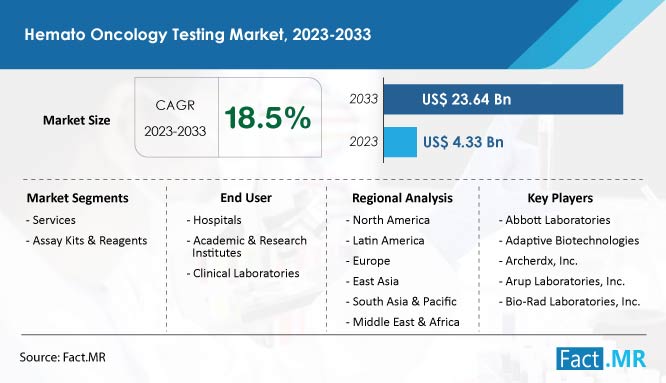 Region-wise Analysis
Why is North America Dominating the Market for Hematology Oncology Testing Products?
"Rising Prevalence of Hematologic Cancer and Presence of Key Market Players"
North America is at the forefront of the development of the global market for hemato oncology testing. The high demand for diagnostic assays and services is being fueled by factors such as the rapid prevalence of hematologic cancer, the increasing rate of the ageing population, awareness of cutting-edge treatment options, and the strong presence of leading companies in the region.
The demand for blood cancer diagnostics in the U.S. is increasing significantly due to quick technological advancements and rising rates of cancer patients. The Americas hematology diagnostics market is expanding due to the rising prevalence of Hodgkin's lymphoma, teens between 15-19 years of age are the main target patients in the nation. Academic and research organizations in the nation are strongly focused on the development of medical testing procedures.
Additionally, the American Cancer Society reported in 2022 that there were approximately 60,650 new instances of leukaemia and 20,050 new cases of acute myeloid leukaemia (AML) in the country. Only 1% of malignancies were acute myeloid leukaemia (AML), which is rare cancer.
For instance, the Canada Cancer Society announced in 2022 that 6,700 Canadians had been diagnosed with leukaemia in 2021, with 4,000 males and 2,700 women receiving the diagnosis.
Thus, the rising rate of blood cancer patients is boosting the demand for hematology oncology testing products and services in the region.
What is Supporting the Sales of Hemato Oncology Testing Technologies in Asia Pacific?
"Presence of Large Target Patient Pool"
By 2030, cancer cases are expected to increase to around 11 million in Asia, which already bears half of the world's burden of cancer. The increase is most likely the result of a population that is quickly getting older and is more prone to experience chronic disorders. Lung, blood, stomach, and liver cancers are among the most typical kinds of disease experienced in the region by the population.
Asia Pacific market is anticipated to enjoy the fastest growth in the coming years because of the region's large patient pool, affordable access to experienced technicians, and clear regulatory environment that promotes quicker product approvals. Additionally, there will likely be a rise in demand for cancer treatment and diagnostic procedures due to the rapidly expanding medical tourism industry in nations such as China, India, Japan, South Korea, and Malaysia.
What is the Demand Outlook for Hemato Oncology Testing Procedures in Europe?
"Rapid Developments in Diagnosis of Hemato Oncology"
The United Kingdom, Germany, France, and Italy are some of the leading European countries in the hemato oncology testing market. Europe is considered to be the fastest-growing sector in cancer genetic testing.
In the last five years, there were over 2 million cases of common types of cancer in Germany, with over 600,000 new cases and 252 thousand fatalities, according to Globocan 2020 report.
The nation's increasing cancer rate has been mostly attributable to binge drinking and heavy smoking. The advancement of cancer research across the nation is greatly aided by strong institutional frameworks such as the German Cancer Consortium and major University Medical Center-based Comprehensive Cancer Centers (CCCs).
Also, the presence of strong research organizations, advanced healthcare facilities, and rapid advancements in the production of hemato oncology diagnostic equipment is generating potential opportunities in the hemato oncology testing market in the European region.
More Insights, Lesser Cost (-50% off)
Insights on import/export production,
pricing analysis, and more – Only @ Fact.MR
Category-wise Analysis
Which Technology is Highly Popular in This Industry?
"Low Cost & High Accuracy Aspects Driving Sales of PCR Testing Technologies"
Hemato oncology testing technologies are segmented into polymerase chain reaction (PCR), immunohistochemistry (IHC), next-generation sequencing (NGS), and cytogenetics. PCR testing technology is currently dominating sales growth, due to its simplicity of use, low cost, accuracy and efficiency offered, and convenience of availability.
For instance, Abbott's RealTime IDH1 test recently made its debut, according to the Blood Center of Wisconsin's Diagnostic Laboratories. The bone marrow and blood samples of patients can be used in this PCR test to identify genetic variants in the IDH1 gene.
Therefore, the rising rate of PCR-based test launches is boosting market growth.
Demand for NGS-based testing in oncology is expected to increase rapidly during the forecast period, as this technology has many benefits, including improved sensitivity and specificity.
For instance, the ClonoSEQ assay, an NGS-based test used to identify low amounts of cancer cells still present in patients diagnosed with multiple myeloma or lymphoblastic leukemia, was allowed to be marketed in September 2018 by the U.S. FDA.
As a result, it is also projected that an increasing number of FDA approvals for assays based on NGS is likely to boost market growth.
Don't Need a Global Report?
save 40%! on Country & Region specific reports
Competitive Landscape
Key players in the hemato oncology testing market are focused on developing advanced testing technologies. The sector is competitive and to maintain their market position leading companies are adopting strategies such as collaborations, mergers, new product launches, and more.
For instance, the Mount Sinai Million Health Discoveries Program, a new human genome sequencing research initiative with the Regeneron Genetics Center (RGC), was launched in August 2022 by Mount Sinai Health System and the Icahn School of Medicine. The RGC's extensive gene sequencing capabilities and scientific research know-how is planned to be combined with Mount Sinai's huge and diversified patient population by the collaborative team.
The iHope Genetic Health programme, which was launched in November 2021 by SAN DIEGO and Genetic Alliance, aims to give tens of thousands of people affected by genetic disorder access to whole-genome sequencing (WGS).
To provide accessibility to precision oncology biomarker testing, Thermo Fisher Scientific introduced CE-IVD (IVDD) next-generation sequencing test and analytic software in August 2022.
Key Segments of Hemato Oncology Testing Industry Research
By Component :

Services
Assay Kits & Reagents

By Technology :

Polymerase Chain Reaction (PCR)
Immunohistochemistry (IHC)
Next-generation Sequencing (NGS)
Cytogenetics

By Cancer Type :

Leukemia
Lymphoma
Hodgkin Lymphoma
Myeloproliferative Neoplasms

By End User :

Hospitals
Academic & Research Institutes
Clinical Laboratories

By Region :

North America
Latin America
Europe
East Asia
South Asia & Oceania
MEA
- FAQs -
Demand for assay kits & reagents is predicted to increase at a CAGR of 20% during the forecast period.
Worldwide hemato oncology testing demand is valued at US$ 4.33 billion in 2023.
Global sales of hemato oncology testing products are projected to reach US$ 23.64 billion by 2033.
Demand for hemato oncology testing is predicted to increase rapidly at a CAGR of 18.5% from 2023 to 2033.
Rising cases of hematologic cancer, advancements in diagnostic technologies, and growing collaborations & conferences on customized treatment procedures are driving market growth.