Submersible Pump Market Size and Growth Outlook
Fact.MR's newest market intelligence report infers that the global submersible pump market is anticipated to grow at a CAGR of 3.4%. Slated to be valued at more than US$ 12.2 billion by the end of the forecast period (2020 – 2030), our analysis predicts that increased spending on wastewater management by governments as well as burgeoning farm mechanization in developing countries are key growth engines for submersible pumps in the foreseeable future.
The COVID-19 pandemic has drastically altered the submersible pump market landscape, with supply chains and production cycles taking a profound beating due to nationwide lockdowns. Companies are running at critically low capacity due to insufficient supply of raw materials. For instance, in March 2020, Wacker Neuson Group announced a drastic reduction in the production capacity utilization due to a disturbed supply chain and economic uncertainty created because of the pandemic. This in turn, is poised to hinder growth of the market in the near future.
Submersible Pump Market Report Insights: By Application
Submersible pumps used in water and wastewater applications account for a significant share in the global submersible pumps market over the years. Sharper focus by governments on development of irrigation infrastructure and better wastewater management has created immense opportunities in the market. However, the challenges presented by the coronavirus pandemic has led to greater attention on healthcare infrastructure, compelling companies to reallocate budgets on containment strategies.
For instance, in March 2020, in order to support COVID-19 relief work, the Governor of Missouri, US announced a reduction in budget to the tune of US$ 180 million under which US$ 12 million was allocated to new drinking water and wastewater infrastructure. Budget curtailing will cause a significant downturn in the demand for submersible pumps globally. Based on the abovementioned trends, submersible pumps used for water and wastewater applications are projected to create an absolute dollar opportunity of US$ 141.7 million during the forecast period.
Submersible Pump Market Share Analysis by Product
Borewell submersible pumps account for a majority share of the global submersible pump market, and are projected to grow at a CAGR of 3.2% during the forecast period. The high adoption of bore wells for extraction of underground water has created myriad opportunities in the global submersible pump market over the last few years. However, several governments are now imposing bans on borewells in order to improve groundwater levels in the regions. For instance, in September 2019, the state government of Karnataka, India banned the use of borewell water for building construction. Such decisions are poised to hamper adoption of borewell submersible pumps. The imposition of strict lockdowns has led to a major decline in the overall sales of borewell submersible pumps in the first fiscal quarter of 2020.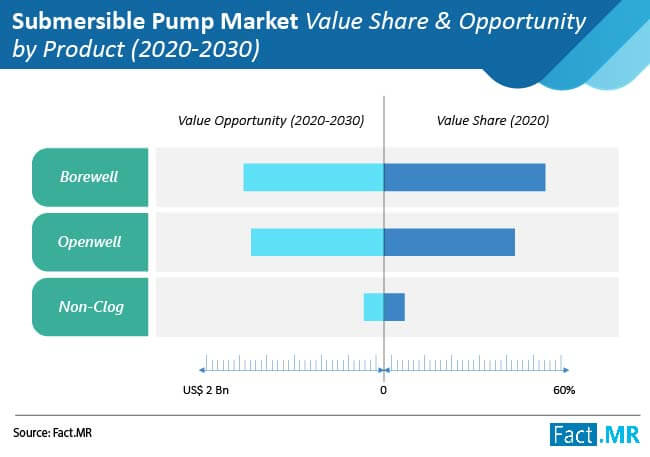 Access our in-depth COVID-19 impact insights on the submersible pump market by asking an analyst here
Submersible Pump Market Insights By Region
Developed regions such as Europe and North America have dominated the global submersible pump market throughout the historical period. This is attributed to high urbanization in these regions resulting in significant demand for water and wastewater management. In addition to this, the development of oil & gas industry in North America is also poised to create opportunities for submersible pump market in future years. However, these regions are currently grappling with the coronavirus pandemic, resulting in a significant economic downturn. There were noticeable drops in the demand for submersible pumps along with the slowdown in production caused by precautionary measures adopted by the manufacturers. This in turn, is expected to hinder growth of the submersible pumps market in these regions.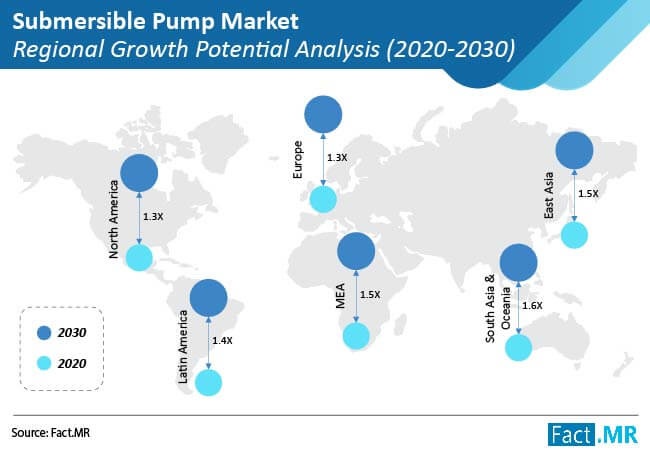 Get a holistic, 360 degree perspective on the regional growth of the submersible pump market by requesting for a report sample here
Submersible Pump Market Manufacturers Instituting New Product Launches and Supply Conservation Strategies in Prevailing Pandemic
The global submersible pump market is highly consolidated in nature. Market players are continuously introducing new products in order to stimulate growth. For instance, in February 2019, Kirloskar Brothers Limited launched KU6, the borewell submersible pump series. Also, in March 2018, the company has launched a new range of open-well submersible pumps such as 'KOSi' for farmers & domestic users. Other leading players in the global submersible plant market are but not limited to Kubota Corporation, Wacker Neuson Group, Atlas Copco Group, KSB SE & Co. KGaA, Xylem Inc., Ebara Corporation, Grundfos, Sulzer AG, The Weir Group PLC, Tsurumi Manufacturing Co., Ltd., Ingeroll-Rand PLC, and Sumitomo Heavy Industries, Ltd. etc.
COVID-19's Impact on the Global Submersible Pump Market
The global outbreak of COVID-19 has majorly impacted all industries, including the submersible pump market. The pandemic has presented critical challenges in front of submersible pump manufacturers, such as a disturbed supply chain, insufficient inventory, limited workforce, and financial uncertainty. As a result, companies have either stopped production or are running on less capacity. With COVID-19 hitting many sectors including project developments, construction work and manufacturing, demand for raw materials such as coal, oil etc., has dropped. This has impacted the uptake of submersible pumps needed in these industries. The pump manufacturing capacity in China and Italy has been temporarily reduced. This in turn, is poised to create dormancy in the market for next three fiscal quarters.
Analyst's Viewpoint:
"The global submersible pump market is highly dependent on its end use application industries which are currently witnessing a slump due to COVID-19 pandemic. However, new developments and activities in pharmaceutical medical and hygiene product industries are expected, so more pumps will be needed in these sectors."
Global Submersible Pump Market: Scope of the Report:
The recent global submersible pump market report by Fact.MR offers a 10-year forecast from 2020 to 2030. The report elaborates on the key drivers, restraints, opportunities and threats to the expansion of the global submersible pump market. A detailed segmental analysis, based on application, head type, product and regions, has been provided in the report.
Regional analysis in terms of supply chain analysis, business execution and market value analysis provides an in-depth perspective about the future scope of the global submersible pump market. In addition, a separate section on market structure has also been provided. The section provides a detailed analysis of key market players and the strategies for expansion in the submersible pump market.
Submersible Pump Market - Scope of the Report
Fact.MR recently published a market study on the global market for submersible pump. The study provides a detailed assessment on the key market dynamics, including drivers, trends, opportunities, restraints, and detailed information about the submersible pump market structure. The market study presents exclusive information about how the submersible pump market will grow during the forecast period of 2020-2030.
Key indicators of market growth, which include Year-on-Year (Y-o-Y) growth of the market, value chain, supply chain analysis, and Compounded Annual Growth Rate (CAGR) are explained in Fact. MR's study in a comprehensive manner. This information can help readers understand the quantitative growth prospects of the submersible pump market in the forecast period.
The study is relevant for stakeholders in the submersible pump market, including manufacturers, suppliers, distributors, and investors, and can help them in developing appropriate strategies to grow in the market. Stakeholders in the submersible pump market, investors, industry experts, researchers, and journalists, as well as business researchers can leverage the information and data presented in the Fact.MR study.
The study also includes statistics as well as facts related to macro as well as microeconomic factors that are impacting developments in the submersible pump market. It also offers actionable insights based on future trends in the submersible pump market. Furthermore, small businesses and new entrants in the submersible pump market too can make use of the information presented in this study, based on which, they can make appropriate business decisions in order to gain momentum in the market.
Key Segments of the Submersible Pump Market
Fact.MR's study on the submersible pump market offers information divided into two key segments— product, head type and application across six regions. This report offers comprehensive data and information about important market dynamics and growth parameters associated with these categories.
Product

Head Type

Application

Region

Borewell
Non-Clog
Openwell

Below 50 meters
50-100 meters
Above 100 meters

Agriculture
Construction
Fire Fighting
Water & Wastewater
Mining
Oil & Gas
Other Industrial

North America
Latin America
Europe
East Asia
South Asia & Oceania
MEA
Key Questions Answered in the Fact.MR's Submersible Pump Market Report
Which regions will continue to remain the most profitable regional markets for submersible pump market players?
Which factors will induce a change in the demand for submersible pump during the assessment period?
How will changing trends impact the submersible pump market?
How can market players capture the low-hanging opportunities in the submersible pump market in developed regions?
Which companies are leading the submersible pump market?
What are the winning strategies of stakeholders in the submersible pump market to upscale their position in this landscape?
Submersible pump Market: Research Methodology
In Fact.MR's study, a unique research methodology is utilized to conduct extensive research on the growth of the submersible pump market, and reach conclusions on future growth parameters of the market. This research methodology is a combination of primary and secondary research, which helps analysts ensure the accuracy and reliability of conclusions.
Secondary resources referred to analysts during the preparation of the submersible pump market study include statistics from governmental organizations, trade journals, white papers, and internal and external proprietary databases. Analysts have interviewed senior managers, product portfolio managers, CEOs, VPs, marketing/product managers, and market intelligence managers, who have contributed to the development of this report as a primary resource.
Fact.MR offers custom research services that help clients to get specific research solutions
We are committed towards customer satisfaction and quality service.
---
Our Clients

Submersible Pump Market Forecast, Trend Analysis & Competition Tracking - Global Market Insights 2020 to 2030