Surimi Market
Surimi Market By Species (Fish Surimi, Meat Surimi), By Form (Fresh Surimi, Processed Surimi), By Sales Channel (Direct Sales of Surimi, Indirect Sales of Surimi), By Application- Global Market Insights 2021- 2031
FACT5014MR
Nov-2021

List of Tables : 70

List of Figures : 153

170 Pages
Surimi Market Outlook
Latest released report on the global surimi market by Fact.MR estimates that sales accounted for US$ 3.2 Bn in 2021, with the market projected to expand more than 1.8X by 2031.
The surimi market witnessed a favourable demand-supply scenario from 2016 to 2020 due to stable global production and rising demand. Demand for surimi is expected to continue to rise from the food service and food manufacturing sector, and also among consumers who prefer to cook at home.
Emphasis on raw material exploitation, utilisation of fisheries by-catch and underutilised species, stock evaluation, preservation of the environment, pollution control, and water consumption are expected to encourage manufacturers to invest in sustainable surimi manufacturing processes.
Furthermore, by-products of fish filleting could be used as an alternative for surimi production, providing several opportunities for seafood manufacturers to invest in a surimi processing line.
Avail customized purchase options for your needs
Demand Analysis for Surimi from 2016 to 2020 Vs Future Projections for 2021 to 2031       
As per Fact.MR, a market research and competitive intelligence provider, over the past half-decade, global market value for surimi increased at a CAGR of around 4.7%, driven by increased demand for fish surimi across regions such as South Asia and Europe.
Meanwhile, sales of surimi are projected to further rise at a healthy CAGR of around 6.1% over the forecast period. Surimi's application as a substitute for real crabs and other shellfish species is expected to increase due to its low cost and high convenience.
Use of surimi in imitation seafood products is driving growth of the global market. Imitation crab is becoming more popular among consumers for preparing seafood at home since it is less expensive and has high nutritious content. Other seafood products, on the other hand, such as salmon, tuna, lobsters, and so on, are struggling to maintain a large market share due to rising prices. Surimi's increased application in the preparation of crab-flavoured products and other seafood is expected to boost sales over the coming years.
According to reports, solid waste from surimi processing can account for up to 50%-70% of the original raw material, depending on the surimi extraction process. Surimi processing waste is used to extract fish gelatin, which has applications in the cosmetic, pharmaceutical, dietary supplement, and food manufacturing industries.
Use of surimi in value-added products is also boosting global market growth. The potential for sustainable surimi waste utilization is bound to increase surimi based-products produced over the years to come.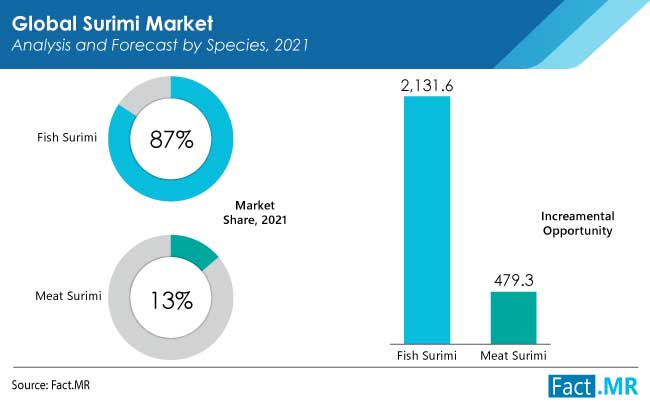 Why is Surimi Finding Increasing Retail Shelf Space across Regions?
Apart from the U.S., Europe, and Asian Countries, surimi is a widespread ingredient in other emerging markets as well. Countries such as India offer lucrative opportunities for manufacturers of surimi due to the presence of recognised surimi brands such as Grande Marine. There is increasing demand for surimi products such as chilled surimi, surimi flakes, crab sticks, and surimi fish sticks in the retail market.
Sales of smaller package sizes and 'grab-and-go' convenience items have surged. Affordability is a considerable factor for increasing retail sales of surimi. Consumers have noted that surimi is just one-third the price of other seafood.
Furthermore, surimi is a low-cost source of protein that is simple to incorporate into seafood meals by individuals cooking at home. Consumers are also looking for surimi seafood owing to its low-cost and high-protein source.
An Adaptive Approach to Modern-day Research Needs
Will Rising Preference for Crab and Crab-flavours Drive Surimi Sales?
Popularity and consumption of crab-flavored food products have increased, particularly in the United States. Several studies have found increased use of surimi in hotels, restaurants and caterings (HoReCa) in the United States.
Surimi is a key ingredient in the production of imitation crab, which is becoming increasingly popular in the U.S. Furthermore, demand for surimi in HoReCa has increased, and restaurants and cafes are increasingly interested in presenting ethically produced ingredients, especially imitation crab meals. Restaurants in the United States are a major driving force, presenting surimi as a natural product made from fish.
Why are Consumers Willing to Pay Premium Prices for High-quality Surimi Products?
Consumers' awareness about healthy lifestyle and nutritional food is increasing, and, as a result, they prefer high-quality, natural, and organic food products. Furthermore, they are concerned about the quality of ingredients used in food products, and they desire healthy and nutritious foods.
Consumers are willing to pay extra for high-quality premium foods, and therefore, demand for clean-label surimi products is higher than that for conventional surimi offerings.
Manufacturers of premium frozen surimi products utilize various enticing marketing strategies to evoke a sense of authenticity and encourage people to purchase their products.
Interested to Procure The Data
Which Regional Market Offers Huge Opportunity Surimi Suppliers?
In 2021, sales of surimi in East Asia is expected to be 56.8% of global market share.
Fish ball is a traditional and leading surimi product in China, consumed primarily with noodles in hot pots and soups. As a result, peak consumption season is in the winter. However, product range and mode of consumption have diversified: barbecued surimi fish cakes and fish balls have become popular, and cold snacks are slowly making their way into the market.
Consumption of surimi through various products such as chilled surimi products and fresh surimi products is driving growth of the market in East Asia.
One distinguishing feature of Chinese products and consumers is the ability to combine fish with meat and other ingredients as needed. Surimi, in the Chinese concept, is a functional nutrient that is used with other proteins to give shape, texture, and taste, but it is not necessarily a seafood.
Country-wise Analysis
Which Factors are Driving Sales of Surimi in the U.S.?
North America is anticipated to witness a high CAGR of 9.3% over the forecast period, owing to increased demand for surimi from restaurants. Because of its superior fat-emulsifying, water-binding and gelling properties, restaurants prefer surimi as a food ingredient in a variety of meat and seafood products.
The Association of Genuine Alaska Pollock Producers, in their survey, stated that there is a growing preference for crab-flavours in the U.S. Surimi is a significant ingredient in the preparation of imitation crab foods, which is estimated to drive sales over the coming years.
Sales of Alaska Pollock surimi in North America accounted for a market value of US$ 75.6 Mn in 2021. Increased production of Alaska Pollock in the U.S. is driving sales in the North America market.
Longer shelf-life of frozen surimi products effectively lowers the impact of issues related to the transport of surimi products to various sales channels, which is thereby driving sales of frozen surimi in U.S.
What Allows China and Japan to Dominate the East Asia Market for Surimi?
Demand for surimi-based products in China is estimated to account for a value of above US$ 1 Bn, while consumption of surimi in Japan is expected to boost the growth of the market in the country at 5.9% CAGR over the forecast period.
Globally, people are becoming more aware of the benefits of eating nutritious foods and leading healthy lifestyles. Exercise and weight management are being prioritized by health-conscious consumers in order to lower the risk of health problems and disorders such as diabetes, cholesterol levels, blood pressure, and heart disease.
Many health-conscious consumers focus solely on exercise and fail to ensure adequate protein consumption, resulting in a variety of inadequacies. Consumers are consuming more protein-based items than calorie-based products to avoid deficits and maintain healthy lifestyles. Consumption of protein-based goods is increasing, implying that demand for fresh surimi products is likely to increase owing to them being a rich sources of fish and animal proteins.
How are Sales of Surimi Shaping Up across India & Malaysia?
In 2021, India had a market share of 37.8% in South Asia, while demand for surimi seafood in Malaysia is expected to witness a significant growth rate over the forecast period. Increased trade of chilled surimi products, frozen itoyori surimi and mackerel surimi within South Asian countries is fuelling market growth.
Increasing proclivity of nonmeat proteins via the inclusion of surimi-based functional food ingredients is a key driver for the sales of Alaskan Pollock surimi in India. Surimi filling has piqued the interest of seafood and meat product consumers due to its low cost and nutritional value.
Food processors use itoyori surimi, pacific whiting surimi, and silver carp surimi to improve the juiciness, tenderness, and mouthfeel in cooked meat. Continuous developments by manufacturers of itoyori surimi in Vietnam is also propelling market growth in the country.
What is Driving Demand for Surimi in Spain?
According to Fact.MR, Spain is estimated to account for 18.4% of the overall Europe surimi market share in 2021, and Pacific whiting surimi demand is anticipated to drive market growth in in Russia.
Surimi sales in the European market has been driven by rising demand for seafood analogues such as lobster meat and imitation crabs. Innovative products such as surimi pasta and noodles, as well as corporate efforts to adopt new flavour trends in order to meet consumer demand, are also supporting expansion of the surimi market.
Why are Surimi Producers Eyeing the Australian Market?
According to the most recent estimates by Fact.MR, the Australia surimi market size in 2021 is US$ 56.5 Mn. Increased imports of Alaska Pollock-sourced surimi and silver carp-sourced surimi from Australia are driving the growth of this market.
Increased demand for Asian cuisine in Australia and New Zealand is boosting sales of chilled surimi. Silver carp surimi sales are also expected to witness significant growth in Australia owing to its nutritional properties of high-quality protein and essential amino acid content.
Category-wise Insights
Why are Fish Surimi Highly Sought-after across the World?
According to Fact.MR, fish surimi are estimated to account for a major market share in 2021, but sales of meat surimi are expected to witness a significant growth rate at 7.9% CAGR through.
Fish surimi is low in calories and fat, making it an ideal addition to a diet for those attempting to lose weight or shed excess pounds. Low-fat low-cholesterol foods are an option for preventing chronic illnesses such as heart disease.
In fish surimi, itoyori sourced surimi and Pacific whiting sourced surimi are expected to witness lucrative growth in demand owing to their nutritional properties and wide-range application in Asian cuisines.
Which is the Most Attractive Form of Surimi?
In 2021, the fresh surimi segment accounted for high share in the global market, but demand for processed surimi is expected to rise at a CAGR of 7.8% over the forecast period of 2021 to 2031.
Under processed surimi, frozen surimi demand is expected to remain stable, while that for canned surimi is projected to rise faster.
Which Sales Channel is Set to Drive Most Revenue from Surimi?
Based on sales channel, direct sales are high in 2021, but retail sales of surimi are expected to witness a high growth rate of 9.1% CAGR over the forecast period.
Under the indirect sales channel, sales of surimi via supermarkets and hypermarkets are dominating the landscape. Online retail sales of surimi are expected to surge at a CAGR of 12.7% through 2031.
Competition Landscape
Surimi is commonly used in foodservice and food manufacturing industries to prepare seafood such as crab sticks, fish sticks, and crab flakes, among others. Because of high demand for and application of surimi, top companies in the surimi market are focusing on increasing their distribution networks to reach a bigger consumer base.
This is increasingly prevalent among major manufacturers who want to expand their global footprint. Top frozen brands are focusing on acquiring smaller brands to enhance their distribution network and manufacturing capacity. For instance, the acquisition of Creative Seafood by Viciunai Group was aimed at strengthening its presence in France.
In 2021, The Russian Fishery Company (RFC) signed contracts to supply majority surimi to top Russian producers of surimi products, such as Vichinai Group, Meridian and Santa Bremor, among others
In 2021, Trident Seafoods, based in Seattle, teamed up with celebrity chef Nancy Fullerto to promote the company's newly launched Louis Kemp surimi fish products.
Similar recent developments related to companies offering surimi have been tracked by the team at Fact.MR, which are available in the full report.
Surimi Industry Report Scope
Attribute
Details
Market Size in 2020
US$ 3 Bn
Market Forecasted Value for 2031
US$ 5.8 Bn
Global Growth Rate
~6.1
Share of Top 10 Companies
30% to 40%
Forecast Period
2021-2031
Historical Data Available for
2016-2020
Market Analysis
MT for Volume and US$ Million for Value
Key Regions Covered

North America
Latin America
Europe
East Asia
South Asia
Oceania
MEA

Key Countries Covered

United States
Canada
Brazil
Mexico
Rest of LATAM
Germany
U.K.
France
Spain
Italy
BENELUX
Russia
Rest of Europe
China
Japan
South Korea
India
Indonesia
Malaysia
Singapore
Rest of South Asia
Australia
New Zealand
South Africa
GCC Countries
Rest of South Africa

Key Market Segments Covered

Species
Form
Sales Channel
Application
Region

Key Companies Profiled

Aquamar Inc,
Viciunia Group
Trident Seafoods
Pacific Seafood Group
SeaPak
Glacier Fish Company
Boston Salads & Prepared Foods
Arctic Storm Management Group
OceanFood Sales Ltd.
Maruha Nichiro Group
Russia Fishery Companies
Thong Siek Global
Trans-Ocean Products
Gadre Marine
Ocean More Foods Co. Ltd.
American Seafoods Group
Others

Pricing
Available upon Request
Key Segments Covered in Surimi Industry Survey
By Species

Fish Surimi

Alaskan Pollock
Atlantic Cod
Tilapia
Black Bass
Others

Meat Surimi

By Form

Fresh Surimi
Processed Surimi

By Sales Channel

Direct Sales of Surimi
Indirect Sales of Surimi

Modern Trade
Convenience Stores
Specialty Food Stores
Wholesale Stores
Discount Stores
Online Retail
Other Retail Formats

By Application

Food Industry
Pharmaceutical Industry
Animal Feed
Pet Food
Food Service
Retail