Frozen Seafood Market
Frozen Seafood Market Analysis By Nature (Organic, Conventional), By Form (Raw, Processed), By Product (Frozen Fish, Frozen Molluscs, Frozen Crustaceans), By End Use (Food Processing, Food Service, Retail/Household), By Distribution Channel & Region - Global Market Insights 2023 to 2033
Analysis of Frozen Seafood Market Covering 30+ Countries Including Analysis of US, Canada, UK, Germany, France, Nordics, GCC countries, Japan, Korea and many more
Frozen Seafood Market Outlook (2023-2033)
The global frozen seafood market is predicted to increase from a valuation of US$ 28 billion in 2023 to US$ 48 billion by the end of 2033, market expanding at a CAGR of 5.5%.
High demand for convenient food products all over the world has opened up several opportunities for top frozen food manufacturing companies to invest more in prepared frozen fish production as demand for processed frozen seafood is estimated to rise at a CAGR of 5.7% through 2033.
Frozen seafood products are stored or kept at a freezing temperature to prolong their shelf life by limiting microorganism growth. Frozen seafood is high in demand in regions far from water bodies. The global market is predicted to rise due to continued development and innovation in cold-chain transportation.
Additionally, shifting consumer preference for frozen foods over canned foods as their health consciousness grows is expected to fuel global preference for frozen foods. Furthermore, the growing trend of using seafood as a substitute for red meat is propelling the worldwide market forward. Manufacturers are emphasizing the availability of healthier products. Frozen fish products are frozen using cryogenic technology, which helps prevent bacteria from growing on frozen seafood.
Cryogenic freezing technology, which uses solid carbon dioxide or liquid nitrogen to maintain low temperatures, and is directly applied to frozen fish products, is used by many frozen seafood factories throughout the world. Frozen fish products can be kept for a long time thanks to contemporary freezing technologies.
In recent years, the worldwide fish market has expanded as a result of rising consumer demand for essential fatty acids and proteins. The seafood industry has developed and innovated as chemical-free fish with a longer shelf life gain favor. By preventing spoiling, the freezing technique increases the product's shelf life.
The market is expanding because of the rising demand for ready-to-cook meals. The growing popularity of weight-loss programs such as the ketogenic diets supports market expansion. Rising demand for premium products and exotic fish in the food service industry is another important aspect driving market expansion. Fish is currently served in a variety of ways in restaurants, cafes, and motels.
Demand for frozen fish is being fueled by the rising appeal of ready-to-eat meal kits, grab-and-go items, and the healthy snacking craze. The market is anticipated to rise over the coming years as a result of new product introductions, distribution channels that are constantly growing, and technological advancements in the field of frozen meat and seafood.
Seafood is a concentrated source of numerous vital elements in addition to protein. Salmon, clams, and shrimp are just a few examples of fish and shellfish that are particularly high in protein as well as vitamins and minerals, including vitamin B12, selenium, and zinc.
Eicosapentaenoic acid and docosahexaenoic acid, two essential omega-3 fatty acids, are also primarily found in seafood. Seafood may protect against several health diseases because it is nutrient-rich. The belief that fish is a nutritious food has not only increased consumption but is also likely to continue to do so over the coming years thanks to improved distribution systems, increased production, decreased wastage, and growing demand brought on by population growth, urbanization, and rising incomes.
Furthermore, a highly organized retail sector makes seafood readily available. Customers have the option of purchasing frozen seafood products in addition to the fresh fish offered in conventional markets. Seafood products that are frozen aid in extending food products' shelf lives and preventing the growth of bacteria. Fisheries and frozen seafood have benefited greatly from this, which, in turn, is driving market expansion.
Report Attributes

Details

Market Size (2023)

US$ 28 Billion

Projected Market Value (2033)

US$ 48 Billion

Global Market Growth Rate (2023-2033)

5.5% CAGR

Market Share of Frozen Fish

50%

Key Companies Profiled

SalMar
Coast Seafood
Maruha Nichiro
Trident Seafoods
Thai Union Group
Sterling Seafood Corp.
Clifton Seafood Company
Marine Harvest ASA
Austevoll Seafood ASA
Charoen Pokphand Foods
Fortune Fish & Gourmet
Norway Royal Salmon
Mitsubishi Corporation
Don't Need a Global Report?
save 40%! on Country & Region specific reports
Which Market Determinants are Inducing Demand for Frozen Seafood Products?
"Growing Adoption of Frozen Seafood to Reduce Environmental Impact"
Even though consumers prefer fresh seafood, the carbon footprint is higher when compared to frozen seafood because fresh seafood requires flying and rushed travel, whereas frozen seafood moves on energy-efficient transportation since time is not a factor once the fish is frozen. Frozen fish can be transported by trucks, trains, or ships, significantly reducing the overall environmental effect.
Flash-freezing also aids in waste reduction during processing. As sustainable food movements, gain traction and consumers become increasingly aware of the environmental impact of the food that they consume, frozen seafood sales are estimated to rise over the coming years.
"High Demand for Ready-to-cook Food with Longer Shelf Life"
The market for frozen seafood is expanding primarily due to the rising demand for fish products that can be prepared quickly and kept for a longer period.
Demand for packaged food without preservatives is being driven by an expanding trend of clean-label products. The product can be preserved through freezing without the use of any additional chemical additions. Market expansion is anticipated to be fueled by rising fish consumption due to its health benefits.
What May Slightly Affect the Sales of Frozen Seafood Products?
"Growing Veganism Trend and Fluctuating Raw Material Prices"
The main obstacle to market expansion is the difficulties associated with the storage of frozen fish products. Fish that has been frozen is not completely stable during storage and degrades with time. The product's odor, texture, and flavor change because of the instability during storage.
The market would be constrained by factors such as strict regulations, inconsistent standards, and fluctuating raw material prices. In addition, several factors are impeding the continuous expansion of the market, including overfishing and the growing veganism trend worldwide.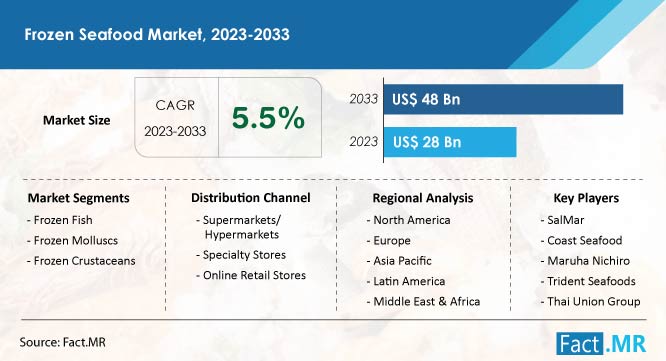 How Can Start-ups Gain Profits in This Competitive Space?
"Emerging Companies Should Focus on Offering Advanced Food Processing Techniques"
Numerous procedures are needed to keep frozen fish clean until it reaches consumers. The first of these procedures is to shorten the distance traveled by the fish between its capture and delivery to a processing facility. The majority of the time, the lengthening of this period leaves the fish smelling stale.
To boost profitability, suppliers take part in multi-day fishing trips. Start-ups provide frozen fish services that minimize the period between fishing and processing to address this issue. Researchers have been seeking new food processing ingredients to improve the functionality and nutritional value of the product.
Fish Club, a Malaysian start-up, offers frozen fish. Poantian fishermen supply the venture with fish. As a result, the process from fish capture to preservation is completed in less than 36 hours, guaranteeing the product's freshness. To provide clients with frozen fish that meets the highest standards of hygienic practices and quality, seafood is cleaned, gutted, vacuum-packed, and flash-frozen.
More Insights, Lesser Cost (-50% off)
Insights on import/export production,
pricing analysis, and more – Only @ Fact.MR
Which Regional Market Generates Huge Frozen Seafood Demand?
"Growing Awareness of Value of High Protein Diets Driving Market Growth in North America"
North America holds 40% share of the global market due to the rising acceptance of diets high in protein. The expansion of the frozen fish industry has been fueled by the expanding trend of ready-to-cook foods.
Market expansion is attributed to well-established distribution channels and the rise of internet sales. Rising demand for seafood preparations in the food service industry boosts market expansion.
Country-wise Insights
Is South Korea an Investment-worthy Market for Frozen Seafood Producers?
"Increase in Fast-food Eateries That Serve Fish in South Korea"
Demand for frozen food in South Korea is exceptionally high. Protein processing companies in the country are rapidly developing as new businesses enter the industry, intending to capture a lion's share of the market initially.
Growing urbanization, an increase in fast-food eateries that serve fish, and an increase in the number of refrigerated warehouses are driving market growth in South Korea.
Why is Japan a Strong Pillar Behind Market Growth in Asia Pacific?
"Rapid Expansion of Frozen Seafood Packaging Industry"
Huge demand for seafood powders, heavy research investments, rapid technological advancements, cutting-edge innovation techniques, and rapid expansion of the frozen seafood packaging industry are the key factors propelling market expansion in Japan.
What's Driving Frozen Seafood Demand in the U.S.?
"Advancements in Refrigeration Technology for Transport & Storage"
Robust growth of the food and dietary supplement industry in the U.S. is expected to lead to higher demand for frozen seafood, creating lucrative opportunities for manufacturers.
Consumers in the U.S. are looking for multi-component products that are readily available in the market and also accommodate their fast-moving lifestyle. With the growing demand for nutrient-rich health food, the need for the development of food with healthier ingredients has also increased.
Constant advancements in refrigeration technology for transport and storage, and a persistent shift in consumer purchasing habits toward frozen seafood products bought from organized retail channels such as supermarkets and hypermarkets.
How is Germany Complementing Market Growth in Europe?
"Rise in Aquaculture Business across Germany"
Top frozen fish manufacturing companies in Germany are marketing their products while also attempting to resonate with the attitude of today's value-driven customers who are gradually penning up more options for both, legacy corporations and start-ups to enter the market.
A rise in the aquaculture business, a change in lifestyle, increased fish consumption to lower the risk of heart disease, and supportive policies by government organizations all contribute to market expansion in Germany.
Category-wise Insights
Which Product is Expected to Gain Immense Popularity Going Forward?
"Frozen Fish Gaining Popularity Owing to High Nutritive Value"
By product, the market is segmented into frozen fish, frozen molluscs, and frozen crustaceans. Frozen fish holds 50% share of the global market.
Consumption of frozen fish is rising for its valuable food source, high nutritive value, and essential nutrients such as vitamin E, vitamin B6, Niacin, and easily digestible proteins. Moreover, demand analysis of frozen fish shows that it is helping the overall frozen seafood market grow at a healthy rate.
High demand for frozen fish is attributed to the widespread global consumption, the rising number of people who value their health, and the rising appeal of chemical-free fish with longer shelf lives. In addition, industrial fishing and the expanding fish farming industry contribute significantly to the demand.
Which Distribution Channel Accounts for Highest Frozen Seafood Sales?
"Supermarkets/Hypermarkets Allow Easy Access to a Variety of Seafood Under One Roof"
The market is classified into supermarkets/hypermarkets, specialty stores, and online retail stores based on the distribution channel.
Supermarkets/hypermarkets account 40% share of the global market due to the availability of a broad range of frozen seafood products and the convenience of purchasing items through these kinds of distribution channels.
Fish fillets and other seafood products are commonly found in prepared dishes and single servings of ready-to-eat foods in the frozen seafood department of supermarkets.
Competitive Landscape
Top frozen seafood manufacturers are always coming up with new ideas to match the continuously changing tastes and preferences of consumers. To entice lots of customers, they are introducing products with improved flavors and health advantages.
For instance :
In 2021, a new biodegradable packaging option was created by Dutch frozen food provider J.P. Verwijs for its range of fish and other seafood products. The packaging is environment-friendly and uses less plastic.
Key Segments of Frozen Seafood Industry Research
By Nature :

By Form :

By Product :

Frozen Fish
Frozen Molluscs
Frozen Crustaceans

By End Use :

Food Processing
Food Service
Retail/Household

By Distribution Channel :

Supermarkets/Hypermarkets
Specialty Stores
Online Retail Stores

By Region :

North America
Europe
Asia Pacific
Latin America
Middle East & Africa
- FAQs -
Worldwide demand for frozen seafood is slated to reach US$ 48 billion by 2033.
Growing demand for seasonal fish products and increasing health awareness among consumers are driving market growth.
Frozen seafood consumption is set to rise at a CAGR of 5.5% through 2033.
SalMar, Coast Seafood, and Maruha Nichiro are key frozen seafood providers.
North America accounts for around 40% share of the global market.