Two Component Adhesives Market
Two Component Adhesives Market By Composition (Polyurethane, Epoxy, Methyl Methacrylate (MMA), Silicone), By Application (Construction, Automotive, Aerospace, Electronics) & Region – Global Market Insights 2023 to 2033
Analysis of Two Component Adhesives Market Covering 30+ Countries Including Analysis of US, Canada, UK, Germany, France, Nordics, GCC countries, Japan, Korea and many more
Two Component Adhesives Market Outlook (2023 to 2033)
Global demand for two component adhesives is predicted to increase at a CAGR of 7.2% from 2023 to 2033. The global two component adhesives market is valued at US$ 7 billion in 2023 and is thus anticipated to reach a valuation of US$ 14 billion by 2033-end.
Polyurethane adhesives are utilized as sealants in many construction tasks, including repair and maintenance, plumbing, fittings, and masonry work. The need for polyurethane adhesives is driven by the rise in construction activities across the world.
Two component adhesives are binding substances known for adhesions that are led by chemical reactions. These adhesives are sometimes recognized as reactive adhesives or structural adhesives, and are known for their fast curing, easy process due to their creamy consistency, flawless shine after mechanical polishing, high chemical and wear resistance, and high bonding power even at high temperatures. Owing to this, worldwide demand for these adhesives is consistently rising.
Since two component adhesives are well-known for their high adhesive strength and heat resistance, they find application in numerous end-use industries, especially automotive and construction. Market players are leveraging the trend of lightweight along with strength in the automobile industry to push sales of innovative two component adhesives.
The market is expected to grow as two component adhesives are increasingly used to replace traditional binding and adhering methods such as manual screwing, grasping, and soldering. Over the projection period, there will be numerous opportunities for the two component adhesives market to grow due to rising consumer demand for low-VOC (volatile organic compounds) and low-carbon-emitting adhesives to reduce the environmental impact as well as the rising adoption of lightweight vehicles.
Two component adhesives are in high demand due to their special qualities, such as rigidity, chemical inertness, non-yellowing, and moisture resistance. Numerous market growth prospects are also provided by the key market players' soaring investments.
Light-weighting trends in the automotive, transport, and aerospace sectors are fueling demand for two component adhesives. In APAC, players will experience lucrative opportunities owing to increasing initiatives and investments in industrial expansion by governments.
A two component adhesive that fuses components in a load-bearing structure can be simply defined as high-strength glue. To join metal-to-metal, metal-to-composite, and composite-to-composite parts in aircraft, structural adhesives are frequently utilized.
The most typical application of two component adhesives is in the joints of thin aerostructures with a clearly defined load path. To increase strength and safety, the joints are typically strengthened using fasteners such as bolts, rivets, or screws. They are also utilized to combine thick aircraft structures with complicated, multidirectional load patterns.
Repair patches are attached to harmed airplane structures using two component adhesives as well. Thus, expanding two component adhesive use in aircraft applications is expected to fuel market growth over the forecast period.
Report Attributes

Details

Two Component Adhesives Market Size (2023)

US$ 7 Billion

Projected Market Value (2033)

US$ 14 Billion

Global Market Growth Rate (2023 to 2033)

7.2% CAGR

Market Share of Polyurethane Adhesives

60%

Key Companies Profiled

Sika AG
Huntsman Corporation
3M
Eastman Chemical
Henkel AG
Bostik
Dow Chemical Company
Evonik Industries
H.B Fuller
Master Bond Inc.
SOLVAY
Don't Need a Global Report?
save 40%! on Country & Region specific reports
What is Stimulating the Demand for Two Component Adhesives?
"Rapid Implementation of Innovative Techniques for Producing VOC-free Adhesives"
Environmental rules, standards, and limitations are becoming increasingly prevalent. Different sources have produced volatile organic compounds (VOCs), which are primarily present in an indoor environment. As a result, the market for environmentally friendly adhesives is constantly growing, which stimulates the development of innovative techniques for producing low-VOC adhesives.
Two-component biodegradable adhesives are primarily made to degrade bacteria and other microorganisms. Additionally, two-component green adhesives are mostly utilized in grooming items, envelopes, paper, and packaging, as well as medical equipment, which will greatly expand the market for two component adhesives.
Customers are now considering and employing structural adhesives to replace conventional joining methods because businesses are now focusing on performance factors such as energy savings, aesthetic improvements, and labor cost reductions. The usage of structural adhesives, including two component adhesives, is driven by the rise in the use of composites and other materials that are incompatible with mechanical fasteners.
A good clean surface is also provided by an adhesive bonded connection, allowing for minimal surface preparation before final finishing. Additionally, adhesives can be pre-applied in difficult-to-reach places for mechanical fastening during final assembly, and they can offer innovative designs that can further decrease weight, costs, and labor.
What Could Inhibit Two Component Adhesive Sales?
"Fluctuations in Raw Material Prices"
Manufacturers in the two component adhesives market have stated instability in the prices of raw materials. Adhesive raw materials are becoming more expensive due to rising prices for basic chemicals and intermediates, a massive reduction in local supply, and a high global demand. The basic chemicals and intermediates that form the chemical foundation for many of the primary adhesive raw materials are causing significant price increases, which is concerning to the adhesive business.
According to pricing trends, adhesive raw material costs are more impacted by shifts in the supply or demand balance along the entire supply chain management. The price of the majority of adhesive raw materials is influenced more by demand/supply issues specific to each chemical than by the price of crude oil on the global market.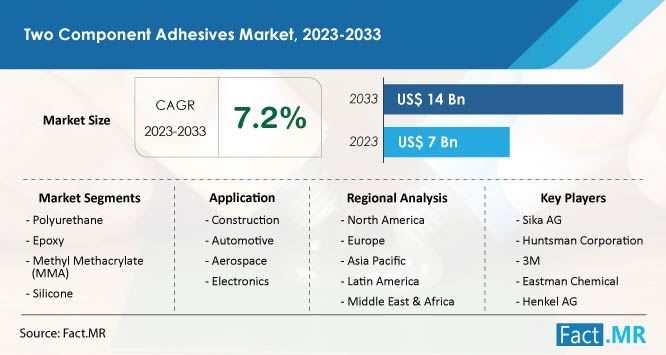 Which Region is Predicted to Lead Market Expansion Going Forward?
"Increase in Government Initiatives to Enhance Ease of Operating Businesses Driving Market Growth in Asia Pacific"
Asia Pacific is the leading market for two component adhesives with 40% market share. The region is witnessing rapid growth in the automotive, construction, and electronics industries. Furthermore, the consistent launch of initiatives by governments in the region to enhance the ease of operating businesses is supporting market growth.
For instance, in India, RE-INVEST 2020 is an initiative intending to stimulate the global effort to scale up the development and deployment of renewable energy. It unites the global investment community with Indian energy stakeholders. Such initiatives are propelling demand for two component adhesives.
More Insights, Lesser Cost (-50% off)
Insights on import/export production,
pricing analysis, and more – Only @ Fact.MR
Country-wise Insights
What are the Growth Opportunities for Two Component Adhesives in the United States?
"Rapid Expansion of Automotive Industry in the Country"
The market is predicted to be dominated by the United States due to the increase in construction activities and huge demand for vehicles and home appliances are driving market growth. The United States is witnessing huge demand for two component adhesives. The adoption of Polyurethane adhesives is increasing in industries such as building & construction and automotive & transportation.
Furthermore, the growing concentration of governments to decrease ever-rising accident cases is reshaping the automotive industry in the country. This is projected to create lucrative opportunities for key players operating in the market.
Is Germany an Investment-worthy Market for Two Component Adhesive Producers?
"Rising Investments by Leading Manufacturers in R&D Collaborations"
Germany accounts for a significant share of the market in terms of value. Market growth is primarily attributed to the roots of some automotive suppliers. Furthermore, stringent administration supported by rising investments by leading manufacturers in R&D collaborations is driving market growth.
How is the Market for Two Component Adhesives Progressing in Japan?
"Increasing Need for Low VOC and Ecological Adhesives"
The market in Japan is driven by the constant advancements in the automotive sector and increasing need for low VOC and ecological adhesives, and expanding use of adhesives in vehicles to reduce weight. Some of the key drivers propelling market growth include escalating automobile production and higher use of two component adhesives in the aerospace sector.
Category-wise Insights
Why is the Popularity of Polyurethane Adhesives Rising Rapidly?
"Polyurethane Adhesives Gaining Traction Due to Their Customizability & Cost-effectiveness"
Based on composition, the market is classified into polyurethane, epoxy, methyl methacrylate (MMA), and silicone. Polyurethane adhesives account for 60% share of the global market.
Polyurethane adhesives are high in demand as they reduce overall manufacturing costs, enhance product performance, and improve product life and reliability. Resistance to moisture, oil, and lubricants, a wide range of resilience, cohesive and adhesive properties, as well as tolerance to pathogens and fungi, are some of the factors promoting demand for polyurethane adhesives.
Polyurethane adhesives can be a great alternative to plastic and other materials because of their various benefits and customizability, resulting in a global increase in the use of polyurethane adhesives in end-use industries. Due to growing environmental concerns around the world, the majority of end-use sectors are choosing environmentally friendly and sustainable products and solutions.
Polyurethane adhesives do not contain any toxic substances that could harm human health. Because they melt down easily and can be used as a mold for discarded components to create new items, polyurethane can also be recycled and repurposed.
Which Application Accounts for High Demand for Two Component Adhesives?
"Two Component Adhesives Widely Used in Automotive Industry Owing to Their Improved Durability & Thermal Stability"
Based on application, the market is divided into construction, automotive, aerospace, and electronics. Rapid growth in the automotive industry is attributed to rising investments in R&D practices by automotive manufacturers and increasing government initiatives.
In the automotive industry, increasing focus on using lightweight materials such as plastics, composites, and aluminum is driving demand for two component adhesives. These adhesives are employed for meeting the bonding requirements owing to their high chemical resistance, excellent wear resistance, and high bonding power even at high temperatures.
All these factors are leading to the expansion of the automotive sector, thus augmenting demand for two component adhesives. Furthermore, with electric vehicles set to roll out, demand is projected to rise significantly. Since two component adhesives offer resistance to vibration, impact, stress, abrasion, and numerous chemicals as well as improved durability and thermal stability, they are widely utilized in automotive manufacturing processes.
When it comes to structural bonding, vehicle electrical component assembly, climate control, and chassis/brake applications, two component adhesives are incredibly reliable. The market is predicted to expand over the coming years as a result of the rising use of two component adhesives, which reduce stress concentrations, delivers smooth contours, improve service life or performance, and are cost-effective.
Besides the automotive sector, a rise in demand from the construction sector is driving the growth of the two component adhesives market. The growth witnessed is attributable to the replacement of conventional binding and adhering methods such as mechanical pins, fastening, and welding with two component adhesives.
Competitive Landscape
Top two component adhesive manufacturers are increasing R&D activities to improve product standards following safety regulations. Leading companies are focusing on new developments in manufacturing processes and maintaining quality control of two component adhesives to ensure longer lifecycles.
Key players in the market are working more on megatrends such as e-mobility, sustainability, and digitalization to create a fast-changing environment. Major two component adhesive producers are now putting more effort into enhancing products by improving the stability and tensile strength of adhesives and preserving revenue share & profitability.
For instance :
A well-known manufacturer, DuPont Mobility & Materials, declared a US$ 5 million investment at its factories in Germany and Switzerland to boost the production of its high-performance automobile adhesives.
In 2020, a three-year collaboration deal between 3M and Wrapmate, an end-to-end digital platform, was signed.
Segmentation of Two Component Adhesives Industry Research
By Composition :

Polyurethane
Epoxy
Methyl Methacrylate (MMA)
Silicone

By Application :

Construction
Automotive
Aerospace
Electronics

By Region :

North America
Europe
Asia Pacific
Latin America
Middle East & Africa
- FAQs -
Global two component adhesive demand is valued at US$ 7 billion in 2023.
The global two component adhesives market is estimated to rise at a CAGR of 7.2% through 2033.
Rising adoption of low-VOC and ecological adhesives and huge demand for structural adhesives over mechanical fasteners are driving market growth.
Asia Pacific accounts for 40% share of the global market.
By 2033-end, the two component adhesives market is expected to reach a valuation of US$ 14 billion.