Chiral Chemicals Market
Chiral Chemicals Market Analysis By Technology (Traditional Separation Method, Asymmetric Preparation Method, Biological Separation Method), By Application (Pharmaceuticals, Agrochemicals, Fine/Specialty Chemicals, Food Ingredients) & By Regions - Global Market Insights 2023 to 2033
Analysis of Chiral Chemicals Market Covering 30+ Countries Including Analysis of US, Canada, UK, Germany, France, Nordics, GCC countries, Japan, Korea and many more
Chiral Chemicals Market Outlook (2023 to 2033)
Expanding at a high-value CAGR of 10.9%, the global chiral chemicals market is set to increase from a size of US$ 71.4 billion in 2023 to US$ 201.12 billion by the end of 2033.
Chiral compounds are a particular class of substances that contain an asymmetrical carbon atom in the centre. These chemicals, also referred to as enantiomers or optical isomers, cannot be superimposed with one another. They are extensively used in the manufacturing of fine chemicals, agrochemicals, medicines, and food additives. The manufacturing process and cost-effectiveness of chiral chemicals are being improved by several market players throughout the world using new analytical techniques.
The flavours and fragrances industry uses chiral chemicals to produce more complex and interesting scents and tastes. Chiral chemicals can produce different flavours and fragrances than their non-chiral counterparts, which allows for greater creativity and innovation in the industry.
Traditional separation methods of chiral chemicals involve the use of chromatography techniques.
According to Fact.MR, a market research and competitive intelligence provider, the traditional separation method accounts for 48% share of the global chiral chemicals market in 2023.
Chromatography is a process used to separate and identify individual components in a mixture, including chiral compounds. There are several chromatography techniques used for chiral separation, including high-performance liquid chromatography (HPLC), gas chromatography (GC), and thin-layer chromatography (TLC).
HPLC is one of the most commonly used chromatography techniques for chiral separation. It uses a stationary phase, such as a chiral column, to separate the enantiomers of a chiral compound. The stationary phase is made up of chiral molecules that interact differently with each enantiomer, resulting in their separation. HPLC is a versatile technique that can be used for a wide range of chiral compounds and is often used in the pharmaceutical industry for drug development.
GC is another commonly used chromatography technique for chiral separation. It separates the enantiomers of a chiral compound based on their vapour pressure and interactions with the stationary phase. TLC is a simple and cost-effective chromatography technique that is often used for the initial screening of chiral compounds. Thus, currently, traditional separation methods are the most preferred technologies by chiral chemical producers.
Report Attributes

Details

Chiral Chemicals Market Size (2023E)

US$ 71.4 Billion

Forecasted Market Value (2033F)

US$ 201.12 Billion

Global Market Growth Rate (2023 to 2033)

10.9% CAGR

United States Market Growth Rate (2023 to 2033)

10.6% CAGR

United Kingdom Market Growth Rate (2023 to 2033)

10.9% CAGR

Japan Market Growth Rate (2023 to 2033)

10.5% CAGR

China Market Growth Rate (2023 to 2033)

11.6% CAGR

Key Companies Profiled

BASF SE
Johnson Matthey PLC
Solvias AG
Strem Chemicals
Bayer AG
Codexis, Inc.
Chiral Technologies
Rhodia
W. R. Grace & Co.
PerkinElmer, Inc.
The Dow Chemical Company
Chiracon GmbH
Don't Need a Global Report?
save 40%! on Country & Region specific reports
Why is Demand for Chiral Chemicals Skyrocketing?
"Chiral Chemicals - Eco-friendly Solution for Safer Agrochemicals"
Growing use of chiral chemicals in the production of eco-friendly agrochemicals is boosting the chiral chemicals market growth. Chiral molecules have been found to have a significant influence on the efficacy and safety of agrochemicals, particularly in terms of reducing toxicity and improving selectivity.
One of the most common uses of chiral chemicals in agrochemicals is as active ingredients in herbicides, insecticides, plant growth regulators, pheromones, and fungicides. Chiral pesticides can selectively target specific pests or weeds, while reducing the impact on non-target organisms, such as beneficial insects or plants. This can help increase crop yields while minimizing the environmental impact of these chemicals.
In addition to their use as active ingredients, chiral chemicals are also used in the synthesis of agrochemicals. Chiral building blocks and catalysts are used to produce chiral molecules with specific properties that can improve the effectiveness and safety of agrochemicals.
Chiral chemicals are also used in the production of biostimulants, which are substances that improve plant growth and health. Chiral molecules can help improve the selectivity and efficacy of biostimulants, leading to better plant growth and yields.
Overall, demand for chiral chemicals in agrochemicals is expected to continue to grow rapidly over the coming years, driven by the need for safer and more effective agrochemicals, as well as the increasing demand for food due to the growing global population.
Which Aspects Should Manufacturers of Chiral Chemicals Focus On?
"High Production Cost and Strict Product Approval Policies"
Despite the growing demand for chiral chemicals, the manufacturers of chiral chemicals may also face some challenges. Chiral chemicals can be expensive to produce due to the complex processes involved in their synthesis. This can make it difficult for companies to offer chiral products at a competitive price point.
Many chiral chemicals require specific starting materials that may not be readily available. This can lead to supply chain challenges and affect the availability of chiral chemicals. The production and use of chiral chemicals are subject to regulatory requirements that can vary across regions. Meeting these requirements can be time-consuming and expensive, and non-compliance can result in legal and financial consequences.
More Insights, Lesser Cost (-50% off)
Insights on import/export production,
pricing analysis, and more – Only @ Fact.MR
Which Tactics are Expected to Benefit New Chiral Chemical Companies?
"Focus on Innovation in Chiral Chemicals"
To stand out in a competitive market, newcomers should focus on developing innovative chiral products that meet the needs of customers. This could involve developing new synthesis methods, improving the efficacy of existing products, or creating new separation technologies for chiral chemicals.
"Build Partnerships with Other Stakeholders"
Partnering with key players in the chiral chemicals market can help new entrants access raw materials, technical expertise, and distribution channels. Collaborating with academic institutions can also help companies stay up to date with the latest research and development in the field.
"Offer Competitive Pricing"
Start-up companies can differentiate themselves from established players by offering competitive pricing for their chiral products. This could involve optimizing production processes to reduce costs or focusing on niche markets where there is less competition. The chiral chemicals industry can be profitable for newcomers, but it is also highly competitive, and start-up companies must adopt effective strategies to succeed.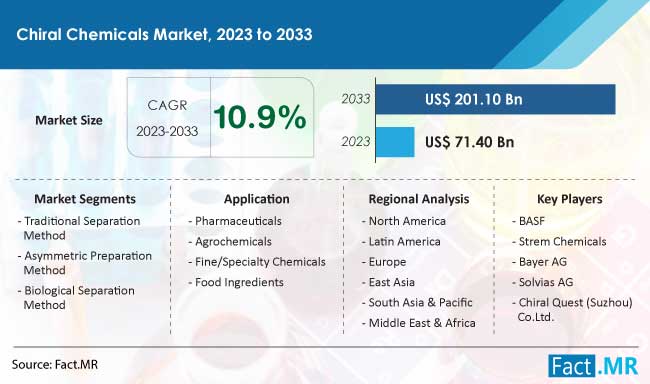 Country-wise Analysis
Which Sector Accounts for High Sales of Chiral Chemicals in the United States?
"Chiral Chemicals Set to Dominate United States Flavor and Fragrance Industry"
The United States is a big market for flavour and fragrance products due to the high demand for food and beverages. The high consumption of processed and convenience food increases demand for chiral chemical-based flavour and fragrance products.
Sales of chiral chemicals are expected to increase at a CAGR of 10.6% from 2023 to 2033 in the United States.
The country's population of Asian and Hispanic origin is growing, which has resulted in the introduction of new ethnic flavours and fragrance products. Such elements offer the flavour producers a fantastic opportunity to introduce ethnic flavours, such as seafood sauce, ginger, garlic chives, and lapsang souchong, to increase their growth prospects in the market. Thus, the United States market for chiral chemicals is expected to reach US$ 63.67 billion by 2033 due to growing demand from flavour and fragrance production facilities.
How are Sales of Chiral Chemicals Developing in the United Kingdom?
"High Consumption of Chiral Chemicals by Pharmaceutical Manufacturing Companies"
Chiral chemical demand in the United Kingdom is expected to reach US$ 9.86 billion by 2033, this is due to the increasing demand for chiral compounds in the pharmaceutical manufacturing facilities. The pharmaceutical industry is one of the largest consumers of chiral chemicals, as many drugs are chiral-based and require a specific enantiomer to be effective and safe.
Consumption of chiral chemicals is predicted to increase at 10.9% CAGR during the next 10 years.
The United Kingdom has a strong pharmaceutical industry and a well-established chemical manufacturing sector, which provides a strong foundation for the growth of the market for chiral chemicals. The United Kingdom government is also investing in the development of new technologies and research to support the growth of the pharmaceutical and chemical industries.
Why is China a Lucrative Market for Chiral Chemical Producers?
"Booming Agrochemical Business Driving Sales of Chiral Chemicals"
China holds a major market share for agrochemicals internationally compared to other countries. As the agrochemicals business expands and new insecticides, plant growth regulators, and other chemicals are developed quickly in China, the country is taking the lead in the Asia Pacific market for chiral chemicals.
Demand for chiral chemicals is anticipated to increase at a rapid CAGR of 11.6% during the forecast period, due to the swift rise of domestic players in the agrochemical sector. Thus, due to the growing use of chiral compounds in agrochemical products, the Chinese market for chiral chemicals is expected to reach US$ 45.86 billion by 2033.
Know thy Competitors
Competitive landscape highlights only certain players
Complete list available upon request
Category-wise Analysis
Who is the Prime End User of Chiral Chemicals?
"Chiral Compounds Key to Creating Effective & Safe Pharmaceutical Formulations"
Demand for chiral chemicals in pharmaceutical applications is expected to increase at 11% CAGR during the forecast period.
Many market players are planning to produce various pharmaceutical intermediates. For the production of enantiomerically pure products used in pharmaceutical formulations, chiral compounds are crucial. Along with this, the market for chiral chemicals is anticipated to rise during the forecast period as a result of the quick technological developments in the pharmaceutical industry and the considerable research and development activities carried out in developed as well as developing countries.
Chiral compounds are used in the creation of medicines by many pharmaceutical industries due to the growing understanding of enantiomer distinctions and biological activities. The pharmaceutical facilities use various chiral compounds to create antibiotics, antivirals, diabetes medications, and cancer treatment drugs.
Competitive Landscape
To increase the production of chiral chemicals at competitive prices, key players in the global market for chiral chemicals have joined hands with various businesses. Additionally, it is anticipated that leading companies will work together more often to increase their manufacturing and global distribution networks.
Producers are anticipated to concentrate on creating application-centric products and forge lucrative alliances with leading end-use industries to acquire a competitive edge in the market for chiral chemicals.
CHIRALPAK® IM was introduced by Daicel Chiral Technologies in November 2022. Immobilized CHIRALCEL® OZ is the name of the novel selective Cellulose 3 chloro 4 methyl phenyl carbamate. This immobilized chiral selector made of cellulose is intended for use in HPLC and SFC to increase selectivity and resolution for difficult separations. The improved resilience from the immobilization process enables CHIRALPAK® IM to resist a larger range of mobile phase mixtures, which can improve separations already attained using CHIRALCEL® OZ.
Key Segments of Chiral Chemicals Industry Research
By Technology :

Traditional Separation Method
Asymmetric Preparation Method
Biological Separation Method

By Application :

Pharmaceuticals
Agrochemicals
Fine/Specialty Chemicals
Food Ingredients

By Region :

North America
Latin America
Europe
East Asia
South Asia & Oceania
MEA
- FAQs -
The global chiral chemicals market is valued at US$ 71.4 billion in 2023.
Demand for chiral chemicals is predicted to increase at a CAGR of 10.9% from 2023 to 2033.
Worldwide sales of chiral chemicals are expected to reach 201.12 billion by 2033.
With a high potential for manufacturing profitability, the Asia Pacific chiral chemical industry is predicted to develop rapidly, followed by North America.
BASF, Strem Chemicals, Bayer AG, and Chiral Technologies are some of the leading companies manufacturing chiral chemicals.