Aroma Chemicals Market
Aroma Chemicals Market Analysis by Application (Soaps & Detergents, Cosmetics & Toiletries), by Compound (Alcohol-based, Acids-based, Esters-based), by Source (Natural, Synthetic), by Type (Benzenoids-based, Musk, Terpenoids-based) & Region - Global Forecast 2022-2032
FACT5374MR
Apr-2022

List of Tables : 80

List of Figures : 138

170 Pages
Market Outlook of Aroma Chemicals
The market for aroma chemicals is expected to grow at a CAGR of 4.7% between 2022 and 2032, from US$ 5.21 Billion in 2022 to reach US$ 8.11 Billion in 2032.
Consumer demand for natural-based products over synthetic chemicals, as well as a shift in consumer preference for fragrances and exotic scents, are expected to drive market growth.
Report Attributes
Details

Anticipated Base Year Value (2021)

US$ 5.11 Billion

Expected Market Value (2022)

US$ 5.12 Billion

Projected Forecast Value (2032)

US$ 8.11 Billion

Global Growth Rate (2022-2032)

4.7% CAGR

Growth Rate of North America (2022-32)

5.6% CAGR

Anticipated Growth Rate of Asia Pacific (2022-2032)

6.1% CAGR

Key Companies Profiled

Kelkar Group
BASF SE
Hindustan Mint and Agro Products
Solvay
Symrise AG
Robertet
Kao Corporation,
Privi Organics Ltd.
Kalpa Sutra Chemicals,
Bell Flavors & Fragrances
Aroma chemicals are used to prepare fragrance formulations for consumer goods, such as perfumes, cleaning products, and toiletries. As fragrance also affects the flavor of edible goods, aroma chemicals are also employed to improve taste in processed foods and beverages.
Interested to Procure The Data
2015-2021 Revenue Analysis of Aroma Chemicals vs. Future Outlook 2022-2032
Around 3000 different types of molecules have been used in the creation of fragrance compositions. Aroma chemicals are used in a variety of applications, the most common of which are fine fragrance, cosmetics, and toiletries.
Throughout history, they have also been used as odorizers to impart fragrance to odorless substances that can be dangerous, such as natural gas, propane, and so on. The historical value of the global aroma chemicals market was US$ 5.1 Billion. (2015-2021).
Over the forecast period, the overall market size will be driven by rising demand from the fragrance industry and food and beverage industry, as well as rising consumer spending (2022-2032).
Prominent Growth Drivers Influencing Aroma chemicals Deployment
Aroma Chemicals Market Growth Will Be Driven by Cosmetics Industry Expansion
The growing demand for cosmetics and personal care products, such as creams, facemasks, peels, and others, as a result of increased usage among both men and women, will drive the cosmetics market forward. Changes in lifestyle and an increase in per-capita disposable income have contributed to a shift toward natural and organic cosmetics, opening up new market opportunities.
Rapid urbanization and a thriving e-commerce industry have increased consumer interest in various premium and new cosmetic products. Aroma chemicals are commonly found in cosmetics and toiletries such as gels, aftershaves, lipsticks, moisturizers, foundations, body and hand washes, body lotions, soaps, shampoos, and other products.
These chemicals are used in these products to create natural scents while maintaining product quality and formulation. As cosmetics have become an integral part of a person's life, major cosmetic manufacturers are introducing new products containing natural ingredients, accelerating their global sales and driving the market growth.
Aroma chemicals are widely used in the production of food and beverage additives, driving market demand
Aroma chemical manufacturers are concentrating on developing natural products that meet stringent environmental standards. Furthermore, as consumers become more aware of the benefits of the products, suppliers have been compelled to maintain high-quality levels by integrating themselves into production.
Aroma chemical manufacturers are concentrating on developing natural products that meet stringent environmental standards. Furthermore, as consumers become more aware of the benefits of the products, suppliers have been compelled to maintain high-quality levels by integrating themselves into production.
Because taste is such an important factor in edible items, aroma chemicals are used to improve the flavor of processed foods and beverages. Natural aroma chemicals are growing in popularity as a result of rising demand for health and wellness foods, government regulations, and a ban on the use of synthetic flavors. The market for aroma chemicals is being driven by the suitability of natural flavors in a wider range of applications, additional health benefits of certain natural flavors, and advanced technological innovation.
Factors likely to Impede Market Growth of Aroma Chemicals
Synthetic Chemicals in Perfumes and Their Potential Health Effects Could Affect the Industry
Approximately 95% of synthetic chemicals in fragrances are derived from petroleum-based chemicals such as benzene derivatives, phthalates, aldehydes, and others, which are harmful and toxic to human health. Adults and children are both affected by these chemicals, which cause birth defects, cancer, allergies, asthma, and nervous system disorders. Furthermore, some of these synthetic chemicals are listed as hazardous waste by the EPA.
According to Environmental Working Group (EWG) researchers, approximately 75% of fragrance products contain phthalates, which have been linked to breast cancer, diabetes, sperm count reduction, reproductive malformation, and disrupted hormonal activities. These factors could stifle overall market growth.
Regional Analysis
How will the Aroma Chemicals Industry Grow in Europe?
Europe had a market value of US$ 1,810 Million in 2021 and is expected to lead the global market during the forecast period. This is due to the rising demand for fragrance in soaps, detergents, and household products in Germany, France, and the United Kingdom. Furthermore, rising consumer spending on luxury and premium fragrances as a result of higher income levels and a higher standard of living may propel market growth in this region.
Germany is Europe's largest food producer. The country's food and beverage industry offer numerous opportunities for flavor manufacturers because it aids in the delivery of palatability. As a result, it would favor regional growth in the coming years.
Europe has been identified as a promising market for aroma chemicals. The presence of leading aroma chemical manufacturing companies as well as various aroma chemical end-user companies involved in the manufacturing of personal care and household care products are driving the growth of the aroma chemicals market in the region.
How will the Aroma Chemicals Industry Grow in the Asia-Pacific?
During the forecast period, the Asia Pacific market is expected to grow at a rapid pace, at a CAGR of 6.1%. This is due to China's expanding personal care industry. The rising demand for fragrances in China, Japan, and India, as well as the growing importance of organic and natural fragrances, are expected to propel regional market growth. Another factor contributing to market growth is the high spending power of consumers in these countries.
Companies are concentrating their efforts on R&D and business expansion in the Asia Pacific region. For example, in September 2019, Firmenich, a flavor, ingredient, and fragrance manufacturer, opened an innovative Fine Fragrance Atelier in China. Customers in China and around the world have easy access to all of the fine fragrance products offered by the company.
How Will North America Provide Growth Opportunities for Aroma Chemicals Providers?
The North American aroma chemicals market will grow at a CAGR of 5.6% from 2022 to 2032. Rising consumer awareness about the importance of maintaining a healthy and sanitary environment in their surroundings is expected to drive demand for toiletries products such as soaps, detergent, sanitizers, disinfectant floor cleaners, and toilet cleaners, among others, which will drive demand for aroma chemicals over the forecast year.
Because of the growth in the personal care and cosmetics industries, the United States held the largest share of the North American market in 2020. A rise in per-capita disposable income is likely to fuel the expansion of the personal care, cosmetics, and food and beverage industries, while growing health-conscious consumers will strengthen the region's market position.
Takasago International Corporation, BASF SE, DSM, Firmenich SA., Symrise, ORIENTAL AROMATICS, Bordas S.A., Privi Speciality Chemicals limited, and Bell flavours & fragrances are some of the major players in the North America aroma chemicals market.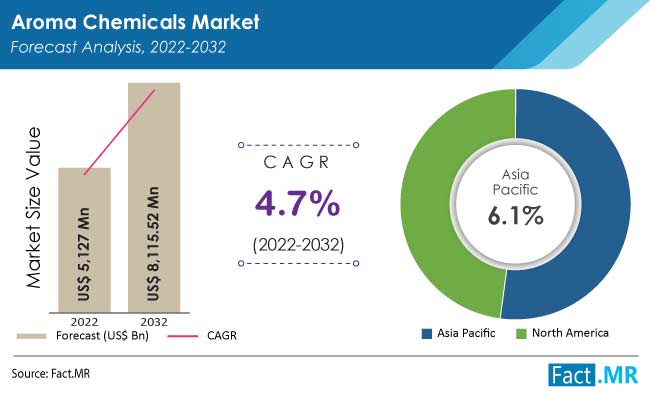 Category-wise Insights
Synthetic Aroma Chemicals Segment to Dominate the Market
In 2022, the synthetic source segment is expected dominate the aroma chemical market, accounting for 69% of total revenue. In the coming years, the synthetic segment is expected to dominate the market. Synthetic aromas are a critical component for manufacturers in the cosmetics, personal care, and food and beverage industries. They can replicate the scent of natural foods in the food industry for snacks, carbonated sodas, and candies.
Many fragrance manufacturers rely on synthetic chemicals to produce a strong natural scent without jeopardizing the properties of other chemicals used in fragrance formulations. Natural scents in cosmetics are becoming increasingly popular. However, due to the risk of skin sensitivities and allergies, producing natural ingredient cosmetics is not feasible, forcing manufacturers to produce products containing synthetic chemicals.
Terpenes/Terpenoids Segment to Hold the Largest Market Share
The aroma chemicals market is divided into terpenes or terpenoids, benzenoids, musk chemicals, and others based on the product. Terpenoids will be the most important chemical segment in 2020. They have medicinal properties such as anti-carcinogen, antimicrobial, and antiseptic properties. Terpenes have a pleasant aroma and are used in a variety of flavorings and fragrances. Terpenoids and their derivatives, which have anti-carcinogenic, antimicrobial, and antiseptic medicinal properties, are used in antimalarial drugs such as artemisinin.
The segment's growth will be aided by rising demand for terpenes in the pharmaceutical, cosmetics, food, and other industries. Musk chemicals can be obtained synthetically or naturally. They can be found in a variety of products such as personal care and cosmetics, food, household goods, and soaps and detergents.
The growing demand for personal care products, combined with an increase in the number of working professionals, has resulted in an increase in the growth of musk chemicals. The growing popularity of various types of cosmetic products and fine fragrances will boost the size of the musk chemicals market in the coming years.
Aroma Chemicals Market- Competitive Landscape
The majority of the industry's major players have been around for a long time and have large production capacities. As a result, in order to meet the growing demand from end-use markets, they are focusing on product launches, expansion, and acquisitions.
BASF acquired Isobionics, a biotech company, in June 2020 to set up its own distillation plant for the production of new flavors and fragrances. The plant is expected to be built at the Brightlands Chemelot Campus in Geleen, Limburg, the Dutch province. This strategy entails establishing its own production unit for the manufacture and development of new fragrances, which is expected to create market growth opportunities.
New fragrance technology in all perfume categories, including personal, fabric, fine fragrance, home, and oral care flavors. This technology will assist consumers in improving their overall sense of well-being.
Key Segments Covered in the Aroma Chemicals Industry Report
Aroma Chemicals by Application :

Soaps & Detergents
Cosmetics & Toiletries
Food & Beverages Ingredients

Aroma Chemicals by Compound :

Alcohol-based Aroma Chemicals

Saturated Alkyl-Alcohol
Unsaturated Alkyl-Alcohol
Complex Fragrance Alcohol
Aromatic and Aralkyl Alcohol
Phenolic

Acids-based Aroma Chemicals

Saturated Aliphatic Acid
Unsaturated Aliphatic Acid
Aromatic Acid

Esters-based Aroma Chemicals

Saturated Esters
Unsaturated Esters
Aromatic Esters
Lactones- Gamma and Delta
Synthesis of Ester

Aldehydes–based Aroma Chemicals

Aliphatic Aldehyde
Unsaturated Aldehyde
Acetals
Aromatics
Nitriles

Ketones-based Aroma Chemicals
Hydrocarbons-based Aroma Chemicals

Aroma Chemicals by Source :

Natural Aroma Chemicals
Synthetic Aroma Chemicals

Aroma Chemicals by Type :

Benzenoids-based Aroma Chemicals
Musk Aroma Chemicals
Terpenoids-based Aroma Chemicals

Aroma Chemicals by Region :

North America
Latin America
Europe
East Asia
South Asia
Oceania
Middle East & Africa