Battery Chemicals Market
Battery Chemicals Market Analysis by Chemical Type (Cathode, Anode, Electrolyte, Separator), by Battery Type (Nickel Cadmium Batteries, Zinc Carbon Batteries, Lead Acid Batteries), by End-Use, by Region - Global Forecast 2022-2032
Analysis of Battery Chemicals market covering 30 + countries including analysis of US, Canada, UK, Germany, France, Nordics, GCC countries, Japan, Korea and many more
Battery Chemicals Market Outlook (2022-2032)
The global demand for battery chemicals enjoyed year-on-year (YoY) growth of 1.7% in 2021 to reach 3,448.6 kilotons.
Battery chemicals market value is projected to reach US$ 170.3 Bn in valuation by 2032-end. Meanwhile, consumption of battery chemicals is projected to increase at a CAGR of around 8.3% over the decade.
Report Attributes

Details

Battery Chemicals Market Size (2021A)

US$ 71.1 Bn

Estimated Market Value (2022E)

US$ 77.0 Bn

Forecasted Market Value (2032F)

US$ 170.3 Bn

Global Market Growth Rate (2022-2032)

8.3% CAGR

East Asia Market Share (2021)

~39.5%

North America Growth Rate (2022-2032)

9.7% CAGR

China Growth Rate (2022-2032)

10.5 % CAGR

Top 5 Companies' Market Share

~36%

Key Companies Profiled

AlbeMarle
China Molybdenum Co. Ltd.
Gan feng Lithium Co. Ltd.
Glencore PLC
Livent Corporation
Nornickel
SQM
Teck Resources
Tianqi Lithium
Vale S.A.
Hindustan Zinc Ltd.
Palm Commodities International
Korea Zinc
Sheritt International Corporation
Nyrstar NV
Venator Materials PLC
Mody Chemi Pharma Ltd.,
Mitsubishi Chemical Holdings
Sales of lithium-ion batteries, under type, grew 6% to 908.6 kilotons in 2021, while demand for secondary batteries, under application was up 2.7% to reach 2,539.2 kilotons in the same year.
Additionally, consumption of lead acid batteries on a global level stood at around 1,559.1 kilotons in 2021, accounting for 45.2% of the worldwide battery chemicals market in terms of volume. Lead acid batteries is followed by lithium-ion batteries, with the segment is poised to expand at a CAGR of around 10.8% with projected consumption to reach 2,832.2 kilotons by 2032-end.
Battery chemicals form the basis of almost each and every industry, starting from automotive to electronics. Battery capacity varies as per application, from average 3,000 mAh for powering a smartphone to as high as 100 KWh in electric vehicles.
Out of the overall battery market, lead storage batteries account for a larger market share as traditional automobiles still account for a majority share of total automobiles produced, and these lead acid batteries play an important role in these vehicles.
Other than automobiles and consumer electronics, batteries are also used to store energy in solar power plants and in UPS & invertor systems as a source of backup power.
Don't Need a Global Report?
save 40%! on Country & Region specific reports
Consumption Analysis of Battery Chemicals (2017-2021) Vs. Forecast Market Outlook (2022-2032)
As per latest market analysis by Fact.MR, market research and competitive intelligence provider, sales of battery chemicals over the past half-decade grew at a CAGR of around 1%. In 2021 the battery chemicals market stood at around 3,448.6 kilotons.
Battery chemical consumption in lead acid batteries is anticipated to continue dominating the market in the short term, which is mainly attributed to its high usage in the automotive industry.
Besides, during the past half-decade, consumption of lithium-ion batteries grew at a rapid pace owing to a substantial portion of car owners continuing to migrate to electric vehicles. Owing to this, lithium-ion batteries accounted for a prominent market share, attributed to their extensive utilisation in electric vehicles, specifically electric vehicles, which, in turn, escalated battery chemical demand.
Despite a slowdown in the demand for conventional automobiles by a great extent, electric vehicle sales experienced a boost. As of 2021, worldwide light vehicle battery demand doubled, reaching 289 GWh. China's automobile production accounted for more than half of worldwide demand, and remained the prime electric car battery chemical demand generator.
Out of the electric vehicles, BEVs accounted for 87% demand last year, and this number is expected to further escalate at a rapid pace. Across geographies, lithium-ion battery chemicals & battery manufacturers are already running at nearly full capacity, and news from suppliers – large and small – has been a steady stream of announcements aimed at increasing manufacturing capacity as soon as feasible, with majority of battery manufacturing expansion being planned in Europe.
Due to its success in the developing Chinese market, CATL has surpassed Panasonic and LG Chem as the leading cell provider, supplying one-third of BEV batteries in 2021. CATL's predilection for prismatic cells led to a 53% market dominance for this form (up from 38% in 2020).
Owing to the multiple use case scenarios of batteries across diverse end-use verticals, sales of EV battery chemicals are anticipated to increase at a higher CAGR of 5.2% during 2022-2032 and create an absolute dollar opportunity of US$ 15.6 Bn over the long term forecast period of 2022-2032.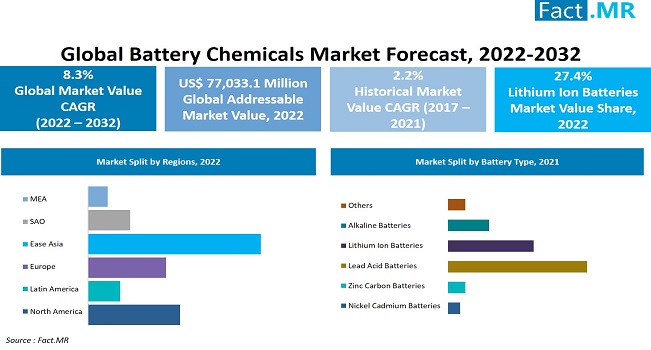 What are the Demand Drivers for Battery Chemicals Over the Forecast Period?
"Market Driven by Rising EV Sales and High Consumption of Consumer Electronics"
Rising electric vehicle market, greater use of consumer electronics such as smartphones, tablets, laptops, and gaming consoles, and collaborative development between miners and battery makers are some of the key factors currently driving worldwide sales of battery materials.
Increased demand for battery ingredients such as lithium, cobalt, and nickel has resulted from a rise in EV production around the world. In fact, due to significant increase in battery production, there may be a shortage of these crucial elements in the future. Global electric vehicle sales have been bolstered by the shift to clean energy and the rise in crude oil costs.
EV sales are further enhanced by favourable government regulations and financial incentives in the form of grants or tax rebates. On the other hand, the long-term desire for new consumer electronics will boost battery output. To extend their running life and accommodate increasingly advanced capabilities, electronic devices such as smartphones, tablets and laptops require higher capacity batteries.
According to Ericsson, new smartphone sales in India would reach 410 Mn devices by 2025. Furthermore, because of the low cost of Internet data plans, demand for batteries is expected to rise. Similarly, as wealth rises, so will the use of consumer electronics, in turn, propelling the battery materials market forward during the projection period.
Attributed to these discussed factors, battery chemicals market value is projected to reach US$ 170.3 Bn by the end of 2032.
More Insights, Lesser Cost (-50% off)
Insights on import/export production,
pricing analysis, and more – Only @ Fact.MR
Country-Wise Analysis
Why is Battery Chemical Usage So High in China?
"High Production of EVs in China"
When you think of an electric vehicle, the first name that springs to mind is almost certainly Tesla. It produces the world's most popular electric vehicle, and most of them are manufactured in China.
Tesla's Shanghai factory currently produces more cars than its California production center. This is especially true because a substantial portion of the batteries that power them are manufactured in China, and the battery chemicals and minerals that fuel them are mostly refined and mined by Chinese firms.
From mineral extraction and processing through battery and electric vehicle manufacture, companies are racing to secure and improve their positions in the battery supply chain. With 1.3 million automobiles sold in 2020-2021, China remains the market leader.
CATL, a Chinese battery manufacturer, holds roughly 30% of the global EV battery market. Chinese refineries delivered 85% of the world's battery-ready cobalt during 2020-2021. Moreover, a substantial chunk of the cobalt originates from the Democratic Republic of the Congo, where Chinese corporations control nearly 70% of its mining sector.
China will play a key role since it has established a market in the country – but it can also export nickel at a lower cost than European companies because Chinese companies are known for their low-cost labour, as EV manufacturers continue to look for alternatives to cobalt-enriched batteries, and nickel is proving to be a vital alternative.
The Chinese market is set to provide a high absolute dollar opportunity of US$ 36.4 Bn over 2022-2032, with East Asia, on the whole, accounting for 37.8% of global demand for battery chemicals in 2022.
Why is Europe a Prominent Market Consumer of Battery Chemicals?
In Europe, companies are beginning to catch up with China's dominance. According to some predictions, the continent would have almost 28 lithium-ion battery manufacturing facilities by 2032, with production capacity expected to increase 1440 percent from 2020 levels.
This expansion is being driven by companies such as Britishvolt in Northumberland and Northvolt in Sweden, as well as Asian enterprises expanding into Europe.
European mining and battery precursor and cathode material manufacturing, on the other hand, lags behind Chinese investments. According to Fact.MR, by 2040, around 60% of all vehicles sold in Europe across all sectors (passenger cars, vans, trucks, and buses) will be electric, thanks to rapidly improving EV economics and a regulatory push across Europe.
Furthermore, to lowering battery costs, the total cost of ownership for a passenger EV is predicted to approach parity with internal-combustion-engine (ICE) automobiles by the end of the 2020s.
For European car manufacturers, politicians, and potential battery suppliers, local battery production offers great economic and strategic benefits. An electric vehicle's battery is the most expensive component, accounting for 35 percent to 45 percent of the total cost. As EV production and supply chains ramp up, it is also expected to be the most in short supply over the next years.
Germany is poised to remain the largest user of battery chemicals in Europe, accounting for more than 35.6% of total demand by 2032.
The Europe market is anticipated to be a dominant growth generator from 2022 to 2032, expanding at a CAGR of 6.2% over the same period.
Category-Wise Analysis
Which Battery Type is Poised to Remain the Most Lucrative Segment for Battery Chemical Manufacturers to Target?
"Huge Focus Being Placed on Lithium-ion Batteries"
Out of the battery types taken into consideration, lead acid battery chemicals have remained a major demand generator during the past half-decade, owing to their usage in traditional vehicles and conventional backup power providers such as invertors. Nickel cadmium batteries still account for a prominent stake in remote controls.
In recent years, usage of lithium-ion batteries has grown at a rapid pace, and is poised to overtake lead acid battery sales, owing to the burgeoning demand for electric vehicle manufacturing and fast-growing consumer electronics industry. This, in turn, escalates the sales of car battery chemicals and lithium-ion battery demand across geographies.
Besides, growing demand for electric vehicles is a major factor driving lithium ion battery sales across geographies, especially lithium cobalt batteries and advanced lithium-ion batteries. Another important demand driver has been the expanding number of smartphone subscribers who want their phones to be portable, rechargeable, and have a longer battery life.
The fact that lithium-ion batteries have emerged as a viable alternative source of energy with zero carbon emissions, as well as being lightweight, space-saving, and having a high efficiency rate of operation and maintenance, has prompted a majority of end users to embrace this technology.
However, lithium availability will continue to be a major stumbling hurdle for the BEV sector, both, in the short term and as the decade progresses. Because battery demand is strongly linked to BEV sales, battery chemicals demand growth rate in 2022 and 2023 is projected to be around 8.3%, whereas, nickel batteries are poised to account for only a miniscule percentage of the market.
Which End Use is Projected to Account for a Vital Chunk of Battery Chemical Consumption?
"Automotive Sector to Remain Largest End use of Battery Chemicals"
Out of all the end-use categories, automotive is anticipated to continue dominating the market till the end of the forecast period as consumers continue to shift to electric vehicles.
This year represents the first time in the last five years that we've seen a significant uptick in EV adoption. Increased regulatory support in core vehicle markets, new battery technologies with lower anticipated costs, quicker charging infrastructure investments, and rising customer adoption despite the COVID-19 outbreak are driving this trend. Electric commercial vans and trucks are also making progress, with larger expectations for the year 2022.
Besides, escalation in legislative support, additional advances in battery density and cost, more charging infrastructure being created, and increased promises from automakers are all helping improve the outlook for EV adoption. Passenger electric vehicle sales are expected to skyrocket over the next years, growing from 3.1 Mn in 2020 to 14 Mn in 2025.
As such, automotive end-use is projected to provide a high absolute dollar opportunity worth US$ 45.7 Bn over the forecast period and attract a plethora of investments, especially from top battery producing companies.
Additionally, secondary batteries, which are primarily being used is electric vehicle battery manufacturing, remained the most preferred application of battery chemicals and is projected to account for around 74.5% of the market share by 2032-end.
Know thy Competitors
Competitive landscape highlights only certain players
Complete list available upon request
Competition Landscape
AlbeMarle, China Molybdenum Co. Ltd., Gan feng Lithium Co. Ltd., Glencore PLC, Livent Corporation, Nornickel, SQM, Teck Resources, Tianqi Lithium, Vale S.A., Hindustan Zinc Ltd., Palm Commodities International, Korea Zinc, Sheritt International Corporation, Nyrstar NV, Venator Materials PLC, Mody Chemi Pharma Ltd., and Mitsubishi Chemical Holdings are major manufacturers of battery chemicals.
In August 2020-21, China Molybdenum Company decided to invest US$ 2.5 Bn to boost copper and cobalt production at its Tenke Fungurume mine, which is already one of the largest in DRC.
To lower prices, it is widely acknowledged that cost reduction and increased performance are required, both of which involve significant R&D. Furthermore, lithium-ion batteries have been acknowledged as a potential choice for a variety of developing applications.
Top EV battery manufacturers and top battery making companies have remained active in terms of overall investments being done in the battery chemicals market, and are profoundly looking forward to create future revenue generating opportunities in target markets.
Fact.MR has provided detailed information about the overall strategies adopted by players in the battery chemicals market, along with their detailed overviews, including SWOT analysis, sales statistics, revenues generated from targeted battery chemicals products of top battery chemicals manufacturers positioned across geographies, in addition to providing sales growth information, production capacity, and speculative production expansion, in the recently published report.
Key Segments of Battery Chemicals Industry Analysis
Battery Chemicals Market by Chemical Type:

Cathode Battery Chemicals

Cobalt
Nickel
Manganese
Others

Anode Battery Chemicals

Lithium
Graphite
Silicon
Others

Electrolyte Battery Chemicals

Potassium Hydroxide
Lithium Salts
Sulphuric Acid
Others

Separator

By Battery Type

Nickel Cadmium Batteries
Zinc Carbon Batteries
Lead Acid Batteries
Lithium Ion Batteries
Alkaline Batteries
Others

Battery Chemicals Market by End Use:

Automotive Industry

Conventional Vehicles
Electric Vehicles
Airplanes

Consumer Electronics

Smartphones & Tablets
Laptops & Gaming Consoles
Others (Incl. Remote Controls)

Household Appliances

Health Monitoring Equipment
Wireless Doorbells
Children toys
Others

Security & Monitoring Systems

Fire Alarms
Weather Instrumentation

Utilities & Backup Power

Solar Powered Systems
UPS & Others

Medical

Battery Chemicals Market by Application:

Primary (Not Rechargeable) Battery Chemicals
Secondary (Rechargeable) Battery Chemicals

Battery Chemicals Market by Region:

North America Battery Chemicals Market
Latin America Battery Chemicals Market
Europe Battery Chemicals Market
East Asia Battery Chemicals Market
South Asia & Oceania Battery Chemicals Market
Middle East & Africa Battery Chemicals Market
- FAQs -
Currently, the global battery chemicals market is pegged at US$ 77 Bn.
Battery chemical consumption is anticipated to increase at a CAGR of 8.3% during the period of 2022-2032.
Battery chemicals market size expanded at a CAGR of around 2% during 2017-2021.
Key producers of battery chemicals are involved in investing in R&D to reduce overall production complexity and are focussing on price stabilization to gain a competitive advantage in the market.
Manufacturers are increasingly incorporating novel materials into the manufacturing of lithium-ion batteries in order to reduce production costs. As a result, personalization achieved by proportionally lowering the amount of cobalt inside cathodes and loo
Top suppliers of battery chemicals are AlbeMarle, China Molybdenum Co. Ltd., Gan feng Lithium Co. Ltd., Glencore PLC, Livent Corporation, Nornickel, SQM, Teck Resources, Tianqi Lithium, Vale S.A., Hindustan Zinc Ltd., Palm Commodities International, Korea
China is estimated to hold around 26% of the global battery chemicals market value by 2032.