Imaging Chemicals Market
Imaging Chemicals Market Analysis By Application (Imaging Chemicals for Printing & Packaging, Medical Diagnostics, Textile Processing), By Product (Printing Inks, Developers) & By Region - Global Market Insights 2022-2032
Analysis of Imaging Chemicals market covering 30 + countries including analysis of US, Canada, UK, Germany, France, Nordics, GCC countries, Japan, Korea and many more
Imaging Chemicals Industry Outlook (2022-2032)
The global Imaging Chemicals market is likely to be valued at US$ 26.94 Billion in FY 2022, up from US$ 25.43 Billion in 2021. During the past year, the industry registered a Y-o-Y increase worth 5.9%. From 2022 to 2032, Imaging Chemicals sales are poised to flourish at a CAGR of 6% to reach a value of US$ 48.2 Billion by the end of 2032.
Demand for printing inks will continue to thrive, with a documented CAGR of 6% during the 2015-2021 historical period of assessment, while demand for Imaging Chemicals for medical diagnostics proliferated at a rate of 7% during the same period. North America will dominate the global market, registering a growth opportunity worth US$ 12.5 Billion from 2022 to 2032.
Report Attributes

Details

Anticipated Base Year Value (2021)

US$ 25.43 Billion

Expected Market Value (2022)

US$ 26.94 Billion

Projected Forecast Value (2032)

US$ 48.2 Billion

Global Growth Rate (2022-2032)

6% CAGR

Growth Rate of the U.S Market (2022-2032)

6% CAGR

Expected Market Value of China (2032)

US$ 2 Billion

Key Companies Profiled

Agfa-Gevaert NV
Altana AG
Dainichiseika Color & Chemicals Mfg. Co. Ltd.
DIC Corporation
Eastman Kodak Company
Flint Group
FUJIFILM Holdings Corporation
Hubergroup Deutschland GmbH
Sakata INX Corporation
SICPA Holding SA
Siegwerk Druckfarben AG & Co. KGaA
T&K Toka Co. Ltd.
Toyo Ink SC Holdings Co. Ltd.
Vivimed Labs Ltd.
Wikoff Color Corporation
Know thy Competitors
Competitive landscape highlights only certain players
Complete list available upon request
2015 to 2021 Imaging Chemicals Market Revenue Analysis vs. Market Outlook 2022-2032
From 2015 to 2021, imaging chemical demand rose at a CAGR of nearly 4% as demand for advanced imaging and printing solutions acquired precedence, most notably across the packaging industry. Furthermore, uptake has also surged in the diagnostic imaging segment, amid the high need for precision-based imaging.
Adjusting for the COVID-19 pandemic-related downturns, the imaging chemicals demand outlook was revised to be valued at over US$ 25.43 Billion in 2021, as mandatory factory shutdowns to curb the virus's spread led to a cessation of production activities.
Future expansion prospects appear bright as a return to film-based photography is taking precedence. From 2022 to 2032, the imaging chemicals sales forecast has been projected to increase by a CAGR exceeding 6%.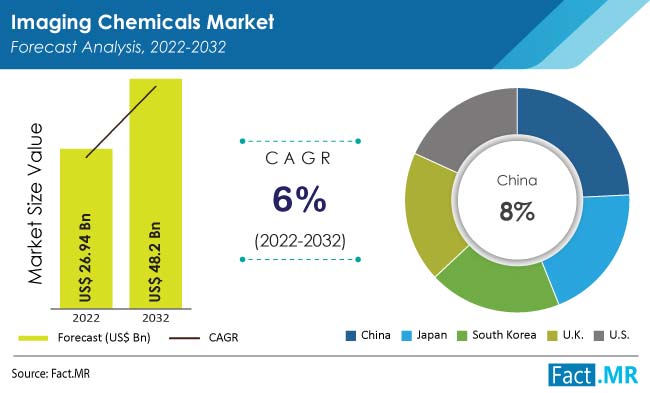 Key Drivers Stimulating Imaging Chemicals Industry Expansion
Increasing Transition towards Digital Printing Will Widen Imaging Chemical Demand Outlook
Fast-paced technological advancements are penetrating the printing & packaging technology on a broad scale. Demand for faster turn-around time, high print ink quality, and reduced costs are significantly enhancing the uptake of imaging chemicals manufactured from various raw materials.
As per Fact.MR's insights into the imaging chemicals market and stringent labeling and packaging regulations imposed by government authorities and regulatory agencies are spurring the need for clear printing solutions, paving the way for future adoption of high-quality imaging chemicals.
The Resurgence of Film-based Photography will Reinforce Elevated Position of Imaging Chemical
Although digital photography is swiftly grabbing major eyeballs, owing to faster turnaround time, reduced image development time, and enhanced color contrast, a return to film-based photography is being experienced across major countries, especially by professional photographers. This is mostly due to a high preference for printed photographs by photo enthusiasts over digital ones.
Furthermore, film-based photography offers greater accuracy, especially when it comes to focusing. Photographic film sales in leading photographic film manufacturing companies such as Kodak, Fujifilm, and Harman Technology have increased over the past few years.
This return to the growth of film-based photography is expected to drive the demand for developers, stop bath solutions, fixers, and other chemicals used for photographic film development.
Key Challenges to Imaging Chemicals Industry Expansion
Higher cost of image printing and developing process compared to digital media
One of the prominent challenges of imaging chemicals is the elevated cost in printing or developing images. Photographic film development comprises developers, stop bath solutions, and, fixers along with other chemicals to yield the costly image. The development of the image necessitates a dark room for processing these films.
The development process is often time-consuming and tedious, which increases the cost. Additionally, digital printing entails expensive printing inks such as inks that are used to print X-rays, MRI-scans MRI scans. In comparison to digital media storage the cost, incurred is much larger. The other aspect confining market growth is the increasing raw material and energy costs.
Country-wise Analysis
What Does the Imaging Chemicals Industry Analysis Conclude about the U.S. Market?
The emergence of Chronic Disease Requires Advanced Medical Diagnostics
As per Fact.MR's study, the United States market for imaging chemicals is estimated at nearly US$ 6.57 Billion in FY 2021, likely to surpass US$ 12.5 Billion by 2032. Growth is ascribed to a mushrooming diagnostic imaging industry, amid an increase in chronic and infectious diseases amongst all population age groups. The aforesaid market is estimated to document a 6.0% CAGR throughout the forecast period.
The Centers for Disease Control and Prevention estimates that at least 60% of adults in the U.S suffer from one chronic disease, while 4 in 10 adults have two or more diseases. These include chronic lung disease, heart disease, and cancer.
Hence, an increasing number of patients are undergoing X-ray scans, CT scans, MRI scans, and ultrasounds, which require high-grade imaging equipment. This is spurring demand for imaging chemicals in the healthcare sector.
Why are Imaging Chemicals Providers Venturing into China?
Mushrooming Demand in Plastic Industry Elevates Sales Revenue of Imaging Chemicals
Analysis of imaging chemicals demand across China reveals an optimistic outlook, with sales forecast to expand at over 8% CAGR by 2032. The market for imaging chemicals in China is poised to top US$ 8 Billion by the end of the forecast period. Prospects are especially strong in the packaging industry.
According to Packaging World Insights, the total revenue of China's packaging industry will surpass US$ 308 Billion by 2023. This is mostly attributed to elevated production levels across various industries, which is augmenting the demand for advanced printing & packaging solutions.
Consequently, packaging companies are incorporating highly advanced solutions concerning printing and labeling, which is providing massive impetus to the sales of imaging chemicals across the Chinese landscape.
Country-wise Value CAGRs for Imaging Chemicals (2022-2032)
| | |
| --- | --- |
| Region wise Analysis | Growth Rate |
| U.S | 6% |
| U.K | 6.2% |
| China | 8% |
| Japan | 6.5% |
| South Korea | 6.3% |
Category-wise Insights
Why are Imaging Chemical Printing Inks Acquiring Popularity?
Printing Inks Likely to Remain Most Preferred; backed by Flourishing Labelling Segment
By product, sales of printing inks are expected to reach US$ 16.4 Billion by 2032, expanding at a record 6% CAGR. Printing inks are widely used across multiple industries, including mainstream media and technical domains such as industrial printing.
As the demand for proper labeling acquires precedence, key manufacturers are seeking out advanced printing solutions. This trend is anticipated to bolster growth prospects for the imaging chemicals domain, as per the imaging chemicals industry survey.
By Application, which Imaging Chemicals is expected to Dominate?
Medical Diagnostics Opens Up Growth Frontiers for Imaging Chemical Manufacturers
By application, imaging chemicals for medical diagnostics are likely to account for over 40% revenue in the upcoming forecast period. Demand from the medical sector is witnessing favorable growth owing to an increasing geriatric population and& rising incidences of cancer & other cardiac diseases, which require advanced imaging for future treatment.
Moreover, rising health awareness among individuals, increasing investments by governments in the development of diagnostic centers, and an increase in spending capabilities have supplemented the demand for imaging chemicals in the medical sector. This segment is estimated to register a CAGR of 7% over the conjecture period.
Competitive Landscape
Prominent imaging chemicals providers are reliant on partnerships, collaborations, acquisitions, and new software launches to stay afloat in the global market. Constant innovations to ensure a seamless client-customer relationship are the main focus of prominent market players.
In June 2021, ALTANA AG secured a new revolving credit facility from a consortium of eight major banks to further its sustainability agenda. The company availed € 250 Billion for the next 5 to 7 years in exchange for adhering to stringent ESG processes for key business areas, including imaging chemicals.
Also, in June 2021, Eastman Kodak Company and West World Paper (WWP) have announced a reseller agreement wherein the latter will become a key supplier of Kodak Commercial Print Solutions throughout Western Canada in forthcoming years.
Key Segments Covered in the Imaging Chemicals Industry Analysis
By Application :

Printing & Packaging
Medical Diagnostics
Textile Processing
Other Applications

By Product :

Imaging Chemical Printing Inks
Imaging Chemical Developers
Other Imaging Chemical Products

By Region :

North America
Latin America
Europe
Asia Pacific
Middle East & Africa
- FAQs -
As of 2021, Fact.MR estimated the Imaging Chemicals market to have reached US$ 25.43 Billion
By 2022, Fact.MR expected demand for Imaging Chemicals to reach US$ 26.95 Billion
From 2015 to 2021, the Imaging Chemicals market grew at a 4% value CAGR
From 2022 to 2032, Imaging Chemicals demand is likely to surge at a 6% CAGR
By 2032, the market for Imaging Chemicals is likely to be valued at US$ 48.2 Billion
By 2032, Fact.MR expects the U.S market for Imaging Chemicals to reach US$ 12.5 Billion
China is expected to register an 8% CAGR in the Imaging Chemicals industry
South Korea and Japan are expected to document CAGRs worth 6.3% and 6.4% respectively in the Imaging Chemicals market
Printing Inks demand will be maximum, expanding at a 6% CAGR
Imaging Chemicals application in Medical Diagnostics will remain most preferred, expanding at a CAGR of 7% until 2032