Asia Pacific Shows a Positive Growth Outlook amid a Fragmented Market
The latest study by Fact.MR foretells the global suspended scaffolding market to record an expansion rate of around 5.3% and a valuation of over US$ 16 Bn by the end of forecast period. The increasing demand for suspended scaffolding in construction and shipbuilding are key factors expected to boost the development of the global market for suspended scaffolding. In addition, the use of suspended scaffolding in maintenance, construction, painting, and repair of bridges will also bolster the growth of the market over the forecast period. For instance, suspended scaffolding is used extensively for cleaning and replacement of glass panels in skyscrapers. Asia Pacific and North America will maintain their hegemony in the suspended scaffolding market during the forecast period. Together they will witness a combined incremental opportunity of more than US$ 4 Bn from 2019 to 2029.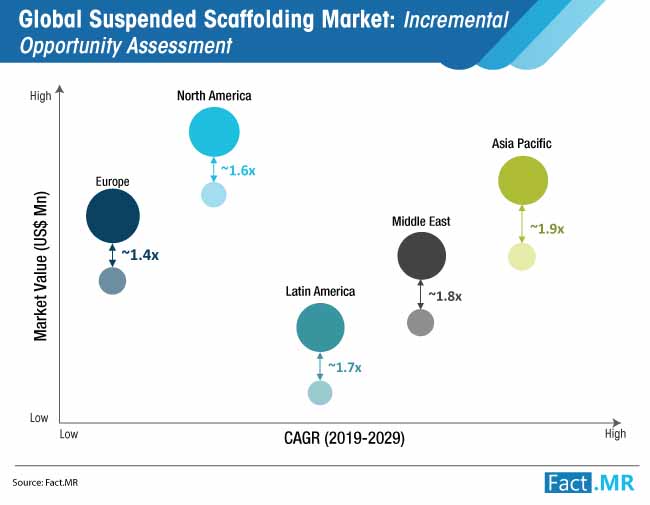 Want cutting edge insights on the regional landscape of the suspended scaffolding market? Ask an analyst here
Lightweight Materials Account for More Than 1/3rd Share in the Global Suspended Scaffolding Market
End users are willing to pay more for lightweight products that possess exceptional performance. Lightweight suspended scaffoldings will gain significant traction over the forecast period. These scaffoldings will receive an uptick on their ability to dramatically increase the productivity of suspended scaffolding, enhance their transportation efficiency and reduce installation time.
Two point suspended scaffoldings will see a steady growth trajectory and will continue to be the most preferred by end users owing to benefits such as cost efficiency and easy installation. Moreover, less stringent regulations, ease of availability of cost-effective labor and presence of numerous unorganized industry participants is another factor driving the suspended scaffolding market in this region.
Safety and Compatibility takes Centre Stage as Regulations Step Up
Demand for products with safety and compatibility features is the core essence of the suspended scaffolding market. To prevent the increasing number of workstation accidents, the OSHA (Occupational Safety and Health Administration) has laid down various regulations to deploy safety equipment workstations. Owing to strict government regulations, manufacturers are concentrating on suspended scaffolding with power-operated hoists vis-a-vis manually operated scaffoldings. This will be a key factor fueling the growth of the global suspended scaffoldings market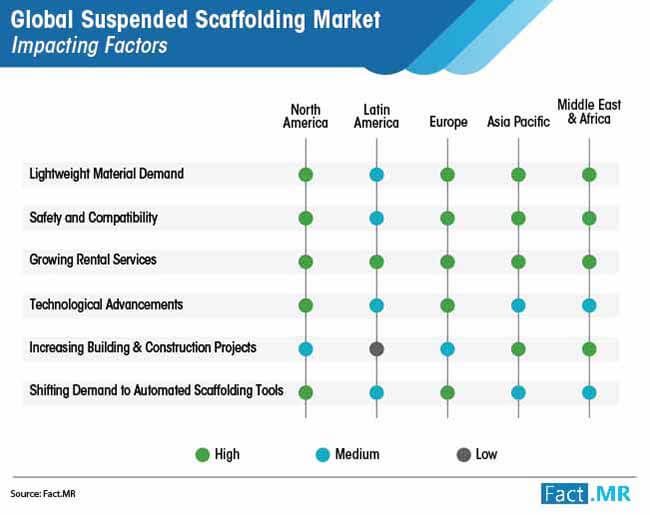 To know more about the key driving factors of the suspended scaffolding market, request a report sample here
Low Cost Variants Causing Profit Margin Pressures
The global suspended scaffolding market is highly fragmented, with a large number of scaffolding manufacturers, contractors, and sub-contractors competing with one another. In emerging markets, the suspended scaffolding market is majorly controlled by unorganized players. For instance, in India, about 95.0% of the suspended scaffolding market uses conventional suspended scaffolding. The construction business in emerging economies is capital intensive; hence, customers prefer traditional scaffolding to reduce cost. This is a significant bottleneck in the expansion plans of global suspended scaffolding manufacturers in emerging economies.
Amplifying Rental Services and Acquisitions Attract Market Players
Prominent Players are currently holding a market share of 6% to 8% characterized by a diverse product portfolio for multiple applications. Continuous innovations related to safety of workers and products with enhanced shelf life, are creating lucrative opportunities for manufacturers.
Companies are striving for sustainability within the suspended scaffolding market. In addition, new industry players are concentrating specifically on the incorporation of more sophisticated processing techniques that are not only economical but also ensure maximum safety. Renting flexibility is paving the way for new players to focus on providing suspended scaffolding on rent. Listed below are some of the key developments in the suspended scaffolding market.
In January 2018, BrandSafway acquired Venko Group BV based in Netherlands. Venko is a coating service provider for offshore scaffolding structures in oil & gas, construction and other industries.
In January 2018, PERI Group announced plans to expand its manufacturing plant in Gunzburg, Germany. The company has invested approximately three-digit million Euros and expects to complete the capacity expansion by 2019 end.
Request research methodology of this report.
Global Suspended Scaffolding Market – Scope of the Report
The following report provides forecast and analysis of the global suspended scaffolding market along with the historical data from 2014 to 2018, estimated data 2019 and forecast data up to 2029 in terms of revenue (US$ Mn), according to a Fact.MR study. The research propounds critical trends that are currently influencing growth within the global suspended scaffolding market along with several macro-economic indicators. This newly published and insightful report on suspended scaffolding sheds light on key dynamics, and their impact on the overall value chain from suppliers to end-users, which are expected to transform the future of the global suspended scaffolding market.
The report also comprises the study of current issues with end users and opportunities for suspended scaffolding. It also contains value chain analysis, including the key market participants. To provide users of this report with a comprehensive view of the market, we have included a detailed competitive analysis about the key players involved in the market and strategic overviews. The dashboard included in the report provides a detailed comparison of suspended scaffolding manufacturers on parameters such as total revenue, product offerings, and key strategies. A list of key companies operating in the suspended scaffolding market provided in the report adds to the credibility of this exhaustive research study.
Global Suspended scaffolding Market: In-Depth Assessment on Key Segments
The global suspended scaffolding market is segmented on the basis of product, material, end-use and region.
| | | | |
| --- | --- | --- | --- |
| Product Type | Material | End Use | Region |
| Single Point | Steel | Construction | North America |
| Two Point | Aluminum | Commercial | Latin America |
| Multi Point | Wood | Residential | Europe |
| Multi-Level | | Ship Building | APAC |
| Float Type | | Power Generation | MEA |
| Catenary | | Others | |
| Others | | | |
Country-specific assessment on demand for suspended scaffolding has been provided for each regional market, along with the market size valuation and forecast price point assessment, price index and impact analysis of key regional and country-wise dynamics, which were obtained through quotes from numerous suspended scaffolding manufacturers, experts, and suppliers. Y-o-Y growth projections have also been offered on all regional markets incorporated in the report. Moreover, future trends, growth prospects, and other possibilities related to the market have been answered in the report.
The report provides company-level market share analysis, which has been derived on the basis of the company's annual sales and segmental revenue in all the target end-use industries. The market has been forecasted based on constant currency rates. The report provides detailed competitive and company profiles of key participants operating in the global market. Some of the major competitors operating in the suspended scaffolding market are BrandSafway, Peri GmbH, Waco International and others.
Global Suspended scaffolding Market: Research Methodology
A number of primary and secondary sources were consulted during the course of the study. Secondary sources include Factiva, Morningstar and Hoovers, and company annual reports and publications. Comprehensive interviews have been conducted by our analysts, and the intelligence and insights obtained have been used for validating the information gained through secondary research. The report also includes a description of assumptions and acronyms utilized for research purposes.
Qualitative aspects gained from industry experts and opinion leaders have also been adhered to by the analysts while developing this insightful report on the global suspended scaffolding market. Secondary research is leveraged for ascertaining the overall size of the suspended scaffolding market.
A short market viewpoint offered in the report elucidates the macro-economic aspects that influence the growth of the suspended scaffolding market, which includes global GDP growth rate, various industries growth rate, such as construction, power generation, ship building and others. This report serves as an authentic resource of intelligence on the suspended scaffolding market, enabling the readers to take fact-based decisions on the future direction of their businesses.
Fact.MR offers custom research services that help clients to get specific research solutions
We are committed towards customer satisfaction and quality service.
---
Our Clients

Suspended Scaffolding Market Forecast, Trend Analysis & Competition Tracking - Global Market Insights 2019 to 2029