Tilapia Market
Tilapia Market Size Report by Form (Dried Tilapia Fillets, Frozen Tilapia Fillets, Frozen Whole Tilapia), by Species (Nile Tilapia, Blue Tilapia, Mozambique Tilapia, Wami Tilapia), by Catch (Wild Catch, Aqua Culture) & Regional Forecast 2021-2031
FACT649MR
Nov-2021

List of Tables : 48

List of Figures : 94

170 Pages
Tilapia Market Outlook
Demand for fish as a natural protein has become prominent over the last decade. Unlimited health benefits of fresh water fish such as strengthening heart and bone health, improving brain functions, keeping weight in check, and others are increasing opportunity for tilapia suppliers across the globe.
Suppliers have witnessed substantial growth in the past years, with rise in requirement due to its high nutritional value, such as protein, vitamin B12, potassium, and others. While the outbreak of the COVID-19 pandemic has temporarily affected the market due to disruptions in the supply chain and logistics sector, more people have become inclined to include tilapia in their diets for immunity boosting. As this trend is likely to persist over the coming years, the demand-supply curve of tilapia is set to rise as well.
Fact.MR's report analyzes the tilapia market in detail, and provides information for 20+ high-growth markets. The report also explains in detail which species are more sought-after, and which form of tilapia is witnessing high demand across regions.
Interested to Procure The Data
What is the Historical and Future Outlook of the Tilapia Market?
As demand for fish-based proteins has risen during the past years, tilapia suppliers have come across higher growth scope due to its highly nutritional components such as omega-3 fats, calcium, selenium, and others. As stated in a report published by the United Nations in 2018, 3.2 billion people rely on fish for almost 20% of their animal protein intake around the world. This rate has been growing, which has widened the scope for tilapia suppliers during the last 5 years (2016 and 2020).
Being a farm-raised fish with mild-tasting, full of nutritional values, flaky and firm flesh, tilapia is widely demanded in various forms such as dried tilapia fillets, frozen whole tilapia, and others. According to the Food and Agriculture Organization (FAO), fish farming or aquaculture has been the fastest-growing agricultural sector for the past 40 years, and is largely responsible for making more fish available. This definitely indicates the high potential of the market, which is projected to grow further during the forecast period of 2021 to 2031.
How is Rising Demand for Fish-based Protein Propelling Growth?
Growing demand for fish-based protein is increasing the market value for tilapia across the world. According to the Food and Agriculture Organization (FAO) of the United Nations, global fish production is estimated to have reached around 179 million tonnes in 2018, with 156 million tonnes ending up in the plates of people.
As per its report, there has been a 122% rise in total fish food consumption from 1990 to 2018, globally. With this rate expected to rise further, tilapia suppliers are anticipated to earn even higher revenues over the coming years.
An Adaptive Approach to Modern-day Research Needs
How are Advancements in Fish Farming Fuelling Sales of Tilapia?
With advancements in fish farming, new paths are opening for tilapia suppliers. According to FAO, there has been a 14% rise in global capture fisheries production from 1990 to 2018, while percentage of fish stocks within biologically sustainable levels reached 65.8% in 2017.
With steady evolution of capture fisheries, production capacity for tilapia suppliers has grown significantly over the past decade. As stated in the report titled "The States of World Fisheries and Aquaculture 2020" published by FAO, total global capture fisheries production reached the highest level ever recorded at 96.4 million tonnes, an increase of 5.4% from the average of the previous three years. This depicts unlimited opportunities awaiting tilapia suppliers in the years ahead.
Why is Tilapia Lake Virus a Threat to Suppliers?
While demand for fresh water fish such as tilapia is ever-growing, there are a few restraining factors that need the attention of tilapia suppliers. Tilapia fish are often vulnerable to Tilapia Tilapinevirus or Tilapia lake virus, which is a negative strand RNA virus that infects both, the wild and aquacultured population of tilapia.
While no effective and affordable vaccine for this virus is available as yet, there are various precautionary and preventive measures and treatment for the same. For instance, an Emergency Regional Consultation for Prevention and Management of Tilapia Lake Virus in the Asia Pacific region has been undertaken in order to prevent the spread of such virus in tilapia. The World Fish Center Organization has also taken an initiative to spread awareness among tilapia suppliers regarding this virus.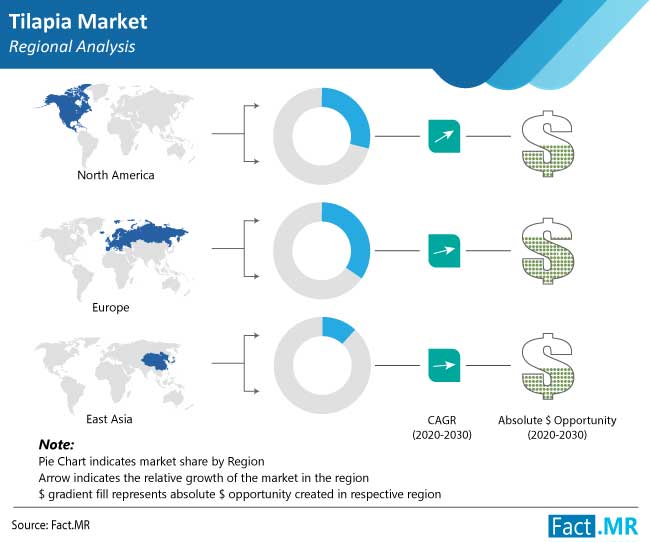 Country-Wise Analysis
What's Keeping the United States at the Forefront of the Tilapia Market?
Fast-paced growth of fish farming coupled with rise in adoption of fish-based protein is bolstering the growth of tilapia suppliers in the United States. As per the World Bank Data published in 2018, in the United States, aquaculture portion of fish production has increased from less than 10% of total production to around 50%, while per capita fish consumption has increased rapidly from around 20 pounds per year in 1961 to around 45 pounds in 2018.
As per data revealed by the World Agriculture Society in its report titled "U.S. Seafood Consumption" in May 2019, the United States is the world's fourth-largest fishing nation, with landings of 5 million m.t. as in 2017. This data represents the progressive future of the tilapia market in the U.S.
Is China's Tilapia Market Gaining Ground Fast?
China has recently taken the spotlight for tilapia suppliers due to its high production and consumption rate. According to the Government of China surveys of household consumption, there has been a rise in national per capita consumption of seafood from 3.1 kg in 1985 to 11.4 kg in 2016, which can be disaggregated by urban and rural populations.
As stated in the report published by FAO, in 2015, Mainland China produced 65.2 million tonnes of food fish, with 47.6 million tonnes from aquaculture and 17.6 million tonnes from capture, and these rates are growing exponentially.
Why is Germany Important Tilapia Suppliers?
Germany tilapia market is expanding fast due to rise in adoption of fish-based protein and highly developed supply chains. According to a report titled "Sector Trend Analysis- Fish and Seafood Trends in Germany", published by the Government of Canada in May 2019, Germany is one of the largest fish and seafood importers in the world, ranking 8th on the international scale in 2018.
As per this report, in Germany, the most common distribution channel for fish and seafood products is hyper/supermarket stores, at 33.4% value share, while many consumers choose to dine out in restaurants (26.9%) for their fish or seafood meals.
Will the United Kingdom Tilapia Market Exhibit Hegemony?
The United Kingdom has emerged as another lucrative market for tilapia due to rising concerns regarding obesity, hearing-related problems, and others, which are compelling them to replace meat with healthy fish products. According to the British Heart Foundation (BHF) Organization, nearly 7.4 million people in the United Kingdom are living with heart and circulatory disease. According to World Health Organization (WHO), regular consumption of red meat and other meat-related products increases the risk of various cardiovascular diseases.
As per data revealed by the National Food Survey (NFS) and Expenditure and Food Survey (EFS), more than 50% of survey respondents say that health concerns had encouraged them to include fish and seafood in their diet. As per the report, food accounts for more than 16% of total household spending as in 2015, which is more than 12% than previous years.
Avail customized purchase options for your needs
Category-Wise Insights
Why is There High Demand for Frozen Whole Tilapia and Frozen Tilapia Fillets?
Frozen whole tilapia is highly popular for having longer shelf-life while keeping nutritional values such as essential fatty acids omega-3 and omega-6, calcium, and others intact. Frozen tilapia fillet is another lucrative segment in terms of form, due to its wide adoption in various healthy and tasty recipes.
Some of the other tilapia forms that see high requirement are fresh or chilled tilapia fillets and dried tilapia fillets.
Which Species of Tilapia is Expected to Register High Demand Growth?
Presently, Nile tilapia is highly sought-after in the global market in terms of species. According to FAO, Nile tilapia has high advantages for farming because of ecological and technique points. For instance, Nile tilapia feeds on Phyto-plankton, which allows it to be cultured by pond fertilization at low production cost as well as low technological expenses.
Other species fuelling the sales of tilapia suppliers are blue tilapia, Mozambique tilapia, and wami tilapia.
Will Wild Catch Maintain its Lead in the Tilapia Market?
Currently, the most popular catch type for tilapia is wild catch, followed by aqua culture. By wild catch, fish are caught by fishermen in their natural habitats such as lakes, rivers, oceans, and others. While in this type of catch, fish don't contain added antibiotics, it is highly advantageous due to its cost-effectiveness and hassle-free execution.
Competitive Landscape
The global tilapia market offers a highly competitive environment to its key players. In order to sail through the strong competition, key market players are focusing on launching a wide variety of quality products.
For instance,
North Atlantic Fish Co., Inc. launched its new range of tilapia products, such as North Atlantic Frozen Tilapia Fillets, North Atlantic Frozen Whole Tilapia, and others, with special focus on sustainability, in 2020.
Hainan Xiangtai Fishery Co., Ltd. launched its new range of products, such as Gutted and Scaled Tilapia, Whole Round Tilapia, Tilapia Fillet, and others, in 2020.
Report Scope
Attribute

Details

Forecast Period

2021-2031

Historical Data Available for

2016-2020

Market Analysis

USD Million for Value

Key Regions Covered

North America
Latin America
Europe
South Asia
East Asia
Middle East & Africa
Oceania

Key Countries Covered

US
Canada
Germany
U.K.
France
Italy
Spain
Poland
Russia
China
Japan
South Korea
India
Thailand
Malaysia
Vietnam
Indonesia
Australia
New Zealand
GCC Countries
Turkey
Northern Africa
South Africa

Key Segments Covered

Form
Species
Catch
Region

Key Companies Profiled

Baiyang Aquatic Group
Blue Ridge Aquaculture, Inc.
Guangdong Gourmet Aquatic Products Co. Ltd.
Ananda Aqua Exports Private Limited
Hainan Xiangtai Fishery Co., Ltd.
Beihai Evergreen Aquatic Product Science & Technology Co. Ltd.
Regal Springs Tilapia
Mazzetta Company, LLC.
North Atlantic Fish Co., Inc.
Netuno Internacional S/A

Report Coverage

Market Forecasts
Brand Share Analysis
Competition Intelligence
DROT Analysis
Market Dynamics and Challenges
Strategic Growth Initiatives

Customization & Pricing

Available upon Request
Tilapia Market Segmentation by Category
Form

Dried Tilapia Fillets
Fresh or Chilled Tilapia Fillets
Frozen Tilapia Fillets
Frozen Whole Tilapia

Species

Nile Tilapia
Blue Tilapia
Mozambique Tilapia
Wami Tilapia

Catch

Region

North America
Latin America
Europe
Middle East and Africa (MEA)
East Asia
South Asia
Oceania