The lacquer market continues to be in a transformative phase, as solvent-based lacquers give way to water-based variants. The shift has been induced by a range of factors, however, stringent regulations and carbon consciousness among end-users are the prominent factors. Although solvent-based lacquers still account for a significant revenue share of the market, demand for water-based lacquers is also growing at a steady pace.
Lacquers continue to be the preferred finishes for woodworking owing to a bevy of advantages. Among the various types of lacquers available to end-users, demand for nitrocellulose continues to be the highest, on account of its competitive pricing and quick drying features. Nitrocellulose lacquers are ideally suited for production shops of all sizes, as they offer a uniform layer of film over the material. The fact that nitrocellulose lacquers are evaporative in nature provides for easy blending. Although nitrocellulose will continue to the highest selling lacquer type globally, its limitations are influencing end-users to opt for feasible alternatives. Notable is the problem of 'crazing' associated with the use of nitrocellulose.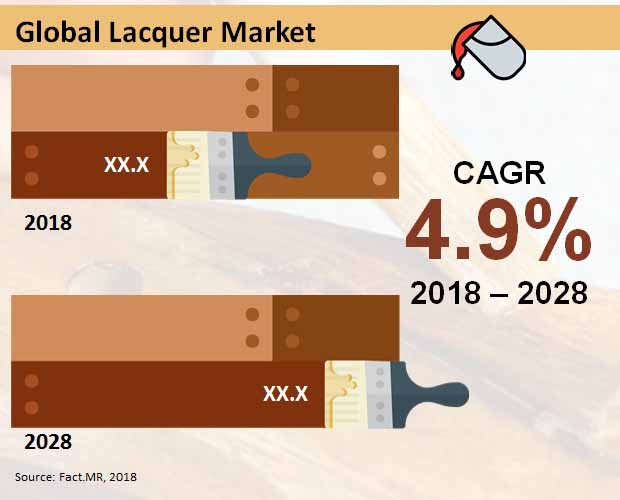 (The CAGR mentioned in the image is in terms of value)
The lacquer industry – in addition to the broader paints, varnishes, and coatings industry – is heavily regulated. The stringency in emission guidelines has meant that manufacturers have to invest in meeting compliance and regulatory norms. In a bid to comply with a complex web of regulations, many industry players are focusing on adopting a holistic and comprehensive Environmental Management System (EMA). Regulations such as Clean Air Act (CAA), Clean Water Act (CWA), and Toxic Substances Control Act (TSCA) require manufacturers to make a slew of changes, across the entire supply chain.
Water-based lacquers have gained significant popularity in the recent past, on account of the broader push towards sustainability. Although solvent-based lacquers offer a glossy shine that survives the wear and tear for years, the raw materials and chemicals used in manufacturing these products have proven to be hazardous to human health and the environment. End-users have not been oblivious to these challenges, and a steady shift towards water-based solvents has been witnessed in many lucrative markets. However, water-based solvents come with their own set of challenges. Although they serve the 'environmentally-friendly' criteria, their actual performance leaves a lot to be desired. Longer wait times between coats and high price continue to impede widespread adoption of water-based lacquers. However, manufacturers are focusing on addressing the limitations associated with water-based solvents to consolidate their position.
Demand for lacquers is pretty much evenly spread over a range of industries, including automotive, architectural, furniture, and cosmetics to name a few. Traditionally, furniture industry has accounted for the bulk of demand, however, applications in cosmetics industries have complemented demand. Surging demand from cosmetics industry is a lucrative opportunity that manufacturers are focusing on leveraging. Demand has also been complemented by the steadiness in the automotive industry. Automotive sales have been healthy in the US, China, and India, with a rapidly emerging middle class demographic ramping up demand. The fortunes of the lacquer market are directly linked to the broader developments in the automotive industry, and it is highly likely that steadiness in the automotive sector will create sustained growth opportunities for manufacturers.
Comprehensive research on application scenario, sales and volume production of lacquers along with supply and demand analysis has been covered in the newly published research report on lacquer market. This report provides a thorough deep dive on the changing dynamics of the lacquer market along with in-depth analysis on each market segment.
The report on lacquer market covers high level insights on various aspects that drive the market, along with new trends and developments. It also provides analysis on the application of lacquers across various end use industries and the respective scenarios across important regions. The report stresses on the fact that the sales of lacquers are largely influenced with direct to customer selling via online sales channel, apart from specialty stores and modern trade. Moreover, according to the report, demand for solvent based lacquers is expected to increase at a significant pace, in turn providing an impetus to the growth of the entire lacquer market during the assessment period.
The report includes historical data analysis, current market outlook and future market insights for a period of 10 years, starting from 2018 till 2028. In addition, regional insights on lacquer market across major geographies is covered in this report along with a country level analysis. All market dynamics across key regions have been slated in this report, as their magnitudes differ from country to country, ultimately impacting the growth of the entire lacquer market. The report thus portrays a 360 degree perspective of the market giving a holistic touch to the intelligence covered in this report.
Research Methodology
The research follows a unique research methodology that is based on a combination of extensive primary and a high level secondary research to glean key insights on the market. After initial secondary research, a comprehensive primary research is conducted in which market observers, key stakeholders and subject experts are interviewed to get an updated picture of the lacquer market. During each interview, the data analyzed along with the respective insight is verified and this process continues till the conclusion of the research. Such a robust research process delivers a highly accurate researched data owing to multiple validations on each data point pertaining to various market segments.
Market Segmentation
The report on lacquer market has been segmented in depth to gain intelligence on the entire market scenario. Present situation and forecasts on every segment is covered in the successive chapters in the report. The lacquer market has been segmented on the basis of product type, formulation type, application, distribution channel, end use industry and region.
Understand Your Competition
The research report on lacquer market provides incisive insights and analysis on various key participants involved in the lacquer market. Intelligence on company overview, product developments, innovations, SWOT analysis, expansion initiatives, mergers, strategic alliances and acquisitions to gain higher foothold as well as key strategies of companies active in the lacquer market has been covered in this final chapter of the report. With this intelligence the reader would be able to gauge the intensity of competition across various revenue pockets in the world, and can implement tactics to gain competitive advantage in the coming years.
The fact-based research report on lacquer market delivers value by presenting actionable insights on every angle of the market with the support of a methodical deep dive. The report on lacquer market can assist the reader in achieving his/her research objectives and accomplish business milestones in the years to follow. Moreover, the report on lacquer market provides an unbiased data analysis on every factor.
Fact.MR offers custom research services that help clients to get specific research solutions
We are committed towards customer satisfaction and quality service.
---
Our Clients

Lacquer Market Forecast, Trend Analysis & Competition Tracking - Global Market insights 2018 to 2028