Tapioca Starch Industry Analysis (2022-2032)
Global sales of tapioca starch is likely to reach US$ 4.7 Bn in 2022. Growing inclination towards gluten-free food along with tapiocas health benefits is playing a key role in the increasing demand for tapioca starch.
Attributes
Details

Market Size Value in 2022

US$ 4.7 Bn

Project Market Forecast Value in 2032

US$ 9 Bn

Global Growth Rate (2021-2031)

6.7%

Market Share of North America

US$ 60 Mn

Key Companies Profiled

Cargill Inc.
Tate & Lyle Plc.
Emsland-Starke GmbH
Navin Chemicals
Pruthvi's Foods Pvt. Ltd.
Vaighai Agro Products Ltd.
Sonish Starch Technology Co. Ltd.
American Key Food Products
Varalakshmi Starch Industries Pvt. Ltd.
Moreover, escalating demand from the food and beverage industry along with tapioca pearls is positively influencing the sales of tapioca starch. Over 18,400,000 tons of tapioca starch are likely to be sold worldwide by 2032-end. Thus, the sales of tapioca starch is expected to surpass US$ 9 Bn by registering an impressive CAGR of 6.1 % in the forecast period 2021-2031.
Don't Need a Global Report?
Save 40% on Country & Region specific reports
Demand Analysis of Tapioca Starch from 2017 to 2021 Vs Market Projections for 2022 to 2032
As per Fact.MR's report, between 2017 and 2021, the global sales of tapioca starch exceeded US$ 4.7 Bn, registering a CAGR of approximately 5.8%. High in carbohydrates, and devoid of gluten, grain, and nut, tapioca starch has witnessed extensive employment in the prevention of food allergies, gluten sensitivity, and celiac disease.
Growth of tapioca starch market is influenced by this cassava extract's effectiveness in reducing the cholesterol level, preventing constipation, and maintaining blood sugar levels in light of its high fiber content. Thus, due to the aforementioned factors, the sales of tapioca starch are expected to surpass US$ 9 Bn registering a CAGR of 6.7% by the assessment period 2022-2032.
Inherent Properties of Tapioca Starch Increasing Consumption?
Broad agro-ecological adaptability and ability of cassava plant to produce larger yields, at affordable investments, has further facilitated meeting rising demand for tapioca starch among end-use industries. Widespread applicability of tapioca starch across myriad industries, ranging from food & beverages to animal feed, will continue to underpin growth of the tapioca starch market.
Inherent properties of tapioca starch enable its utilization as an alternative to some leading starches in the world, including corn and potato starch. Thus, Tapioca starch has gained immense popularity as one of the imperative calorie source, after maize and rice, in tropical regions such as Asia, Latin America, and Africa.
Tapioca starch continues to prevail as a hidden ingredient in the global supply chain, as most consumers are unaware of their daily interaction & consumption of this cassava extract. Emerging applications in infant formulas and baby food products, coupled with innovation-driven efforts of major producers, is expected to fuel future growth of the tapioca starch market.
More Insights, Lesser Cost (-50% off)
Insights on import/export production,
pricing analysis, and more – Only @ Fact.MR
Product Innovations Driving Growth for Green Label Trend?
As the popularity of tapioca starch represents a surge, manufacturers are introducing innovations with regard to processing techniques and packaging methods. Additionally, new recipes involving tapioca starch have been gaining momentum worldwide recently.
Following the suit of changing consumption patterns of consumers, novel packaging designs are viewed by manufacturers as a key sales strategy to modern customers, who are becoming more aware about product labelling and opting for clean-label products.
Furthermore, food manufacturers are experimenting ways for delivering different snacks including tapioca starch, to compete with corn and potato starch-based snacks that have an established presence.
Consumer preference for clean-label products, along with quality & taste, in combination with this cassava extract's ability to serve as an effective alternative to modified starches employed in processed food products, will continue to be significant growth determinants for the tapioca starch market.
Application in Infant Nutrition & Baby Foods Upsurging Demand for Tapioca Starch?
Tapioca starch has witnessed extensive adoption as bodying agent in a plethora of commercially available baby food products and infant nutritional supplements. Gluten-free, organic tapioca starch has witnessed high consumption from individuals affected from celiac disease.
Uptake of female working population, which has driven demand for infant formulas, will further compliment expansion of the tapioca starch market in the upcoming years. This cassava extract represents robust consumption as "superfood" in countries such as India, in light of its associated health benefits.
Besides enriched with carbohydrates, tapioca starch is rich in minerals, such as calcium and iron, essential for maintaining bone and blood health. Additionally, tapioca pearls witness high consumption on account of their trait including blood pressure regulation, and constipation & indigestion prevention. Health benefits such as these will continue to drive popularity of this cassava extract, and fuel future growth of the tapioca starch.
Know thy Competitors
Competitive landscape highlights only certain players
Complete list available upon request
Is Efficient Distribution Network Promoting Accessibility to Tapioca Starch?
Adoption of tapioca starch among urban consumers is likely to trace a gradual upward graph, driven by demand in food as well as industrial processing applications. This has further encouraged communication between relevant market stakeholders and consumers, resulting in the development of a robust distribution network as a consequence. Presence of an effective and an efficient supply chain has enabled delivery of high-quality tapioca starch, while foraying urban markets at affordable costs compared to its alternatives, such as potato and corn starch.
Albeit corn and potato starch represent pervasive dominance in the worldwide starch industry, undesired cereal flavor, cloudy appearances, and lower tendency to gel of corn and potato starch pastes will open doors for their alternatives, such as tapioca starch.
A slew of excellent traits of tapioca starch, including resistance to longer cooking times, persistent quality during food reheating & freezing processes, and complete dissolution with high viscosity & clarity retention property, have considerably led their adoption in the food industry. This has significantly driven growth of the tapioca extract market.
Additional benefits associated with tapioca starch, which include absence of flavor as that of cereal starch, and devoid of the property to mask light flavors during food preparations, will further foster expansion of the tapioca starch market.
Country-wise Analysis
Prevalence of Celiac Disease to Create Requirement for Tapioca Starch in North America?
In the last few years, countries like U.S. and Canada have shown a growing inclination towards gluten-free foods. In addition, over 3 million people from the region are affected from celiac disease in North America. Thus, people in the region are investing in food that would suit their needs. Moreover, presence of major tapioca starch manufacturers in the region is increasing the sales for the same.
Thus, North America continues to hold a greater market share, value and volume in comparison to other regions. This has led to North America garnering more than US$ 60 Mn market value in the assessment period for tapioca starch, accumulating a market share of 45%.
Gluten-free Food and Beverages Playing a Key Role in Increasing Sales of Tapioca Starch in Europe?
The trade association that represents businesses related to starch industry, at both Europe and international level, has joined hands with Vietnam FTA to leverage latent opportunities in Vietnam's emerging market to foster EU's services, industrial, and agricultural exports. This, coupled with the occupancy of an established marketplace for gluten-free food & beverages, will underpin expansion of Europe's tapioca starch market.
Furthermore, inclination towards a healthier lifestyle is spurring the demand for tapioca starch in everyday food dishes from countries like U.K. Germany and France is augmenting the demand for tapioca starch. Thus, Europe is expected to hold more than 35% market share for tapioca starch in the forecast period.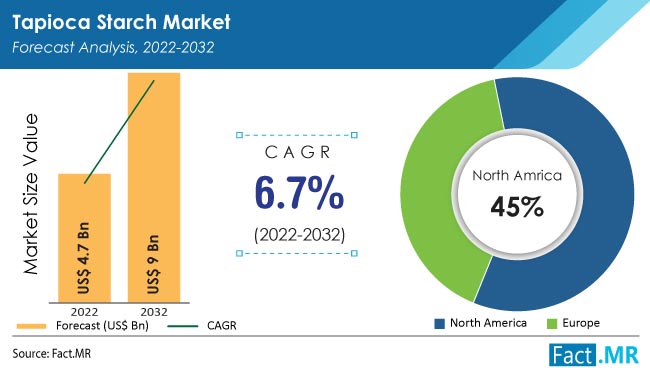 Category-Wise Insights
Sweetness of Tapioca Pearls Gaining Revenue for Tapioca Starch Industry?
Discerning growing requirements of end-users, prominent stakeholders have introduced various forms of tapioca extracts ranging from tapioca flour to tapioca pearls. Amongst these, tapioca pearls are have gained popularity owing to their texture.
In addition, tapioca pearls are widely used in Europe and North America as boba tea. In addition, manufacturers of tapioca pearls are offering the same in various colours and flavours. Moreover, the sweetness of tapioca pearls is widening the demand among consumers. Thus, according to Fact.MR, tapioca pearls are expected to possess more than 30% market share for tapioca starch industry.
Food Binding Properties Escalating Demand for Tapioca Starch in Food & Beverage Industry?
According to the study, tapioca starch seeks extensive adoption across a wide range of applications ranging from food & beverages to animal feed. Moreover, food & beverage industry is envisaged to hold bulk shares of the market. This is due to the qualities provided by tapioca starch. Tapioca starch is widely used in the food and beverages industry. This is owing to tapiocas binding and stabilizing capabilities. In addition, tapioca does not change the colour of any food nor does it give any odour.
Thus, it gels up easily with food by giving it the required consistency. Furthermore, demand is expected to rise in processing industries, including textile, paper, and wood. This will rise a slightly higher rate for the above mentioned industries in the forthcoming years. Thus, food and beverage industry is expected to hold more than 45% market share for tapioca starch in the sales indicator period.
Competitive Landscape
In April 2021, Cargill, Inc. partnered with Starpro, the leading manufacturer and provider of tapioca starch in Thailand. Through this partnership, the company is focusing on expanding their business in the Asia Pacific region.
In February 2021, Tate & Lyle PLC announced that it had acquired 85% shareholding in Chaodee Modified Starch Co Ltd located in Thailand.
Key Segments Covered in the Tapioca Starch Industry Analysis
By Source :

Bitter Cassava Tapioca Starch
Sweet Cassava Tapioca Starch

By Form :

Tapioca Pearls
Tapioca Flour
Tapioca Granules
Tapioca Flakes
Tapioca Pellets
Tapioca Syrup

By Application :

Tapioca Starch for Food & Beverages
Tapioca Starch for Industrial Processing
Tapioca Starch for Animal Feed
Tapioca Starch for Other Applications