Production trends of playroom furniture have largely been influenced by changing consumer preferences. In recent years, steady rise in consumer preference for multi-functional playroom furniture has significantly rubbed off on growth of the playroom furniture market. Additionally, rising awareness on sustainability among consumers has led manufacturers to focus more on hand-crafted yet affordable & durable products.
Flourishing furniture industry worldwide, coupled with the rise in middle-class population across developing nations will continue to be key growth determinants for the playroom furniture market. Albeit the playroom furniture market presents the occupancy of few established stakeholders, a large number of domestic players collectively account for major shares of the market. This has further inhibited prospects of import penetration of playroom furniture, as local vendors of playroom furniture are first in the line to leverage potential opportunities by attracting consumers through their novel offerings. This, along with lower mass production of playroom furniture owing to rising trend of customization, will continue to constrain its market growth prospects.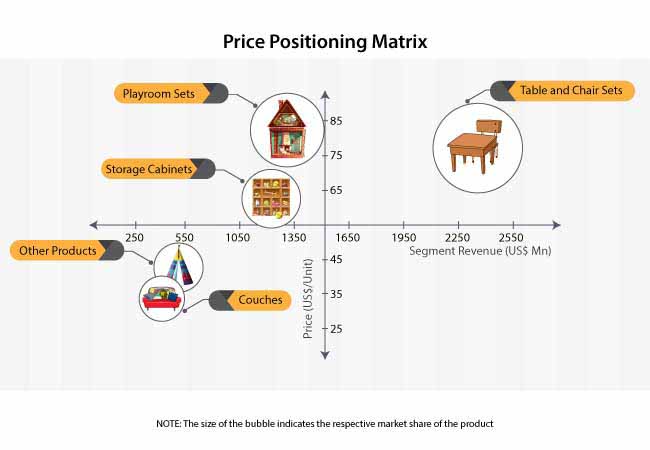 For more insights, request sample of this report.
A new Fact.MR study envisions the playroom furniture market to present an impressive 6.1% value CAGR during the forecast period, 2018 to 2028. Urbanization and expansion of the real estate industry has significantly impacted prospects of the furniture industry. This has led housing contractors to deliver a wide range of home infrastructures, with playroom furniture being one of the key offerings. This has further lured consumers who seek creative aesthetics for their children's rooms, thereby favoring growth of the playroom furniture market.
Playroom Furniture Market: Formal Child Care Arrangements being Leveraged by Surging Middle—Class
A dramatic transformation has been witnessed in the way child care arrangements are employed in recent years, with the statistics from the U.S. Census Bureau's survey indicating nearly 2X rise in out-of-pocket costs apropos of child care. Ripple effects of this increased expenditure on child care have underpinned demand for playroom furniture. Growth of the playroom furniture market will also remained supported by growing number of families with employed mothers, which have been reported to spend nearly 170 percent more on child care according to the survey of U.S. Census Bureau's survey.
Improving economic prospects across the globe, particularly in developing nations, has meant that there has been a surge in the middle-class population. Increased purchasing power of this demographic group is being considered as a lucrative consumer base in the playroom furniture market. Manufacturers of playroom furniture are therefore focusing on leveraging the expenditure potential of the middle-class through their attractive offerings and schemes.
Playroom Furniture Market: Multifunctional Attribute Gains Ground
Manufacturers of playroom furniture are concentrating on the adoption of smarter production techniques, to keep their product offerings in line with evolving consumer preferences. With the trend of nuclear families on the rise, sizes of homes have reduced over past years, which in turn has led the development and demand for compact household products and accessories, and furniture is no exception.
Key stakeholders in the playroom furniture market have introduced products that are easily disassembled and foldable. Consumers continue to seek playroom furniture that can be put to use even after the kids grow up, which in turn has augured well for sales of multifunctional playroom furniture that feature storage facilities.
Playroom Furniture Market: Partnership between Leading Players to Introduced Novel Products Influencing Growth
Companies operating in the playroom furniture market have directed their focus toward the provision of innovative designs that fall in line with interest of children. Playroom furniture with superhero designs dedicated for boys and dollhouses for girls are key trends observed in the market since the recent past. As the residential sector is witnessing a resurgent growth worldwide, to cater housing requirements of the growing population, manufacturers have introduced a wide variety of theme-based playroom furniture to leverage the potential opportunities.
Leading stakeholders in the market are joining forces to enhance their portfolio and introduce novel products in the market. A prime example of such partnerships is the one between Pottery Barn - North America's leading furniture brand, with Lilly Pulitzer – a renowned resort wear brand. The partnership has recently introduced the collection of Lilly Pulitzer for Pottery Barn Kids. On the back of surging number of working women, day care centers have been gaining increased traction worldwide, wherein manufacturers of playroom furniture are focusing to capitalize the opportunity. This is another key growth determinant for the playroom furniture market.
With the growing consumer appetite for online shopping, playroom furniture manufacturers have adopted online sales channel to expand the exposure of their products. Playroom furniture has become one of the popular categories sought by consumers on e-commerce platforms. Domestic playroom furniture manufacturers are approaching online portals such as Trendsutra Platform Service Private Limited (pepperfry.com) and Urban Ladder to showcase their products. Along with organized retailing, the online retail platform is expected to add fuel to the growth of the playroom furniture market.
Request research methodology of this report.
Note: The insights mentioned here are of the respective analysts, and do not reflect the position of Fact.MR
A Holistic Outlook of Playroom Furniture Market
A recent research study by Fact.MR provides in-depth assessment along with forecast highlights on the playroom furniture market for the period of forecast, 2018-2028. This research report is a comprehensive analysis reflecting the performance of playroom furniture market across important regions in the globe. This research study provides valuable insights on several drivers pushing sales of playroom furniture across regional markets in the globe. The research study also includes various inhibiting aspects restraining the revenue growth of playroom furniture market. However, readers can expect various opportunities from the regional markets for playroom furniture in the coming years. Moreover, the current and future trends in the playroom furniture space that potentially shape the market are explained in detail in the playroom furniture market research report.
Playroom Furniture Market: A Comprehensive Research Methodology
The analysts at Fact.MR have adopted a tested, industry proven and exquisite research methodology to arrive at important estimations associated with adoption or sales of playroom furniture based on the demand scenario of playroom furniture across various countries. Extensive secondary research is used to determine the market size, key revenue segments and their growth rates, top aspects driving revenue growth of playroom furniture market and key restraints and challenges potentially inhibiting the sales of playroom furniture and hence its market growth. The data obtained through secondary research is thoroughly evaluated using primary research process by interviewing industry experts, key stakeholders in playroom furniture market, and subject matter experts along with market observers. On the basis of gathered data, analysts have derived key metrics including year-on-year growth projections, compounded annual growth rate (CAGR), incremental and absolute opportunity, overall market value, adoption data and revenue shares. The final market estimation pertaining to various segments of the playroom furniture market are meticulously examined using advanced tools to derive pertinent insights on playroom furniture market. Moreover, this research process incudes multiple funnels of validations and examinations during the primary interview process, taking the accuracy of the derived data to a near 100 percent, thus increasing the credibility of the research.
Systematic Data Compilation in the Playroom Furniture Market Report
The research report on playroom furniture market is systematically structured to facilitate a higher level of convenience for the reader supporting him/her in understanding several facts in various sections made in the report. Separate chapters are dedicated to each segment of the playroom furniture market along with individual sections describing segmental growth and forecasts across key regions accompanied by a country level data analysis. For each segment of the playroom furniture market, the study tracks al metrics mentioned above along with market attractiveness indices that supplement the insights offered in the research report on playroom furniture market.
Playroom Furniture Market: Key Inclusions
The research report on playroom furniture market includes several inclusions such as specific macroeconomic factors impacting growth in sales of playroom furniture. Moreover, customer behavior regarding purchase of playroom furniture along with demand analysis, production and supply of playroom furniture, information related to manufacturing techniques of playroom furniture, actual adoption of playroom furniture across various countries, coupled with pricing analysis have also been covered in this research report.
Along with generic push and pull factors impacting demand and sales of playroom furniture across the globe, an in-depth opportunity assessment for manufacturers and vendors of playroom furniture have been included in this study. Furthermore, the report on playroom furniture market presents lucrative business and growth opportunities for manufacturers of playroom furniture that can be leveraged to obtain clear advantage in the respective regional markets in the coming years. Impact analysis of market dynamics is another vital inclusion in the playroom furniture market report. In addition, the research report also includes supply chain analysis and value chain assessment of playroom furniture industry.
Regional and Segmental Snapshot of Playroom Furniture Market
The report on playroom furniture market is an in-depth analysis of several segments of playroom furniture and regional playroom furniture markets. The research scrutinizes performance quotient of playroom furniture market on the basis of (as per segmentation). Vital value and volume analysis of data for each of these segments of playroom furniture market during the entire period of assessment has been covered in the report. The report studies several forces in the market impacting its growth in terms of revenue and pace. Below is the extensive market segmentation of playroom furniture market.
By Product Type

By Price

By Distribution Channel

By Material Type

By End User

By Region

Storage Cabinets
Table and Chair Sets
Play Furniture Sets
Couches
Other Product Types

Direct Sales
Chained Stores
Specialty Stores
Modern Trade
Department Stores
Online Retailers
Other Sales Channel

Wood
Plastic
Fabric
Metal
Other Material Types

Residential
School and Institutions
Other End Users

North America
Latin America
Europe
Asia Pacific Excluding Japan (APEJ)
Japan
Middle East and Africa
Competitive Assessment of Playroom Furniture Market
The report on playroom furniture market incudes a separate section on competitive landscape that describes intelligence on various key participants involved in the manufacturing and distribution of playroom furniture across the globe. SWOT analysis, product developments and new product launches, innovations, growth strategies, product portfolio analysis, and key financials of major companies included in the playroom furniture market has been included in the competitive landscape section. This crucial section provides direction with respect to building competitive strategies to gain edge over the competition during the forecast period and even beyond.
Fact.MR offers custom research services that help clients to get specific research solutions
We are committed towards customer satisfaction and quality service.
---
Our Clients

Playroom Furniture Market Forecast, Trend Analysis & Competition Tracking - Global Market insights 2018 to 2028