Kid's Furniture Market Set for Stable Returns
Rising real estate prices accompanied by increased spending potential is expected to thrust the demand for kid's furniture. There is a spike in demand for furniture solutions that accommodate clothes, books, toys, and other products in space efficient ways. On this backdrop, the global kid's furniture market will grow at a CAGR of 4.1% between 2019 and 2029.
This growth can be attributed to surging preference for efficient and dedicated, themed spaces for kids in the form of nursery, play, and study rooms. Housing contractors are adopting new strategies for developing end- to-end home infrastructures. Installation of necessary and aesthetically appealing kid's furniture by housing contractors is among top trends that point to growth opportunities.
Sleeping Arrangement Products Garner Customer Attention
Bed, Cot, & Crib segment holds a majority market share of more than 40% of kid's furniture sales with sluggish annual growth rate. Owing to improving economic prospects for middle-class citizens in developing nations, this segment is well poised for 1.4X gain during the forecast period.
The segment is followed by Table & Chair and Cabinet and Dresser, & Chest which collectively account for more than 45% of market share. Kid's furniture such as table, chair, cabinet, dresser, & chest are comparatively smaller in size, can be assembled at home, and require low investments from mothers and fathers. The low-cost and space-friendly factor of these products present opportunities for manufacturers to gain increased customer traction.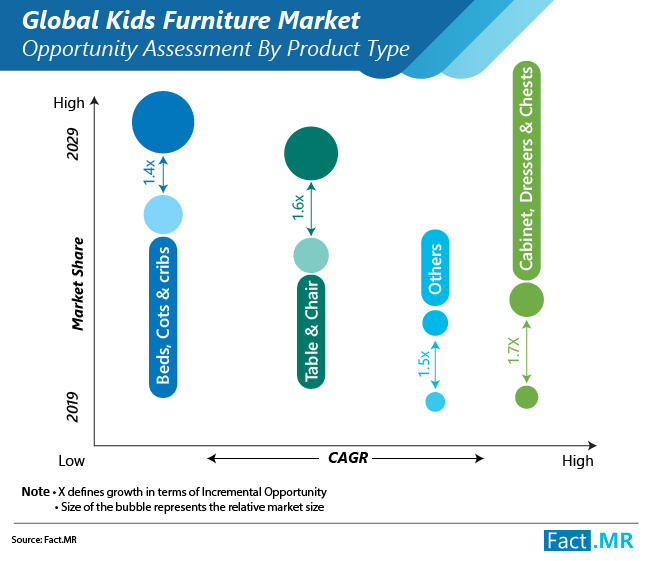 To get intuitive and precise market intelligence on the kid's furniture market, request for a report sample here
Europe Leads in Kid's Furniture Market, South-Asia Buckling up
Global market dynamics are largely influenced by European households that collectively form a market share of more than 35%. The region is followed by East Asia and North America which together account for more than 2/5th market share. Another region worth a mention is South Asia where countries such as India are nurturing individual household economics that exhibit immense future potential. The rising young adult population of India is giving birth to tech-savvy parents that wish to spend on purpose built kids furniture. South Asia presents lucrative growth opportunities as the market is set to follow an upward trajectory with promising growth rate of higher than 6%.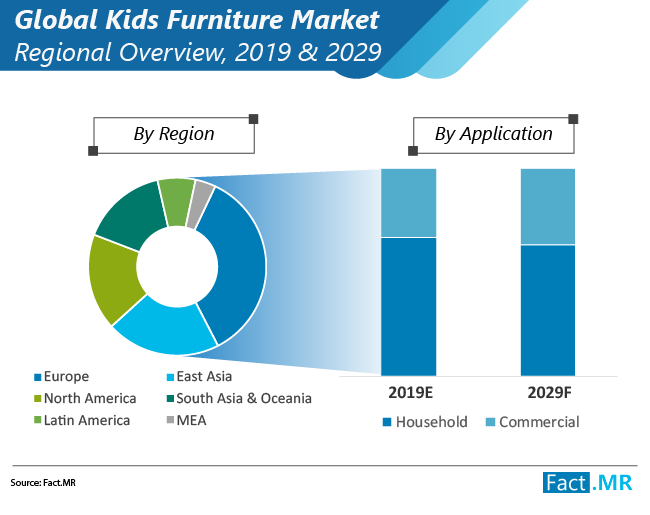 To get incisive insights on the regional landscape of kid's furniture market, ask an analyst here
Product Innovation – Key Differentiating Strategy
Anthropometric measurements, ergonomic designs, and scientific color palettes are few of many innovative ideas that are driving kid's furniture manufacturing trends. Today's information-driven world presents concerned customers that exhibit selective buying patterns. Market players are differentiating products based on factors such as environmental impact, safety, and design.
For instance, in choice of raw material between recycled plastic, wood, polymer, and metal; wooden furniture has a market share of more than 65%. There is rapid adoption of highly functional, non-toxic, theme-based kid's furniture in the market. Market players at the forefront of production trends are Dream On Me Inc., Ashley Home Stores Ltd., Williams-Sonoma Inc., Casa Kids, Crates & Barrels and Wayfair LLC.
Global Kids furniture Market – Scope of the Report
The following report provides forecast and analysis of the global kids furniture market along with the historical data of 2014, estimated data 2019 and forecast data up to 2029 in terms of revenue (US$ Mn) & volume ('000 Units), according to a Fact.MR study. The research propounds critical trends that are currently influencing growth within the global kids' furniture market along with several macro-economic indicators. This newly published and insightful report on kids' furniture sheds light on key dynamics, and their impact on the overall value chain from suppliers to end-users, which are expected to transform the future of the global kids' furniture market.
The report also comprises the study of current issues with end users and opportunities for kids' furniture. It also contains value chain analysis, including the key market participants. To provide users of this report with a comprehensive view of the market, we have included a detailed competitive analysis about the key players involved in the market and strategic overviews. The dashboard included in the report provides a detailed comparison of kids' furniture manufacturers on parameters such as total revenue, product offerings, and key strategies. A list of key companies operating in the kids furniture market provided in the report adds to the credibility of this exhaustive research study.
Global Kids furniture Market: In-Depth Assessment on Key Segments
The global kids' furniture market is segmented on the basis of product type, raw material, application and region.
| | | | |
| --- | --- | --- | --- |
| Product Type | Raw Material | Application | Region |
| Beds, Cots & cribs | Wood | Commercial | North America |
| Table & Chair | Polymer | Household | Latin America |
| Cabinet, Dressers & Chests | Metal | | Europe |
| Others | | | East Asia |
| | | | South Asia & Oceania |
| | | | MEA |
This taxonomy and the detailed toc prepared are confidential and intended exclusively for the individual or entity with whom it is being shared. Reading, disseminating, distributing, or copying this to any party other than addressee(s) is unauthorized and prohibited.
Country-specific assessment on demand for kids furniture has been provided for each regional market, along with the market size valuation and forecast price point assessment, price index and impact analysis of key regional and country-wise dynamics, which were obtained through quotes from numerous kids furniture manufacturers, experts, and suppliers. Y-o-Y growth projections have also been offered on all regional markets incorporated in the report. Moreover, future trends, growth prospects, and other possibilities related to the market have been answered in the report.
The report provides company-level market share analysis, which has been derived on the basis of the company's annual sales and segmental revenue in all the target end-use industries. The market has been forecasted based on constant currency rates. The report provides detailed competitive and company profiles of key participants operating in the global market. Some of the major competitors operating in the kids' furniture market are Dream On Me Inc., Ashley Home Stores, Ltd, Williams-Sonoma Inc., Hooker Furniture, Bassett Furniture Industries and others.
Global Kids furniture Market: Research Methodology
A number of primary and secondary sources were consulted during the course of the study. Secondary sources include Factiva, Morningstar and Hoovers, and company annual reports and publications. Comprehensive interviews have been conducted by our analysts, and the intelligence and insights obtained have been used for validating the information gained through secondary research. The report also includes a description of assumptions and acronyms utilized for research purposes. Data gathered has been validated using the triangulation method to offer useful quantitative and qualitative insights into the kids' furniture market.
A short market viewpoint offered in the report elucidates the macro-economic aspects that influence the growth of the kids' furniture market, which includes global GDP growth rate, various industries growth rate, such as furniture, building & construction and others. This report serves as an authentic resource of intelligence on the kids' furniture market, enabling the readers to take fact-based decisions on the future direction of their businesses.
Fact.MR offers custom research services that help clients to get specific research solutions
We are committed towards customer satisfaction and quality service.
---
Our Clients

Kids Furniture Market Forecast, Trend Analysis & Competition Tracking - Global Market Insights 2019 to 2029