Furniture on Rent Market
Furniture on Rent Market By Rental Model (Individual Furniture, Furniture Subscription), By Rental Cycle (Short Cycle Furniture on Rent, Long Cycle Furniture on Rent, Custom Cycle Furniture on Rent), By User Type, By Region - Global Market Insights to 2031
FACT6820MR
Furniture on Rent Market Outlook
Entrepreneurs and investors have revolutionized the furniture on rent business, which has secured more than US$ 100 Mn in investments from different investor archetypes in 2021. As living areas and bedrooms turned into office spaces, and millennial consumers 'sit and shop' around the globe – the rental furniture industry came to the fore.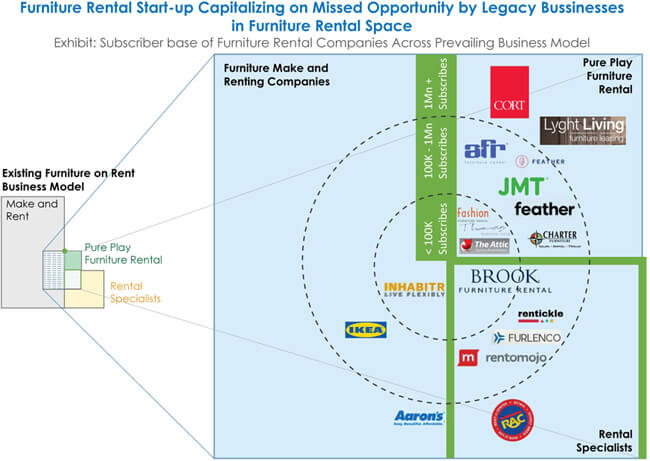 The US$ 5 Bn rental furniture market has long been under the carpet, and thanks to tech based start-ups, the industry is gaining mainstream and attracting investments from the likes of Credit Suisse, Zinnia Global Fund, CE Ventures, Lightbox, and Great North Labs, being key propellers. Some of the key companies receiving funding include Fulenco, Feather, Inhabitr, and RentoMojo.
Furniture on rent as a business has been operational for a quite long period, but in the past three years, millennial entrepreneurs identified the pain points in temporary living and translated this into opportunity. They organized and pulled the so far unorganized and community / locality bounded business to the digital space.
Interested to Procure The Data
How Can Cross-border Migration Turn into a Wider Opportunity Window for Furniture on Rent Providers?
While migration of national residents between states and cities for the purpose of job change has already been the fuel to furniture on rent demand, cross-border population migration is expected to hold the next big opportunity.
While cross-border migration has been occurring largely for a growing number of long-term international assignments, there also has been a tremendous shift of population from developing to developed countries. This has triggered the growth of rental apartments, where most of owners prefer furniture on rent.
With Germany Being the Economic Center of Europe, Why is Furniture on Rent Yet to Mark a Strong Foothold Here?
Furnished rental apartments are scarce in Germany, even in cities such as Hamburg, Stuttgart, Munich, Heidelberg, Berlin, and Frankfurt. In smaller towns, such apartments further become non-existent. German landlords who rent their apartments prefer to purchase furniture for rental purposes instead of renting them. Besides, they are also least bothered about the maintenance of furniture and other household assets that are supposed to be rented.
Also, Germans tend to be more loyal towards their job as compared to other European counterparts, which minimizes relocation instances, consequently reducing the opportunities for furniture on rent businesses. However, these demographic trends have been reshaping in Germany to the benefit of the furniture on rent industry.
Residents from the U.S., Canada, Australia, Japan, Israel, New Zealand, and Switzerland do not require a visa to arrive in Germany. This has created an external demand for furniture on rent in the country, as using rental furniture in countries such the U.S., Switzerland, and Australia is common.
An Adaptive Approach to Modern-day Research Needs
Why is North America Projected to Offer Sizable Opportunity for the Furniture on Rent Industry?
While furniture renting has been common in the U.S. and Canada, there have been several companies offering renting solutions in these countries. Some of the companies include CORT, Aaron's LLC, Rent-A-Center, Feather, Brook Furniture Rental, Inc., Fernish, American Furniture Rental, and Fashion Furniture Rental, among others.
According to Michael Barlow, the co-founder and CEO of Fernish, over the coming years, generation Z in the country will be less interested in buying, owning, moving, selling, and storing furniture every time they move to a different city for a job. This showcases how the supply chain of the furniture ecosystem is going to evolve in the world's largest economy.
Besides residential customers' interest in furniture on rent, opportunities are abound through commercial customers in the U.S., owing to booming number of start-ups, especially those pertaining to the IT sector.
North America is projected to account for over 30% of the projected US$ 5 Bn opportunity in the global furniture on rent market from 2021 to 2031. In 2019, consumer goods rentals generated US$ 50 Bn revenue in the U.S.
At 6.8% projected market growth during 2021 – 2031, the furniture rental market size is expected to accelerate at a significantly higher pace than the historical period of 2016 to 2020.
The furniture subscription rental model is expected to account for an absolute dollar opportunity of over US$ 4 Bn during 2021 – 2031.
Furniture on Rent – How Does the Growth Story Traverse to Tier-2 Cities? 
Until 2019, tier-1 cities were the center of attention for furniture on rent providers. However, constant development of tier-2 cities in the recent past has aligned dwellers' requirements towards a rent-based economy, including house on rent, car on rent, and also furniture on rent.
A leading furniture on rent company CORT has a significant rental presence in the Northeast U.S., Southeast U.S. and Midwest U.S.; however, it has expanded considerably to the Intermountain and Pacific regions. Besides, several companies have been offering flexible subscription models to tier-2 city dwellers to make their foothold firm across those areas.
Avail customized purchase options for your needs
Start-ups Providing a Growth Cushion to PE Investors in Rental Furniture Market
According to the market research analysis, investments have been a prominent development in furniture on rent in recent years.
Some of the recent developments of key furniture on rent providers are as follows:
In July 2021, Furlenco raised US$ 140 Mn in a Series D funding by Zinnia Global Fund, a Mauritius-based company, alongside CE Ventures and Lightbox, the other two investors.
In March 2021, Rentomojo raised US$ 1.3 Mn in a Series C funding from two returning investors.
In August 2020, Feather, a U.S. furniture on rent provider, received US$ 30 Mn funding from Credit Suisse in a Series B funding. Before this, Feather had raised US$ 46 Mn in equity and debt financing.
In June 2020, RentoMojo raised US$ 2.9 Mn in a Series C funding round from Pratithi Investment Trust.
In May 2020, RentoMojo raised US$ 3.2 Mn from Accel India, Chiratae Ventures, Bain Capital, BCIP Venture Associates, and a French-American entrepreneur Renaud Laplanche.
In April 2020, Furlenco announced that it had closed its debt and equity round led by its existing investors.
In November 2019, Inhabitr, a U.S. furniture on rent provider, raised US$ 4 Mn in a Series A funding from Great North Labs.
In May 2019, RentoMojo received US$ 10.2 Mn funding from Chiratae Ventures and Accel.
Similarly, recent developments related to companies offering furniture on rent have been tracked by the team at Fact.MR, which are available in the full report.
Key Points Covered in Furniture on Rent Industry Survey:
Market Estimates and Forecasts (2016-2031)
Key Drivers and Restraints Shaping Market Growth
Segment-wise, Country-wise, and Region-wise Analysis
Competition Mapping and Benchmarking
Market Share Analysis
COVID-19 Impact on Furniture on Rent and How to Navigate
Recommendation on Key Winning Strategies
Revenue Analysis of Furniture on Rent from 2016 to 2020 Compared to Demand Outlook for 2021 to 2031
As per the furniture on rent industry research by Fact.MR - a market research and competitive intelligence provider, historically, from 2016 to 2020, market value of furniture on rent increased at around 3.8% CAGR, wherein, countries such as the U.S., U.K., Netherlands, Switzerland, and Japan held significant share in the global market.
Constant surge in the cost of asset procurement is one of the evident reasons for the growth in furniture on rent subscriptions. Alongside, steady rise in the number of small and medium IT enterprises has further fuelled this model of furniture procurement.
Owing to these dynamics, the global furniture on rent market is projected to accelerate at a CAGR of 6.8% over the coming 10 years.
The furniture on rent market reached a valuation of US$ 5.3 Bn in 2020; however, worldwide revenue was down 6% year-over-year owing to the affected business sentiments of commercial enterprises amid COVID-19. Fact.MR estimates that furniture on rent revenue will grow 1.9X from 2021 to 2031, crossing US$ 10 Bn in 2031.
Subscription model of furniture renting corresponds to over 3/4 of global revenue, and is expected to grow at a faster pace compared to individual furniture renting.
Commercial users are expected to continue to account for denser proportion of revenue with over 55% share.
Long rental cycle is projected to account for over US$ 3 Bn absolute dollar opportunity over the decade.
In the coming 10 years, furniture in rent revenue through the buy and rent business model is expected to swell at a CAGR of 7.2%.
Top 5 providers of furniture on rent held over 90% market share in 2020.
How are Blooming Small and Medium Enterprises Catalysing Furniture on Rent Ecosystem?
Asset procurement is one of the key concerns for small and medium enterprises during their initial years. Especially for IT firms with backend work patterns, renting furniture significantly reduces their fixed cost component.
Besides, several furniture on rent providers also offer deep clean services, furniture maintenance, and periodical furniture swap, as well as relocation services without any additional charges. This proves to be a boon for start-ups that need these services for the smooth operation of their business.
Will Availability of Funding Prove to Be the Lifeblood for Furniture on Rent Business Owners?     
Furniture on rent is a new concept for several emerging countries where users are able to evaluate the long-term benefits of renting their furniture instead of buying it. However, in such countries, furniture on rent businesses are usually low on budget and need financial backup to resist the ups and downs in their venture and innovate to match local requirements.
Presence of venture capitalists and their interest in this aspirational business model has provided a backbone of support to these business owners.
For instance, Furlenco is one of the furniture on rent companies that has successful garnered funding from different venture capitalists. Furlenco has raised over US$ 160 Mn in series C, series D, debt financing, and venture rounds, since 2018 till date.
Country-wise Analysis
Which Country Lies at the Centerstage for Furniture on Rent Revenue in Europe?
The Netherlands, a home to furniture manufacturers and rental providers such as IKEA and JMT International, accounted for over 30% of European furniture on rent revenue. The Dutch rental housing market is sub-divided into two sectors, namely, the social rental sector and the private rental sector.
According to Huurwoningen, a Dutch home planning company, the Netherlands has more than 3 Mn rental homes, of which, 75% belong to housing associations. These houses accommodate citizens in low-income groups.
These low income groups with a low budget for procuring household assets, and housing associations' inclination to provide houses with lower maintenance of household assets, make the Netherlands a fertile ground for the furniture on rent business.
Category-wise Insights
Why are Furniture Subscriptions the Preferred Rental Model?
Commercial enterprises stand as key customers for furniture on rent businesses, whose requirements are met by furniture subscriptions, wherein they get a set of furniture meeting their office requirements, and alongside get services such as furniture swap, deep cleaning, and periodical maintenance, as well as relocation services in the subscription.
Furniture subscription generated over 3/4 of the revenue in 2020.
Which Rental Cycle Accounts for Highest Revenue in the Furniture on Rent Space?
Long rental cycles that include subscriptions of 18 months to more than 2 years accounts for nearly 60% of furniture on rent revenue.
Long rental cycles come with greater benefits as compared to short cycles and custom cycles. Also, the renter gets peace of mind with long cycle rentals. According to the trend, new users generally tend to opt for shorter cycles, and after a few months, they upgrade to longer cycles after satisfactory services.
How Has COVID-19 Impacted Revenue Generation from Furniture on Rent?
COVID-19 marked a mixed impact on the furniture on rent space, wherein, the net numerical impact was a -6% year on year growth (a decline of 6%) in 2020. SMEs that were most impacted during the pandemic who offered their employees work from home options refrained from renewing furniture on rent subscriptions owing to tightened budgets. This halted the revenue outflow in this industry.
On the brighter side, furniture on rent revenue was boosted to some degree from residential customers who either rented furniture to accommodate their work from home model or shifted to other cities to take on available opportunities owing to job losses.
Furniture on Rent Market Report Scope
Attribute

Details

Market size value in 2021

USD 5.6 Billion

Market forecast value in 2031

USD 10 Billion

Growth Rate

CAGR of 6.8% from 2021 to 2031

Forecast Period

2021-2031

Historical Data Available for

2016-2020

Market Analysis

US$ Mn for Value & '000 Units for Volume

Key Regions Covered

North America
Latin America
Europe
East Asia
South Asia
Oceania
MEA

Key Countries Covered

United States
Canada
Brazil
Mexico
Germany
U.K.
France
Switzerland
Netherland
China
Japan
South Korea
India
Indonesia
Singapore
Australia
New Zealand
Turkey
South Africa
GCC Countries

Key Market Segments Covered

Rental Model
User Type
Rental Cycle
Business Model
Country

Key Companies Profiled

CORT
JMT International
Aaron's, LLC
Rent-A-Center
Thomas Rentals
Feather
Brook Furniture Rental, Inc.
IKEA
Fernish
Lyght Living furniture leasing GmbH & Co. KG
American Furniture Rental
Fashion Furniture Rental
Charter Furniture Rental
Furniture Rentals
Custom Furniture Rental
The Attic
Furlenco
CityFurnish
Inhabitr
Fabrento
Others

Pricing

Available upon Request
Market Segments Covered in Furniture on Rent Industry Research
By Rental Model

Individual Furniture

Living Room Furniture
Bedroom Furniture
Dining Room Furniture
Other Furniture Categories

Furniture Subscription

By Rental Cycle

Short Cycle Furniture on Rent

Day-based Furniture on Rent
Monthly Furniture on Rent
Quarterly Furniture on Rent
Bi-Annually Furniture on Rent
Annually Furniture on Rent

Long Cycle Furniture on Rent

18 Months Furniture on Rent
2 Years Furniture on Rent
2.5 Year Furniture on Rent
3 Years Furniture on Rent
More than 3 Years Furniture on Rent

Custom Cycle Furniture on Rent

By User Type

Furniture on Rent for Residential Users
Furniture on Rent for Commercial Users

Corporate Users
Hotels and Restaurants
Educational Institutions
Other Commercial Users

Furniture on Rent for Occasion-based Users

By Business Model

Buy and Rent
Rental Intermediates
Manufacture and Rent