LIDAR Sensor Market
LiDAR Sensor Market Analysis Report By Type (Airborne LiDAR Sensors, Terrestrial LiDAR Sensors), By Technology (Solid State LiDAR Sensors, Mechanical LiDAR Sensors), By Application, By End-use Industry, By Region - Global Insights 2031
FACT4302MR
May-2021

List of Tables : 60

List of Figures : 100

170 Pages
LIDAR Sensor Market Outlook
The global LiDAR sensor market size is expected to expand at an impressive CAGR of 12.5% over the forecast period of 2021 to 2031, especially with these sensors becoming more compact and cheaper.
LiDAR is an active remote sensing technology that utilizes laser (light amplification by stimulated emission of radiation), which uses optical amplification based on the stimulated emission of electromagnetic radiation, instead of conventional microwaves and radio technology. Integrating this technology allows the gathering of more accurate and precise real-time data. LiDAR technology has the potential to operate, both, during the day and night, due to its laser-based technology.
LiDAR is adequate to provide intense and precise data, often with centimeter level accuracy. It has three types of platforms, i.e. ground-based, airborne, and satellite. LiDAR has a wide range of applicability across multiple sectors such as geology, forestry, mapping, oceanography, automobiles, and many more. Increasing automation and digitalization, will lend a huge impetus to market growth over the coming years.
Prominent players in market are focusing on product innovation and compactness of the product to increase its adoption rate. Since the last three years, prices of LiDAR sensors have experienced a downward trajectory, and this is expected to continue during the forecast period as well. Demand for LiDAR sensors in the industrial sector has also been rising across regions.
In a recently published new report by Fact.MR, insights regarding key factors fueling market growth have been offered for the period of 2021 to 2031. The market has been tracked in 20+ high-growth countries, where North America tops the charts. The report also details what impact the COVID-19 pandemic is having on the market across the world, and the potential application of LiDAR sensor in future manufacturing.
Interested to Procure The Data
Historical Trends Vs. Future Market Projections
Fact.MR, in the report, reveals that the market was pegged at a valuation of US$ 1.7 Bn in 2021, and expanded at a value CAGR of 5.9% from 2016 to 2020. Terrestrial LiDAR sensors have continued their dominance during the historic period.
Demand for automotive LiDAR sensors declined for 3 consecutive quarters in 2020. This slump was a result of the COVID-19 pandemic, which impacted all industries around the globe. Lockdowns and travel restrictions imposed by governments disrupted the global supply chain, which ultimately impacted the production of semiconductor chips.
However, the scenario for 2021-2031 is highly optimistic, as automotive manufacturers are already establishing collaborations with IT firms for the commercialization of self-driving cars. The space industry is also experiencing an ascending growth trajectory, which will result in facilitating numerous growth opportunities for manufacturers to provide LiDAR sensors for self-driving cars.
In addition to this, agricultural development and mechanization of agricultural machinery due to the introduction of automation in the industry are other reasons driving demand of LiDAR sensors, as this technology is being used to monitor crops and for the better management of farm land. Overall, the market for LiDAR sensors is projected to expand at a noteworthy CAGR of 12.5% through 2031.
What is the Role of the Automobile Industry in Facilitating Growth Opportunities for LiDAR Sensor Manufacturers?
The automotive industry has witnessed exponential growth over the last few decades, and it is presumed that it will remain in the same growth trajectory during the assessment period. The emerging market of autonomous and electric vehicles is expected to propel demand for LiDAR technology, owing to its applicability, reliability, and efficiency.
Moreover, LiDAR technology is being integrated with exciting functions such as 3D mapping and car surround sensors, which is expected to steer market growth in future. It has also been observed that LiDAR technology is developing in automobile applications linked to the development of advanced driver assistance systems.
Demand for autonomous vehicles is expected to soar over the next decade, which will drive demand for LiDAR security sensors. Over the last four decades, thousands of patents have been published in context with LiDAR technology for automotive applications, which reflects the potential of LiDAR technology over the coming years.
Automobile manufacturers are aggressively focusing on the development and innovation of LiDAR-integrated automobile products.
An Adaptive Approach to Modern-day Research Needs
How is Rising Demand for Smartphones Impacting the LiDAR Sensor Space?
Demand for electronic gadgets such as mobile phones, tablets, and many more has soared exponentially over the last two decades, and it is presumed that remain in this growth trajectory during the assessment period as well. Integrating LiDAR sensors into mobile phones and tablets may be the next thing that may come up as a revolutionary technology for the electronics industry.
For instance, Apple was the first company that integrated its tablets with LiDAR technology. LiDAR sensors are capable of working on the level of individual photons of light even at a distance of 5 meters. Involvement of LiDAR systems allows measure apps to be more precise and granular. These technological advancements in the electronics industry are expected to propel demand for LiDAR systems in future.
Will High Cost Restrict Demand Growth of LiDAR Sensors?  
Incorporating LiDAR technology in automobiles or any end use is comparatively an expensive affair. As of now, LiDAR technology is been utilized only by tier-1 manufactures, due to their high cost. This is still unreachable for tier-2 or small-scale manufacturers owing to higher price points. Companies are constantly experimenting with different technologies such as FMCW, OPA, MEMS, and other LiDARs according to the requirement of end-use industries.
Moreover, companies are focused on developing a technology that is competent to allow low price and high volume production. It is presumed that, manufacturers who will be able to achieve technological distinction that allows for mass production of LiDAR at a relatively low price will sustain in the market and acquire larger market shares over the forecast period.
Avail customized purchase options for your needs
Which Region is the Most Lucrative for Manufacturers of LiDAR Sensors?
North America is the target light detection and ranging sensor market. This region is dominant with 26% market share in 2020. This dominance is because of increasing government expenditure on imaging applications. Furthermore, automotive manufacturers and smart sensing technology integrators such as Google Inc., Uber, and Tesla are focusing on self-driving vehicles, which is providing a boost for LiDAR sensor manufacturers in the region.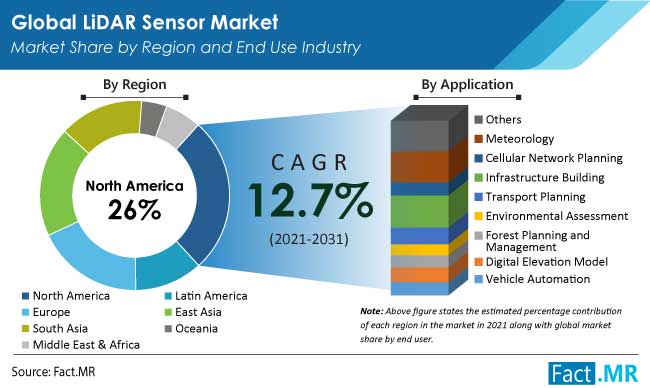 Country-wise Analysis
Will China Be Able to Control Price Action of LiDAR Sensors?
Since China accounts for more than 11% of global demand and more than 25% of global production of LiDAR sensors, it has a significant impact on the prices of most goods sold around the world. Since there are a number of small producers in China, the industry remains moderately fragmented.
Furthermore, China is improving its position as the world's leading manufacturer of semiconductor devices and modules. Easy availability of raw materials and lower labour costs in China make it easier for small businesses to survive and succeed in the market.
However, mounting tensions between China and other developed economies, such as the United States, would result in the imposition of additional duties and charges on goods imported from China.
Why is Demand for LiDAR Sensors High in the U.S.?
There are a number of factors that are contributing to higher demand for LiDAR sensors in the U.S. One such factor is government policies to shift towards net-zero gaseous emissions by 2025. These are providing a boost to the electric vehicle market, and thus ascending demand for LiDAR sensors. Furthermore, companies such as Uber are experimenting on air taxies, which would result in revolutionizing the automotive industry, thus increasing demand for airborne LiDAR sensors. In addition, Dominos is also experimenting with drone pizza delivery and autonomous vehicle delivery in the U.S. This has resulted in providing numerous market opportunities for LiDAR sensor manufacturers in the country, as demand for LiDAR sensors for drones will thereby surge.
Category-Wise Insights
How are Regulatory Compliances for Autonomous Vehicles Impacting Demand for LiDAR Sensors?
One of the extreme challenges faced by ADAS (advances driver assistance systems) and autonomous vehicles is stringent government regulations regarding road safety. It is been observed that, regional governments are quite concerned about the safety and regulation of autonomous vehicles. On the other hand, contrary to regulations, some automobile markets such as the U.S. and China are pushing their capabilities to deploy autonomous vehicles by the end of 2025.
How is COVID-19 Impacting the Market Landscape?
COVID-19 has had a negative impact on the demand and manufacturing of LiDAR sensors across regions, as the market stepped on the demand brakes over the period of Q2 and Q3 of FY2020. On the other hand, high initial investment, manufacturing, and programming costs have resulted regional players in stepping back regarding the production of LiDAR sensors. This is seen as an aftereffect of COVID-19 on the financial statement of companies.
Public institutions and governments play a prominent role in shaping the electronics industry by implementing new policies and regulations such as the Scrapage Policy, 2021 India. Furthermore, boost towards electrical and self-driving vehicles will result in providing numerous market opportunities for LiDAR sensor manufacturers, and the revision of institutional budgets could be expected to lean towards decreased envelopes for automation at the global level.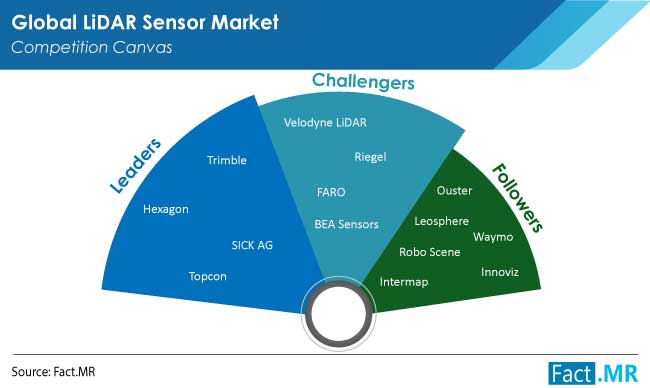 Report Scope
Attribute

Details

Forecast Period

2021-2031

Historical Data Available for

2016-2020

Market Analysis

US$ Mn for Value

Key Regions Covered

North America
Latin America
Europe
East Asia
South Asia
Oceania
the Middle East & Africa

Key Countries Covered

U.S.
Canada
Mexico
Brazil
Germany
Italy
France
U.K.
Spain
China
Japan
South Korea
India
GCC
Turkey

Key Segments Covered

By Type
By Technology
By Application
By End-use Industry
By Region

Key Companies Profiled

Trimble Inc.
Topcon
SICK AG
Velodyne Lidar
FARO
BEA Group
Teledyne Optech
Valeo
Leosphere
Waymo
Faro Technologies
Hexagon AG
Innoviz Technologies
Intermap Technologies Crop
Teledyne Technology
SICK AG
Trimble
Quanergy System Inc
Key Segments of Market
Type

Airborne LiDAR Sensors

Topographic LiDAR
Bathymetric LiDAR

Terrestrial LiDAR Sensors

Mobile LiDAR
Static LiDAR

Technology

Solid State LiDAR Sensors
Mechanical LiDAR Sensors

Application

LiDAR Sensors for Vehicle Automation
LiDAR Sensors for Digital Elevation Models
LiDAR Sensors for Forest Planning and Management
LiDAR Sensors for Environmental Assessment
LiDAR Sensors for Surveillance Technology
LiDAR Sensors for Transport Planning
LiDAR Sensors for Infrastructure Building
LiDAR Sensors for Cellular Network Planning
LiDAR Sensors for Meteorology
LiDAR Sensors for Autonomous Vehicles
Others

End-use Industry

Automotive LiDAR Sensors
LiDAR Sensors for Oil & Gas
LiDAR Sensors for IT & Communication
LiDAR Sensors for Media & Entertainment
LiDAR Sensors for Power & Energy
LiDAR Sensors for Survey & Analysis
LiDAR Sensors Application in Aerospace & Defenses
LiDAR Sensors for Travel & Tourism
LiDAR Sensors for Agriculture & Forestry
LiDAR Sensors for Mining
Others

Region

North America
Latin America
Europe
East Asia
South Asia
Oceania
Middle East & Africa (MEA)