LiDAR Sensor Market
LiDAR Sensor Market by Type (Airborne, Terrestrial), by Technology (Solid State, Mechanical LiDAR), by Application (Vehicle Automation, Infrastructure Building, Meteorology), by End-use Industry, and by Region – Global Insights till 2032
Analysis of LIDAR Sensor Market Covering 30+ Countries Including Analysis of US, Canada, UK, Germany, France, Nordics, GCC countries, Japan, Korea and many more
LiDAR Sensor Market Outlook (2022-2032)
The global LiDAR sensor market is set to surpass a valuation of US$ 1,908.1 million in 2022 and further expand at a CAGR of 12.7% to reach US$ 6,328.7 million by the end of 2032. Sales of LiDAR sensors accounted for less than 1% of the global sensor market at the end of 2021.
Report Attributes

Details

LiDAR Sensor Market Size (2021A)

US$ 1,703.8 Million

Estimated Market Value (2022E)

US$ 1,908.1 Million

Forecasted Market Value (2032F)

US$ 6,328.7 Million

Global Market Growth Rate (2022-2032)

12.7% CAGR

North America Market Share (2022)

~ 26.9%

North America Market Value (US$ Mn), 2022

US$ 513.1 Million

Europe Market Share (%), 2022

~18.2%

Europe Market Value (US$ Mn), 2022

US$ 347.2 Million

China Market Share (%), 2022

~11%

China Market Value (US$ Mn)

US$ 210.1 Million

Top 3 Country Market Share (%)

~32.9%

Key Companies Profiled

Trimble Inc.
Topcon
SICK AG
Velodyne Lidar
FARO
BEA Group
Teledyne Optech
Valeo
Leosphere
Waymo
Faro Technologies
Hexagon AG
Innoviz Technologies
Intermap Technologies Crop
Teledyne Technology
Quanergy System Inc
Know thy Competitors
Competitive landscape highlights only certain players
Complete list available upon request
Sales Analysis of LiDAR Sensor (2017-2021) Vs. Market Forecast Outlook (2022-2032)
Fact.MR, in the report, reveals that the global LiDAR market will show a Y-o-Y growth of 12.0% in 2022. Terrestrial LiDAR sensor maintained their dominance in the LiDAR sensor market throughout 2021 and 2022 and are expected to do so in the future as well.
In 2020, LiDAR sensors witnessed a drop in demand for three consecutive quarters due to the COVID-19 pandemic, which affected the operations of several industries. The chip manufacturing industries witnessed one of the greatest losses due to the low production rate.
However, as predicted for the forecast period (2022-2032), the demand for LiDAR sensors seems to be optimistic as industries dependent on sensors, such as the automotive industry, production industry, etc., witness optimal growth. Self-driving cars, which use sensors to detect nearby vehicles, animals, and pedestrians, have also seen a rise in R&D, which in turn means an increase in the business of sensor manufacturers.
The space industry has also experienced ascending growth with new start-up companies coming up in countries like the U.S. and India, which will provide several growth opportunities for the LiDAR sensor market during the forecast period.
The growth of automation in the field of agriculture to monitor crops and check for intruders has also boosted the market share of LiDAR sensors and is expected to do the same during the forecast period as well.
Short Term (2022 Q2 to 2025): Rapid growth of the automotive, space, and agriculture sectors will positively impact the LiDAR sensor market.
Medium Term (2025-2028): Advancement in the field of IoT (Internet of Things) will majorly improve the sales of LiDAR sensor
Long Term (2028-2032): Improvement in the sensing efficiency and response time of the LiDAR sensor will help increase its application and, as a result, improve the sales of the LiDAR sensor
Over the 2017-2021 historical period, the global LiDAR Sensor market registered a CAGR of 6.3%, and according to the Fact.MR, a market research and competitive intelligence provider, the market is projected to exhibit growth at 12.7% CAGR between 2022 and 2032.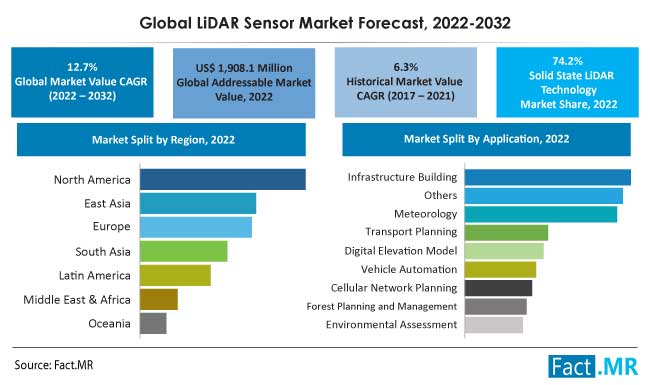 Market share analysis of the LiDAR sensor market based on application and region is provided in a nutshell in the above image. Under the application segment, the infrastructure building sub-segment will dominate with an 18.5% market share in 2022.
What is Driving the Demand for LiDAR Sensors?
"Automobile Industry Facilitating the Growth of LiDAR Sensor Market"
The automotive industry has seen exponential growth over the past few decades, and the growth trajectory is predicted to continue during the assessment period. In 2022, it is expected to be valued at US$ 150.8 Mn. The electric vehicle market is predicted to increase LiDAR sensor sales due to its applications.
LiDAR technology now also comes with integrated features such as car surround sensors and 3D mapping, both of which will positively affect the growth of the LiDAR market by the end of the forecast period. R&D is now being done in LiDAR technology to make it compatible with advanced driver assistance systems.
Demand for self-driving vehicles is expected to see huge growth over the next decade, and this will positively impact the sales of LiDAR sensors.
Automotive manufacturers are constantly working towards finding new ways of innovating LiDAR technology in the automotive as it makes the vehicle safer for travelers. Companies are keen on conducting collaborations and partnerships with different LiDAR manufacturers to make the best of their technology. The automotive industry is expected to have a market share of 7.9% in 2022 and is expected to gain a dominant position by the end of the forecast period.
"Impact of Smartphones on LiDAR Sensor Market"
The demand for mobile phones, tablets, and other electronic gadgets has seen exponential over the past, and with the constant integrations that are being done to these gadgets, it is predicted that the growth trajectory will continue to move upwards during the forecast period. Integrating LiDAR technology into smartphones and tablets may be a game changer for the electronic industry in successive years as it will improve the application base of the device and will help applications provide better services.
A LiDAR integrated Mobile platform to produce accurate geospatial 3D point cloud. Where large georeferenced information is captured and carried in an efficient and fast way. This can be used in multivariate applications such as planning urban spaces and restructuring cultural heritage.
Apple has integrated LiDAR technology into its mobile phones, such as iPhone 13 Pro, iPhone 13 Pro, iPhone 12 Pro, and iPhone 12 Pro Max. LiDAR technology helps Apple phones to create a 3D representation of the region around them, up to 5 m. With more smartphone companies employing LiDAR technology in their devices, the demand for LiDAR systems will see tremendous growth during the forecast period.
The cellular network segment as an end-use segment is expected to have a market share of 7.5% in 2022. So overall, the market valuation due to smartphones can be expected to increase exponentially by the end of the forecast period.
More Insights, Lesser Cost (-50% off)
Insights on import/export production,
pricing analysis, and more – Only @ Fact.MR
What Concerns Should LiDAR Sensor Manufacturers Avert?
"The Inability of LiDAR Sensor to Perform Accurately During Rains"
Among the various difficulties involved during the development of reliable and efficient autonomous vehicles or advanced driver-assist systems, adverse weather conditions remain the utmost hurdle. One of the primary shortcomings of LiDAR sensors is their incapability to perform with accuracy during rainy or cloudy conditions, as it affects the sensor's efficiency.
Hampered reliability and efficiency of LiDAR sensors may lead to some serious problems which may have devastating outcomes which will eventually impact the growth of the LIDAR market. This is one of the major drawbacks of the LiDAR system, which may restrict the sensor's market penetration and may force automobile manufacturers to look for other substitute products that may be able to overcome the problems faced by the LiDAR sensor.
"Expensive for Automobile Manufacturers to Integrate Sensors"
LiDAR technology requires the constant deployment of resources and technological aid to sustain and be competent in the market. LiDAR is comparatively more expensive than other technologies, which potentially restricts the growth of the LiDAR market. The price range of LiDAR sensors varies between US$ 20,000 and US$ 100,000. Prominent players in the market are constantly focused on developing technology to produce high volumes at relatively low costs.
Primarily LiDAR technology is utilized in advanced driver assistance systems and autonomous vehicles, which are expected to be more expensive than conventional automobiles. LiDAR technology has a wide range of applicability across multiple industries, but the cost of integrating LiDAR technology in automobiles is comparatively high, and this may potentially restrict the overall growth of the LiDAR market in the coming years.
Country-wise Analysis
Will the Manufacturing Power of China Allow Control of Market Dynamics?
Since China is expected to account for 58% of the LiDAR sensor market in the East Asia region, it has a huge impact on the prices of these sensors that are sold worldwide. Due to the presence of several small manufacturers in China, the LiDAR sensor industry is moderately fragmented. China accounts for 15 top LiDAR manufacturing companies in the world.
China is slowly trying to achieve the position of the world's leading manufacturer of semiconductor devices. The low labor costs and presence of raw materials in China make it easier for new and small businesses to survive in the market.
The rising tensions between China and the United States regarding the situation in Taiwan will lead to the imposition of various additional duties on goods imported from China. The automotive industry is a major contributor to China economy.
Why is the Demand for LiDAR Sensor Soaring in the U.S.?
North America has held the position of having the highest market share in the global LiDAR market for a very long time, and a major reason for this is due to the U.S. In 2022, North America is projected to capture a market share of 26.9% of the global market and the U.S. is predicted to account for 70.3% of North America share.
Government policies to come up with solutions for emission problems faced by the U.S. and develop devices that have net-zero gaseous emission by 2025 have increased the demand for LiDAR sensors in the market. Since electric vehicles are a solution to battle the problems of emissions from vehicles, the sales of LiDAR technology will see a huge gain since these vehicles depend heavily on LiDAR sensors.
Uber's air taxis module is expected to revolutionize the automotive industry, and thus there will be an increase in the demand for airborne LiDAR sensors. The growth of drone technology in the U.S. for content creation, surveillance, as well as delivery is providing several market opportunities for airborne LiDAR sensor technology in the U.S.
United states anticipated holding 37% of the global LiDAR arcade share by 2030 this expects more competition in North American manufacturers in the forecast duration.
Category-Wise Insights
How is the LiDAR Sensor Ability to Collect Data Making it useful in Different Industries?
LiDAR is an active remote sensing technology that utilizes laser (Light amplification by stimulated emission of radiation), which operates on the principle of amplification of light based on the stimulated electromagnetic radiation emission. This makes it different from conventional radio technology and microwaves. Integrating LiDAR technology enables us to obtain more precise and accurate real-time data.
LiDAR technology operates throughout the day, irrespective of whether it's day or night, due to its laser technology. LiDAR provides adequately intense and precise data with centimeter-level accuracy. LiDAR sensors are of three types, i.e., ground-based, airborne, and satellite. LiDAR technology has many applications in several sectors, such as geology, space, forestry, agriculture, mapping, automobile, etc. All these sectors are expected to roughly account for a little less than 50% of the market share in 2022.
Which End Use Offers Great Potential for Sales of LiDAR Sensors?
ADAS (Advance driver assistance system) and autonomous vehicles face several stringent government rules and regulations with issues related to road safety. It is noticed that the regional governments have concerns regarding the regulation and safety of self-driving vehicles.
LiDAR sensors justify their high cost in the automobile industry as they have prominent applicability in self-driving vehicles. This is going to positively impact the demand for LiDAR system technology over the coming years. Prominent automobile markets such as China & U.S are pushing their R&D to deploy self-driving vehicles by the end of 2025.
The automotive end-use industry is expected to have a market value of US$ 150.8 Mn in 2022 and grow at a CAGR of 18.9% during the forecast period.
Competitive Landscape
Prominent manufacturers of the LiDAR sensor industry worldwide, including Trimble Inc., Topcon, SICK AG, Velodyne Lidar, and FARO, are emphasizing launching products that are technologically advanced and are grabbing marketing strategies such as acquisitions and collaborations with other market players to help improve production capacities, improve market penetration and gain a larger market share.
Ouster, a LiDAR technology company, has acquired another LiDAR technology start-up named Sense Photonics for US$ 68 Mn in 2021. This will help the company improve its R&D.
Aurora acquired a LiDAR start-up named OURS in 2022. Previously, Aurora had acquired another LiDAR start-up named Blackmore in 2019.
Segmentation of LiDAR Sensor Industry Research
LiDAR Sensor Market by Type :

Airborne

Topographic LiDAR
Bathymetric LiDAR

Terrestrial

Mobile LiDAR
Static LiDAR

LiDAR Sensor Market by Technology :

Solid State LiDAR
Mechanical LiDAR

LiDAR Sensor Market by Application :

Vehicle Automation
Digital Elevation Model
Forest Planning and Management
Environmental Assessment
Transport Planning
Infrastructure Building
Cellular Network Planning
Meteorology
Others

LiDAR Sensor Market by End-Use Industry :

Automotive
Oil & Gas
IT & Communication
Media & Entertainment
Power & Energy
Survey & Analysis
Aerospace & Defenses
Travel & Tourism
Agriculture & Forestry
Mining
Others

LiDAR Sensor Market by Region :

North America
Latin America
Europe
East Asia
South Asia
Oceania
Middle East & Africa (MEA)
- FAQs -
Worldwide demand for LiDAR Sensor is anticipated to reach US$ 6,328.7 million by 2032-end.
North America is predicted to top the global LiDAR sensor market accounting for 26.9% market share in 2022.
Terrestrial type of LiDAR Sensor will account for 64.2% share of global sales in 2022.
The global LiDAR Sensor market will be valued at US$ 1,908.1 million in 2022.
During 2017-2021, sales of LiDAR Sensor increased at 6.3% CAGR.