Aseptic Packaging Market
Aseptic Packaging Market Analysis By Packaging Type (Cartons, Bags & Pouches, Bottles & Cans), By Material (Paper & Paperboard, Plastic, Metal, Glass), By Application (Food, Beverages, Dairy, Pharmaceuticals) and By Region - Global Market Report (2023 to 2033)
Analysis of Aseptic Packaging Market Covering 30+ Countries Including Analysis of US, Canada, UK, Germany, France, Nordics, GCC countries, Japan, Korea and many more
Aseptic Packaging Market Outlook (2023 to 2033)
The global aseptic packaging market size is exhibiting remarkable growth and stands at a valuation of US$ 65.89 billion in 2023. The market is forecasted to expand at a CAGR of 10% and reach a size of US$ 170.9 billion by the end of 2033. Aseptic packaging has emerged as a game-changing force in the global packaging business, revolutionizing the way products are packed, delivered, and consumed.
The aseptic packaging business is undergoing significant expansion and altering the packaging landscape due to its ability to retain product freshness without refrigeration and its exceptional environmental features. Aseptic packaging is a method of sterilizing and sealing products such as food, beverages, pharmaceuticals, and cosmetics in such a way that hazardous germs are eliminated but the quality and taste of the products are preserved. This technique is aseptic, which means it preserves the food clean, free of germs, and increases its shelf life without the use of chemical preservatives.
One of the most appealing aspects of aseptic packaging is its flexibility in relation to a wide range of products, including dairy, juices, soups, sauces, and even pet meals. It enables these products to remain secure, uncontaminated, and, most importantly, fresh for a lengthy period.
Key Market Growth Drivers
Businesses are constantly researching ways to decrease their carbon footprint as climate change and sustainability become more prominent in global talks.
Consumers are concerned about their health and well-being, which prompts them to seek products that are minimally processed and free of preservatives. The aseptic packaging process helps preserve the inherent flavors and nutrients of products while keeping them safe for ingestion.
The food and beverage industry is expanding rapidly, and aseptic packaging gives manufacturers the tools they need to create goods that meet evolving customer expectations.
Aseptic packaging has seen considerable technological breakthroughs. Because of advancements in materials, machinery, and sterilizing methods, it is now more accessible and cost-effective for enterprises of all sizes.
Governments all across the world are promoting environmentally friendly and safe packaging alternatives.
Preference for sustainable and eco-friendly packaging drives the market ahead, as customers grow more aware of the environmental impact of their decisions. This expansion is visible not just in established countries, but also in emerging economies, where demand for aseptic packaging is increasing as urbanization and disposable incomes rise.
Report Attributes
Details
Aseptic Packaging Market Size (2022A)
US$ 59.9 Billion
Estimated Market Value (2023E)
US$ 65.89 Billion
Forecasted Market Value (2033F)
US$ 170.9 Billion
Global Aseptic Packaging Market Growth Rate (2023 to 2033)
10% CAGR
Pharmaceutical Segment Growth Rate (2023 to 2033)
9.5% CAGR
Carton Segment Growth Rate (2023 to 2033)
9.1% CAGR
Europe Market Share (2022)
25.5%
Asia Pacific Market Share (2022)
35.5%
Key Companies Profiled

Amcor Ltd.
IPI SRL
Tetra Pak International SA
Greatview Aseptic Packaging Co. Ltd.
Reynolds Group Holdings Ltd.
DS Smith PLC
SIG Combibloc Group AG
Uflex Limited
Sealed Air Corporation
Agropour Cooperative.
Shanghai Skylong Packaging Machinery Co., Ltd.
Scholle Ipn
Lamican International AY
Bemis Company, Inc.
E.I. Du Pont De Nemours and Company
Ecolean AB
Elopak Group
Printpack, Inc.
Robert Bosch GmbH
Schott AG
Don't Need a Global Report?
save 40%! on Country & Region specific reports
Why are Aseptic Packaging Materials Gaining Popularity across the World?
"Increasing Consumer Preference for Healthier Products"
Consumers in this health-conscious society are increasingly looking for products that correspond with their goal of a healthy lifestyle. Aseptic packaging guarantees that products ranging from dairy substitutes to fruit juices and soups retain their unique flavors and important nutrients, satisfying the needs of a discerning consumer base.
Aseptic packaging complements the emerging clean-label trend. Consumers are examining product labels more than ever before, looking for transparency and simple ingredient lists. This desire is met by aseptic packaging, which eliminates the need for aseptic packaging for chemical additives and preservatives, allowing producers to market their products as cleaner, healthier, and more natural. This customer preference for clean, healthy, and preservative-free food promotes the adoption of aseptic packaging across a wide range of industries.
"Rising Environmental Consciousness and Demand for Sustainability"
Both consumers and businesses are looking for sustainable packaging options, as concerns about climate change, waste reduction, and natural resource depletion grow. Aseptic packaging stands out as an environmentally beneficial alternative, drastically decreasing the environmental footprint across the supply chain. Traditional refrigeration requirements are eliminated, resulting in lower energy usage and emissions of greenhouse gases. This is consistent with global initiatives to reduce the carbon footprint of food distribution.
Lack of preservatives adds to the sustainability appeal of the aseptic packaging. The removal of artificial ingredients helps produce cleaner, more ecologically friendly products. In addition, using renewable and recyclable materials in aseptic packaging, such as paper-based cartons, decreases environmental impact and promotes a circular economy.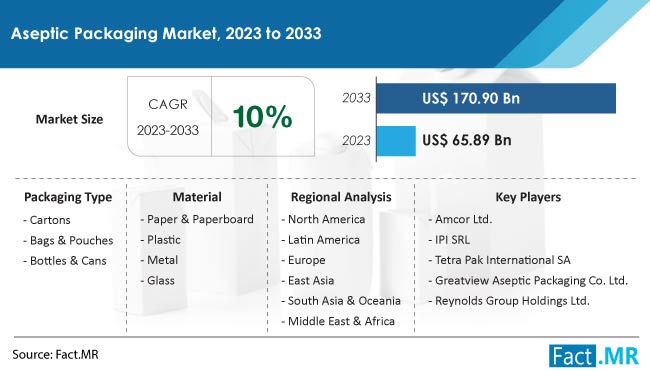 Which Factors Pose a Threat to the Growth of the Aseptic Packaging Market?
"Operational Complexity and Lack of Skilled Staff for Operation of Packaging Equipment"
Complexity of operations is a significant barrier for both established players and start-ups. Aseptic packaging entails several sophisticated operations, ranging from sterilization to filling and assuring good operation of the equipment. Aseptic packaging technology requires a competent team and constant care to maintain the authenticity of the aseptic environment.
Proper maintenance and sanitation are essential for preventing contamination, which can be costly and time-consuming. This complication can result in increased operational expenses and production delays, particularly for start-ups with limited resources. Thus, the complexity of operations might function as a barrier to market entry and expansion by discouraging potential entrants who may find it difficult to meet the high operational criteria.
More Insights, Lesser Cost (-50% off)
Insights on import/export production,
pricing analysis, and more – Only @ Fact.MR
How Can Start-ups Cash in on the Opportunities in the Aseptic Packaging Business?
"Focus on Innovation and Collaboration with Technology Providers"
Start-ups looking to gain a competitive advantage in the aseptic packaging business can use a variety of strategic tactics to not only enter but also thrive and stay ahead. Creating innovative packaging solutions, such as new materials or customized designs, can help them stand out from established competition. Collaboration with technology providers and machinery manufacturers can also be beneficial, allowing access to cutting-edge equipment without the hefty initial expenses.
Entrepreneurs should invest in R&D to constantly improve their goods and processes, ensuring that they remain at the forefront of industry innovations. Educating consumers and potential customers on the benefits of aseptic packaging, including its role in sustainability and food safety, can aid in the development of a customer base that appreciates these eco-friendly packaging solutions. Global expansion should also be addressed, as new areas with less established competition may provide lucrative growth chances. Targeting locations with high demand for aseptic packaging, such as parts of Asia and Latin America, can provide access to previously untapped client markets.
Country-wise Insights
European countries, particularly those in Western Europe, are ardent advocates of sustainability, which has resulted in the widespread use of aseptic packaging, thereby acquiring a market share of 25.5% in 2022. Germany, France, and the United Kingdom are key market contributors. The European region is anticipated to expand at a 7.7% CAGR through 2033. Asia Pacific accounted for 33% of global aseptic packaging market share in 2022.
Why is China Poised to Remain a Lucrative Market for Aseptic Packaging Manufacturers?
"Growing Emphasis on Sustainability Boosting Production of Eco-friendly Packaging"
The market in Asia Pacific stood at US$ 19 billion in 2022, acquiring a revenue share of 35.5%, and is further projected to expand at a CAGR of 10.85% through 2033.
China's rapidly growing economy positions it as a key influencer in the evolving consumer preferences and expanding food and beverages industry on a global scale. Demand for efficient and health-conscious products among the rising middle class is being driven by rising disposable incomes and increasing urbanization in the nation. Aseptic packaging is appropriate for today's consumer trends because of its ability to provide extended shelf life and ensure product safety without the use of preservatives.
Emphasis on sustainability and environmental conservation has resulted in an increasing preference for eco-friendly food packaging options. Aseptic packaging is seen as an appealing choice for both consumers and manufacturers due to its ability to drastically reduce food waste and energy consumption during product transit and storage. Government assistance and regulatory actions promote the use of aseptic packaging to improve food safety while reducing environmental footprint.
What is Driving Demand for Aseptic Packaging in the United States?
"Sterile Packaging Market Benefitting from Demand for Preservative-free Products"
The United States has a thriving and inventive food and beverages industry, which is fueled by a diversified consumer base with evolving preferences. Aseptic packaging is well aligned with the desire for convenient, preservative-free, and health-conscious products, making it a favored choice for producers looking to meet these demands. The United States is at the forefront of environmental consciousness and sustainability, with both businesses and consumers actively seeking eco-friendly packaging solutions.
The country's pharmaceutical and healthcare sector is expanding, which opens up prospects for aseptic packaging in the packaging of sterile pharmaceuticals, vaccines, and other medical supplies. The United States, with its strong dedication to innovation and technological advancements, is a significant driver in shaping the future of the market.
Know thy Competitors
Competitive landscape highlights only certain players
Complete list available upon request
Category-wise Insights
Based on packaging type, the cartons segment held 66% of the aseptic packaging market share in 2022. The bottles segment is poised to expand at a CAGR of 7% throughout the forecast period (2023 to 2033). The paper and paperboard segment occupied 50% of the global revenue share in 2022.
Why are Cartons Highly Preferred in Aseptic Packaging Solutions?
"Shift toward Sustainable, Convenient, and Environmentally Friendly Packaging Options"
The carton segment held 58.5% market share in 2022. Aseptic carton demand is anticipated to rise at 9.1% CAGR from 2023 to 2033. Aseptic cartons are distinguished by their lightweight and environmental friendliness, have acquired significant traction, and are widely used for a variety of products, particularly in the food and beverages industry such as aseptic carton bottles. Aseptic cartons are often made of renewable and sustainable materials, such as paperboard sourced from responsibly managed forests.
As consumers become more environmentally concerned, they want products that are not just recyclable, but also manufactured from renewable resources. These cartons come in a variety of shapes and sizes, allowing them to store everything from milk and fruit juice to soups and even pet treats.
Cartons are a good option for organizations looking to broaden their product lines because of their adaptability and ability to keep the quality and flavor of a wide range of products while ensuring their safety. Cartons frequently include user-friendly packaging designs, such as screwtops and straw holes, which improve the consumer experience, thereby contributing to the aseptic carton packaging market. This element corresponds to the continued trend of on-the-go consumption, thereby driving the demand for on-the-go food packaging and the need for products that may be enjoyed conveniently, whether at home, at work, or on the go.
Competitive Landscape
The competitive landscape of the aseptic packaging market is dynamic and developing, with established industry giants, creative start-ups, and an increasing emphasis on sustainability and technological advancements. SIG Combibloc, Amcor, Scholle IPN Tetra Pak International SA, Greatview Aseptic Packaging Co. Ltd., Reynolds Group Holdings Ltd., DS Smith, and Uflex Limited are some of the top companies in aseptic packaging market and have traditionally held a substantial portion of the industry, supplying a diverse range of aseptic packaging solutions to industries ranging from food and beverages to medicines and cosmetics.
Significant knowledge, great brand awareness, and global reach have established them as industry leaders. The aseptic packaging business has seen a spike in innovation and sustainability efforts in recent years. This has resulted in the rise of various start-ups and smaller companies attempting to carve out a market niche.
Newcomers are frequently motivated by a desire to create cutting-edge materials, techniques, and aseptic processing equipment that push the limits of aseptic packaging technology. Their adaptability and readiness to accept the most recent and key trends in the aseptic packaging market, in eco-friendliness and customer preferences have made them significant contributors to the changing landscape.
Tetra Pak produced India's first Tetra Stelo aseptic box in November 2022. Minute Maid, The Coca-Cola Company's top nutrition brand in India, now prefers Tetra Stelo packaging. This is The Coca-Cola Company's first Tetra Stelo Aseptic package, which was introduced in the Asia Pacific region.
Segmentation of Aseptic Packaging Market Research
By Packaging Type :

Cartons
Bags & Pouches
Bottles & Cans
Others

By Material :

Paper & Paperboard
Plastic
Metal
Glass
Others

By Application :

Food
Beverages
Dairy
Pharmaceuticals
Others

By Region :

North America
Europe
Latin America
East Asia
South Asia & Oceania
Middle East & Africa
- FAQs -
The global aseptic packaging market was valued at US$ 59.9 billion in 2022.
Sales of aseptic packaging solutions are valued at US$ 65.89 billion in 2023.
Demand for aseptic packaging is projected to reach a market value of US$ 170.9 billion by the end of 2033.
Sales of aseptic packaging solutions are projected to rise at a CAGR of 10% through 2033.
The European market for aseptic packaging is forecasted to expand at a CAGR of 7.7% through 2033.