Robot Software Market
Robot Software Market Analysis By Software Type (Recognition Software, Data Management & Analysis Software, Communication Management Software, Simulation Software, Predictive Maintenance Software), By Robot Type (Industrial Robots, Service Robots), By Deployment Mode (On-premise, Cloud-based), By Enterprise Size (Large Enterprises, Small & Medium Enterprises), By Industry Vertical (Manufacturing, Healthcare, Aerospace & Defense, Media & Entertainment, Logistics) & By Region – Global Market Insights 2023 to 2033
Analysis of Robot Software Market Covering 30+ Countries Including Analysis of US, Canada, UK, Germany, France, Nordics, GCC countries, Japan, Korea and many more
Robot Software Market Outlook (2023 to 2033)
The global robot software market stands at a value of US$ 9.3 billion in 2023 and is projected to reach US$ 70 billion by 2033-end, expanding rapidly at a high CAGR of 23% over the next ten years.
Robot software empowers functionalities related to intelligence, motion, safety, and productivity, granting robots the capability to perceive, sense, learn, and uphold security. These attributes and advantages facilitate swift and effortless optimization of robot performance for users. Key drivers propelling the robot software market include the integration of artificial intelligence, heightened speed, enhanced quality, reduced labor expenses, elevated precision, and expanded production scalability.
Specialized software and systems required to manage and run industrial robots in production settings are referred to as robot software. These applications play a vital role in enhancing productivity, optimizing automation processes, and ensuring precise execution of manufacturing activities.
Through 2033, revenue from robot software sales is forecasted to increase at a CAGR of 26.6%.
Since the invention of robots, software has played a crucial role in the field of robotics. In the years to come, as new software capabilities become available, these applications are projected to provide improved robot control, quick sequence customization, and user-friendly interfaces.
RPA tools are software programs or platforms created specifically to automate routine, rule-based processes for businesses. These tools are an essential component of the larger RPA technology ecosystem and are used to build software robots or bots, sometimes known as "bots" or "digital workers." When interacting with digital systems, apps, and data, these bots can imitate human activities to complete tasks like data entry, data extraction, and data validation.
Autonomous robot software is a set of specialized systems designed to autonomously manage robot control systems, performing tasks and making decisions without human interaction. These software systems are crucial for giving robots the ability to independently move, observe their surroundings, plan routes, interact with things, and carry out tasks.
The term 'collaborative robot software' describes specialized software programs created to direct and coordinate the use of collaborative robots, often known as "cobots." The software of collaborative robots is crucial for enabling secure and productive collaboration because they are intended to work alongside people in shared workspaces.
Large enterprises are important players in the robot software market, offering complete solutions and services associated with robot software. These businesses often have large consumer bases, abundant resources, and a global presence.
Worldwide adoption of robot software by large enterprises is expected to rise at a CAGR of 26.5% between 2023 and 2033.
Report Attributes
Details
Robot Software Market Size (2022A)
US$ 7.5 Billion
Estimated Market Value (2023E)
US$ 9.3 Billion
Forecasted Market Value (2033F)
US$ 70 Billion
Global Market Growth Rate (2023 to 2033)
23% CAGR
Europe Market Growth Rate (2023 to 2033)
24% CAGR
Management & Data Analytics Software Segment Growth Rate (2023 to 2033)
25% CAGR
Large Enterprises Segment Growth Rate (2023 to 2033)
26.5% CAGR
Manufacturing Segment Growth Rate (2023 to 2033)
26.6% CAGR
Industrial Robots Segment Growth Rate (2023 to 2033)
26.2% CAGR
Asia Pacific Market Growth Rate (2023 to 2033)
28% CAGR
Key Companies Profiled

ABB Ltd.
Energid Technologies Corporation
Brain Corporation
AIbrain Inc.
CloudMinds Technology Inc.
IBM Corporation
Anscer Robotics
Quale Infotech
Neurala, Inc.
Don't Need a Global Report?
save 40%! on Country & Region specific reports
What is Behind the Surging Popularity of Robot Software?
"Elevated Labor Costs Leading to Increased Adoption of Robotics"
Labor-intensive businesses are adopting automation more as a result of increased labor costs and a lack of qualified people. As robots get better at interacting with people, job performance and productivity increase. Robotics technology is now being used for research in industries like agriculture, construction and mining, entertainment, medicine, logistics, personal protection, and defense.
Robot software development kits (SDKs) are complete collections of tools, libraries, and resources made available to developers, engineers, and programmers by robotics businesses or groups. These kits are made to make it easier to develop, personalize, and improve software applications for interacting and controlling robotic systems. Robots primarily handle repetitive tasks, but with advancements in robotics technology, they have become increasingly essential in all professions, significantly impacting daily lives.
"Rising Use of Industrial Robots to Perform Hazardous Tasks"
Growing demand for automation and safety measures in high-risk industries like chemical manufacturing is propelling market expansion. Furthermore, the market is evolving as a result of the increased adoption of advanced technologies such as the Industrial Internet of Things (IIoT), which plays a pivotal role in factory robotics and is closely linked with Industry 4.0. Utilization of industrial robots to perform hazardous or repetitive tasks with precision, replacing human labor, is also gaining traction in the market.
AI-powered robot software refers to software applications that leverage machine learning and artificial intelligence (AI) to enhance the performance and efficiency of robots. These software solutions empower robots to execute tasks with greater intelligence, adapt to changing environments, make autonomous decisions, and engage in more advanced interactions with their surroundings and humans.
Several industries, including chemicals and automotive, are increasingly inclined to embrace robot software to handle hazardous tasks, manage toxic gases and potent fumes inherent in manual welding, and operate in areas of manufacturing facilities with flammable vapors. Furthermore, due to strict safety regulations, companies are now deploying robots in perilous and unsafe environments. In the past, only the automotive sector had automated its manufacturing operations.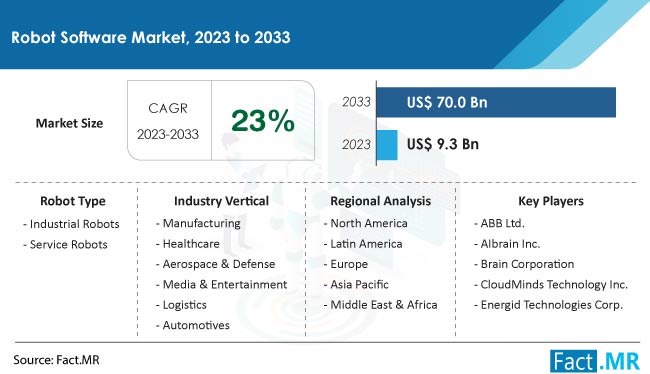 What Obstacles are Encountered by Developers of Robot Software?
"Elevated Initial Expenses, Complicated Integration, and Demand for Skilled Workforce"
Implementing robot software often involves significant upfront costs, including the purchase of software licenses, hardware, and the necessary infrastructure. This can be a barrier for smaller businesses or organizations with limited budgets.
Integrating robot software with existing systems and processes can be complex and time-consuming. Compatibility issues with legacy systems and the need for extensive customization can pose challenges. Developing and maintaining robot software requires a skilled workforce with expertise in robotics, software development, and AI. Finding and retaining qualified personnel can be a constraint for organizations.
"Cybersecurity Challenges and Interoperability Issues Associated with Robot Software Deployment"
Robots and their software can be vulnerable to cyberattacks, which can have serious consequences in critical industries such as manufacturing and healthcare. Ensuring the security of robot software is a significant challenge. Ensuring that different robots and robot software can work together seamlessly is a challenge, especially in environments where multiple robot types are used.
Like any software, robot software requires maintenance and updates to stay secure and efficient. Managing these updates across a fleet of robots can be a logistical challenge. Robots are often used in a wide range of environmental conditions, from extreme temperatures to hazardous environments. Developing software that can operate reliably in such conditions can be challenging.
More Insights, Lesser Cost (-50% off)
Insights on import/export production,
pricing analysis, and more – Only @ Fact.MR
Country-wise Insights
The subsequent section offers an overview of market revenue categorized by prominent nations. The markets in China and Germany are projected to advance at a CAGR of 28% and 24%, respectively, through 2033. According to the analysis conducted by Fact.MR, these countries distinctly represent significant regional prospects among those assessed in the report.
What are the Reasons Behind China's Growing Need for Robot Software?
"Increasing Demand for Robot Software in Security and Surveillance"
The Asia Pacific market is predicted to expand at a CAGR of 28% through 2033. Market growth in the region can be attributed to the swift embrace of cutting-edge technologies in both developed and developing nations, along with the increasing demand for robotic process automation across diverse industries.
In December 2021, the Chinese government's Ministry of Industry and Information Technology (MIIT) unveiled an extensive five-year strategy. This strategy outlines China's aspirations to emerge as a hub of innovation in the robotics sector, advance core robotics technology, and pioneer highly advanced robotics products and solutions. The plan also outlines the goal of establishing 500 smart manufacturing plants and 150 smart manufacturing solution providers in the country by 2025.
Due to significant automation projects and ongoing research & development, China has seen particularly significant growth in the mobile robot domain. Robotics are becoming increasingly necessary for security and surveillance applications, which is essentially fueling the rising product demand.
What Opportunities are on the Horizon for Manufacturers in Germany?
"Focus on Enhancement of Life through Technology and Automation"
From 2023 to 2033, the Europe market is forecasted to advance at a CAGR of 24%. Applications of robotics in daily life, including robot coworkers and companions in hospitals, submarines, fire control, and cities, are replacing the traditional industrial use of robots in Europe. Robots enhance life in homes, workplaces, and other public spaces as a result of the development of technology and automation.
Germany has several robots installed in Europe as a result of the massive amount of money spent on the automotive sector. The economies are predicted to adopt robotics at the slowest rate because they adhere to strict rules. For service robotics, Europe leads the world market. Germany uses robots mostly in the security sector due to the growing security demands of its citizens and the need to keep an eye on routine events.
Category-wise Insights
Industrial robot sales are expected to rise at 26.2% CAGR through 2033, and sales of data management & analytics software are projected to advance at a 25% CAGR from 2023 to 2033. According to Fact.MR's assessment, these segments hold favorable opportunities for industry players.
Why are Industrial Robots the Frontrunners in Software Adoption?
"Industrial Robot Software Facilitating Customization for Specific Manufacturing Processes"
Demand for industrial robots is expected to expand at 26.2% CAGR from 2023 to 2033. These robots depend on sophisticated software to function effectively and carry out tasks precisely. They are developed for a variety of uses in manufacturing and industrial environments.
Industrial robots are widely used in manufacturing industries to automate tasks such as welding, painting, material handling, assembly, and quality inspection. The software that controls these robots allows for precise control and coordination of their movements and actions.
Software for industrial robots includes programming tools, motion control algorithms, and communication protocols. These software components enable robots to perform tasks with precision, speed, and repeatability. Industrial robot software can be customized to suit specific manufacturing processes and tasks. This flexibility is essential for adapting to different production requirements and optimizing manufacturing workflows.
Why is Use of Data Management and Analytics Software Increasing?
"Key Role of Robot Software in Maintenance Optimization and Performance Improvement"
Demand for robot software for use in data management and analytics software is projected to achieve a CAGR of 25% from 2023 to 2033. When it comes to industrial and service robots, data management and analytics software are crucial elements of the robot software market. These software programs are essential for gathering, handling, analyzing, and using the data produced by robots.
Analytics software can identify areas for performance improvement in robots. This information can be used to fine-tune robot operations, resulting in increased efficiency and productivity. Predictive analytics can forecast when robots or their components may require maintenance or replacement. This helps in reducing downtime and optimizing maintenance schedules.
Data analytics can be used for quality control purposes, inspecting products or processes to identify defects or deviations from quality standards. In industrial settings, data analytics can optimize manufacturing processes by identifying bottlenecks, inefficiencies, and opportunities for streamlining operations.
Know thy Competitors
Competitive landscape highlights only certain players
Complete list available upon request
Competitive Landscape
Multiple significant firms are competing for market share and trying to keep their competitive edge in the market for robot software. To keep ahead of the competition, these businesses constantly innovate, diversify their product offerings, and look for strategic alliances.
In July 2021, ABB completed the acquisition of ASTI Mobile Robotics Group, a prominent player in the rapidly expanding Autonomous Mobile Robot (AMR) market. ASTI Mobile Robotics Group boasted a comprehensive portfolio of vehicles and software designed to support a wide range of applications. Through this acquisition, ABB sought to strengthen its competencies in flexible automation and deliver cutting-edge solutions.
Key Segments of Robot Software Market Research
By Software Type :

Recognition Software
Data Management & Analysis Software
Communication Management Software
Simulation Software
Predictive Maintenance Software

By Robot Type :

Industrial Robots
Service Robots

By Deployment Mode :

By Enterprise Size :

Large Enterprises
Small & Medium Enterprises

By Industry Vertical :

Manufacturing
Healthcare
Aerospace & Defense
Media & Entertainment
Logistics
Automotive

By Region :

North America
Latin America
Europe
Asia Pacific
Middle East & Africa
- FAQs -
The global robot software market is valued at US$ 9.3 billion in 2023.
Worldwide sales of robot software are set to increase at a CAGR of 23% from 2023 to 2033.
Global sales of robot software are projected to reach US$ 70 billion by 2033.
Demand for robot software in manufacturing is forecasted to increase at a CAGR of 26.6% through 2033.
The market in Europe is set to expand at a CAGR of 24% through 2033.
Demand for robot software in large enterprises is projected to rise at 26.5% CAGR through 2033.