Canned Salmon Market
Canned Salmon Market By Source (Wild Canned Salmon, Farmed Canned Salmon), By Species (Atlantic Canned Salmon, Pacific Canned Salmon), By Form (Skinless Boneless, Chunks, Fillets), By Category, By Region - Global Insights 2021 to 2031
FACT6862MR
Sep-2021

List of Tables : 118

List of Figures : 100

170 Pages
Canned Salmon Market Outlook
Latest released report on the canned salmon market by Fact.MR estimates global sales accounted for US$ 4.5 Bn in 2021, which is expected to witness a lucrative growth rate at a CAGR 6.8% to surpass a value of US$ 8.6 Bn in 2031.
Canned salmon is witnessing an upsurge in demand owing to increase in the consumption of seafood that provides various health benefits. Canned salmon is a great source of essential nutrients such as protein, which is required for a healthy body.
Change in lifestyle and increase in the working population have brought a shift in the eating habits of consumers. Consumers are preferring processed food such as canned salmon that is ready-to-eat and convenient for consumption, storage, and also contains nutritional elements that are beneficial for good health.
The canned salmon business research performed by Fact.MR includes key findings such as the latest and speculative production capacity, capacity utilization rates of each manufacturer, recent and speculative pricing, and price optimization strategy across the value chain, as well as an economic evaluation of canned salmon production.
Avail customized purchase options for your needs
Key Points Covered in Canned Salmon Industry Survey:
Canned Salmon Industry Estimates and Forecasts (2016-2031)
Production Capacity Analysis of Prominent Manufacturers
Canned Salmon Pricing Analysis
Product Pricing Optimization Strategy
Associated Industry Analysis (Food and Beverage Market Overview)
Key Drivers and Restraints Shaping Market Growth
Segment-wise, Country-wise, and Region-wise Analysis
Competition Mapping and Benchmarking
Market Share Analysis
COVID-19 Impact on Canned Salmon and How to Navigate
Exclusive sales assessment of Canned Salmon
Recommendation on Key Winning Strategies
Sales Analysis of Canned Salmon from 2016 to 2020 Vs. Market Outlook for 2021 to 2031  
Consumer awareness about healthy lifestyles and the benefits of nutritional food is rising, causing them to gravitate toward nutrient-rich food products, which is boosting the growth of the global canned salmon market.
Apart from protein content, salmon also contains various other nutrients such as vitamin B12 and omega-3 fatty acids. Vitamin B helps to turn the food into energy and maintains the optimal functioning of the nervous system and brain. Omega-3 fatty acids are helpful for reducing inflammation, decreasing risk factors for diseases and lowering blood pressure. Thus, the nutrition properties of salmon driving the demand for canned salmon among the health-conscious consumer.
The extreme versatile factor of canned salmon drives its demand among the consumers. It has a unique flavor with a less fishy taste compared to other varieties of fish. It can be offered in various forms such as smoked, sautéed, grilled, steamed and poached. That is why it has fuelled the demand of canned salmon as breakfast and salads.
Consumption of high nutrient seafood like salmon helps in the prevention of various chronic diseases like heart disease, reduces the risk of stroke, cancer, arthritis, alzheimers disease, asthma and crohn's disease. As per the study, the balance of omega-3 fatty acids and omega-6 fatty acids in the blood is important to reduce the risk of heart disease. Consumption of two servings of salmon per week increases omega-3 blood levels by 8-9% and decreases omega-6 blood levels after 4 weeks.
Demand for health supplements in daily life to combat escalating health concerns is driving canned salmon sales globally. The global market is expected to remain stable, growing at a CAGR of 6.8% from 2021 to 2031, compared to a CAGR of 5.2% for 2016 to 2020, according to Fact.MR.
Manufacturers have the advantage of using the by-products of salmon in various applications across different industries such as animal feed, pet food, as a fat absorber in the meat and confectionery industry, and so on. These applications help avoid wastage from the manufacturer's side and enable optimum utilization of resources.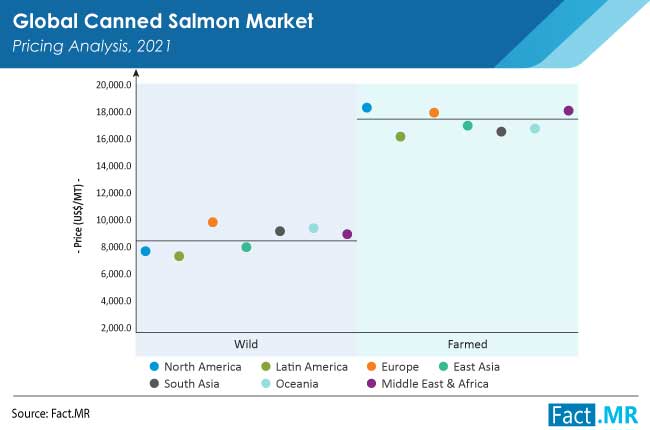 Is Continuous Development by Key Players Driving Market Growth?
Increasing demand for seafood such as the canned salmon has resulted in the expansion of canned salmon industry to meet growing market demand, and thus, key manufacturers are focusing on expanding their business and reach through continuous development such as mergers and acquisitions.
In 2020, FCF Co. Ltd. (FCF), a Taiwanese company- one of the world's largest integrated marine industry supply-chain service providers, acquired Bumble Bee Seafoods.
Peter Pan Seafoods merged with Northwest Fish Company in 2021 to streamline the flow of up to 50 million pounds of Alaska seafood in the domestic market – the U.S.
True North Seafood Co. Ltd.-a Canada based seafood company acquired US-based Mariner Seafood in 2020.
Canadian Fishing Company (Canfisco) acquired Alaskan processor North Pacific Seafoods (US-based) in 2021.
An Adaptive Approach to Modern-day Research Needs
How are Product Sourcing Claims Positively Impacting Demand for Canned Salmon?
Consumers have started opting for seafood products that are sourced in a sustainable manner as per the growing concern for environmentally and socially responsible seafood procurement among the consumers. This has resulted in the rise in the number of canned salmon suppliers seeking to procure raw materials from the fisheries that are Marine Stewardship Council (MSC) and Aquaculture Stewardship Council (ASC) certified to be a part of the sustainable initiative and eventually boost the canned salmon sales in the market.
Bumble Bee Seafoods L.L.C acquired The Marine Stewardship Council (MSC) and other certification programs recognized by the Global Sustainable Seafood Initiative (GSSI) for sustainable sourcing.
Princess Group Limited source from Marine Stewardship Council (MSC) certified fisheries or those that are actively involved in Fishery Improvement Projects (FIPs).
Tassal Group Limited has the Aquaculture Stewardship Council (ASC), and Best Aquaculture Practice (BAP) certification.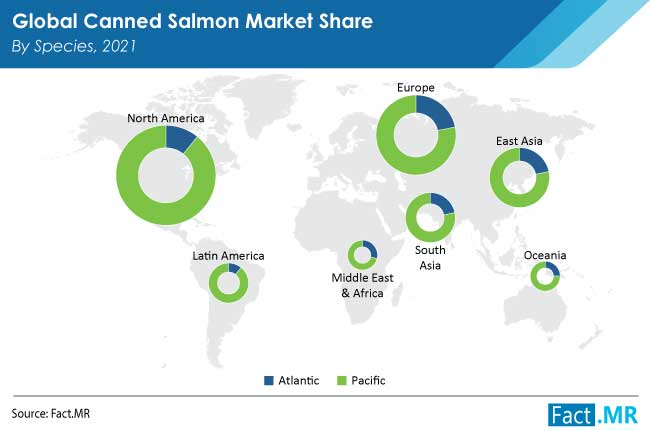 Is Spiking Indirect Sales of Canned Salmon Driving Market Expansion?
Consumers are becoming more aware of quality, nutritional value, and ethical eating practices which result in value-based buying and this has fuelled market growth.
With increasing demand, there is growth in the sales of canned salmon by distribution channels that include indirect sales such as modern trade, convenience stores, specialty food stores, online retail, and other retail formats. The top mass retailers of canned salmon include Walmart, Costco, Aldi, Amazon, and so on.
Moreover, there is growth in the number of market players adopting online sales of canned salmon to reach more consumers. The online retail format is convenient as per consumer preferences, and increase in Internet penetration across countries makes it a better option to increase sales in the market.
Therefore, mass retailers are also the top Internet retailers of canned salmon, who have both an online presence and offline stores, except Amazon, which operates as an e-retailer.
Interested to Procure The Data
Is the Direct Sales Method Fuelling Canned Salmon Industry Growth?
Demand for canned salmon is increasing as per the increase in awareness among consumers about the health benefits from the intake of this seafood. Apart from other retail outlets, consumers also prefer to buy directly from the manufacturers that would assure the quality and authenticity of the product.
Therefore, as per direct sales analysis of canned salmon, many companies have adopted direct sales methods to provide products directly from manufacturers to consumers. For example, Thai Union Group started its e-Commerce platform Thai Union Online Shop to reach consumers directly.
Will Demand for Plant-based Seafood Shape the Sales of Canned Salmon?
Increase in the consumption of vegan or vegetarian food has impacted demand for plant-based seafood. The growing trend of health-conscious foods and customer interest in plant-based seafood are influencing the growth of the canned salmon sector. In recent years, vegetarianism has grown in popularity.
Plant-based seafood such as salmon provides nutritional benefits that are essential for a healthy body. It has benefits such as no fishy smell, zero mercury, and no concern of micro-plastics. Therefore, one of the top canned salmon brands such as Bumble Bee Seafoods L.L.C Company announced a joint venture with plant-based seafood brand Good Catch in 2020.
Is Increasing Demand from Sports Nutrition Industry Boosting Canned Salmon Sales? 
The sports nutrition industry holds high potential for the canned salmon space. Increased health awareness has pulled people across the globe to shift consumer preference towards healthy and nutritious products. The demand for canned salmon products is increasing among athletes based on the various essential nutrients it provides such as protein, vitamin B-12, omega-3 fatty acids and iron.
It helps reduce blood clotting and lower triglycerides & blood pressure thus preventing heart borne diseases. It also helps to reduce the inflammation which is caused in muscles through intense exercise. It contains vitamin D that supports the immune system and keeps the membrane healthy. It is a great source of nutrients that keeps bone and muscles strong.
Which Region Offers Lucrative Opportunity for Sales of Canned Salmon?
In 2021, as per analysis of the overall canned salmon market size, the North American region is expected to have the highest sales of canned salmon with a value of around US$ 1.2 Bn, which is estimated to increase at a CAGR of 5.3% through the forecast period.
Increase in the number of canned salmon manufacturers as well as expansion of existing manufacturers as per growing demand is driving the sales of canned salmon in the region.
The European region accounts for the second-highest value. In 2021, total sales of canned salmon in Europe are expected to be close to US$ 1.1 Bn, accounting for roughly 23.8% market share of the global canned salmon business. It is predicted to expand at a CAGR of 8% through 2031.
Increase in demand for plant-based seafood is also driving the European market, as consumers who are looking for sustainable and vegan options are switching to plant-based seafood that provides nutritional benefits that are essential for a healthy body.
Country-wise Analysis
Which Factors are Contributing to Growth of the Market for Canned Salmon in the U.S.?
North America is one of the major regions in the global market, according to Fact.MR, and it is predicted to develop at a healthy rate throughout the forecast period. The United States is expected to account for around 61.8% of the North American market in 2021, according to the most recent analysis.
Increase in demand for canned salmon has compelled existing manufacturers to expand their business and production capacity along with the addition of new market players in the region. The United States is also a leader in the vegan movement, and has fuelled demand for plant-based seafood from vegan consumers.
Why is Japan a Prominent Market for Canned Salmon in East Asia?
According to Fact.MR, demand for canned salmon in Japan is estimated to be valued at US$ 363.3 Mn in 2021. The country's demand for canned salmon is extremely high owing to high consumption of seafood.
Rapidly expanding demand for protein-based products among health-conscious consumers in the country is one of the major drivers for the canned salmon business. Apart from pink salmon, Japan sockeye salmon demand is increasing as per rise in consumer spending ability on nutritious food products that possess high nutrients.
How is Demand for Seafood Driving Canned Salmon Sales across Russia?
According to Fact.MR, in 2021, Russia is estimated to hold the highest market share at 21.5% in Europe. It is projected to witness lucrative growth at a CAGR of 6.4% over the forecast period of 2021-2031.
The fishing industry of Russia is considered the world's fourth-largest after Japan, U.S and China. High consumption of seafood has increased the opportunity for canned salmon manufacturers in the region, owing to the number of flavors as well as species available for the consumers in the region.
What is Driving Demand for Canned Salmon Market in China?
According to Fact.MR, demand for canned salmon in China is estimated to be valued at US$ 318.1 Mn in 2021. In the East Asia region, China is one of the most developed countries with high demand for seafood products.
Adherence to R&D, technological progression, and innovation approaches are a few of the primary elements that have contributed to the China canned salmon market. In East Asia, the country accounts for around 36.9% market share.
Which Factors Account for Thailand's Domination in the South Asia Market?
According to most recent estimates by Fact.MR, Thailand is estimated to account for 29.6% of the South Asia canned salmon market in 2021, and is expected to expand at a CAGR of 7.1% to reach a value of US$ 267 Mn in 2031.
Presence of the topmost manufacturers in Thailand drives the market of canned salmon as per the increased demand from the consumers. The top manufacturers of canned salmon include Thai Union Group Public Company Limited, Pataya Food Industries and so on, who have a variety of canned salmon products available to offer as per consumer preferences.
Category-wise Insights
Which Source of Canned Salmon Dominates the Industry?
The wild canned salmon market is estimated to hold the highest market share at 67% in 2021, and is expected to witness lucrative growth of CAGR 7.3% during the forecast period.
Wild-caught salmon contains all the required nutritional elements such as protein, omega-3 fatty acids, and so on in much more quantity. High quality of wild salmon is driving the overall market. But due to government regulations to avoid overfishing, there is a limitation for harvesting wild salmon, which impacts the supply of these species.
Demand for farmed salmon is increasing moderately owing to quality assurance given by manufacturers. Some of the farmed canned salmon manufacturers include Bumble Bee Seafoods L.L.C, Austevoll Seafood ASA, Mowi ASA, etc.
Moreover, canned salmon manufacturer Tassal Group Limited is one of top Australian farmed canned salmon manufacturers who provides canned salmon in varied flavors such as Asian-style sweet chilli, tangy lemon with cracked pepper, and natural spring water.
Why is Demand for Pacific Species of Canned Salmon High?
In 2021, the pacific species accounted for the highest market share of 81.9%, and is expected to rise at a CAGR of 6.9% from 2021 to 2031.
Demand for pacific species has witnessed lucrative growth owing to the varied salmon species such as pink, sockeye, coho, chum, and chinook. Demand for these species varies as per consumption patterns and tastes & preferences of regions.
In 2021, canned pink salmon is estimated to witness highest demand with a market share of 34.5%. Increasing sales of canned pink salmon will result in an upsurge of the global market, which is expected to rise at a CAGR of 7.1%.
Demand for canned sockeye salmon is estimated to witness an upsurge with the second-highest market share after pink salmon. Canned sockeye salmon, which is also called red salmon, is popular among consumers for its firmer flesh and better flavor, though it is expensive as compared to other species.
In the European region, the U.K. is estimated to witness the second-highest demand of canned salmon owing to changing U.K. red salmon trends and consumer preferences and spending ability.
Canned coho salmon is estimated to witness lucrative growth with a rising demand across the globe. It is estimated to rise at a CAGR of 5.5% in the forecast period. The manufacturers have started adding coho salmon in their product offering as per growing demand. The top canned coho salmon brands include Bumble Bee Seafoods and Wild Planet Foods.
After pink and sockeye canned salmon, canned chum salmon is estimated to hold a significant market share as per increasing demand from consumers for its lighter oil content. Sales of canned chum salmon are estimated to increase at a CAGR of 6.2% over the forecast period.
Which Form of Canned Salmon is Preferred the Most?
According to Fact.MR, in 2021, among the various forms of canned salmon, skinless boneless is estimated to account for the highest share of 43.5%. It is estimated to witness steady growth at a CAGR of 6.7%.
Change in consumer taste has impacted demand for the skinless boneless form that provides all the essential nutrients. Almost all manufacturers provide the skinless boneless form owing to its growing demand.
How Has COVID-19 Impacted Revenue Generation from Canned Salmon?
The impact of nutritional food on the immune system has been well documented. Recent research has underlined the need of getting enough of certain nutrients like protein in COVID-19, increasing the importance of consumption of canned salmon in 2021.
The pandemic situation positively impacted the sales of shelf-stable and non-perishable food products such as canned salmon, which have a shelf life of one to five years. There was an increase in the purchase of canned salmon as consumers were willing to buy shelf-stable products to stock up for future needs.
For instance, US-based Alaska Seafood Company saw a soaring growth in the sales for the pantry shelf product and canned salmon of around 30.3% in 2020.
Competition Landscape
Presence of multinational players such as Thai Union Group Public Company Limited, Maruha Nichiro Corporation and others characterizes the global canned salmon landscape. In comparison to global manufacturers, local and regional players are focusing on strengthening their distribution channels in the local market.
Furthermore, regional players are attempting to expand their global influence. On the other hand, established players are bolstering their position by acquiring local players. As such, it is making the market a highly competitive space.
Fact.MR has provided detailed information about the price points of canned salmon of manufacturers positioned across regions, sales growth, production capacity, and speculative production expansion, in its recently published report.
A subsidiary of Thai Union Group, John West Foods Ltd. launched Salmon Fridge Pot in 2021 to attract younger consumers and make the tinned salmon category more relevant to consumers.
Similarly, recent developments related to companies offering canned salmon have been tracked by the team at Fact.MR, which are available in the full report.
Canned Salmon Market Report Scope
Attribute

Details

Market size value in 2021

USD 4.5 Billion

Market forecast value in 2031

USD 8.6 Billion

Growth Rate

CAGR of 6.8% from 2021 to 2031

Forecast Period

2021-2031

Historical Data Available for

2016-2020

Market Analysis

MT for Volume and US$ Million for Value

Key Regions Covered

North America
Latin America
Europe
East Asia
South Asia
Oceania
MEA

Key Countries Covered

United States
Canada
Brazil
Mexico
Chile
Peru
Argentina
RoL
Germany
France
Italy
Spain
U.K.
BENELUX
Nordic
Russia
Poland
RoE
China
Japan
South Korea
India
Thailand
Indonesia
Malaysia
Singapore
Rest of South Asia
Australia
New Zealand
GCC Countries
South Africa
North Africa
Central Africa.

Key Market Segments Covered

Source
Species
Forms
Category
Sales Channel
Region

Key Companies Profiled

Thai Union Group Public Company Limited
Maruha Nichiro Corporation
Tassal Group Limited
Bumble Bee Seafoods L.L.C
Princes Group Limited.
Beijing Princess Seafood International Trading
Mogster Group
Marine Harvest
Thai Frozen Products Company
Sajo Industries
Austevoll Seafood ASA
Dong Won Fisheries
Labeyrie Fine Foods
Others

Pricing

Available upon Request
Key Segments Covered in Canned Salmon Industry Research
By Source

Wild Canned Salmon
Farmed Canned Salmon

By Species

Atlantic Canned Salmon
Pacific Canned Salmon

Pink
Sockeye
Coho
Chum
Chinook

By Form

Skinless Boneless
Chunks
Fillets

By Category

Smoked Fish- In Oil/ Deep Fried
Smoked Fish- Steamed
Conventional/ Traditional

By Sales Channel

Direct Sales of Canned Salmon
Indirect Sales of Canned Salmon

Modern Trade
Convenience Stores
Specialty Food Stores
Wholesale Stores
Discount Stores
Online Retail
Other Retail Formats
Need an Exclusive Report for your Unique Requirement?
- Our Clients -

- Evaluate How Fact.MR's Report Can Help. -
Is the market research conducted by Fact.MR?
Yes, the report has been compiled by expert analysts of Fact.MR, through a combination of primary and secondary research. To know more about how the research was conducted, you can speak to a research analyst.
What research methodology is followed by Fact.MR?
Fact.MR follows a methodology that encompasses the demand-side assessment of the market, and triangulates the same through a supply-side analysis. This methodology is based on the use of standard market structure, methods, and definitions.
What are the sources of secondary research?
Fact.MR conducts extensive secondary research through proprietary databases, paid databases, and information available in the public domain. We refer to industry associations, company press releases, annual reports, investor presentations, and research papers. More information about desk research is available upon request.
Who are the respondents for primary research?
Fact.MR speaks to stakeholders across the spectrum, including C-level executives, distributors, product manufacturers, and industry experts. For a full list of primary respondents, please reach out to us.
Is a sample of this report available for evaluation?
Yes, you can request a sample, and it will be sent to you through an email.