Canned Wine Market
Canned Wine Market Analysis By Product (Sparkling, Fortified, Still, Vermouth), By Alcoholic Content (Low Alcohol, Medium Alcohol, High Alcohol), By Type (Red Wine, White Wine, Rose Wine), By Distribution Channel (Supermarkets, Hypermarkets, Online) and By Region – Global Market Report (2023 to 2033)
Analysis of Canned Wine Market Covering 30+ Countries Including Analysis of US, Canada, UK, Germany, France, Nordics, GCC countries, Japan, Korea and many more
Canned Wine Market Outlook (2023 to 2033)
Expanding at a high-value CAGR of 12%, the global canned wine market size is projected to increase from a valuation of US$ 280 million in 2023 to US$ 870 million by 2033-end, according to a study conducted by Fact.MR, a market research and competitive intelligence provider.
Canned wine offers convenience, portability, and sustainability, which appeals to a wide range of consumers, and is emerging as a disruptive force within the broader wine industry.
Canned wine has gained popularity in recent years, becoming a popular alternative for both wine connoisseurs and casual drinkers. Canned wines are sustainable as the impact that they have on the environment is less in comparison to traditional glass bottles. Aluminum used in the production of canned wines reduces transportation emissions, is lightweight, and can be recycled. This sustainability angle resonates with environmentally conscious consumers.
Key Market Growth Drivers
Canned wine is an easy and convenient way to enjoy wine without the need for corkscrews or glassware. The portability of canned wine makes it a popular choice for outdoor events, picnics, and on-the-go consumption.
Canned wine brands often offer a diverse range of wine varieties, from reds and whites to rosés and sparkling wines. This variety attracts consumers looking for different flavors and experiences.
Canned wine comes in single-serve portions, making it ideal for those who want to enjoy a glass of wine without opening a full bottle. This minimizes waste and allows consumers to try different wines without committing to a whole bottle.
Canned wine is typically more affordable than bottled wine, making it accessible to a broader audience. This affordability is especially appealing to younger consumers and those looking for budget-friendly options.
Canned wine has gained traction through various distribution channels, including supermarkets, convenience stores, online retailers, and even in-flight services. This broad distribution network has increased its accessibility.
This market has experienced significant growth and innovation, with various brands and wineries entering the space to meet the demand for on-the-go, eco-friendly, and easy-to-enjoy wine options.
Report Attributes
Details
Canned Wine Market Size (2022A)
US$ 250 Million
Estimated Market Value (2023E)
US$ 280 Million
Forecasted Market Value (2033F)
US$ 870 Million
Global Market Growth Rate (2023 to 2033)
12% CAGR
North America Market Share (2022)
54%
Sparkling Wine Segment Market Share (2022)
64%
Key Companies Profiled

Union Wine Company
The Canned Wine Company
Sula Vineyards Pvt. Ltd.
E & J Gallo Winery
Sans Wine Co.
Integrated Beverage Group LLC
The Family Coppola
Treasury Wine Estate
Castel Freres
Grupo Penaflor
The Wine Group LLC
Precept Wine Brands LLC
Underwood Wines, LLC
Infinite Monkey Theorem
House Wine
Francis Ford Coppola Winery
West + Wilder
Bridge Lane Wine
Unionville Vineyards
Wine Society
Amble + Chase
Nomadica Wine
Backpack Wine
The Drop Wine
Constellations Brands
Old Westminster Winery
MANCAN Wine
Field Recordings
Accolade Wines
Beach Juice
Shamps Beverage LLC
Winesellers Ltd.
Don't Need a Global Report?
save 40%! on Country & Region specific reports
What are the Factors Stimulating Global Demand for Canned Wine?
"Increasing Eco-consciousness among Consumers"
Canned wines are gaining popularity worldwide as consumer lifestyles change. Canned wines are lightweight and made of aluminum, making them a sustainable alternative to glass bottles. Aluminum cans are highly recyclable, and their production and transportation typically have a lower carbon footprint. As the number of eco-conscious consumers grows, this aspect of canned wine appeals to individuals who want to reduce their environmental impact while enjoying a refreshing beverage.
Alignment of canned wine with sustainability trends is a crucial factor contributing to the canned wine market growth. The convenience factor aligns with the evolving preferences of consumers who seek products that fit seamlessly into their active and fast-paced lives.
"Surge in Popularity of Canned Beverages among Millennials"
Millennials are the leading generation globally and play an essential role in driving the rising demand for canned wines. Millennials are known for preferring experiences over possessions and canned wines perfectly fit the ethos. The affordability and sustainability of canned wines make it a popular choice amongst millennials. The convenience of canned wine aligns with the lifestyles of millennials, who often lead busy lives and value products that can be enjoyed on the go. The combination of these factors has led to millennials becoming a crucial target demographic for the canned wine industry.
What appeals to millennials is the single-serve packaging of canned wine. Canned wine is available in individual portions, which generally equates to one glass of wine. This helps reduce waste and offers flexibility to consumers who do not want to commit to an entire bottle of wine. Single-serve packaging also allows consumers to explore different variants cater to their changing preferences and enhance the consumer experience.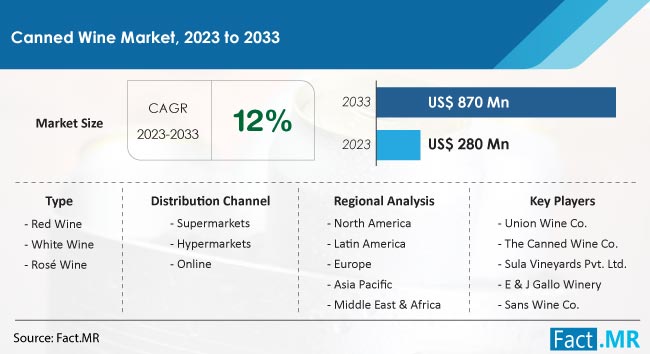 What Can Hinder the Sales Growth of Canned Wine to Some Extent?
"Limited Aging Potential Due to Short Consumption Timeline"
Limited aging potential is a significant constraint that the market faces, primarily due to the nature of the packaging and the intended consumption timeline. Unlike traditional glass bottles with cork closures, which are designed to allow wines to evolve and improve with age, canned wines are typically made for immediate and early consumption. The seal of a can, while effective at preserving the freshness of the wine in the short term, does not provide the same oxygen exchange capabilities as a cork in a bottle. Oxygen plays a crucial role in the aging process of wine, allowing it to mature, develop complex flavors, and soften harsh tannins.
Canned wines are not well-suited for long-term aging, and consumers seeking wines for long-term aging are inclined to choose bottled options. Additionally, the choice of wines that are typically canned tends to be those best enjoyed while still young and vibrant. Canned wines often include light, fruity, and easy-drinking styles like rosé, white, and some red wines. The aforementioned factors are affecting the sales of canned wine.
More Insights, Lesser Cost (-50% off)
Insights on import/export production,
pricing analysis, and more – Only @ Fact.MR
How Can Start-ups Position Themselves for Success in the Canned Wine Business?
"Building Strong Brand Story and Online Presence"
Start-up companies looking to advance in the canned wine business can take several strategic steps to gain a competitive edge. Start-ups must focus on product innovation, crafting unique and high-quality canned wine offerings that cater to changing consumer preferences. Building a strong brand identity and story can help differentiate them from established players.
Collaborating with local wineries and leveraging sustainable and eco-friendly packaging options can also resonate well with environmentally conscious consumers. Players strive to ensure that the quality of the wine and its taste are consistent and exploring varied distribution channels including e-commerce, local retailers, and partnerships with restaurants and bars. A strong online presence can help start-ups reach a broader audience.
Country-Wise Insights
Market performance can vary by country due to cultural preferences, regulatory differences, and market maturity. North America accounted for a revenue share of 54% in 2022.
Why Does the United States Lead Global Canned Wine Consumption?
"High Preference for On-the-Go Beverages"
The United States has been a major contributor to global canned wine market growth, with a growing number of consumers seeking portable and convenient wine options. The market in the United States is diverse, with both established brands and start-ups. Demand for canned wines has risen significantly in the United States, owing to its convenience and appeal to modern consumers. Because of its portability and versatility, Americans, particularly millennials and younger generations, have embraced this trend.
The market offers a diverse selection of wine varietals in cans, including reds, whites, sparkling, and rose wines.
Underwood and Francis Ford Coppola Winery, for example, have gained recognition for their high-quality canned wines. These products are easily accessible to consumers through a variety of channels, ranging from supermarkets to online retailers.
Furthermore, canned wine is in alignment with the sustainability movement by having a lower carbon footprint and being recyclable, which appeals to environmentally conscious consumers.
Why is Canned Wine a Lucrative Business in the United Kingdom?
"Wide Accessibility of Canned Wine Products through Retail Outlets and Online Platforms"
Canned wine is popular among consumers in the United Kingdom as a convenient option for outdoor events such as festivals and picnics. Rosé and sparkling wines are especially popular in cans. Key producers of canned wine, such as Mirabeau and Barefoot, have recognized the potential of the market and taken steps to provide quality canned wine options. These products are widely available through a variety of retail outlets and online platforms, satisfying the desire of the consumer for a portable and accessible wine experience.
Canned wine is viewed as a sustainable option in the canned wine market in the United Kingdom, aligning with the country's growing environmental consciousness. Canned wine is gaining popularity in the United Kingdom, particularly among younger consumers and those looking for eco-friendly options. It has a strong presence in the ready-to-drink (RTD) wine segment.
Many new canned wine brands have been launched in the United Kingdom in recent years, such as Defy Wine, Drop Wine, and The Canned Wine Co. These brands are offering premium canned wines in cans, with a focus on sustainability and convenience.
Know thy Competitors
Competitive landscape highlights only certain players
Complete list available upon request
Category-Wise Insights
Why is Sparkling Canned Wine Gaining Prominence among Consumers?
"Easy and Convenient Option for Celebratory Occasions"
Sparkling wine accounted for 64% of the canned wine market share and generated US$ 460 million in revenue in 2022.
The effervescent and celebratory nature of sparkling wine complements the convenience and accessibility that canned wine provides. Canned sparkling wine is a popular choice for on-the-go celebrations, picnics, and outdoor gatherings due to its portability. Furthermore, the vibrant and refreshing nature of sparkling wine, which is frequently associated with happy occasions, adds to its overall appeal as a versatile option for consumers of canned wine.
The canned format preserves the wine's effervescence, ensuring that the delightful bubbles remain intact until consumption. As a result, the combination of sparkling wine and canned packaging meets the needs of a modern and mobile consumer base, positioning it as a key segment within the industry.
Competitive Landscape
The competitive landscape of the canned wine market is projected to remain fragmented, with a mix of big and small players battling for market share. However, the market is still new, and there is enormous room for expansion for all types of players. With more wineries selling high-quality canned wines, the market is becoming more premium. The competition is projected to become intense as the canned wine business grows and matures.
Sustainability and ecologically friendly packaging practices are also competitive advantages for many companies and brands, as consumers seek environmentally responsible options. The market continues to grow, with a variety of wine types available, ranging from crisp white wines and strong reds to sparkling and rosé, to appeal to a wide spectrum of consumers.
E. & J. Gallo Winery bought Bev and its range of premium canned wines and spritzers in June 2023. This contributes to the company's goal of supplying customers with high-quality wine.
Canned Wine Co. announced its collaboration with Every Can Counts in March 2022. Both companies partnered to promote and inspire United Kingdom consumers to utilize recycled beverage cans.
Union Wine Company, The Canned Wine Company, Sula Vineyards Pvt. Ltd, E & J Gallo Winery, Sans Wine Co., Integrated Beverage Group LLC, The Family Coppola, Treasury Wine Estate, Castel Freres, Grupo Penaflor, The Wine Group LLC, Precept Wine Brands LLC, Underwood Wines, LLC are some of the top canned wine brands.
Segmentation of Canned Wine Market Research
By Product :

Sparkling
Fortified
Still
Vermouth

By Alcoholic Content :

Low Alcohol
Medium Alcohol
High Alcohol

By Type :

Red Wine
White Wine
Rose Wine

By Distribution Channel :

Supermarkets
Hypermarkets
Online

By Region :

North America
Europe
Asia Pacific
Latin America
Middle East & Africa
- FAQs -
The global canned wine market reached a size of US$ 250 million in 2022.
Sparkling canned wine accounted for 64% share of the market in 2022 and generated US$ 460 million in revenue.
The market for canned wine is estimated at US$ 280 million in 2023 and is set to expand at a CAGR of 12% through 2033.
Demand for canned wine is projected to reach a market value of US$ 870 million by 2033-end.
Canned wines are a popular alternative to glass bottles because of the convenience they offer with single-serve portions.